Want This Page Wider?
Use the A+, A-, R, and <> or <-> buttons at the top right of this page to make the fonts bigger and smaller or switch between a fixed-width and fluid-width style to this web site.
All Stories
Under Secretary of the Army Patrick Murphy in a tandem jump with Sgt. 1st Class Joe Ablen of the Army Golden Knights, the U.S. Army's parachute team out of Fort Bragg, N.C., Nov. 10 at West Point.
The U.S. Defense Department is ordering almost 10,000 one-time National Guardsmen from California to pay back enlistment bonuses, according to a news report.
Many of the veterans have to pack back the bonuses, totaling as much as $15,000 or more, or face such penalties as interest charges and tax liens, according to an article published Saturday by David Cloud, a reporter for The Los Angeles Times.
Like other branches of service, the Guard used enlistment bonuses to entice more people to enter the ranks a decade ago during the U.S.-led wars in Iraq and Afghanistan. However, California Guard officials were found guilty of mismanaging the program.
U.S. Defense Secretary Ash Carter visited Irbil on Sunday for a closer assessment of the fight against the Islamic State group in northern Iraq and to hear from Kurdish leaders whose forces launched a new offensive in the operation to wrest Mosul from the militants' control.
Carter met with Kurdish leader Masoud Barzani, as well as U.S. service members who are not far from the battle.
The Pentagon chief praised the efforts of the Kurdish forces, known as peshmerga, and acknowledged their battle losses.
They fight extremely well. But because they're fighting hard, they suffer ... casualties," said Carter, who spent Saturday in Baghdad getting updates from his military leadership and meeting with Iraqi Prime Minister Haider al-Abadi. The U.S. is prepared to provide additional support for the fight if requested by Iraq and U.S. commanders, Carter said in the capital.
Peshmerga Brig. Gen. Halgord Hekmet, a spokesman for the Kurdish forces, told reporters that 25 of their troops have been killed since the battle to retake Mosul began and a "large number" had been wounded. Speaking through an interpreter, he said the peshmerga have had good coalition air support, but could use more military resources, especially armored vehicles.
SOUTHWEST ASIA, Oct. 22, 2016 — U.S. and coalition military forces continued to attack Islamic State of Iraq and the Levant terrorists in Iraq and Syria yesterday, Combined Joint Task Force Operation Inherent Resolve officials reported today.
Officials reported details of the latest strikes, noting that assessments of results are based on initial reports.
Strikes in Syria
Attack, bomber, fighter and remotely piloted aircraft conducted six strikes in Syria:
-- Near Abu Kamal, a strike engaged an ISIL tactical unit and destroyed a vehicle.
-- Near Shadaddi, a strike engaged an ISIL tactical unit.
-- Near Ayn Isa, three strikes engaged two ISIL-held buildings and destroyed two fighting positions.
-- Near Washiyah, a strike engaged an ISIL tactical unit and destroyed a vehicle.
Strikes in Iraq
Attack, bomber, fighter, remotely piloted and rotary wing aircraft and rocket artillery conducted 12 strikes in Iraq, coordinated with and in support of Iraq's government: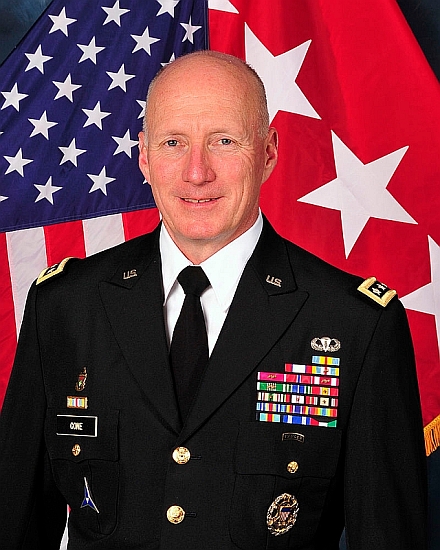 General Robert W. Cone died on September 18, 2016. No cause of death has been reported at the time of this writing.
His WP-ORG eulogy page may be found here: http://www.west-point.org/users/usma1979/36399/
<< Start
< Prev
1
2
3
4
5
6
7
8
9
10
Next >
End >>
Results 61 - 75 of 299