Want This Page Wider?
Use the A+, A-, R, and <> or <-> buttons at the top right of this page to make the fonts bigger and smaller or switch between a fixed-width and fluid-width style to this web site.
All Stories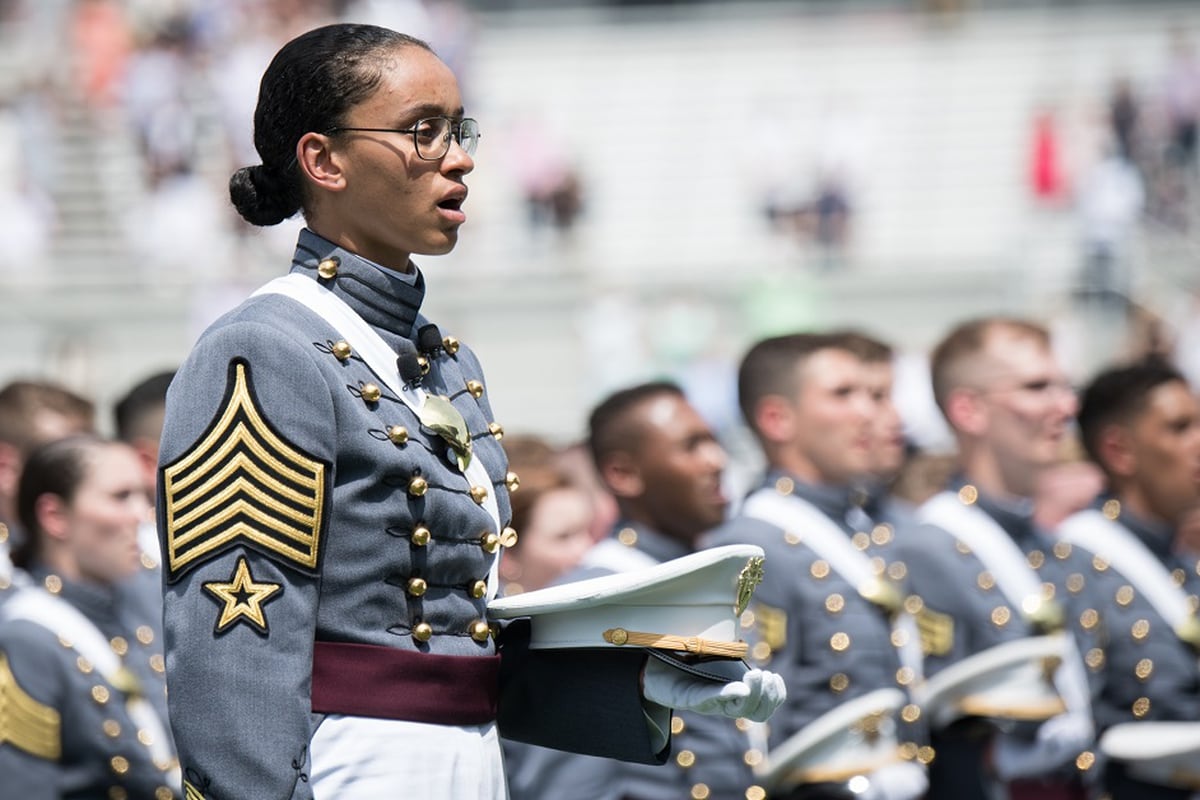 Second Lt. Simone Askew has been named one of Glamour Magazine's top 10 College Women of the Year.
Askew, who graduated from the U.S. Military Academy on May 26, is the first African American woman to serve as First Captain of the U.S. Military Academy's Corps of Cadets, the highest ranking student post at the academy.
Askew graduated as an international studies major.
She was selected as First Captain of the Corps of Cadets for the 2018 academic year in early August.
As First Captain, Askew was responsible for the overall performance of the near 4,400 cadets at West Point and served as a liaison between the corps and the administration.
In August, West Point officials said that Askew exemplifies the academy's values of duty, honor and country.
he Army is investigating after an unintentional firing of an M4A1 carbine while its selector switch was moved between "semi" and "auto."
The problem has affected at least 881 carbines, and it requires adding a function check on all converted M4A1s and modifying shooter immediate action drills.
The U.S. Army Tank-automotive and Armaments Command sent out its first safety message on March 26, noting the selector switch firing.
"The M4A1 was charged and the weapon's selector was positioned between 'semi' and 'auto.' When the weapon's trigger was pulled, the weapon did not fire. When the selector was then moved into either 'semi' or 'auto,' the weapon fired without a trigger pull."
The malfunction was found on three weapons during on-site testing at Fort Knox, Kentucky.
Then, a second message, sent out on April 16, noted that the malfunction issue "is now believed to go beyond just the M4A1 PIP [product improvement program] weapons.
The new order expanded weapons testing to M16 series rifles.
The second message also noted that 881 M4A1 carbines exhibited the unintended discharge problem.
he Defense Department is poised to take over background investigations for the federal government, using increased automation and high-tech analysis to tighten controls and tackle an enormous backlog of workers waiting for security clearances, according to U.S. officials.
The change aims to fix a system whose weaknesses were exposed by the case of a Navy contractor who gunned down a dozen people at Washington's Navy Yard in 2013. He was able to maintain a security clearance despite concerns about his mental health and an arrest that investigators never reviewed.
Problems had earlier surfaced with former National Security Agency contractor Edward Snowden, who now lives in Russia to avoid charges for disclosing classified material, and Army Pvt. Chelsea Manning, who went to prison for leaking classified documents, triggering calls to update the antiquated system to include more frequent criminal and financial checks of workers who have security clearances.
The suspected Taliban fighters who attacked the Afghan interior ministry Wednesday were wearing old U.S. Army Universal Camouflage Pattern Uniforms and driving a captured Humvee, a tactic the enemy has used in the past, the commander of U.S. forces in Afghanistan said today.
"Eight terrorists in a captured Humvee attempted to penetrate the Minister of Interior headquarters in downtown Kabul," Army Gen. John Nicholson, Operation Resolute Support mission commander, told reporters at the Pentagon.
The attackers were attempting to drive through a checkpoint into the government complex when they were stopped by Afghan security, he said.
"They were wearing old-style Army uniforms," Nicholson said. "The good news is that the guards at the gate, the Afghan guards, immediately recognized these as old uniforms, called on them to exit the vehicle so they could be checked out and, at that point, the fighting started."
o all members of WP-ORG,
On behalf of WP-ORG's advisors, moderators, and tireless volunteers, I am delighted to announce that FD43 is successfully completed. WP-ORG's operations are fully funded through September. Thank you!
I'd like to thank everyone who made the effort to contribute. In addition, we are grateful to those who continue to donate countless hours of their valuable time. These long hours are a donation equally as important and valuable as money. Without either, WP-ORG would not exist.
Special kudos go to the Class of 1964 for line honors in both number of donations and total donation amount.
The fund drive is complete, the donation site has been shut down. Any donations that continue to be received by mail will be credited toward jump starting FD44.
In addition to donation reports, we archive for each fund drive daily tallies, charts and tables comparing performance measures of current and past drives, and additional data which you may find of interest:
http://www.west-point.org/service/fd43/program/
FD43 has been a great success. Once again, thank you!
Warren Hearnes
USMA 1989, on behalf of WP-ORG Advisors
<< Start
< Prev
1
2
3
4
5
6
7
8
9
10
Next >
End >>
Results 46 - 60 of 400