Want This Page Wider?
Use the A+, A-, R, and <> or <-> buttons at the top right of this page to make the fonts bigger and smaller or switch between a fixed-width and fluid-width style to this web site.
All Stories
The U.S. military is refining an autonomous airdrop system to save thousands of lives and deliver supplies to troops with increased accuracy.
Using imagery data, the system has proven able to determine its location based on terrain features, and navigate to a pre-selected position.
By making this technology more versatile, troops can be supplied with critical provisions even in high-risk locations.
Read more...
\A US Army probe blames a general and several other officials for contributing to an anthrax scandal that saw live samples of the deadly bacteria shipped across the United States and overseas, the Pentagon has said.
The investigation followed the May 2015 discovery that low levels of live anthrax spores had been discovered in an Army shipment supposed to only contain dead spores.
The samples originated from the Dugway Proving Ground research center in the Utah desert, and officials later determined live anthrax had, over a period of about a decade, been sent to 194 other research laboratories in all 50 US states as well as nine foreign countries.
On behalf of all the WP-ORG advisors, moderators, and tireless volunteers, I am delighted to announce that FD38 has been successfully completed and WP-ORG's operations are fully funded through this coming April. Thank you!
The final Donation Report may be seen at:
I'd like to thank everyone who made the effort to contribute. In addition, we are grateful to those who continue to donate countless hours of their valuable time. These long hours are a donation equally as important and valuable as money. Without either, WP-ORG would not exist.
I especially want to recognize the Class of 1964 for their continuing support, far more than the next closest class! You guys are champs!
The fund drive is complete, the donation site has been shut down. Any donations that continue to be received by mail will be credited toward FD39.
In addition to donation reports, we archive for each fund drive daily tallies, charts and tables comparing performance measures of current and past drives, and additional data which you may find of interest:
FD38 has been a great success. Once again, thank you!
WP-ORG is proud that our Ring Recovery list was central to the return of this ring.
----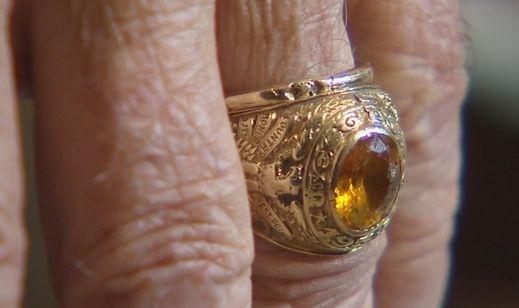 Veterans Day is taking on a whole new meaning for a New Tampa man. The Vietnam vet will be reunited with his original West Point class ring. It was lost during the war.
But 49 years and thousands of miles later, Rolfe Arnhym's original class of 1953 ring will finally be back on his finger.
"At the age of 9, I decided I wanted to go to West Point. Ten years later, I was there," said Arnhym
Arnhym's home office looks more like a museum.
"This is a picture when I took over in infantry battalion in Vietnam," he said pointing to a photo.
The retired U.S. Army Lieutenant Colonel has done a lot in 85 years. But for 49 of them, he's wondered where his West Point class ring went.
"I never saw it again," Arnhym said.
Arnhym graduated from the West Point military academy in 1953. He never took that ring off, wearing it as he got married, and even while serving in Vietnam.
"When I was on a combat operation, something made me look down at my class ring, and I noticed that the stone was gone from the ring," Arnhym said. "I said something to my radio operator, who was right next to me. Here we are in triple canopy jungle and stuff going on and we couldn't see that far in front of us. We looked down and that stone was at his feet."
BAGRAM AIRFIELD, Afghanistan - This weekend, the Department of Defense identified the six Airmen assigned to the 455th Air Expeditionary Wing who died on Oct. 2 when a C-130J Super Hercules aircraft crashed shortly after takeoff from Jalalabad Airfield, Afghanistan, said a Dyess Air Force Base press release.
According to the press release, the Airman killed in the crash included Capt. Jordan Pierson, Capt. Jonathan Golden, Staff Sgt. Ryan Hammond, Senior Airman Quinn Johnson-Harris, all deployed from 317th Airlift Group at Dyess AFB, along with Senior Airman Nathan Sartain and Airman 1st Class Kcey Ruiz who deployed from the 66th Security Forces Squadron at Hanson Air Force Base, Massachusetts. The wing held a morning fallen comrade ceremony on Oct. 3 to honor the Airmen who "made the ultimate sacrifice" doing their duty on the "combat frontier." Fellow wingmen paid their respect and mourned their loss, and after a brief prayer from the wing chaplain, the squadron commanders of the fallen were provided the opportunity to address the service members who gathered at the ceremony, stated the press release.
<< Start
< Prev
11
12
13
14
15
16
17
18
19
20
Next >
End >>
Results 241 - 255 of 385