Want This Page Wider?
Use the A+, A-, R, and <> or <-> buttons at the top right of this page to make the fonts bigger and smaller or switch between a fixed-width and fluid-width style to this web site.
All Stories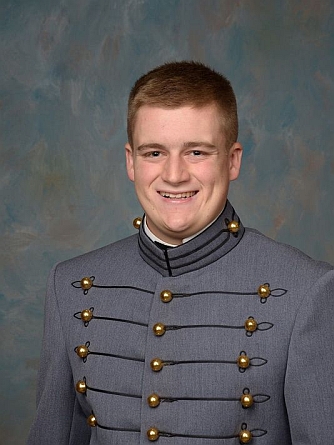 On Independence Day, Tom Surdyke would have turned 19 years old. Instead, friends, family and classmates mourned and buried the cadet at West Point. Surdyke posthumously received the Soldier's Medal, the highest non-combat valor award in the Army, for saving a life with actions that ultimately cost his own.
During a one-week break between air assault and cadet field training, Surdyke was vacationing at a beach on Long Island, New York, on June 24 when he and a civilian he'd only met that day got pulled out to sea in a riptide.
"Without regard for his own safety, Cadet Surdyke immediately grabbed the civilian and physically assisted in keeping the civilian's head above water until help could arrive," his Soldier's Medal citation reads. "Before becoming overcome by exhaustion, Cadet Surdyke managed to push the civilian up, enabling a bystander on a paddle board to pull him out of the water, thereby saving the civilian's life.
Within a couple minutes of being incapacitated, onlookers managed to pull the cadet out of the water. A couple minutes later, emergency workers arrived to take him to the hospital. Surdyke clung to life for days, but on June 28, he died.
Members of Congress expressed concern Wednesday that U.S. troop levels in Afghanistan can only be maintained by deploying incomplete units -- a practice that is eroding readiness, according to an Army general.
Since 2015, U.S. Army combat aviation brigades have been deploying to the country without their aircraft maintainers, House Armed Service Committee Chairman Mac Thornberry said at a subcommittee hearing to discuss aviation readiness.
"And so what do those maintainers do when they are left here in the states when their aircraft and their pilots are in Afghanistan?" Thornberry asked Lt. Gen. Kevin Mangum, deputy commanding general of U.S. Army Training and Doctrine Command.
"Sir, they are not doing a whole lot of aviation maintenance," Mangum said.
"And I think your point is, as I understand it, that does not help readiness when you have important maintainers without aircraft to work on," Thornberry said.
"No sir. We are building a deficit of experience and expertise in our formation as a result," Mangum said.
Instead of unit personnel, the U.S. military depends on civilian contractors to maintain the helicopters -- individuals that are not counted as part of the total number of U.S. troops in Afghanistan.
When Lt. Gen. Robert T. Dail retired seven years ago, he was one of the most senior military logisticians in the Department of Defense. In his last assignment, he served as the director of the Defense Logistics Agency, where his team provided 95 percent of the materiel used in the wars in Iraq and Afghanistan. An interview was conducted to get his perspective on today's Army readiness and the evolving relationships among the Army, its sister services, and industry.
GIVEN THE UNCERTAINTY IN THE WORLD, WHAT CAN LOGISTICS LEADERS DO TO ENSURE THEIR FORMATIONS ARE READY?
At the tactical level, the job of logistics leaders is to train every day and develop junior leaders in a way that prepares their units to be called upon at any time to deploy in defense of the nation. Logistics leaders should work to keep their units as ready as possible through realistic training. That's the most important aspect of the tactical leader's job.
At the operational level and, to a greater extent, the strategic level, where commands are filled with a combination of military members, career civilians, and contractors, logistics leaders have to be flexible and resilient--ready to change. They have to be ready to deploy their experts to integrate with tactical and regional commands so that responsive support is provided to the troops.
Vietnam captain recalls trick that faked the enemy, saved lives and earned Medal of Honor
Army Capt. Paul "Buddy" Bucha faked out the enemy while leading a motley crew in Vietnam.
The Medal of Honor recipient was hailed as a hero after he made North Vietnamese fighters believe his 187th Infantry Regiment was much bigger than it really was. The combination of bravery and cunning helped him earn the nation's highest military honor, an award bestowed upon him by the president.
In 1967, Bucha — who graduated from West Point and earned an MBA at Stanford — arrived in Vietnam and was given a squad filled "with the rejects of all the other units," including writers, intellectuals and men who had served time in military prison, he said.
"We were called the 'clerks and the jerks,'" he recalled. "We were a few smart guys and a lot of badasses … considered the losers of all losers."
But as a company commander new to Vietnam, "I, too, was a loser," Bucha recalled fondly years later. "So we were sort of meant for each other."
"They ended up being a very disciplined, proud, and frightening force," he said.
On March 16, 1968, soon after the Tet Offensive, Bucha's 89-man company took part in a counterattack designed to push the North Vietnamese away from Saigon.
A helicopter dropped his team into an enemy stronghold, and for two days they destroyed camps and fortifications.
On March 18, after they found a clearing and resupplied, Bucha directed his troops to push into the jungle, where it was getting dark.
After a week of intense international competition, the 2016 Department of Defense Warrior Games drew to a close here yesterday with a medal ceremony and a concert, followed by fireworks.
Army Chief of Staff Gen. Mark A. Milley reminded the audience that the competitors, representing the Army, Air Force, Navy and Coast Guard, Marines, U.S. Special Operations Command and the United Kingdom armed forces, were the best of the best.
"This is a tough competition," he said. "A lot of people don't realize what this competition means. First of all, you had to walk the hallowed grounds of the battlefield or you had to get injured or sick in the service of your nation. That alone makes you the best of the best."
Milley noted that the Warrior Games competitors had earned their places at the games by competing against a field of 2,000 to 3,000 other athletes at regional and service-level trials in track and field, swimming, shooting, archery, sitting volleyball, cycling and wheelchair basketball.

<< Start
< Prev
1
2
3
4
5
6
7
8
9
10
Next >
End >>
Results 106 - 120 of 317