2004 Class Pistol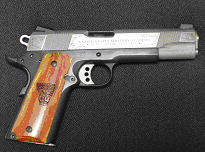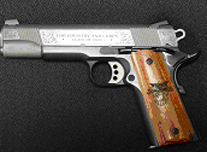 Statistics


1911 Colt XSE Government Model

Two toned (high polished stainless steel slide, blued frame)

Custom USMA serial number (USMA04###)

Front and rear slide serrations

Checkered, double diamond, rosewood grips

Extended ambidextrous thumb safeties

Fixed sights

Elongated hammer slot

Combat hammer

New roll marking and enhanced tolerances

8 + 1 round capacity

.45 caliber

Single action



The Colt 1911 model holds a unique place in the history of combat arms as the sidearm of choice of such great leaders as Eisenhower and MacArthur.  Just as our crest, laser engraved in the exotic tulipwood grips, reflects the trials and tribulation of our four years at the academy, so too does our class pistol.  As our experience at the academy will remain forever etched in our hearts and minds so is the distinct engraving forever etched in the slide.  The stainless steel slide is strong and durable as are the ties that bind us.  It is the proper mix between functionality and grace that so distinguishes our class as leaders within the Corps and as future Army officers.