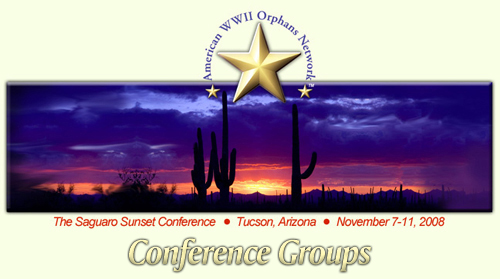 These groups were welcomed at the conference: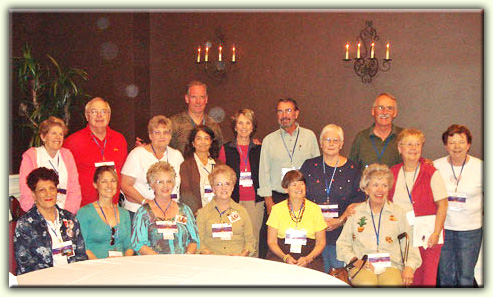 – First Timers –
Back Row: Lois Klein, Jerry Pinkerton, Marie Donley, Patrick Byrne,
Diane Clark, Larry Dexter, Catherine Light, Duane Ticknor, Ruthie Joyce, and Barbara Cohen;
Front Row: Pat Rathje, Kelley Geary, Ssters Nancy Heath Lawson and Helen Heath Vernon,
Lynda Johns-Dumas, and Carol Joie Ticknor Heller. Photo is thanks to Janice Buterbaugh.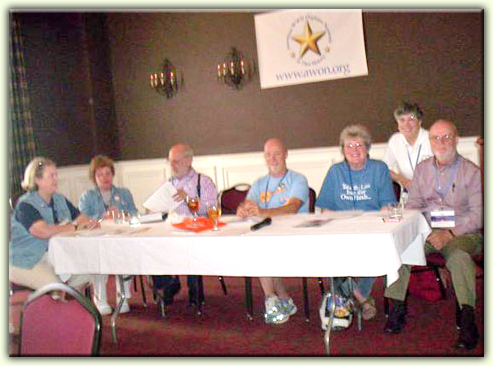 – AWON Board of Directors –
Norma Nicol Hamilton, Gerry Morenski, Ed Peters, Barry Barr Finch, Bonnie Hellums,
Judy Hoffman, and Norm Burkey. Missing is Kathy LeComte Lupton.
Photo is thanks to Janice Buterbaugh.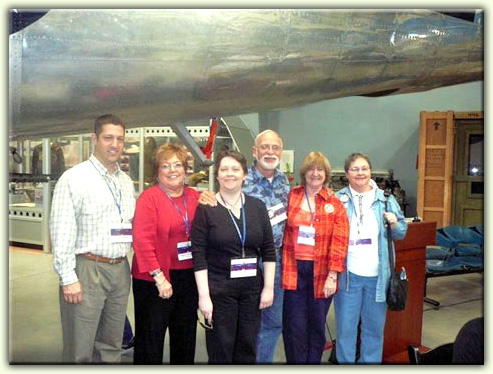 Children and grandchildren of men in the 134th Regiment of the 35th Infantry Division
at the Memorial Service: Kurt Fenstermacher (grandson); Maggie Stein Fenstermacher;
Julia Baker (granddaughter); John Paskey; Marilyn Bowers Jensen, and Paula Evans Baker.
Spouses attending were Bill Baker and Kathy Paskey. Photo is thanks to Kathy Paskey.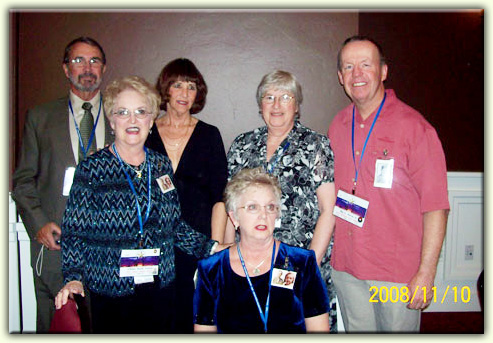 – 9th Infantry AWON Members –
In the back are Larry Dexter, son of Platoon SGT. King Dexter, 60th Inf K Co.,
Nancy Matheny Morrell, daughter of CPL Harvey Matheny, 39th G Co.
Gail Eisenhauer, daughter of 2LT John C. Eisenhauer, 60th Inf. K Co.
and Ron Burrus, Grandson of PVT William E. Adams, 15th Eng BN C Co.
In the front are Helen H. Vernon and Nancy H. Lawson, both daughters
of PFC Elmer B. Heath, 47th Infantry B Co. Photo is thanks to Helen Vernon.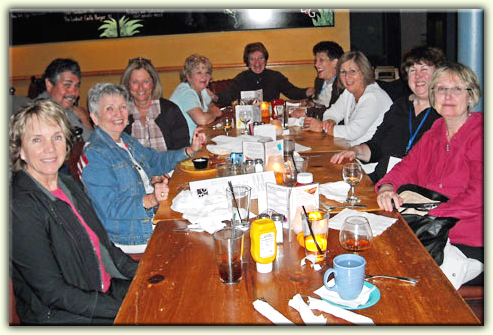 – The Margraten Kids –
Around the table are Diana Pete Clark, Jean Reid, (friend of Jean Reid) Rita Niro Blair,
Gerry Morenski, Pat Rathje, Antoinette Niro Bell, Joan Marlow, and Maggie Malone.
Photo is thanks to Pat Rathje.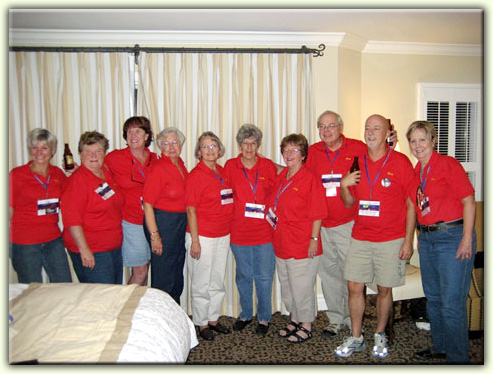 – The Philippiners –
Patty Temte, Caroline Jackson, Dianne Baczynski, Betty Nester, Bonnie Oates,
Kathy Swanson, Sherry Haxby, Jerry Pinkerton, Barry Barr Finch, and Judy Pinkerton.
Photo is thanks to that lady on the far left.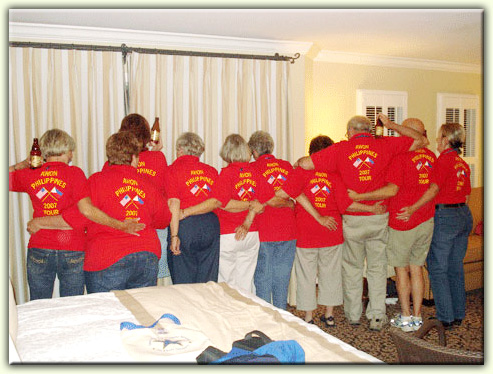 The Philippiners' better sides as they show the back of their shirts.
For more pictures, Click Here!
or to go back, Click Here!