World War II orphans search to fill blanks left by fathers
By Rossilynne Skena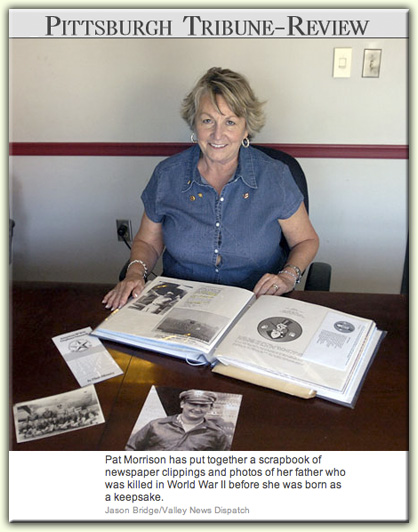 Growing up in New Kensington during the 1950s, Pat Ball Morrison learned not to talk about her dead father.
"When kids would ask me, 'Your name is Ball and your mother's name is McKinley,' it was really embarrassing because that didn't happen back in those days. And then I would say, 'Well, my father was killed ...'
"And then people would just kind of look at you like you had the plague or something, so you learned really early on to not talk about it."
Lewis Ball died before his daughter was born. He knew that his wife was expecting, but he never had the chance to meet his child.
Morrison is one of America's 183,000 "war orphans." Her father died when his bomber crashed into the sea.
For 60 years, Morrison, 63, knew only that her father had been killed in World War II. She didn't know the details of what happened in June 1944 and she didn't know why.
Not alone
Morrison's story isn't that different from other 600-plus members of the American World War II Orphans Network (AWON). Many of these "orphans" are finally just discovering who their fathers were and how they died.
AWON was founded to honor the memory of those who died in the war and to reach out to as many so-called war orphans as possible, said Barry Barr-Finch, AWON's director of regional coordinators.
Barr-Finch, 64, of Seattle, said AWON fosters an environment for those who lost a parent to tell their stories and to learn.
"It's an opportunity for me to meet other orphans and we get to share our stories. We get to hear other people's situations. And then one of the things that happened to me as a direct result of that, I have learned to find things I didn't know existed -- for instance, my father's records."
There are now members in every state, he said, and the organization is always looking to reach more war orphans.
Some members with ties to western Pennsylvania share their stories and the stories of their fathers, America's fallen heroes.
Morrison grew up with just a few remnants of her father, like his hat and his belt. Until her mother died a few years ago and she found letters, documents and memorabilia while cleaning out her house, Morrison never really knew what happened to him.
Morrison's father, Lewis Ball, was piloting a B-24 from Nassau, Bahamas, to Charleston, S.C. on a training flight. His last report was just as it was getting dark; an urgent message was sent an hour later.
The official story, she said, is that the plane ran out of fuel. Along with the accident report, she received a signed letter from the man who fueled her father's plane.
"I find this odd because, you know, you've got to figure that guy's job was just to put fuel in airplanes. He says that he asked the engineer, 'You sure you have enough fuel?' because that's the official story on this -- that they ran out of fuel.
"But there's speculation, you know. Was a German submarine along the coast? Were they flying low? We'll never know," Morrison said.
"The reason that we're called American War Orphans Network is because the government called us orphans -- war orphans. And I know when I mentioned that to my mother when she was alive, she got very angry. She said, 'You're not an orphan. I'm still alive.'
"I said, 'Well, even the government said that we're orphans.' I never thought of myself as an orphan because I knew I had a mother," she said. "But it's just kind of interesting that that is the title we were given."
Morrison grew up resentful of the situation, that she didn't know the details.
"I thought this is really just bizarre. But I've learned through AWON there are just so many of us that have the same story. Our mothers did not talk about it."
Now Morrison lives in Minnesota and keeps all the mementos in her "patriotic room."
She's involved with AWON and its members. "Now we talk all the time," she said, "making up for years where nobody said anything."
Soldier's Son
AWON member Ben McClelland, 64, said his grandmother was never able to accept the loss of her son.
"She always expected him to come home," he said. "She would go to the front door if she heard a car or truck. She thought he was going to come home."
McClelland's father, Ewing Ray "Pete" McClelland, was in an artillery division that was protecting European countries when the Germans made a final offensive and captured two American divisions, McClelland said. Those divisions were marched to a holding camp in Germany.
After that capture, the allied troops did a bombing raid throughout the area and accidentally bombed the prison where the soldiers were, he said.
McClelland grew up in Masontown, and he didn't know the details of his father's death until he started his research.
"Like many of the AWON members, I grew up, of course, without a father and without knowing much about my father's life and especially about the circumstances of his death in the war," he said. "His death was not something that we could talk about within the family."
It wasn't until he was more than 50 years old that McClelland was able to visit his father's grave. The trip was a traumatic one.
While visiting the cemetery, he said, repressed memories came back. It gave him the impetus to write his memoir, "Soldier's Son," which chronicles his experience growing up. It has chapters that focus on his family and his parents' relationship.
McClelland now teaches English at the University of Mississippi and lives in New Albany, Miss., with his family.
Growing up, McClelland said, he thought there was some "family secret."
McClelland's father, who was 29 years old when he died, went to college to study optometry but, when Pearl Harbor was attacked, he came home and enlisted.
His mother never remarried. It wasn't until McClelland was an adult that his mother would talk about the situation.
Now, McClelland holds hope for children whose parents are fighting in today's war.
It's not just families who lose a parent, but parents who survive warfare but return home with emotional or psychological problems.
"There are children who are facing the same kind of situation I had," he said. "I hope that the service community has better support systems that we had before."
Another family
For Antonetta Bell, of Boyers, AWON is like "another whole family."
"You relate to them," said Bell, 66.
After she joined the network, she did research about her father's story.
Her father, Pasquale Niro, was killed in 1945 when he was helping his brigade cross a river. He was the last to go across and was shot. Her mother would only say that he was killed by a sniper.
"He was always 'the man in the picture,'" she said.
There was a family picture taken of her mother, father, sister and herself before her father went overseas. Bell was 2 1/2 years old when her father left.
Prior to his death, he had already been wounded a couple of times.
Niro, who wasn't a U.S. citizen when he enlisted, was told that he would get his citizenship papers sooner if he enlisted, she said. After he died, Bell said, he finally did receive those papers.
Bell said Memorial Day reminds her of what her father did for his country.
Never forget
Stewart Lerch grew up with no father to play ball with and no father to look up to as a role model.
Lerch, 64, an AWON member from Reading, was 7 months old when his father was killed in New Guinea. Lerch's father only saw him once.
"Growing up, people will say to me, 'Why are you an orphan -- you had a mother?' As in the Orphans Network, we will say, we didn't really have a mother because they were dealing with the loss," he said.
Lerch's daughter Susie Clark, 45, lives in Ross Township.
She calls the network "eye-opening."
"It was so upsetting to me to hear how a lot of the families didn't talk about the servicemen who were killed, whether it was just too painful or whether it wasn't socially accepted," she said.
Lerch remembers that, as a child, he'd walk into a room and adults would stop talking.
"Parents and adults did not talk to children about these things," he said.
It wasn't until he was about 55 years old that he discovered letters his father wrote to his grandmother.
Lerch never got the answer to why his dad was killed.
He was told that the answer was in the Bible. But, he said he looked and couldn't find it.
When he was about 11 or 12 years old, he found the answer while looking at a calendar sent to his home from the Veterans of Foreign Wars.
Two dates stuck out in his young mind: Memorial Day and the Fourth of July.
"They died to ensure the Fourth of July would always be a day for our independence," he said.
His father, also named Stewart Lerch, was a member of an engineer combat battalion that was also used as infantry. His father was serving as an infantry rifleman when the Japanese attacked. He was shot and killed instantly.
Lerch has "the dreaded telegram" announcing his father's death, his dad's rings, letters and a folder with the picture his father carried with him.
He now gives talks to school groups about World War II. He also talks to veterans and encourages them to share their stories.
"We as a nation may never forget our fallen heroes -- past, present or future. I hate to say future, but it is going to happen."
Rossilynne Skena can be reached at rskena@tribweb.com or 724-226-4681.