For Polo Shirts we have a Heavyweight Picque. It is 7.5 ounce and 100% cotton. The two colors available are Khaki or Red. The shirt is available in sizes of XS to 6XL. The guidon will be embroidered on the left breast. The cost to you for this shirt is
$22.75
that includes the embroidery, shipping to me, and my shipping to you.
The shirt is shown below in Royal Blue - which I'm not offering to you as a choice.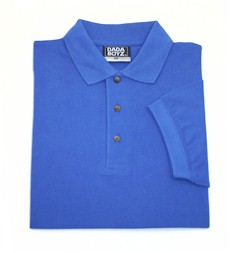 The Stitch America website for the
Polo Shirt
can be found by clicking on this link. The website shows the two color choices that I've selected.