Class Information
Class Online Database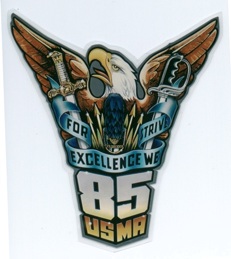 This online class roster is based on data from the AOG database. Email addresses, snail mail addresses, business and more. Lots of search capability to help you find old friends and people who live near you. The site is password protected. The userid is usma1985 and the password is the last name of "our" Superintendent (remember to use upper case for the first letter). Make sure to update your entry.

Class Emailing Lists There is an emailing list you can join. It's a quick and convenient way to reach the 300+ classmates that are subscribed

Current Class Officers - Listing of the class officers elected at the last reunion

Class Officers 1985 - 2005 - Listing of our previous class officers

Class Constitution - The class constitution.

Class By Laws - Class By Laws.

Five Year Plan - The Class Officers' plan for the next five years

Rest In Peace - Listing of our deceased classmates
WP-ORG Information
Following are some of the services WP-ORG offer the West Point community.

Jack Ward, '64, began a tradition of gathering his class history and publishing it every five years. WP-ORG has put the Ward Book online and expanded it to all classes. Login and put the history of your part of the Long Gray Line online.

Free Permanent Email Addresses

WP-ORG offers each graduate a permanent email address for free. The address can be used to forward email to your main account or as a full fledged email account with POP3 and web mail access.

WP-ORG Amazon.Com branch store

Same low prices you get at Amazon.com but WP-ORG earns a commission.
Association of Graduates