Class Notes (January-February 2005)
by
Tom Burrell
fordham@comcast.net
Happy New Year! How are those New Year's Resolution holding up? I hope one of them is to attend the Annual Golf Outing this year. Be looking for information in the next issue of Assembly. Have lots of photos this time. Tom Mannle sent the one of an F-3 mini-reunion in Tampa hosted by Dell & Mary Daily, in conjunction with the Army-USF game in Oct – great game, by the way!). From left, we have Dell, Mike Nelson-Palmer, Bill Currie, Tom, and Rick deMoya. Not included in the photo were Cindy Currie, Ann Mannle, Mari deMoya, Beth & Chris Benham, Ron & Elena Barnabei, Pete Weddle, and Bill Tryon. Tom attended a brunch hosted by Bob & Lisa Weiss at their home in Tampa Bay where he saw Bill & Anne Lennox, Lenny & Lucy Chiacchia, and several others. Tom said that it was an outstanding weekend and he apologized for not mentioning everyone.
"Jack in Iraq" Chiles is very good about checking in from time to time. As you may recall, Jack is an MD at the Combat Surgical Hospital in the Green Zone in Baghdad. In Oct, he took note of the 1,000th US military death in Iraq. "The media and campaign politics will probably make special note of it; but, in the end, it will be another boy or girl from a supportive family, proud to serve their country and a part of a special team that will make a difference in the future here. Like any other conflict, these young soldiers and marines are fiercely loyal to their units and want to finish the job and go home knowing that they did their best when they were called upon. God bless them." God bless you Jack, for all you do to take care of soldiers. Come home safely. Jack's ever-present sense of humor has not abated. He described a trip from Baghdad International Airport to the Green Zone. "Since there have been a number of IED (Improvised Explosive Device) attacks on vehicles making that trip in the last 6 months, the shuttle bus is now the mighty Rhino. It is an "up-armored" van that looks like a big armadillo or a Winnebago that General Patton would use on an extreme vacation. It seats 19 and the ride is surprisingly smooth. All the windows are bullet-proof. One low tech feature is a block of ice that sits on the transmission housing. It must get pretty hot in there without it. The interesting thing about the ice is that there isn't a puddle of water beneath it. What does that tell you? On the way to the Green Zone, we heard a loud pop from the left side of the vehicle. The driver swerved and we thought that we had blown a tire. What had happened was that the unarmored, baggage truck in front of us was hit by an RPG (rocket-propelled grenade) which struck the driver's door. It didn't explode (Probably too close for it to arm); but, the driver got some shrapnel in his butt from the door. He was released from the hospital the next day; but, it was definitely a brush with death. Trust me, when I leave the Green Zone, besides my helmet and flak vest, there is at least an inch of steel between me and some pinhead with a firearm who wants to exercise his newly acquired rights under the 2nd Amendment." Jack also provided the pictures of classmates that are either assigned in theater or were visiting.
Mike Erickson sent along two different (but interesting) photo sets. One is of last year's graduating "Sons of '71." Pat Finnegan and Bill Lennox flank a group of very proud fathers and their somewhat hesitant sons – hesitant because they're getting their pictures taken in the Supe's office! The next two pictures are representative of a set Mike sent that were taken during his missionary trip to China. Mike's comment was that "Wherever I went this summer, Class of 71 walked with me!"
Bonnie and I had the opportunity and good fortune to make the Cincinnati game last year. It was Homecoming and our first win of the year. Also at Homecoming were Dick Graf, Gordy Schnabel, Jim Melesky, George Gilmore, Mike Ritchie, Pat Finnegan and, of course, The Supe. It was great fun when the Corps very proudly delivered the goal posts to the Supe's Qtrs after the game and then came by throughout the evening to sign their names to the uprights!
Johnny Brooks sent the photo of himself in special gear. According to Johnny, this proves that even in mufti some of us can still conduct a room clearing operation although he will tell you that the raincoat, sports coat and loafers are not the best for that kind of mission.
Dave Schlener wrote after a long period of silence. Dave is living in East Texas, and after 20 years, is still flying for American Airlines. He says he's "cycled through just about everything we fly, and instructed on the B727 ("The Harley") and the B777. I stick to international because my long-established ADHD prevents me from doing the same thing twice in a row if I can help it. Have been working Leadership/Decision Making issues at our head shed for a few years now, and it has grown into a consultancy/seminar sideline outside the airline." Last year he had a chance to work with some "missionary bush pilots in Brazil, giving them their annual safety soul-search, strategic planning, etc. He even worked in an evening presentation in Portuguese for a gang of Brazilian aviators of various stripes, services and seats. (Our candor and transparency in discussing safety goofs alternately horrifies and empowers these guys.) It also included some time on a float plane on the Amazon – deja vu all over again! Other clients will take us to Kenya, Bali, Cameroon and the Philippines as it stands now. These are mostly operational, but some strategic innovation taskings as well. Kim comes along when she can to help with that "Mars/Venus/Pilot/Spouse" thing." Dave and Kim have four children at home. The oldest hopes to get a National Guard slot in attack helicopters. Dave plays indoor soccer with a "senior" group, and enjoys good health. Dave said he also gets to see Sam Sutter from time to time. Sam is in Austin, still PM/Test/ Development for the helicopter industry.
Judy Tetu gave a colorful description of their daughter Cristy's wedding in Tampa last Sep. For those who have forgotten, Florida had one hurricane after another last fall. Many of the guests were able to attend the wedding, but then had to depart before the reception. Those who stayed enjoyed a hurricane party. Bill's brother Bob (class of 64) and his wife Kay departed early to return to DC, but Mac & Cathy McClelland, Oscar & CarelChappel, and Gary & Mary Margaret Wright were able to stay and enjoy the festivities. One of the group gifts was a piece of siding from the hotel (came off in the hurricane) that had been signed by all the guests.
Well, that's it for now folks. Keep those cards and letters coming and have a very happy 2005!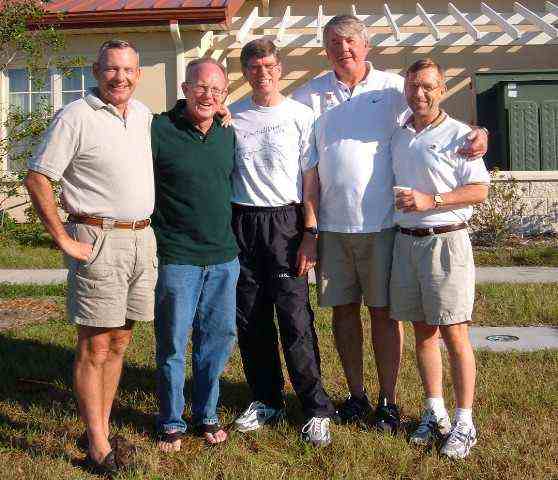 F3 Mini-Reunion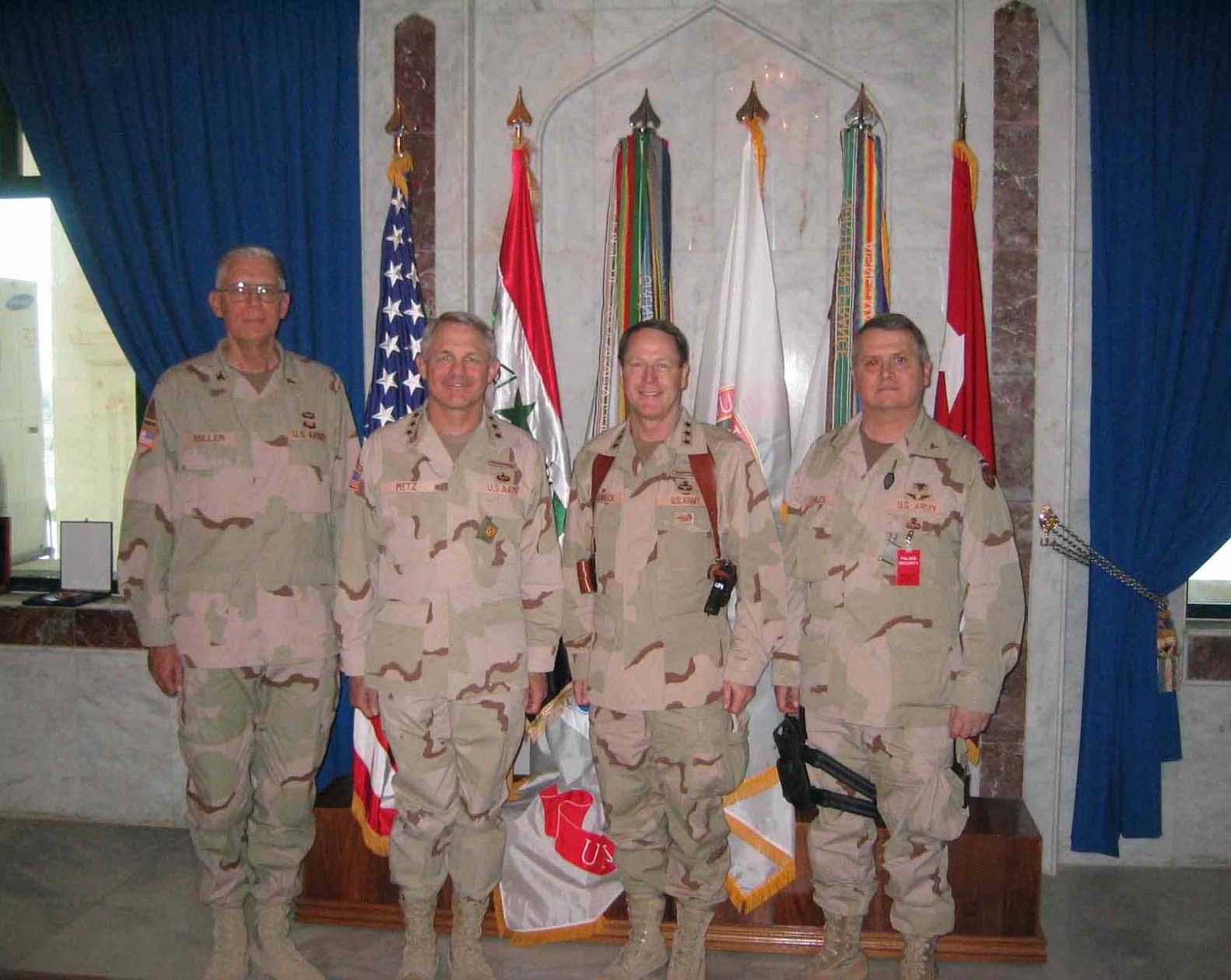 Professionally Done in Baghdad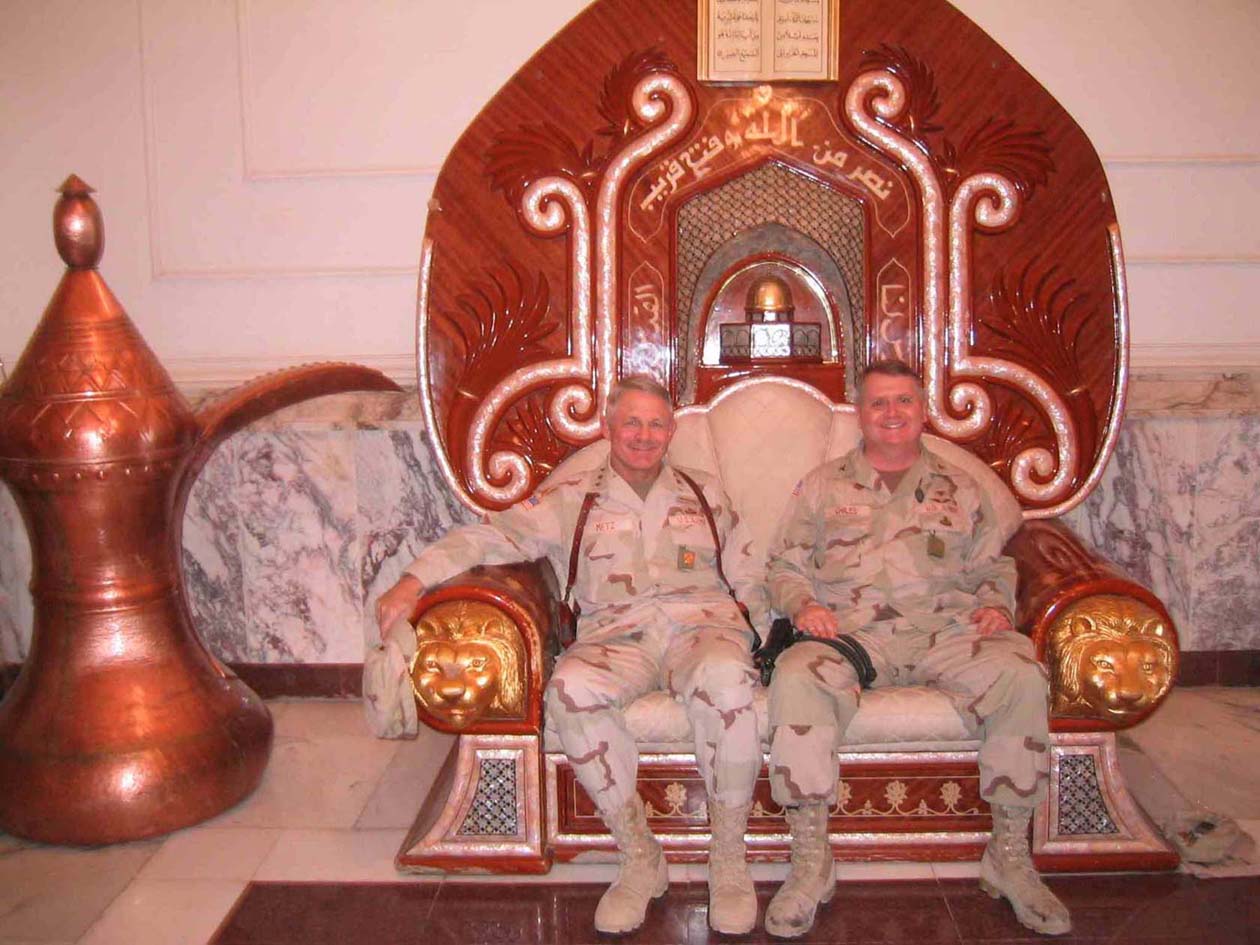 Tom Metz's "Office!"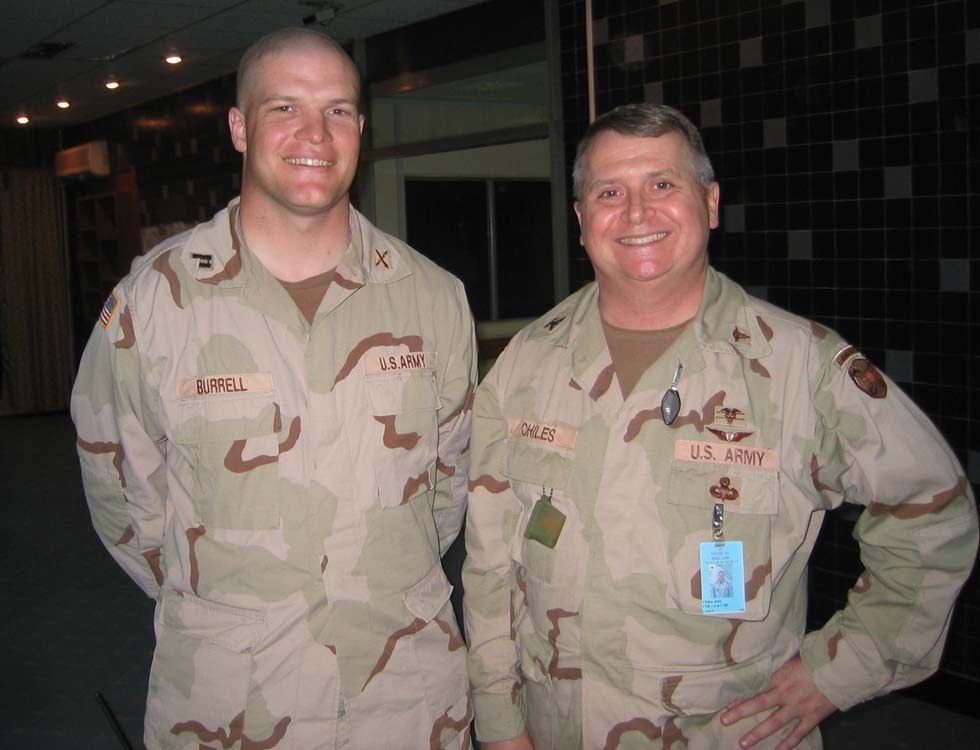 "Jack in Iraq" with CPT Burrell, '96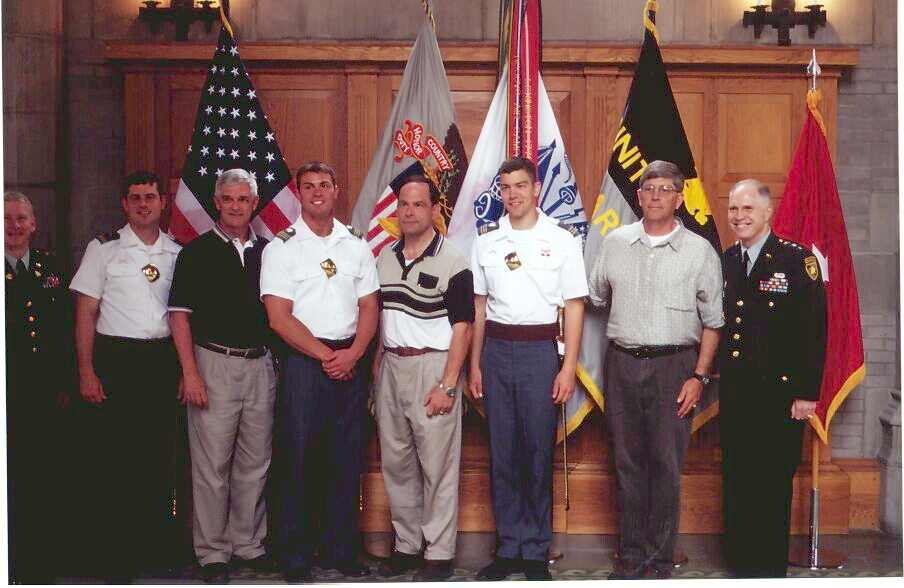 Son's of '71 for 2004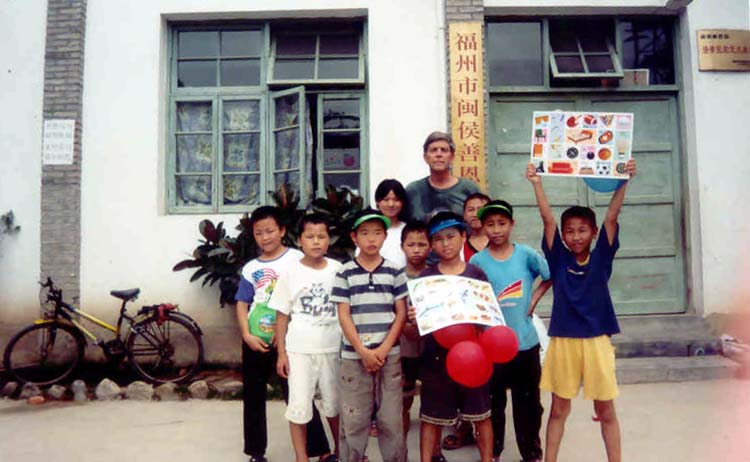 Mike Erickson's mission to China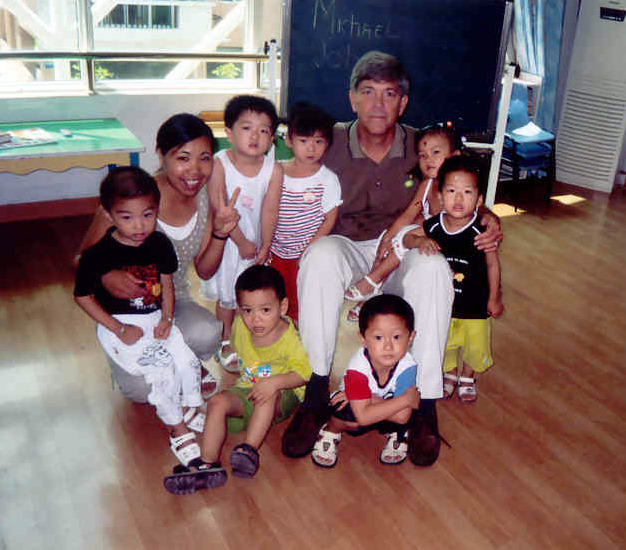 Mike with his "children"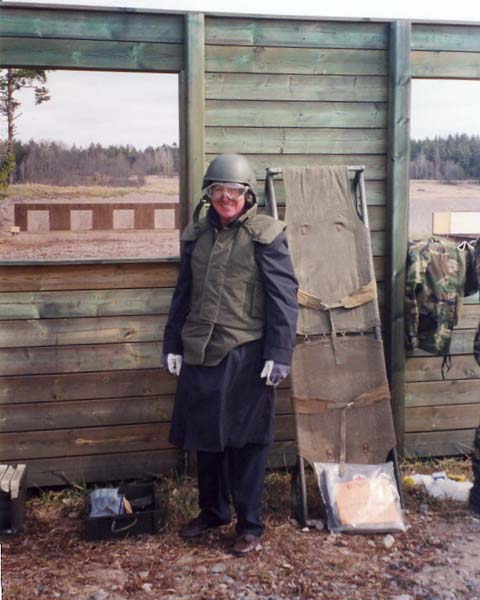 Super Fly! Brooks



| | |
| --- | --- |
| | more ... |