Last week I had the most pleasant and heartwarming task that I have had since becoming President of the WPSLA. Along with Cole Minnick '67 and our wives Mary Jo and Barbie, I went to Paso Robles California to offer greetings and best wishes from West Pointers everywhere to Col. George Dillaway, class of 1919 on the occasion of his 102nd Birthday. Col. Dillaway is the oldest living graduate of the Military Academy. Lew Ham '54, and his wife Ann, offered us the hospitality of their beautiful home. Lew made the arrangements for Col. Dillaway's birthday party, and for that I thank him. Lew also arranged for a beautiful birthday cake.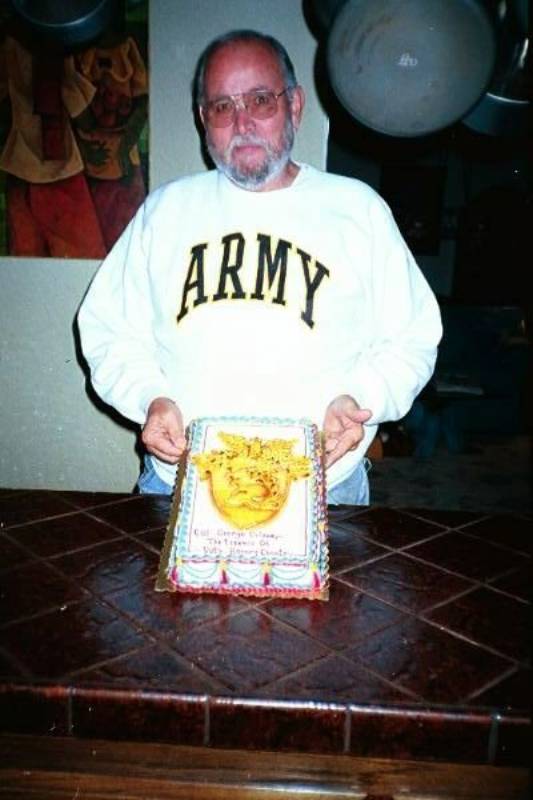 Ham proudly shows off the cake.
The six of us went to Col. Dillaway's house. He was very appreciative of the visit and said that he didn't think that the AOG would remember an old man on his birthday. I told him that he was very special to West Pointers everywhere because while there were many old grads, there was only one oldest grad. Following are some photographs taken at the birthday party.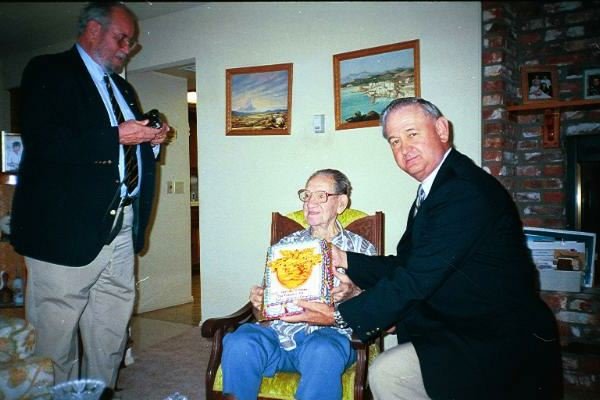 Tennant presents the cake to Col. Dillaway while Ham looks on.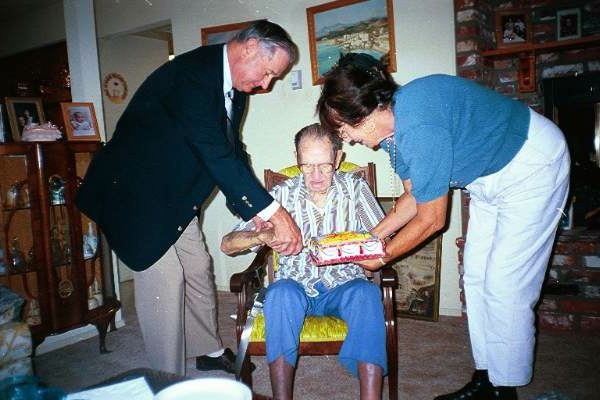 Tennant and Ann Ham help Col. Dillaway cut the first slice.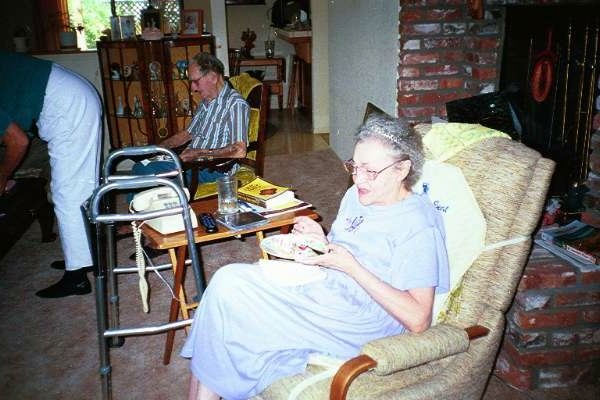 Connie Dillaway enjoys a piece of her husband's birthday cake.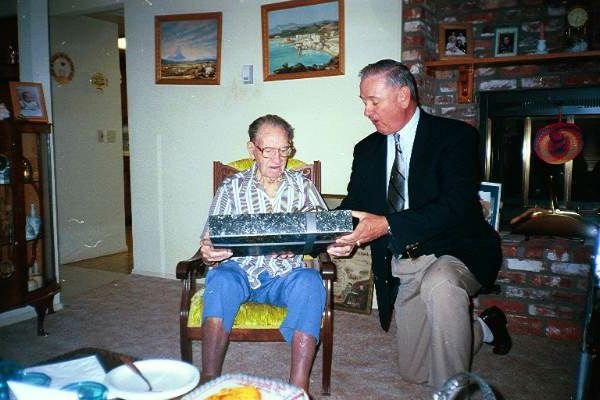 Tennant presents Col. Dillaway with the birthday present from the AOG.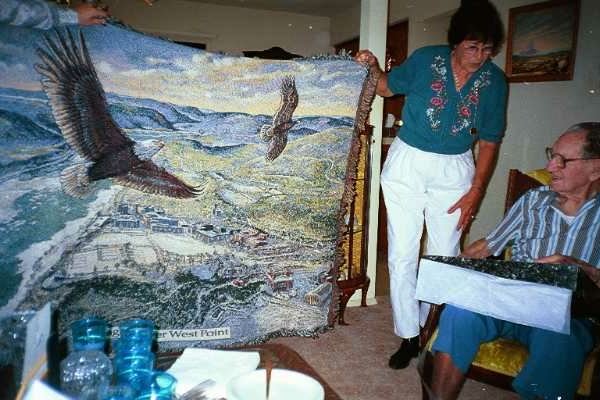 Ann Ham shows Col. Dillaway his present, a beautiful blanket with "Eagles Over West Point" engraved on it.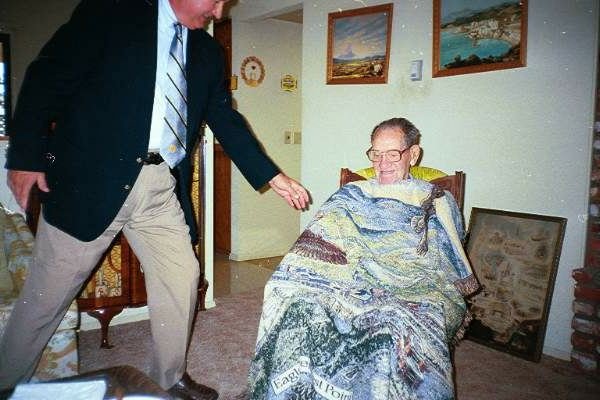 Col. Dillaway tries out his present.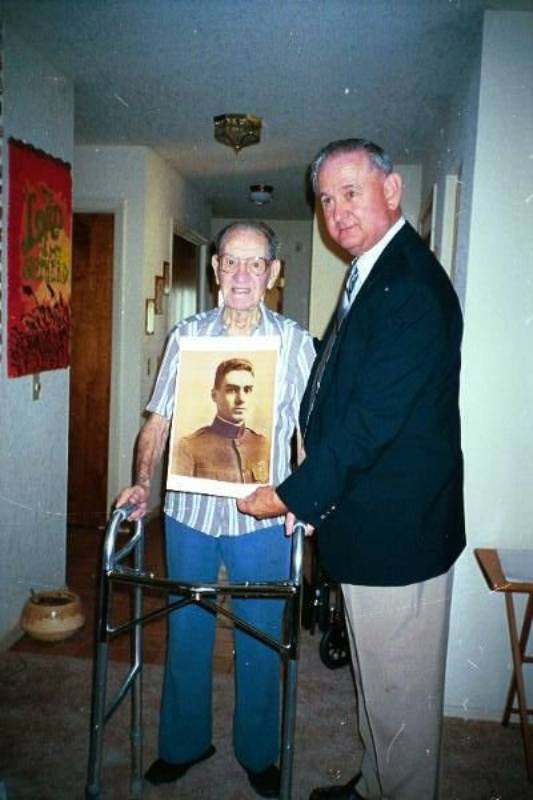 Col. Dillaway shows off a picture of him in uniform taken in 1919.
While we were there a very stirring telegram from the AOG arrived by phone. Since he is hard of hearing I repeated it to him as the operator read it over the phone. After the telegram, he became very emotional. He said that he was very proud to be the oldest living graduate, but that it saddened him to think of all the good men who had to go in order for him to have the honor. At that point the rest of us became emotional also.
George Lincoln Dillaway graduated from West Point eighty years ago. His life spans the entire twentieth century. Events which to most of us lie hidden in the swirling mists and myths of history, are an integral part of his life's experience.
When he was born in 1897, William McKinley was President of the United States, and the Civil War had been over for only 37 years.
When he first stepped out on the plain, the cavalry still rode into battle on horses. Today they ride into battle in helicopters.
When he graduated from West Point, man had yet to fly across the Atlantic Ocean. It has now been 30 years since man flew to the moon.
When he retired from the Army, the cold war was young, and the Berlin Wall had yet to be built. It has now been 10 years that wall has been relegated to the scrap heap of history.
George Dillaway holds a unique position along the Long Gray Line. He is the oldest Living Graduate. To his left, following close order behind him, march more than 40 thousand living graduates of the Military Academy. To his right, in ghostly assemblage, stand the men and women of the corps now dead.
As we left his house I shook Col. Dillaway's hand and again wished him a happy birthday. He invited us all to come back again next year.
Grip Hands!!!!
Charlie T '59
President WPSLA