Last September I reported that I drove to Paso Robles to assist the oldest living graduate of the Military Academy, Col. George Lincoln Dillaway, celebrate his 102nd birthday. As I shook his after the party he said to me "You come back and see me again next year do you hear?" We chuckled about that all the way home. Well guess what!!!!! This past weekend Cole Minnick '67, his wife Barbie, my wife Mary Jo and I took the long trek up highway 101 to celebrate the his 103rd Birthday.
Lew Ham, '54 and his wife Anne graciously opened their home to us on Saturday night. The Ham's live only a few minutes from Col. Dillaway in Paso Robles. They frequently call and visit him to check on his welfare. On Sunday morning we went to Col. Dillaway's house. We found him to be physically very frail, but his mind was as sharp as ever. He says that he can clearly remember things that happened 80 years ago, but can't remember things that happened last week. I read him birthday greetings from the Superintendent and First Captain. He was very appreciative of these two letters. I also presented him with a birthday gift from the Association of Graduates, a Cadet bathrobe. He said that he loved the B-Robe, and will wear if frequently since he is usually cold.
Following are some pictures of Col. Dillaway's birthday party.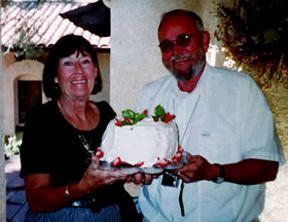 Anne and Lew Ham, our hosts for the weekend with the
beautiful cake that Anne baked for Col. Dillaway.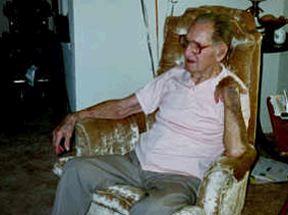 Col. George Lincoln Dillaway, class of 1919,
West Point's Oldest Living Graduate
celebrating his 103rd birthday.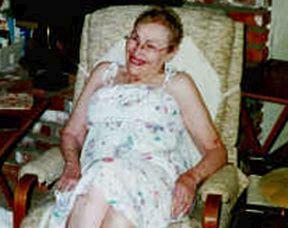 Connie Dillaway is just a spring chicken.
She is a spry 82 years old.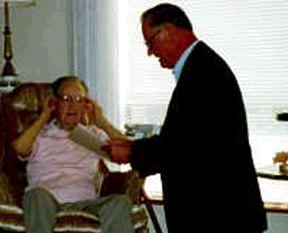 Tennant, '59, reads birthday greetings from the
Superintendent and First Captain to Col. Dillaway.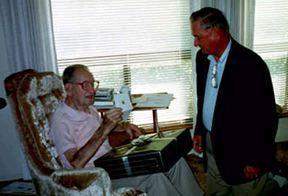 Col. Dillaway looks at the card from the AOG
which accompanied his birthday present.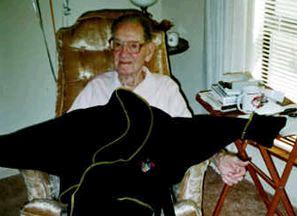 Col. Dillaway shows off his present from the
AOG, a cadet bathrobe.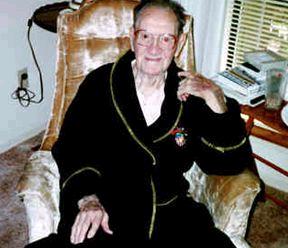 Col. Dillaway models his B-Robe.
This visit was very inspiring to me as a West Pointer. As the Oldest Living Graduate, George Lincoln Dillaway stands on the right flank of over 51,000 living members of the Long Gray Line. Ahead of him stand 6433 graduates, waiting for us in ghostly assemblage.
Grip hands!!!!
Charlie Tennant '59
President WPSLA