For the April-June 2010 issue

FAREWELL. Sadly, we mourn the loss of Wesley Mastin Bannister, Company E-2. In Wes' own words he told us that his stay at West Point was cut short at the end of Plebe Year due to fundamental differences between him and the Department of Mathematics. Wes lamented that they neither comprehended nor appreciated the "Bannister Method." It is ironic that Was later earned a degree in mathematics from the University of Houston. A reading of his page in Volume I will tell you that Wes enjoyed a very happy and successful life. The Class sends heartfelt condolences to the Bannister family and friends.

As you may recall from the previous class notes, there was not enough space available then to include the report of the Maine Summer Gathering. So, here it is.

The Maine Summer Gathering (MSG) produced by Howard Stiles and directed by Eileen Stiles has always been an enjoyable and unique event. This year was no exception. Continuing with the tradition of being unique, those attending the MSG this year were invited by Joyce & Bill O'Meara

to take an all day cruise among the islands of Casco Bay off the coast of the city of Portland.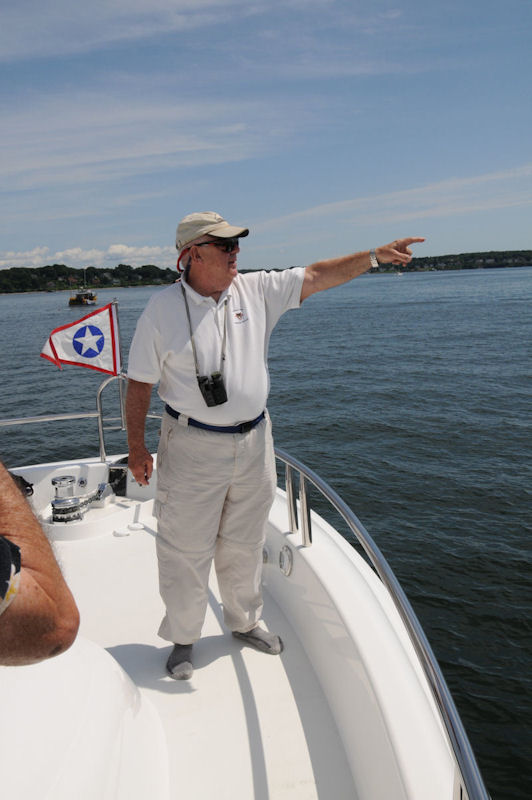 Harbormaster Howard Stiles tells Bill O'Meara to hang a right ... or is it starboard?
Thursday, 6 August was a magnificent day in Maine. The sun was shining, the humidity was low, and the ocean was calm. As we boarded the ReJoyce we were greeted by the O'Mearas on the rear deck of their spectacular yacht. When we got underway, the crew served us a variety of drinks and hors d'oeuvres and we enjoyer exploring the wonderful ship. What an experience!
The exhilarating cruise around the bay concluded by docking at the Great Diamond Island where we were treated to a traditional Maine lobster bake at the Diamond's Edge Restaurant. To take full advantage of the beautiful day and scenery, this feast was served outside at the water's edge.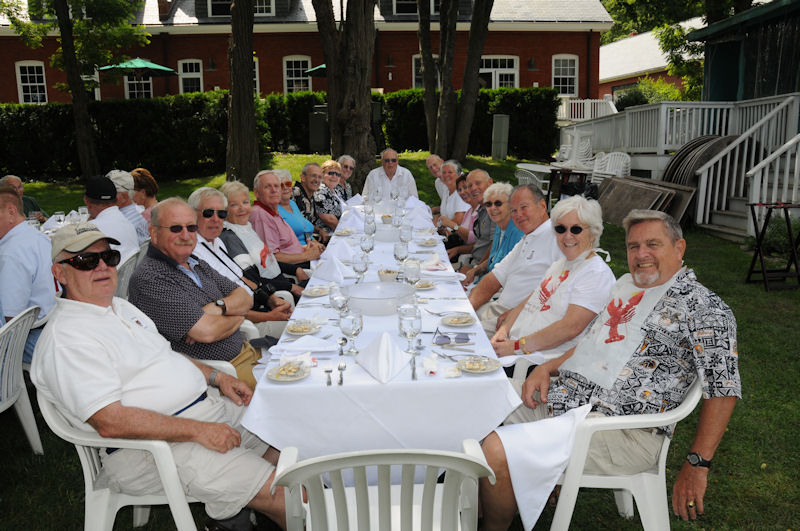 Enjoying a Maine lobster bake on Great Diamond Island
What, no desert you say? When we finished lunch, we returned to the ReJoyce and headed for Clapboard Island to have dessert with Dawn & Al Hoffman. Al is a member of the Class of 1956 and was Bill's mentor in Company L-1. The Hoffmans own a very large "cottage" that was constructed in the 1880s from wood imported from Oregon. It took only 100 days for 100 carpenters to construct this home of 20 rooms. It took far less time for our group of about 40 to devour the delicious dessert.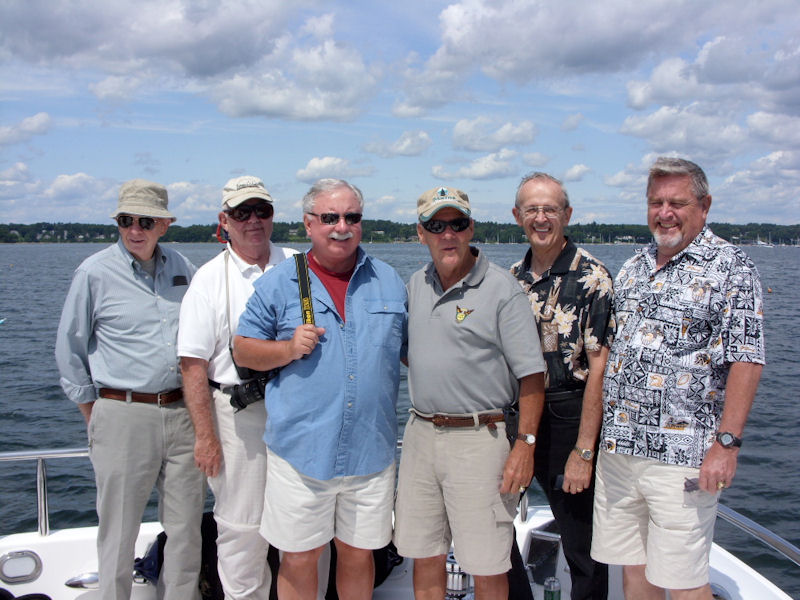 Lou Beard, Howard Stiles, Bill O'Meara, Bill Fitzgerald, Jay Madden and John McNerney on the fantail of the Rejoyce.
Attendees at the MSC included Lou & Jane Beard, Rody & Rhonda Conway, Bob & Julie DeMont, Bill and Bobbie Fitzgerald, Don & Jennifer Gruschow, Monk & Betsy Hilliard, Charlie & Jean Johnson, Darel & Mary Jane Johnson, Don Kendall, Paul & Karen Knouse, Hank & Brenda Larsen, Jay & Kathie Madden, John & Margie McNerney, Bill & Joyce O'Meara, Al & Joan Nordgren with daughter Debbie, Howard & Eileen Stiles, Jim & Phyllis Walsh and Will Weber. The day was magical. We docked in Portland at 1900. As we mingled on the dock saying our goodbyes, someone was heard to say to Howard, "How do you top this next year?"
A few weeks later Bill O'Meara asked those who took photographs to send copies to him. He then put 236 pictures on a memory stick and sent one to each participant. Very thoughtful.
Maureen Tibbetts was unable to attend the MSG. But she did join many of us who were early arrivals at a pre-mini party hosted by Darel and Mary Jane Johnson and the Larsens at a cottage on Thomas Pond just three miles from the Stiles' house on Sebago Lake. Classmates were able to reminisce with Maureen about the MSG that she and our recently departed friend and classmate Otie Tibbetts hosted in Auburn, Maine only a year ago.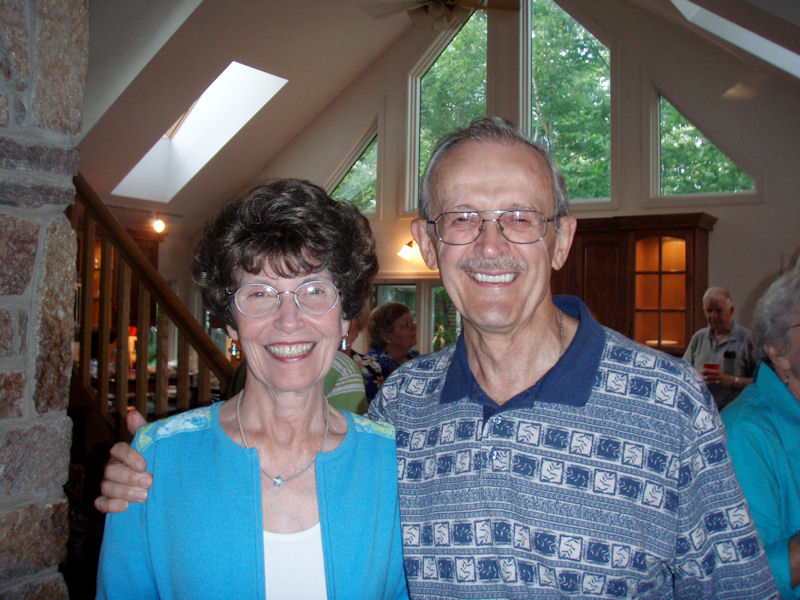 Maureen Tibbetts with Jay Madden
Continuing on with the subject of mini-reunions, the Monterey contingent has announced a mini for 11 - 15 April 2011. The host committee is made up of Bill & Susan Breen, Jim & Joan Van Loben Sels, Bill & Norma Mullen and Anna Yateman. The group has published an announcement extolling the many attractions of the Monterey - Carmel - Pebble Beach area.Many classmates have spent time on the Peninsula during various assignments, so this will be a homecoming event for them. At this time the committee is asking classmates for an early indication of interest. The group promises several follow-up teasers before seeking commitments to participate.
By now classmates should have received the calendar for 2010. Regular events for future years are a Class fall gathering hosted by Fred & Marlene Malek on the even years and hosted by Tom & Liz Munz on the odd years - perhaps in the spring or fall. Other routine mini gatherings include the ski mini in February, the A-1 and Friends "Pot Luck" picnic in May and the Maine Summer Gathering. Regional minis such as a possible one in Hawaii are strongly encouraged. Simply provide Jim Walsh with the details and he will post your mini on the calendar.
Chuck Millick reports that our Class was well represented at the annual Army Football Club gold weekend at West Point in July. The event kicked off with a dinner honoring former Army Coach Paul Dietzel. Coach Deitzel piloted B-29's during WWII at the age of 20. Before coming to Army he led LSU to a National Championship. The team of 59ers in the golf scramble, along with Chuck were Monk Hilliard, Jack Morrison, chief cheerleader Bob Novogratz and "Boom Boom" Bill Rowe.
The weekend was capped with a dinner for more than 200 former players
highlighted by an informative and inspirational talk by incoming Army Coach Rick Ellerson. The evening ended with players from the1958 undefeated team taking the stage clad in their undefeated team golf shirts. Spokesman Jack Morrison presented Coach Ellerson with one of these shirts telling him that nothing would make the '58 team happier than to have a future Army team take over the honor of that title. Jack went on to point out that because all the members of the team are over 70 that there must be a sense of urgency. Some classmates attending, along with other team members, can be seen in the accompanying photograph.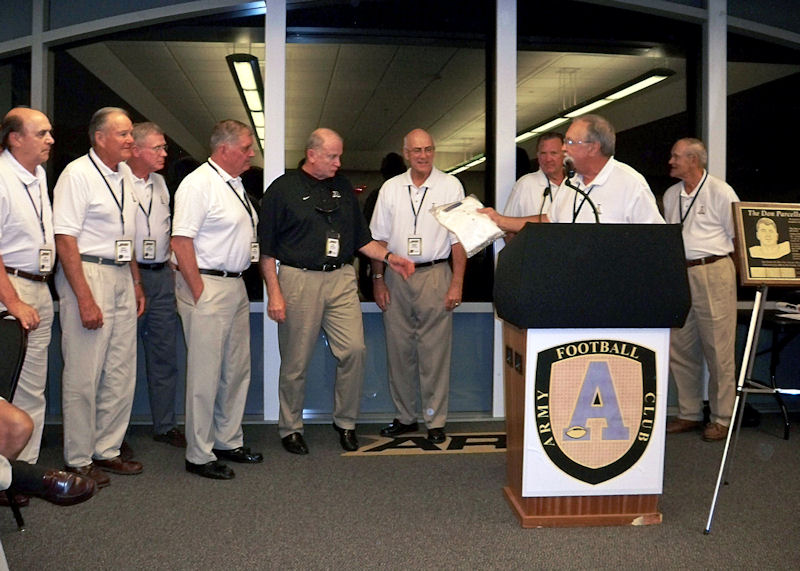 Bob Oswandel '60, Monk Hilliard, Bob McCarthy '61, Bob Anderson '60, Coach Ellerson, Chuck Millick, Frank Gibson '60, Jack Morrison and Bob Novogratz
John & Alison Orndoff are experiencing a concern that is becoming all too common for our classmates. During the past three decades we have been concerned about our children serving in the military who are in harm's way. Now this concern extends in ever increasing numbers to our grandchildren. The Orndorff's eldest grandson has completed one rotation in Iraq as a rifleman with the 10th Mountain Division. Now he is scheduled to deploy to Afghanistan as a rifle squad leader in January 2010. Their youngest grandson is a Marine in Afghanistan serving on a helicopter maintenance crew. Our thoughts and prayers are with all of our 1959 Class family serving in combat.
John and Alison stay fit by taking trips to the gym and gardening. John also enjoys golfing and, as the picture of him shows, fishing.
Photo #6
John Patterson came to West Point to follow in the footsteps of his uncle and his hero Alexander R. (Sandy) Nininger, Jr. USMA '41. Lt Nininger's remains were never found on Bataan. To honor him, there will be a memorial service at Arlington National Cemetery at 1300 hours on Tuesday, 18 May 2010. Sandy was awarded the Medal of Honor. Because of this he will receive full military honors. In addition, because of the MOH, the lettering on his cross will be in gold. Classmates and families wishing to attend should contact John for details at pattj@cox.net.
Among classmates attending the thrilling Army victory over North Texas in Denton were Jerry & Patt Cavanaugh, Guy & Donna Heath, Lou & Carolyn Hightower and Gerry & Marsha Stadler.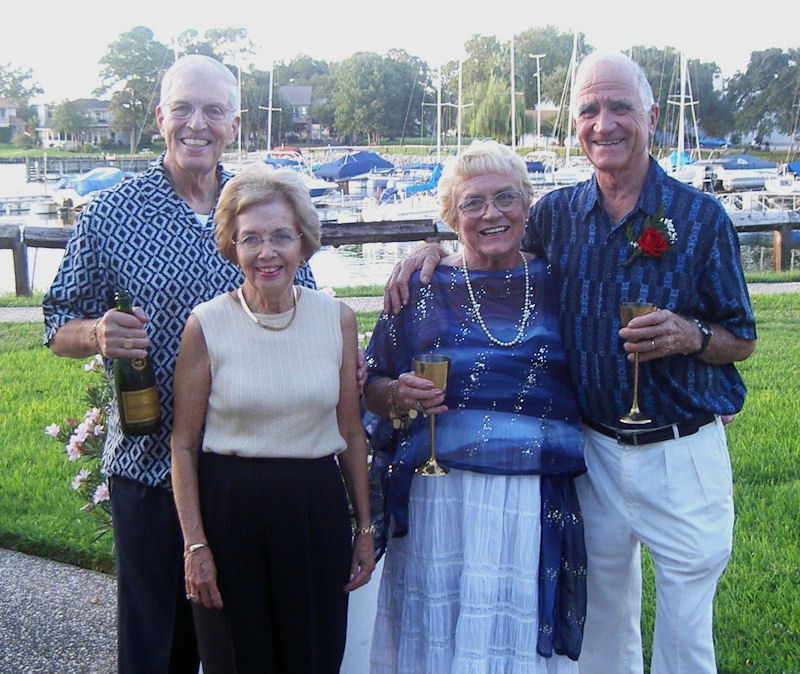 Craig & Barbara Bertolette celebrate with Betty Anne Ferris & Mike Ferris

On 27 September 2009 Mike & Betty Anne Ferris celebrated their 50th wedding anniversary at the Harbourtown Clubhouse on Lake Conroe, TX. The celebration was hosted by their six children and attended by more than 70 friends and family. Included in this group were Craig & Barbara Bertolett. Following this great party Mike and Betty Anne embarked on a 15 day cruise through the Panama Canal.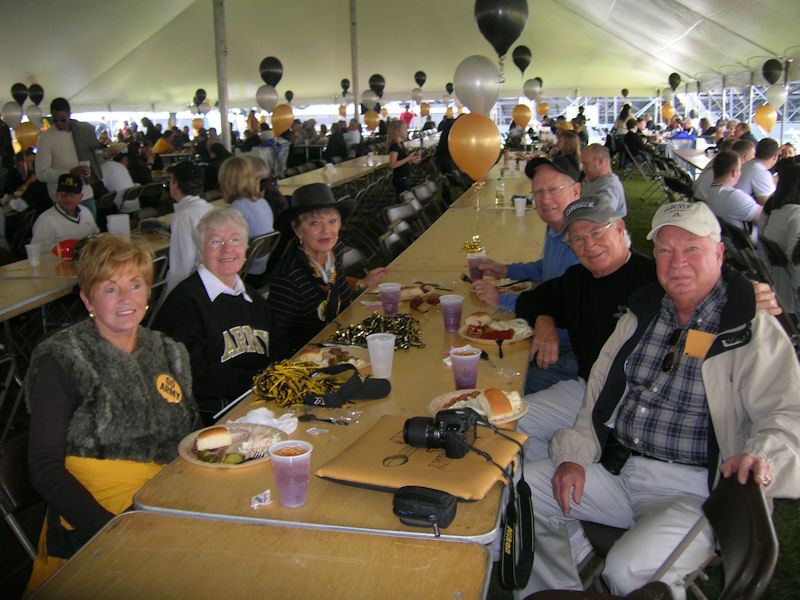 Tailgaters at the Army - North Texas Game: Patt Cavanaugh, Donna Heath, Carolyn Hightower, Lou Hightower, Jerry Cavanaugh and Guy Heath
As 2009 ends, congratulations to all classmates and wives who celebrated their golden anniversary this year.
#6 1959: Yo, Alison! Where do we keep the tartar sauce?