For the July - September 2010 issue
Farewell. Sadly, we mourn the loss of our friend and classmate Gil Roesler who died on 25 March 2010 in Charleston, SC with Ina at his side. A memorial service was held in Bluffton, SC on 6 April followed by a graveside service at the Black Hills National Cemetery near Sturgis, SD on 9 April 2010. Gil will be remembered as a stalwart on the undefeated 1958 Army football team. But he will best be remembered as a great guy, a loving husband and father, a loyal friend and a man of deep faith. The Class of 1959 sends heartfelt condolences to Ina and her two identical twin sons Scott and Steve (both USMA 1985) and the extended Roesler family.
Mike Duggan was honored to be selected to attend a Veterans Day breakfast in the East Room of the White House. The event served as the kickoff for the "Take a Veteran to School Day" initiative. Veterans representing military service spanning from WWII to Afghanistan were honored during the event and are pictured with Mike along with President & Mrs. Obama. Mike feels that he is giving back and promoting service to our country when he participates in events such as this as well as when he speaks to veterans groups.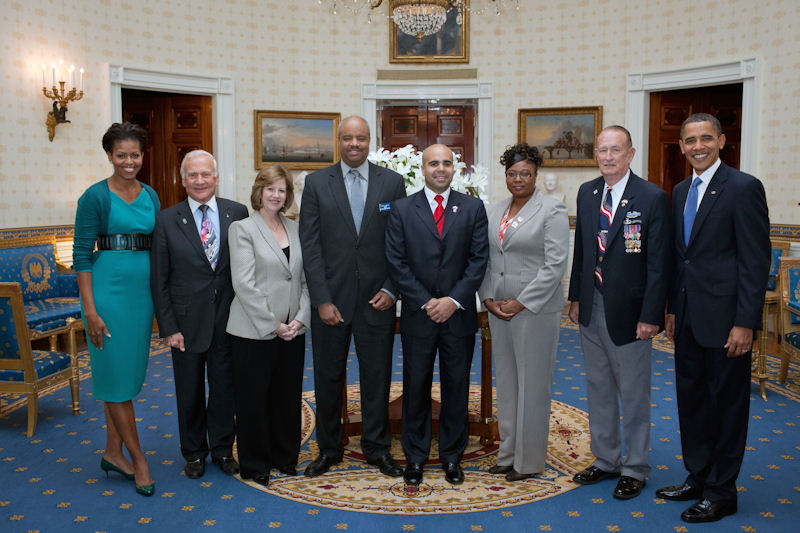 Mike Duggan standing next to the President in the East Room
Mike Faber reports that more than 100 people attended the Veterans Day ceremony at the Versace Memorial. BG Nicholson, USMA '56 was the inspirational guest speaker.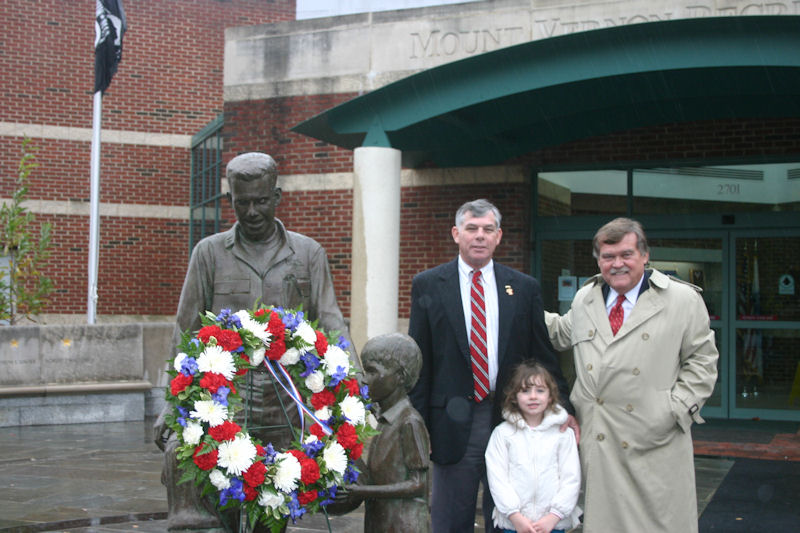 Mike Faber, right, is joined by Kevin Rue '77 and his daughter, Patricia, at the statue of Rocky
Dick & Susan Rogers renewed their vows in Winchester, VA in the church they were married in 50 years ago. After that happy event their three sons and their families joined them at the Dixieland Jazz Festival in San Diego. The Rogers concluded their month long celebration by traveling to New Zealand. They rode their tandem bike for 520 miles in eleven days across the northern portion of the island.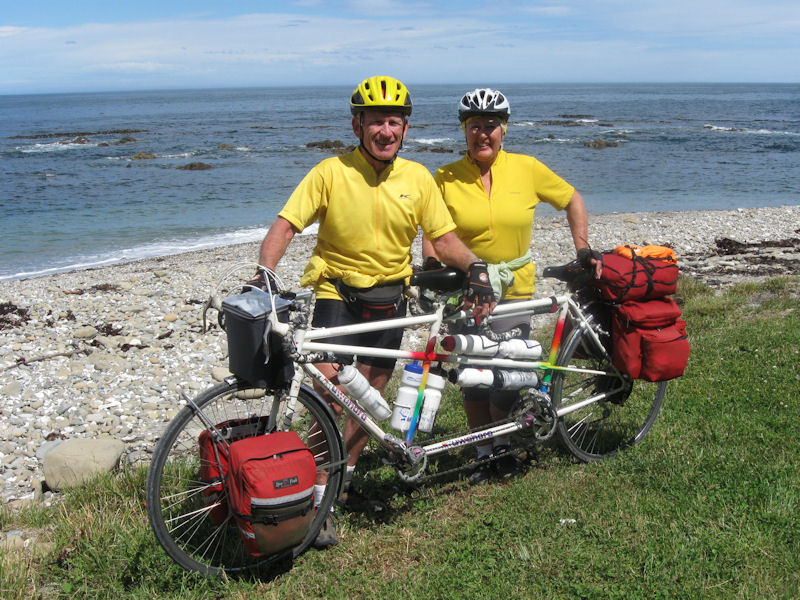 Dick & Susan Rogers near Kaikoura, New Zealand on the Pacific Ocean
Cash & Betty Mullen along with Bob & Sondra Ryan attended the Founders Day celebration in Austin. An afternoon ceremony honored LT Joseph Bonnell, USMA 1825. On 7 April 1836 LT Bonnell was sent from Fort Jessup, LA with only an interpreter to Texas to quell an uprising of 1700 hostile Indians threatening the small Texas Army of General Sam Houston. LT Bonnell completed this dangerous mission by convincing Caddo Chief Cortes to have the warriors return to their villages and live in peace. His heroic efforts led to the success of the Texas Army in the battle of San Jacinto on 21 April 1836. LT Bonnell was the only active duty Army officer involved in the Texas War for Independence. In addition to his rank of LT he became a captain in the Texas Army.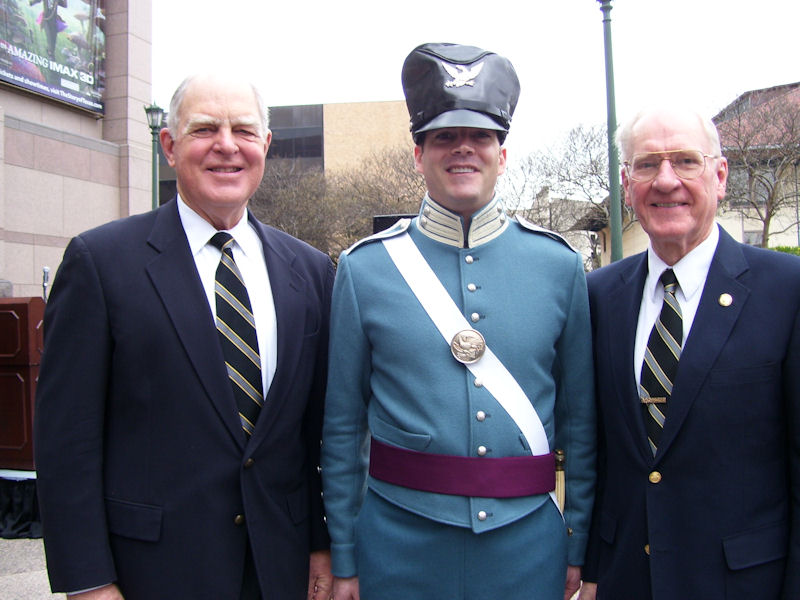 Bob Ryan & Cash Mullen stand with Marc Conselman dressed as LT Bonnell in an authentic 1830 uniform
Jerry Jervell has organized a periodic lunch for Arizona classmates in various restaurants in Casa Grande. Attendees have included Mary Boggs, Benny Carr, Jay & Caren Franz and John Harrel. When the "Lunch Bunch" met in March they were pleased to be joined by Tim Matthes who lives in Silver City, NM.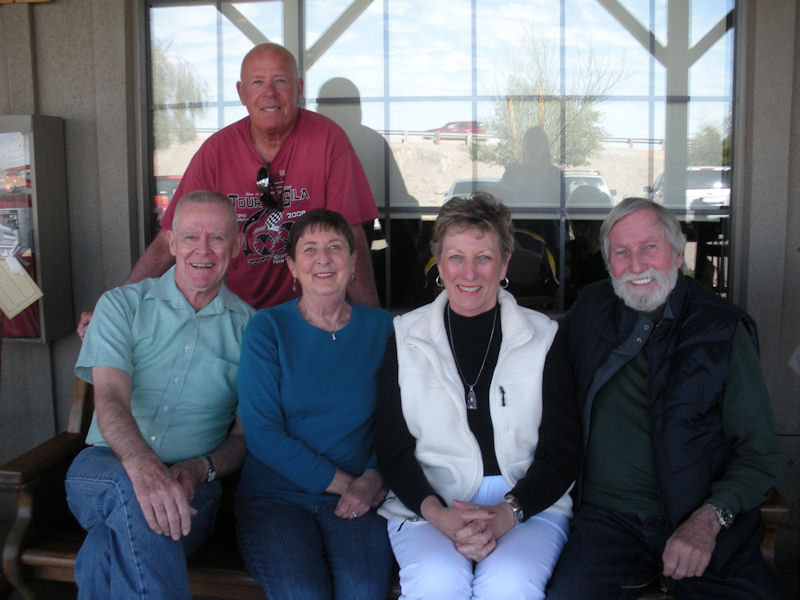 Tim Matthes (standing) along with Jay & Caren Franz, Mary Boggs and Jerry Jervel at lunch in Casa Grande, AZ
JJ & Barbara O'Brien find themselves spending less time at work and more traveling between Dedham, MA and Fort Myers, FL - note that both are prime Red Sox locations. More noteworthy is that the O'Briens are strong supporters of the New England Center for Homeless Veterans that has the admirable goal of returning veterans to their "home base."
Bill Callaghan was spotted at the Lloyd Noble Center in Norman watching the Sooners win. He was the house guest of Buck (Annapolis 1960) & Gail Bonifay. Many field artillery classmates as well as others know Buck who saw the light and spent a distinguished 30 year career in the Army.
On the subject of the FA, Gerry & Marsha Stadler have moved to Fort Mill, SC. This means that of the 161 2LT FA classmates who reported to Fort Sill in August 1959, the last man still in the Lawton/Fort Sill area is Tony Pokorny.
Another great FA soldier, Don Eckelbarger, was the guest speaker at the Marble Falls, Texas Veterans' Day ceremony. During the event Don participated in the dedication of a beautiful lighted flagpole adjacent to the magnificent monument honoring veterans.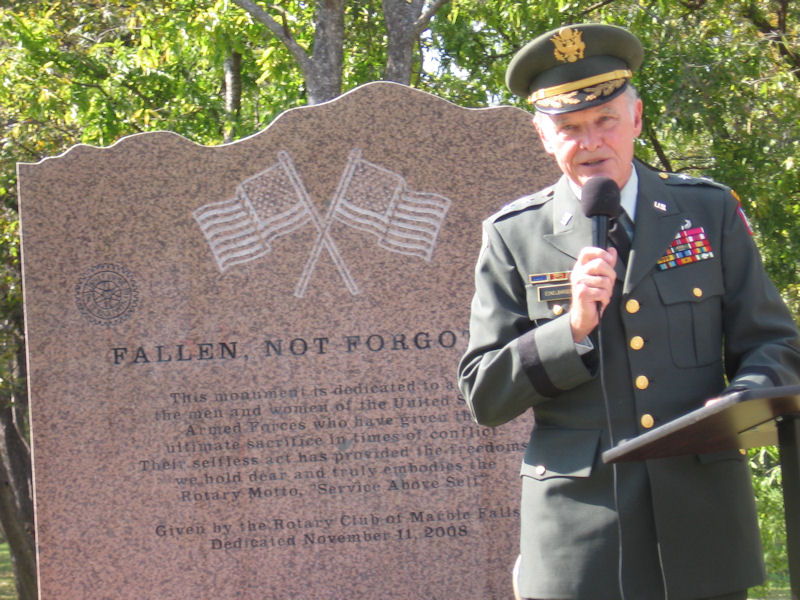 Guest speaker Don Eckelbarger at Veterans Day in Marble Falls, Texas
Last November (these notes are anything but timely!) Norman & Elva Rosner headed west from Atlanta to visit Elva's family in Texas. Their first stop was a weekend visit with Bill & Carol Luther and their menagerie of three dogs and three cats ... and counting. Highlights included seeing Auburn beat favored Mississippi and a visit to the new spectacular Infantry Museum just outside Fort Benning. Classmates recognized in the museum include Roger Donlon and Rocky Versace. Norman was told that an Armor Museun will be built nearby. While in Texas the Rosners enjoyed lunch with Sandy & Carol Beach and dinner with Jack & Nancy Neal.
Later the Rosners visited their daughter and her family in Aiken, SC who is a neighbor of Jack Morrison. While in Aiken The Rosners and Luthers met up again where they dined in one of Aiken's very quaint restaurants.
Each year on the Sunday following the Founders' Day celebration at Fort McPherson, Elva and Norman host a brunch for classmates in and around Atlanta. Attendees this year included Ed & Trish Burba, Doug & Betsy Campbell, Elizabeth Gabel, John & Jane Joh, Bill & Carol Luther and Don & Maryhelen Reinhard.
A special guest flew in from Seattle to join these classmates. His name is Joe Burkard. Two years ago the Rosners met Joe in a churchyard in Kiev, Ukraine. Joe, now 87, jumped into France (Caretan) on D Day as a member of the 101st Airborne Division, and later jumped into Holland during Operation Market Garden. He also was there when the Division fought its way out of Bastogne during the Battle of the Bulge. Norman said that they were all richer for the time spent with Joe.
Skip & Nancy Tyler report that they along with Pat & Judy Letchworth plus Don & Hazel Tillar attended the West Point Society of Williamsburg's 2010 opening social in January. Apparently all other classmates residing in the epicenter of USMA 1959 were on authorized absences. What they missed was Tex Turner's excellent presentation on the West Point recruitment program. Tex devotes much time to this highly successful program.
The 10th Annual Class Ski Mini Was celebrated at Snowmass Colorado in February. Attending were Gary & Nadine Beech, Bob & Karen Croteau, Pete & Judi Dawkins, Al & Nancy Dorris, Bill & Bobbie Fitzgerald along with their daughter and son-in-law, Mike Gillette, John McNerney, John & Karla Moellering, Tom & Liz Munz, Bob & Sandra Ryan and Paul & Cindy Sper. Heavy snow kept part of the group from arriving for the first day but by the second day everyone was present and accounted for with near perfect snow conditions for the balance of the week. They all got together for dinner for five of the seven nights and met for lunch on the slopes each day to trade opinions of the best slopes and tall stories of past exploits. Next year the group will reconvene at either Vail or Breckenridge around the first of March. More precise planning information will be provided to those on the class ski distribution list during the summer.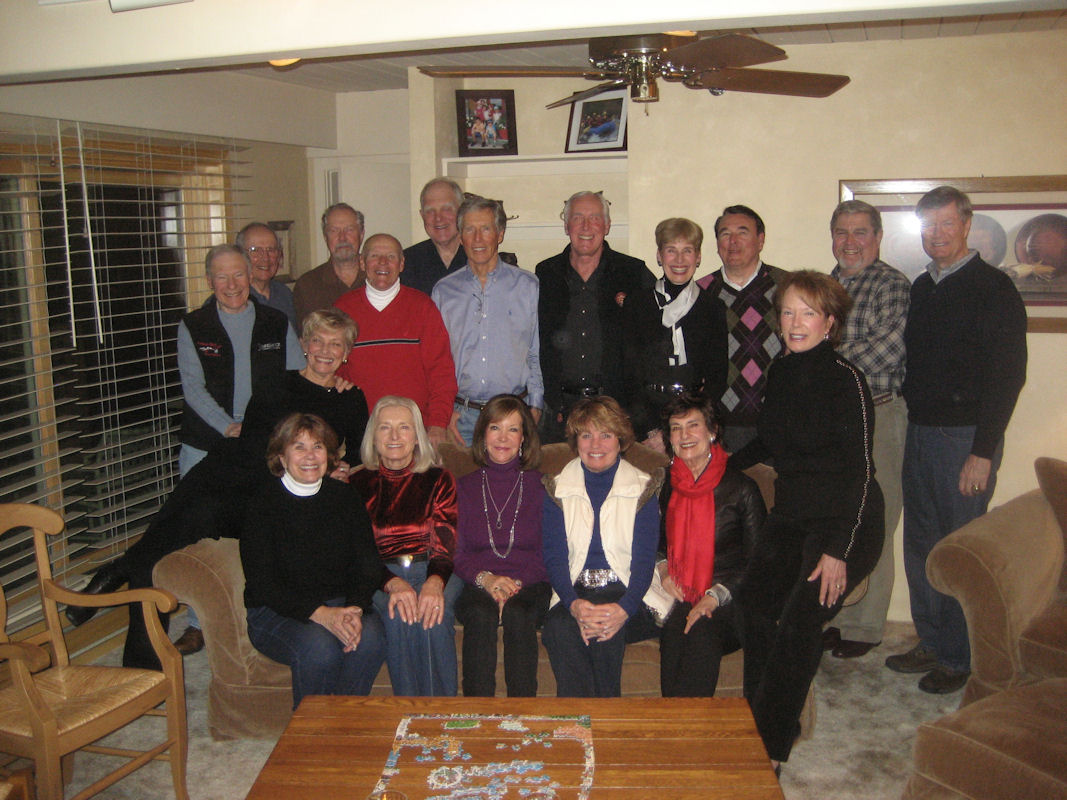 After dinner at the ski mini. Front Row: Cindy Sper, Bobbie Fitzgerald, Nadine Beech, Liz Munz, Judi Dawkins, Nancy Dorris, Karla Moellering. Rear Row: Paul Sper, Gary Beech, Mike Gillette, Bill Fitzgerald, Bob Ryan, Tom Munz, Pete Dawkins, Sondra Ryan, Al Dorris, John McNerney and John Moellering
Monterey Mini. Don't miss it! It is scheduled for 11 - 15 April 2011. Need more information? Contact any classmate on the committee - Bill Breen,
Jim Van Loben Sels or Bill Mullen.
Have you noticed how many of our classmates are spending time and effort volunteering to our class and our communities? Several have already been mentioned in these notes. How about the incredible effort of Jerry Jervell and his outstanding team working to complete Volume II after their astounding success with Volume I? Then there are classmates such as Roy Losey who thinks he might bore you with news that he volunteers three or four times a week at a prison and county jail trying to reduce the return rate. Sounds very intense and exceptionally worthwhile. Volunteering is at the heart of "Duty, Honor, Country.