For the January-March 2010 issue
FAREWELL. Sadly, we mourn the loss of John Cox, Keith Herbst, Caroline Turner and James Hahn, Jr.
John Robert Cox. Many of us were fortunate to have been with Johnny and his wife, Kay, during our 50th reunion. He was in good spirits despite having to use a personal scooter for mobility. Soon after that, John announced during a church service that the treatments he had been taking for cancer had been successful. RADM Wally Guthrie, USNA '61 was at the service. While driving home Wally came upon the scene of a scooter accident. It was John. A day later, following brain surgery, John went into a coma. He never recovered.
A memorial service was conducted on 11 July 2009 at the Cornerstone Bible Church in St. Petersburg. It was a beautiful service attended by many dignitaries. Classmates who attended were John & Pat Eberhard, John & Elaine Guthrie, Jerry & Jeri Hilmes, George & Beth Kleb, Bill & Sharon Murray, Will Stocker, Paul Sper, and Jay & Camille Warren. At the conclusion of the ceremony all classmates came front and center where Jerry Hilmes remembered John as a classmate, stellar athlete and Special Forces professional. Classmates then conveyed their condolences to Kay and the surviving three children and four grandchildren.
Keith Herbst. Keith's wife, Marilyn, informed the class that Keith died in Everson, PA on 16 June 2009. Keith was a member of Company K-2. He resigned near the end of plebe year.
Caroline Bell Turner. Caroline, beloved wife of our classmate, Tex Turner, died at home on 28 June 2009 after a long, courageous battle with cancer. On 3 July friends and family gathered at the Nelsen Funeral Home in Williamsburg, VA to celebrate her life. Members of the class who joined to express their condolences to Tex, his son Dan and wife, and daughter Mary and her husband, included Irv & Phyllis Broocke, Bill & Marlene Burleson, Jim Corr and his wife, Birdie Nuckols, George & Beth Kleb, Bob Letchworth, Pat & Regina Passarella, Tom & Ann Russell, Joe Shea, Don & Hazel Tillar, Paul & Pat Tomiczek, Skip & Nancy Tyler, and Harry& Illa Walters.
On 17 September on a beautiful sunny afternoon at West Point a memorial service was conducted at the Old Cadet Chapel that was overflowing with family, classmates, cadets and friends. Classmates attending were Art & Babs Bair, Randy & Mary Anne Bell, Don Coen, Paul & Fran Elias, Lou Hightower, Fred & Dot McConville, Bruce & Dorothy Medaris, Hugh O'Connor, and Don Tillar. Caroline was buried near the grave of her father, MG Raymond E. Bell, Class of 1927. Following a reception at Herbert Hall an Irish Wake was held at a friend's house in Caroline's home town of Cornwall-on-Hudson, NY. Tex thanks everyone who attended services in Williamsburg and at West Point and appreciates the cards, letters and flowers from hundreds of friends across the country.
James Hahn, Jr. James, son of our deceased classmate Jim Hahn and Arlene Hahn died on 4 August 2009 of liver and kidney failure. In addition to Arlene, Jim junior is survived by his wife, Janet and her son Brody, his brother, David and his family and his sister, Mary, and her family.
The Class sends heartfelt condolences to all the families and friends of each of these members of the Class of 1959 family.
On Memorial Day family and friends of our classmate, Rocky Versace gathered at the CPT Rocky Versace Plaza to honor Rocky and 67 other soldiers at the Vietnam Veterans' Memorial in Alexandria, VA. Classmates attending are pictured in the accompanying photograph.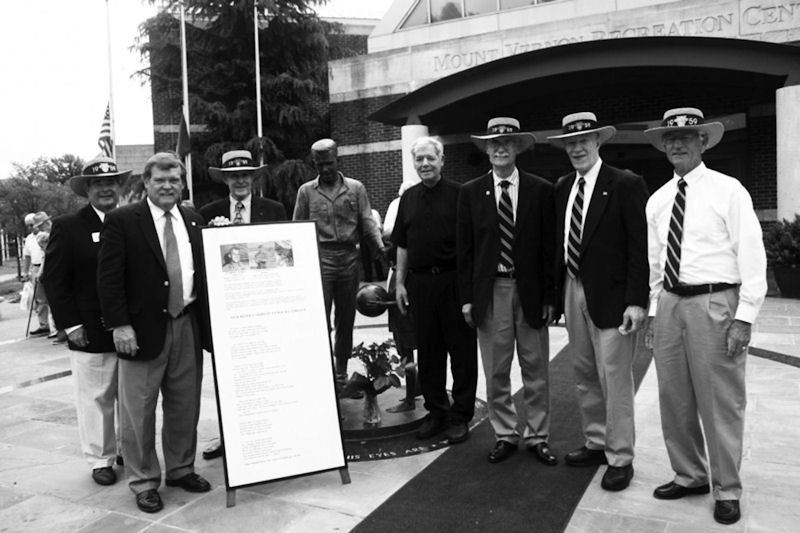 Frank Besson, Mike Faber (Honorary Classmate) Tom Boyle, Statue of Rocky, Dr. Stephen Versace, Rocky's brother, Rex Rhein, Bruce Williams and John Gurr
The Doctors Barry. Bill Barry reports that Brita along with their daughter Shannon plus their son Kevin (USMA '89) continued their family tradition of participating in the annual 4th of July 5K run near their lake house at Lake Burton in NE Georgia. There were about 1000 runners in the sanctioned event. As seen in the accompanying photograph, the Doctors Barry garnered far more than their fair share of trophies. On this occasion the family also celebrated Shannon's M.D. degree. Hence the "Doctors Barry."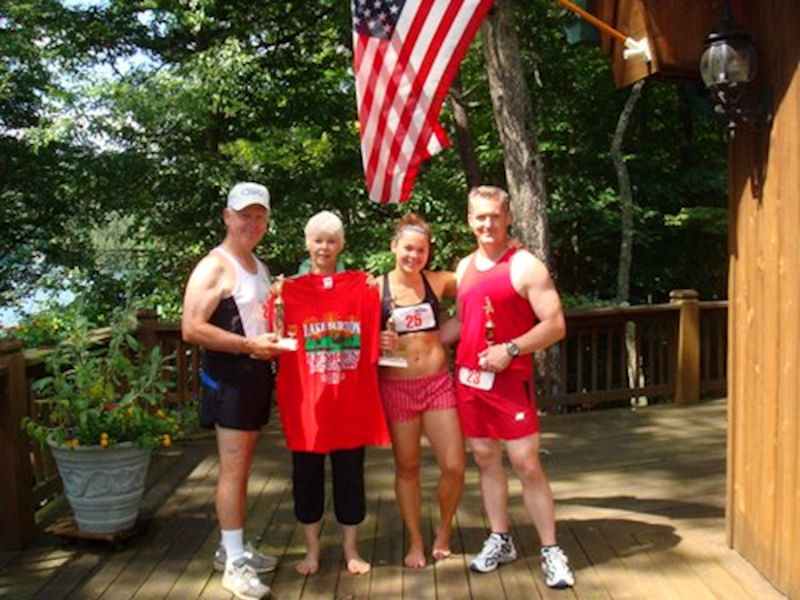 Doctors Barry: Bill, Brita, Shannon & Kevin … with trophies.
In early August Roger & Rinny Ware invited Sandy & Carol Beach along with Lou Schroeder to dinner at their beautiful home in Greenwood Village, CO. Much fun was had reminiscing about the Recent 50th and the years preceding that memorable event.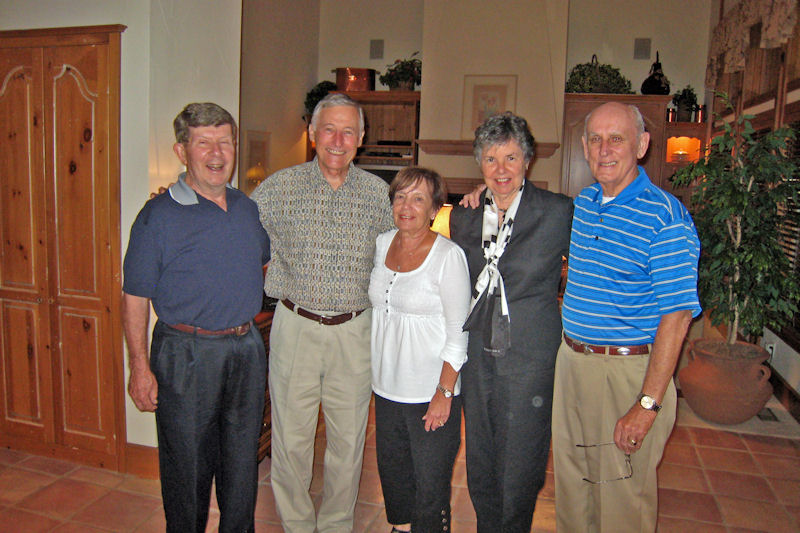 Lou, Sandy, Carol, Rinny and Roger at the Ware's.
The annual Maine Summer Gathering orchestrated by Howard & Eileen Stiles took place on 6 August 2009. Because of the limited number of words each class is allowed for these notes, there is not enough space in this column to describe the great day that attendees had on Bill & Joyce O'Meara's yacht cruising around Casco Bay. That will have to wait until next time. For now, enjoy the group photograph.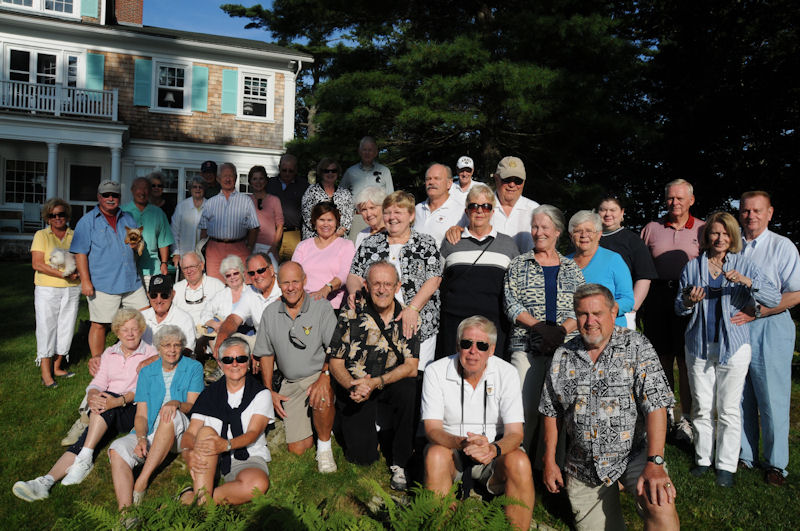 Maine Summer Gathering group.
In August, while at the MD Anderson Cancer Center, Jerry & Sandy Fogel enjoyed lunch with Sandy & Carol Beach. (See enclosed picture.) As many of you know, Jerry was diagnosed with lymphoma in September 2008. At that time Sandy told Jerry that a replacement could be found to chair the reunion while he fought this disease. Jerry's response was, "Sandy, you don't understand. Being designated as the 50th Reunion Chairman is the highest honor of my life." Clearly, Jerry's attitude and performance should be an inspiration to us all.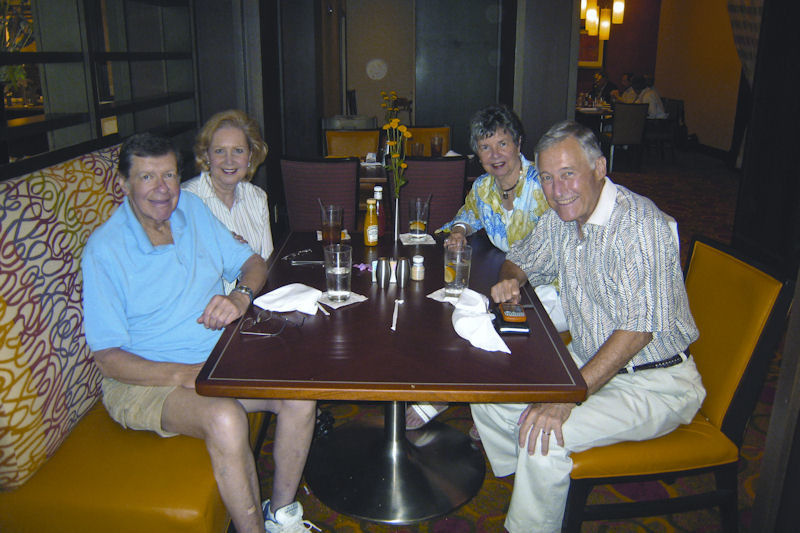 Jerry & Sandy Fogel lunch with Carol & Sandy Beach.
Tom Roberts describes an active cluster of classmates in Williamsburg, VA as the "Fabulous Four" consisting of Regina Passarella, Marty Roberts, Hazel Tillar and Pat Tomiczek. Occasionally, this group doubles its pleasure by adding spouses Pat, Tom, Don and Paul. On a Sunday in September the "Elite Eight" trekked down to Fort Monroe to enjoy Sunday Brunch together at the recently renovated Chamberlin Hotel. Tom reports that the elegant charm of the lobby, dining room and common areas has been restored. For those who were billeted here while on TDY to TRADOC a couple of decades or more ago know that this is quite a remarkable accomplishment.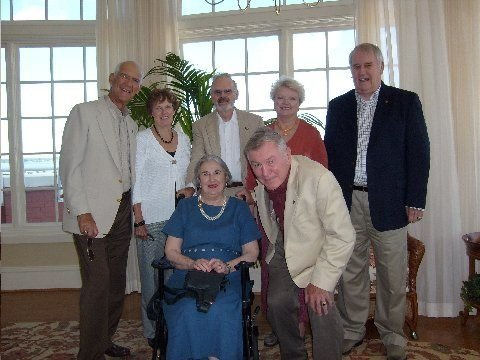 Standing are Don & Hazel Tillar, Pat & Regina Passarella, and Tom Roberts. Seated are Pat & Paul Tomiczek. Photo by Marty Roberts.
Tom also reported on a lunch in late September to break bread with Ron & Jeri Baldwin who were vacationing from Lexington, VA. In addition to Tom and the Baldwins other attendees were Irv & Phyllis Broocke, Don & Hazel Tillar, Paul & Pat Tomiczek, Tex Turner and Skip Tyler.
Among the Army contingent that traveled to Ypsilanti to enjoy the Army 24 - 17 victory over EMU were Dick & Yvonne Harnly and Jim & Nel Miller.
In late September Guy & Donna Heath hosted a gathering of classmates at their beautiful country home in New Braunfels located just north of San Antonio. Len Einbinder, Guy's Plebe year roommate from NJ attended along with Len's daughter and a friend. Another M-1 classmate Carl Webster with his wife, Louise, came up from the Houston area. Joining the group were Kevin & Anne O'Neill from College Station and John & Beverly Corby, Jack & Nancy Neal and Ron & Faye Templeton from nearby San Antonio. In the company of horses, stables and a few deer the group enjoyed a great country barbeque.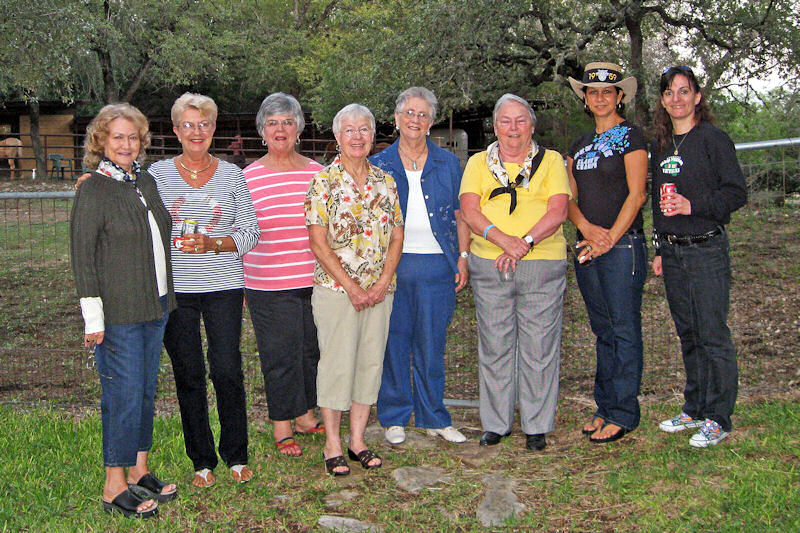 The womenfolk at the Heath's country barbeque are Bev Corby, Nancy Neal, Louise Webster, Donna Heath, Faye Templeton, Anne O'Neill, Sharon's friend and Len's daughter Sharon.
Class Archivist. Jim Walsh has been contacted by classmates, widows, and children of classmates offering to donate mementos that may be of interest to the class. Jim has some ideas - but he is looking for assistance with this project. Any classmate interested in helping him should contact Jim.
Many of you have read the many email tributes from classmates to Joe & Polly Coreth for their 50 years of service to the class. I can tell you that this praise is richly deserved. 250 of these class notes is astounding! I cannot imagine doing 249 more of these.
All for now. Best wishes. Hank