MAY 2009
Bill Breen reported that Tom Mooney died at home in Thousand Oaks, CA, in the arms of his wife, Mell, on 12 December. He had a history of aneurysms and that was given as the cause of his death. I believe the burial was to be in February near their former home in Flathead Lake, MT. The thoughts and prayers of the Class are offered for Mell, for their children, Laura and Doreen, their four grandchildren, and all their family and friends.
Ed & Lee Stauch are in Bel Air, MD, where Ed retired from 40 years at Aberdeen Proving Ground as an officer, civilian and contractor at all levels and in all facets of the test and evaluation business. Now he seems just as busy with hobbies and volunteer efforts. He sings in a 45 member Baltimore Irishman's Chorale (as perhaps the only Kraut, he says, whose ancestors hailed from County Heidelberg). They do about 40 gigs a year around Baltimore and Maryland, and have also been to New Jersey, Pennsylvania, Tennessee, and to Ireland (must have been the real test) for a ten-day singing tour several years ago. Ed also does hammer-and-nail work for Habitat for Humanity, and helps coach an "Adaptive Lacrosse" team of handicapped kids, including his youngest grandson. It is quite gratifying, he says, to watch these kids, some severely handicapped in ability, in full uniform and helmets, traverse the fields with fierce determination and glee.
Johnny Cox has been inducted into the New York Military Academy (about five miles north of WP) Sports Hall of Fame. He spent nine years there and received an Honor School appointment to WP along with John Patterson and Bill Schwartz. The award was presented to Johnny, one of the great athletes of our class, at NYMA on 29 April.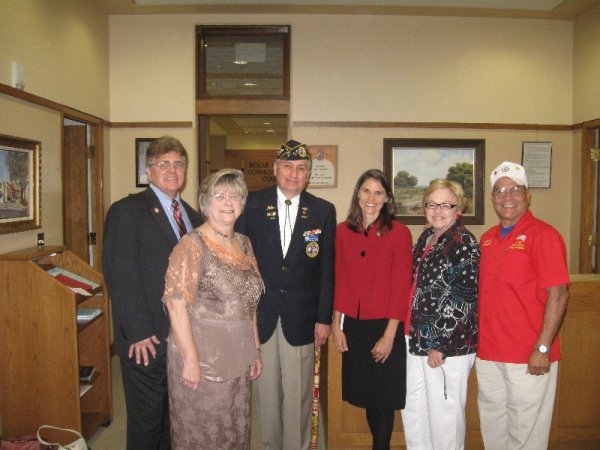 Jennifer Greene, Roy's daughter (center), surrounded by award finalists and a Bexar County official (at far left).
John Corby reported that Bexar County (San Antonio) officials last year created the LeRoy V. Greene, Jr. Award as a means to recognize persons who devote time and energy to supporting our veterans. Roy was one of the original members of the Bexar County Veterans Advisory Committee, which was formed in 2005. The first presentation of this annual award was made on Veterans Day 2008 in front of the Alamo, just prior to the Veterans Day parade through downtown San Antonio. Memory of Roy lives on.
Charlie & Mary Jo Tennant are in Westlake Village, CA, where Charlie says he is fully retired. He keeps pretty busy, though, volunteering in the local community, counseling for USMA admissions (currently treasurer and a past president of the WP Society of Los Angeles), working with the Discovery Center of Science and Technology, and officiating high school football and softball games. Can't keep up with them in basketball anymore, he says.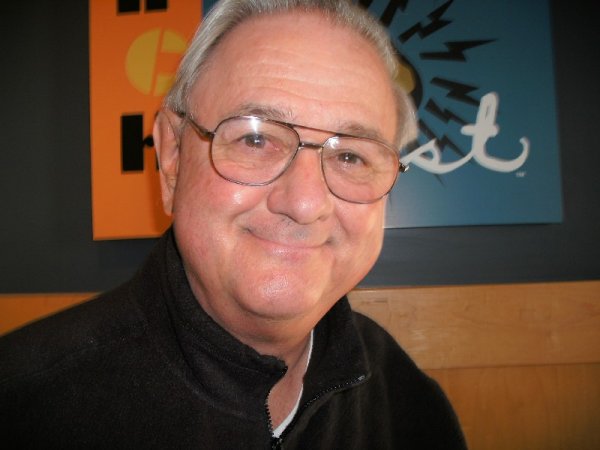 Charlie Tennant
John Moellering writes that he and Karla spent Christmas with their daughter and son-in-law at Aspen-Snowmass, CO. One of the evenings they joined Al & Nancy Dorris and their family at their condo for dinner. They had great skiing with four feet of new snow while they were there.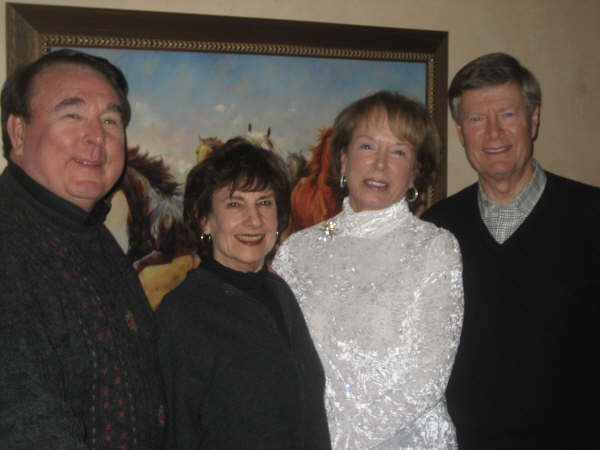 Snowmass: Al & Nancy Dorris with Karla & John Moellering.
Lou & Judy Sullenberger are in Valrico, FL, 16 miles west of Tampa, in a house they bought 30 years ago when Lou retired from the Army. Then it was in the orange groves, and now it is surrounded by 250,000 people. Lou says they take a couple of weeklong trips a year to the West to relax and hike, usually to Moab, UT, and Taos, NM; and they take a family beach week each year (there are three daughters and sons-in-law and five grandchildren, all in Florida). Lou & Judy are in pretty good health and work out five days at the local YMCA. They celebrate their 50th anniversary in July.
Paul & Pat Tomiczek are in the Williamsburg group and regularly meet with Pat Passarella, Tom Roberts, Don Tillar, and Skip Tyler with their wives. Paul tries to keep himself in good health and physical condition; and he enjoys traveling, reading and some golf and bridge. He assists Tex Turner in selection of potential WP candidates, mentors local grade school students in math and science, and tries to stay involved with their six grandchildren.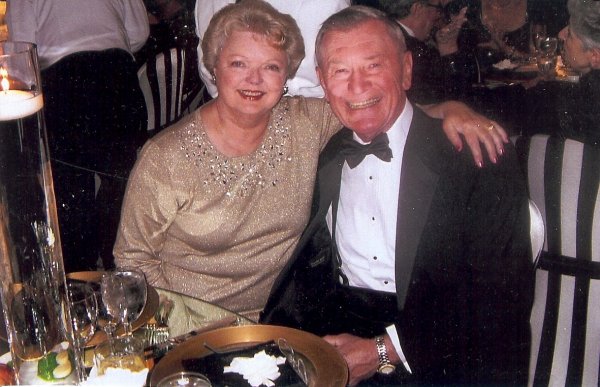 Pat & Paul Tomiczek
And speaking of Don Tillar, he and Hazel are getting ready to go back to work as seasonal employees at Williamsburg's Busch Gardens, she as a main gate cashier and he as a Rhine River boat captain (pictured here in January). Don sees his neighbor Bill Burleson and the rest of the Williamsburg group frequently. He just came off the BOD of the local WP Society after nine straight years; and he serves as chairman of the executive committee for Friends of Army Lacrosse, a group of ten trying to coordinate fundraising and social activities for lacrosse alumni, parents and players.
Bill & Inge Stocker are in Clearwater, FL, and are working hard at retirement, says Bill. He sees golf buddies Johnny Cox and Joe Hurst at courses in the Tampa area; and he went on his first ocean cruise last December from Ft. Lauderdale, through the Panama Canal and up the West Coast to San Diego where he saw his third great grandson Gavin Stocker who was just 22 days old. Inge cannot travel on boats, so Bill went with an old Army buddy. Health is fairly good, says Bill, except for a bit of arthritis and COPD.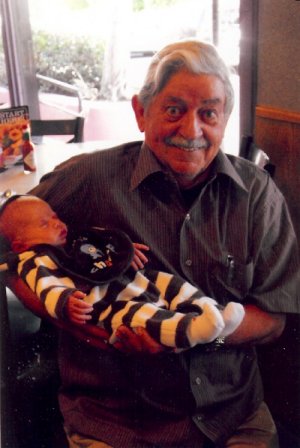 Bill Stocker with third great grandson, Kevin, in San Diego.
Don & Nancy Svendsen have been in East Greenwich, RI, since retiring from the Army about 20 years ago. Don thinks he is the only classmate in Rhode Island, but he does keep up with other West Pointers in the Founders Day events and the annual "Ring Melt." There are, of course, plenty of Naval War College and other Navy remnants in the area, which the Svendsens found to be like a resort with conservative charm. They enjoy helping their daughter, Susan, with a business she began making 18 inch "handicapped" dolls with leg prostheses and bald heads for children with such since there was nothing like that on the market. They operate out of their home and are represented on the internet at www.sew-dolling.com. They continue to be active with a church they helped start several years ago, where Don oversaw construction and now teaches leadership to the youth group along with the Youth Pastor. Don has infrequent telephone and Christmas card contact with his ranger buddy, Ray Beurket, and Dave Gray, one of his roommates. He & Nancy have two sons with three children each and they get to see them a couple of times a year.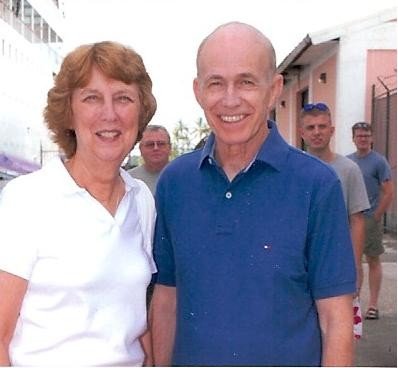 Nancy & Don Svendsen
Gerry & Marsha Stadler continue to thrive in Lawton, OK, where Gerry is a financial advisor with IBC Investments. They play tennis and golf a good bit, and last summer they enjoyed cruising the waterways of Russia. They visit their grandsons in Virginia frequently; and, for over 40 years Gerry has made an annual visit to a Civil War battlefield (this year Shiloh) where the war fans trade bad jokes, bourbon shots and battle analysis, not necessarily in that order, he says. Like the rest of us he can't wait to have an Army football team with a winning season, and he looks forward to seeing old friends at the 50th Reunion, which is probably a memory by the time you read this!