SEPTEMBER 2008
Al Devereaux died on 18 May in Tallahassee, FL, Services were on 22 May at St. John's Episcopal Church in Tallahassee. Our sincere condolences are offered to his wife, Melissa, his children, Stephen and Melissa, and to all his family and friends. Burial at West Point on 27 June was attended by classmates Bruce Medaris, Len Einbinder, and Bob Roth. Ron Salter and Wayne Lambert were at the Tallahassee service.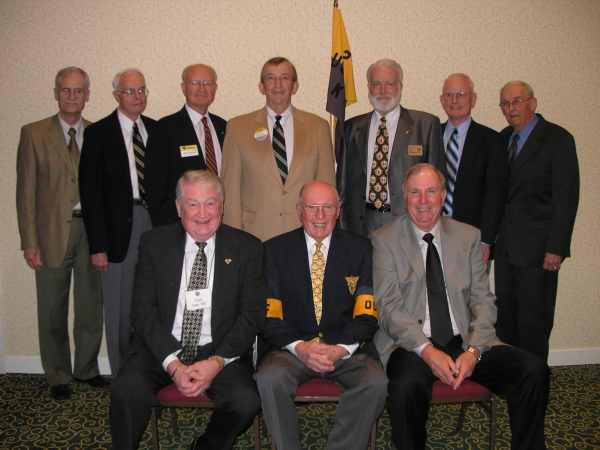 59ers at K-2 Reunion: seated: Leo, McCunniff, and Lewis. Standing: Rhein, Tibbetts, Bohman, Moorhead, Huntingdon, Servis, and Charlie Johnson.
Jerry Noga died on 20 May in Winston-Salem, NC. Our thoughts and prayers are with his wife, Donna, and his sons, Vaughn and Shawn, and with all who loved and admired him. A service was held at the Church of Jesus Christ of Latter Day Saints in Winston-Salem on 7 June, and classmates Fred McConnville, Johnny Carroll, Hugh O'Connor and Charlie Johnson were among those who attended. Jerry's ashes will be interred at USMA on 9 October.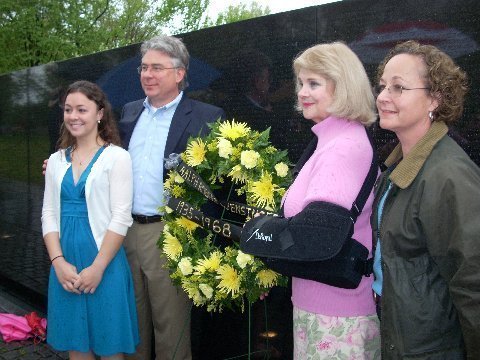 Vietnam Wall Ceremony: Ralph Wensinger's sister, Rosalyn Wensinger Sands (second from right) is shown with Karl Sherman, Ralph's nephew, along with his wife, Kathy, and his daughter, Kelsey.
There was rain on the morning of 20 April when we gathered at the Vietnam Wall to remember and honor our classmates Roger Quinn and Ralph Wensinger who fell in that war of our lifetimes 40 years ago. We were able to hear a memorable tribute to Roger by his friend and company mate, Charlie Johnson, before the heavens opened in earnest and we had to retreat to the Army Navy Country Club for the remainder of the event. But not before we rushed down to the wall to place our wreaths of remembrance.
Once safely indoors, more moving remarks about Roger were made by K-2 friends, Pete Keogh, Phil Huntingdon, and Phil Yeats. There followed tributes to Ralph Wensinger by John Gurr, Dick Welch (who remembered Ralph's leadership as quarterback on the 150 pound football team, especially his calmness and tenacity on leading the team to the winning touchdown of the inaugural Navy game in 1957), and Rosalyn Sands, Ralph's sister. Rosalyn remembered cross-shaped contrails on her trip from Ohio to Ralph's funeral at West Point. Pete Dawkins ended the remarks by expressing our sadness, pride, and even joy remembering these our classmates who took on hazardous assignments to go well beyond what could and should have been expected.
Tracey Magnussen, Mark's daughter, was awarded this year's class scholarship of $2,000 on April 1. Heidi Riddles, last year's recipient and daughter of our deceased classmate, Tom Soli, reports that she will receive her Master's in child development next May and then, after a small break, will pursue her PhD.
Bill Breen sends the photo of Jim Loben Sels and him viewing the terra cotta soldiers discovered near Xi Ahn, China. They, along with Sue and Joan were on a Chamber of Commerce trip in early April.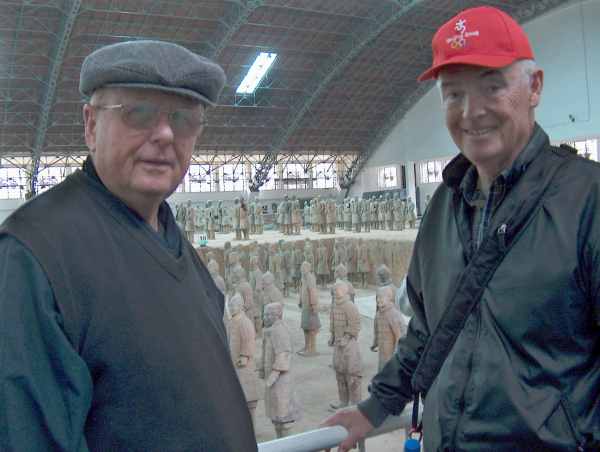 Van Loben Sels and Breen absorbing Chinese culture.
The gala Florida mini was held from 4 to 7 May at the Sirata Hotel on St. Pete Beach. Over 120 classmates and wives attended and enjoyed a leisurely schedule of only one big event per day and lots of free time for swimming and other Florida activities. There was a welcome reception on the beach on Sunday evening with lots of food and drink; a class meeting on Monday morning with a 30 minute teleconference with football coach Stan Brock, who gave everyone some hope about the coming season; and the Tuesday night dinner was highlighted by a talk by Admiral Eric T. Olson, head of the U.S. Special Operations Command. Under his command, located at MacDill AFB in Florida, are the Army Green Berets and Rangers, the Navy SEALS, and the Marine and Air Force commandos. He feels that these elite forces are overstretched at the moment. The farewell breakfast the next morning found everyone agreeing that the mini was first rate, and general thanks were given the reunion committee of Johnny Cox, John Guthrie, Jerry Hilmes and Joe Hurst.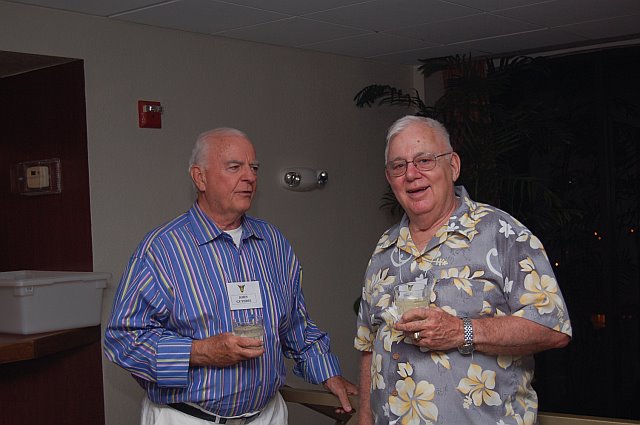 Tampa mini: John Guthrie and Howard Stiles.
The 14th Annual A-1 and friends potluck picnic was at the home of Bill & Butch Rowe in Carlisle on 17 May. Jim Walsh reported that cool and breezy weather did not hamper enthusiasm or appetite for A-1ers Jim & Phyllis, Ray & Jan Beurket, Tom & Frieda Borlund, Monk & Betsy Hilliard and Rick & Elsa Kocienda; and "friends," Art & Babs Bair, Bill & Sue Breen, Mike & Judy Duggan, John & Kathy Harkins, and Tom & Ann Russell. A full bar greeted folks along with hors d'oeuvres that preceded Bill's grilled marinated flank steak (which has made him famous). The finale was watching Big Brown win the Preakness, his second stride to the hoped-for, but later not-to-be, race for the Triple Crown. George & Pat Day (B-1 but almost tall enough) volunteered to sponsor the picnic at their new place in Rehoboth, DE, in 2010, our taking a break for our 50th Reunion next year.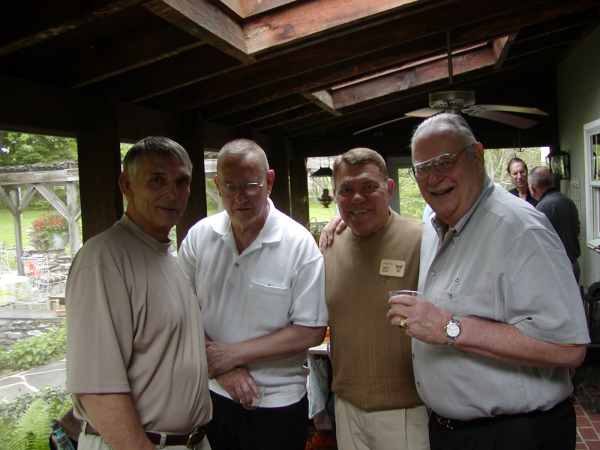 A-1 picnic: Bill Rowe, Tom Borlund, Art Bair, Jim Walsh.
Tom & Liz Munz once again opened their Severn River estate to over 70 classmates on 7 June for a grand catered picnic that began at with our enjoyment of the gardens and grounds; took us through delicious appetizers, drinks, and a buffet; and ended with our thanks for a sunny and memorable afternoon. Pete Dawkins awarded our exemplary service plaque to Sandy Beach for his estimable work for our Band of Brothers. Tom had arranged for us to be entertained by Dick Steiner '68, an incredible magician, who mingled among the group and kept us greatly entertained.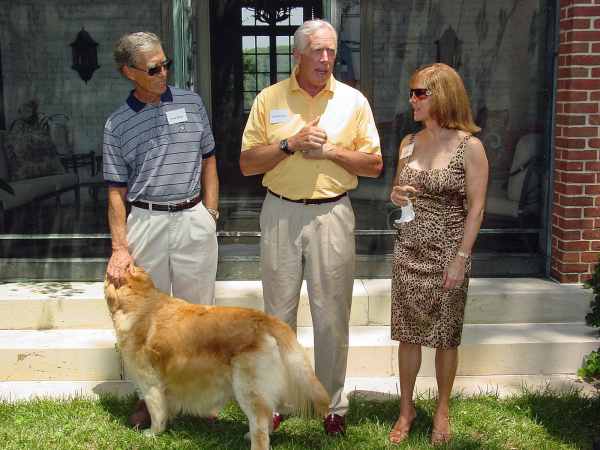 Munz picnic: Tom & Liz with Pete Dawkins.
Lots of odds and ends this issue, and some of them will have to await more space to come. Bill Cohen has written a new book, A Class with Drucker: The Lost Lessons of the World's Greatest Management Teacher (AMACOM, a division of The American Management Association) based on Bill's classroom experiences and relationships with Peter Drucker up until his death in 2005. Bill was his first executive PhD graduate in 1979, and his book (one of 50 at this point) is being published in a slew of languages and has already doubled the highest foreign sales rights of any in the publisher's history. Way to go, Bill. Gary Beech, our ski czar, reminds us of the 2009 ski mini on 21-28 February in Jackson Hole, WY. Don't miss it, say all previous participants. And our golf champion, Bill Barry, sends the photograph of his Waterfall Course conquest, albeit a few years back, but impressive nevertheless!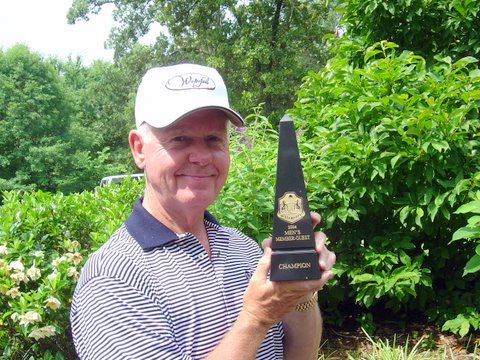 Bill Barry.