NOVEMBER 2008
Jerry Noga's memorial service, which took place on 7 June in Winston-Salem, NC, and which was reported last time, was attended by four classmates as shown in the accompanying photo, and they presented the flag to the family on behalf of the Class.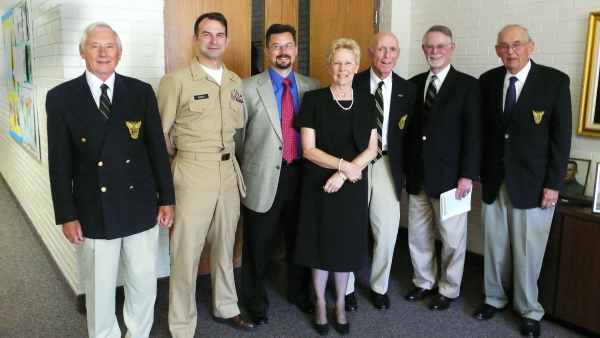 Jerry Noga's memorial service: Johnny Carroll, Jerry's sons Vaughn and Shawan, Jerry's wife, Donna, Hugh O'Connor, Fred McConnville, and Charlie Johnson.
Remember Mr. Linck, our plebe gymnastics instructor? Tim & Kathleen Plummer were reunited with him during a recent trip to his retirement home in the Adirondacks. George Linck, 89, and his wife Jane, raised six sons during their 30 years at West Point. An avid outdoorsman, George said he used to canoe to the other side of Constitution Island and shoot a few ducks before our gym class. Tim says it's no coincidence that he looked like a dead duck when trying to emulate George on the trampoline.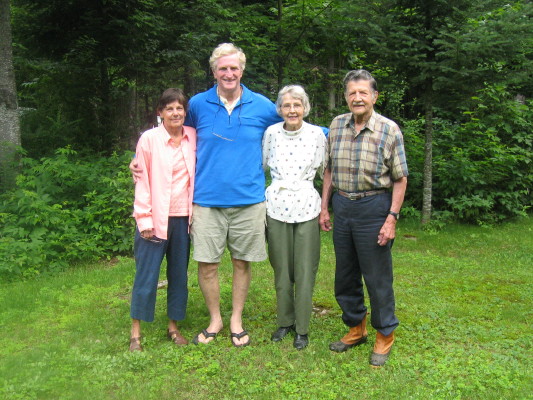 Kathleen & Tim Plummer with Jane and George Linck.
Don Reinhard sends the photo of the gang at this year's Founders Day dinner in Atlanta. There were a few missing, including Bill Luther, down with pneumonia, and Ed Burba, preparing for surgery. George Harrison also missed the photo for some reason or another. Oh, well, there's always next year, says Reinhard.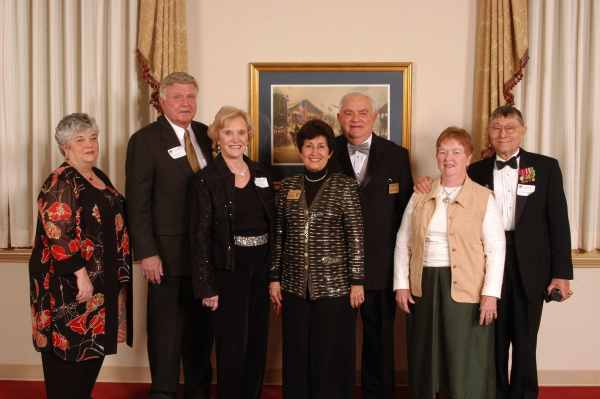 Founders Day, Atlanta. Elizabeth Gabel, John & Jane Joh, Elva & Norm Rosner, Mary Helen & Don Reinhard.
Howard Stiles reports that another wonderful Maine Summer Gathering was held on 29 July. The affair was hosted by Otie & Maureen Tibbetts at their home in Auburn. Their spacious back yard had a large canopy to provide shade and the weatherman provided an excellent day with a slight breeze. The highlights of the picnic were: lots of appetizers to nibble on, then delicious lobster rolls, pork tenderloin with roasted red peppers, fruit and several salads. The winner in the dessert category was Maine blueberry cake with ice cream. Beer, wine and sangria all flowed freely. Attendees were: Jim & Phyllis Walsh, Monk & Betsy Hilliard, George & Pat Day, Bob & Julie DeMont, John & Margie McNerney, Bill & Bobbie Fitzgerald, Paul (x59) & Karen Knouse , Larry & Nancy Ross, Charlie & Jean Johnson, Howard & Eileen Stiles, Rody Conway and Will Weber. A great time was had by all, says Howard. Wonderful food and a special brand of the Band of Brothers' camaraderie ruled the day.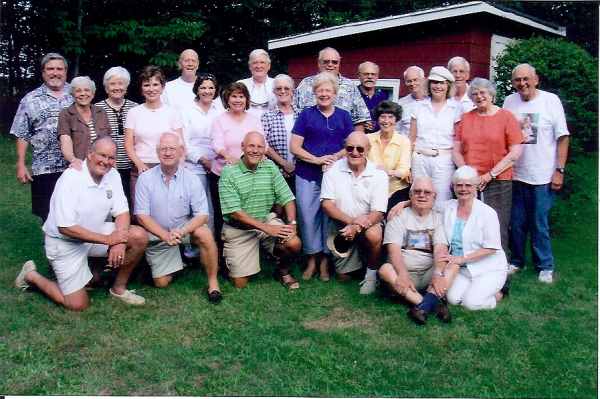 The group at the Maine Summer Gathering.
John & Judy Ruth, who have now been married almost 20 years and have nine grandchildren, live in Cedar Rapids, IA, where John is very active in SCORE, a national organization of retired business executives who help people with a dream start a new business. John still has a consulting business, Ruth Consulting Group, Ltd., but says that others do most of the consulting these days, focusing on future planning, process change and people development in medium size manufacturing companies in the Midwest. He is on several boards of Iowa manufacturing companies and is a trustee of his church foundation. The internet has made it possible for John to do a lot of business wherever he is located, so he and Judy escape the cold Iowa winters in Arizona and flee the hot late summers in Wisconsin. Bridge is a big passion, as are the Chicago Cubs, and he and Judy play a lot of sub-100 golf in Arizona. They also walk every day to stay healthy.
John says they have exchanged visits with G-2 roommate Ed Burba and his wife Trish the last few years both in Arizona and Atlanta (and their mountain retreat in North Carolina). Ed is a wonderful golfer, according to John, and Ed and Trish are very competitive bridge players.
Bob Shapiro was awarded an honorary doctorate of humane letters this past May by the College of Podiatric Medicine, an affiliate of Columbia Presbyterian Hospital. The degree was given for his financial-real estate engineering in repositioning the college's real estate holdings, thereby increasing its endowment by $40 million. A testimonial dinner for over 400 people witnessed the award, as did Pete & Judy Keogh, Ron & Jeri Baldwin, Joe & Monda Bassil '83, and General Bill Ward and Mary Louise '50. Bill Ward is the chairman of the college.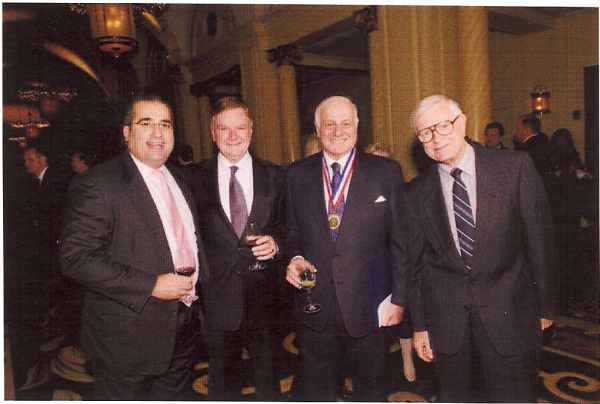 Testimonial dinner: Joe Bassil '83, Pete Keogh, Bob Shapiro, and Ron Baldwin.
Bob & Irene Roth are in Langhorne, PA, but they split their time between their home in Bucks County and their winter home in Nokomis, FL. Bob is working as a counselor for SCORE (see John Ruth, above) when he is not shooting or flying his radio-controlled airplanes or visiting his six grandchildren. The Roths spent their USMA '59 July 4th celebration with Mike & Bette Molitoris and daughter Linda (a very successful chiropractor) at the Molitoris home in Doylestown, where Mike is busy taking over his basement with his "O" gauge railroads. The group raised their IQs with some fine wheat beer, according to Bob, and quickly solved most of the world's problems.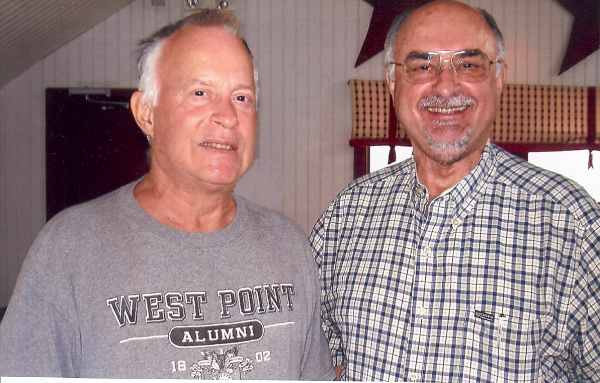 Bob Roth and Mike Molitoris.
Winnie & Michael Kay Schepps are in Birmingham, AL, where Winnie still practices psychotherapy four days a week, with no plans to retire because it's fun, and Michael Kay is an oncology counselor at a local hospital. Winnie plays the banjo at several local nursing homes and gets a great feeling from that. Their daughter Laura (35) recently married at the camp where her parents met 45 years ago, and son Scott (33) is a paramedic and seems to loved it. It's great having happy, healthy children, says Winnie. Bill & Sharon Zaldo were guests for cocktails before the last Founders Day dinner, and it was a reunion for plebe gymnastics team members.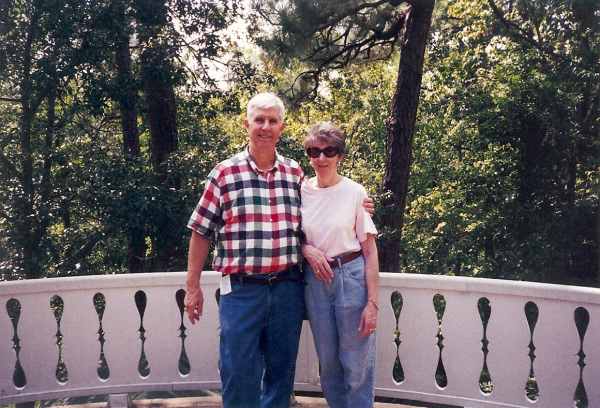 Winnie & Michael Kay Schepps.
Tom Russell sends the photo of him with Bill Toskey last April at the Chiricahua National Monument in SE Arizona when they traveled cross country to make the St. Pete mini. They saw lots of classmates along the way including Dick Rogers, Neal, Phillips, Lambert, Salter and Moorhead. Tom spends his time running (trying to cover 10,000 miles between the 40thand 50th Reunions); singing with two groups of old people singing at nursing homes; sailing with son Tom in a boat they keep at Quantico; playing golf once a week; helping fire victims with the Red Cross; and keeping up with four kids and 11 grandchildren. Whew. He and Ann are in Chesterfield, VA.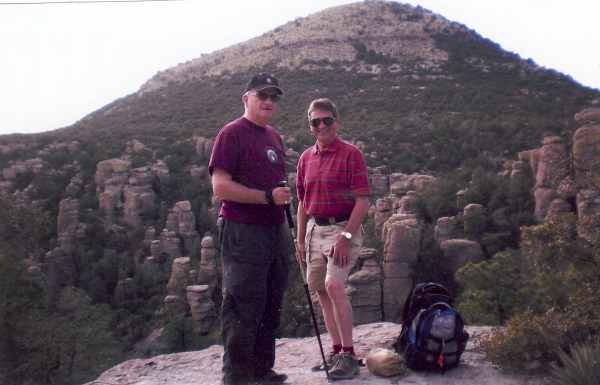 Russell and Toskey in SE Arizona.