MAY 2008
Jack Smith was buried at West Point on November 13 with a service at the Old Cadet Chapel, following the funeral in Temple, TX, on October 15. Classmates present at the WP service were Peter Stromberg (in from Dubai), Pete & Judy Keogh, Tom Russell, Jim & Nancy Satterwhite, Bob MacDonald, Len Einbinder, and Art Kubo. We pray for Jack and all his family and friends.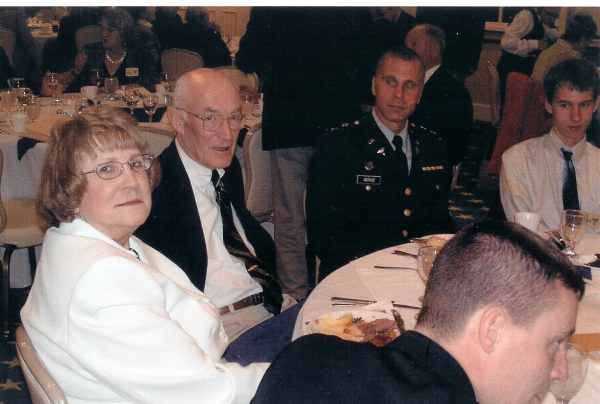 2007 Wall Ceremony: Jean Gercz Erschnig, Arleigh Bell, Frank Gercz, Jr., and grandson Matthew Gercz.
Court & Gioco Prisk are in a condo in metropolitan Panama within walking distance of eight great restaurants and 19 others, he says. They are two blocks from the movie theater and have four casinos within a six block radius. They are one hour from Pacific beaches, two hours from the Atlantic, 30 minutes from tropical rainforests, and two hours from the mountains. Gioco's daughter owns the condo across the hall, and for the 46 weeks a year when she when she is not visiting with grandkids, they have a very convenient guest facility.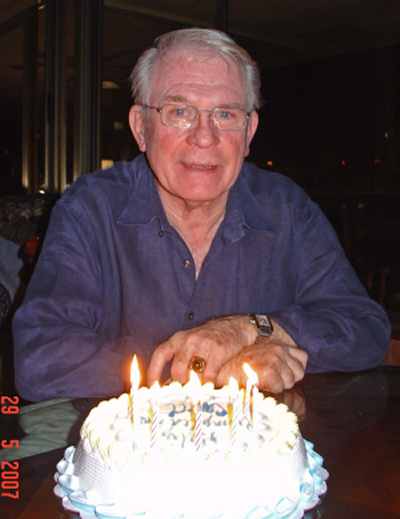 Court Prisk on his 70th.
Court is now in a wheelchair much of the time, so his interests in scuba, racket ball and hiking have of necessity taken second place. But he travels with Gioco, tries his hand at writing novels, and is working on a family history. He likes to cook and has great fun on Thanksgiving and other holidays. He is helping Jerry Jervell on the reunion yearbook and looks forward to attending our 50th with Gioco. He'll probably need his wheelchair some, he says, but may find some help with Bob Cyr's motorized carts.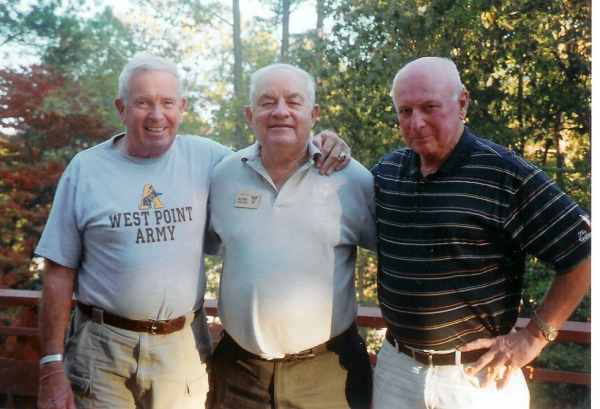 Bill Luther, Norm Rosner, and Bill Zaldo in Rosner's yard in Atlanta after the Army-Ga. Tech game on 20 October.
John Moellering has been elected Chairman of the Board of USAA, having served on the board since 1996, most recently as vice chairman. Previously John has been a White House Fellow, Commandant of Cadets at WP, and Assistant to the Chairman of the Joint Chiefs of Staff. Nice to hear you're still employed, John.
Joe & Jane Phillips are in Georgetown (Sun City), TX, where Joe is a third year trustee of an interdenominational church, so he is busy practicing humility. It is a fact, he says, that good people will encourage you to do as much as you can, so long as it is free, but always with a lot of love and good will. So his trust is in the Lord, who keeps him content and humble. They see Bill & Linda Toskey, who circumnavigate the country each year, and they expect to see them again soon as the Toskeys' son has moved to Houston, not that far away. Joe also saw Jack Neal, now in San Antonio, who alerted the Phillipses to Tom Thomas's death. Joe and Tom & Marion go back 65 years as Delaware grade and high school classmates. Joe misses Tom, but the memory will remain.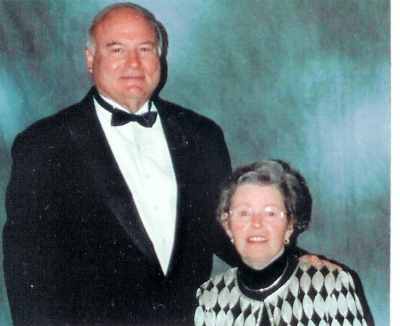 Joe & Jane Phillips
Tony & Sandra Pokorny are in Lawton, OK, where Tony recently completed a strategic plan for Fort Sill and Lawton, a project he says was interesting and fun to do. He and Gerry Stadler recently have switched jobs in the Texoma WP Society, Tony becoming the past president and Gerry the new one. But the real news, according to Tony, are two new grandsons, one named after him, and the other named Thayer Lee; the latter by his daughter who knows nothing of WP history. She just liked the name.
Tony Pokorny with new grandson, Thayer Lee.
Bill Toskey sends the photo from the A2 reunion in Williamsburg last 20-23 September. Ted Colby, who lives in Williamsburg, made the arrangements, and a good time was had by all. They enjoyed the 400th Jamestown celebration, some historical tours, and much "visiting." In addition to the seven company mates and most of the wives, they were joined by their First Class tac, John Slocum, one of the first non-grad tacs in a very long time. John lives in Virginia and has kept in touch with the group over the years.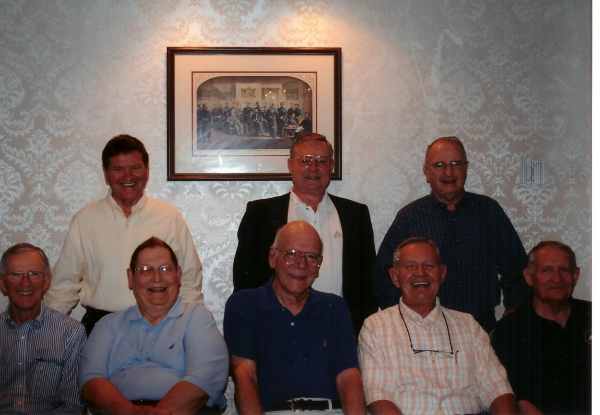 A2 reunion in Williamsburg: front row: Jim Turner, Wiley Harris, John Slocum, Dick Maglin, and Ted Colby.
Back row: Bill Toskey, Hugh Socks, and Tom Russell.
John Corby writes that Pete & Judi Dawkins were in San Antonio on 6 January for the annual US Army High School All-American Bowl at the Alamodome. Pete made the presentation of the game MVP award, an award named in his honor. John & Beverly had dinner with them that evening, along with Sharon Ferguson, Rod's widow, who is a San Antonio resident and works as a personnel director for the US Army at Fort Sam Houston. Gail Greene had wanted to attend but didn't quite feel up to it.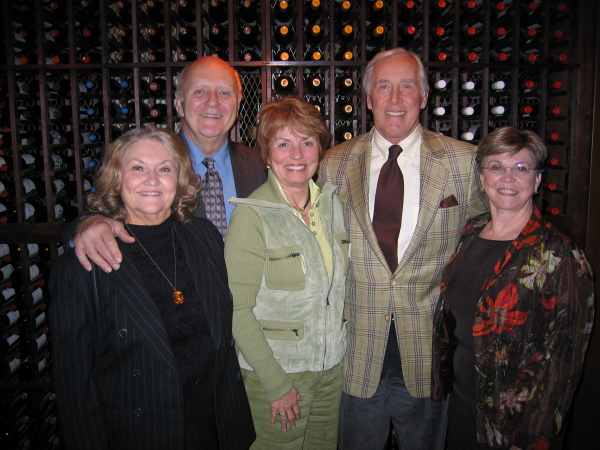 San Antonio: Bev & John Corby, Judi & Pete Dawkins, and Sharon Ferguson.
Andy & Lynn O'Meara are sucking up life on the beach on Pawley's Island, SC, where Andy is working on a manuscript of war stories by our classmates regarding their leadership in combat with his co-editor Jim Abrahamson. They have received some excellent input, says Andy, and hope to have a "lessons learned" book to pass on to the Class of 2009 finished this March.
The National Geographic magazine asked Andy to work with them on the production of a TV special, an oral history of the Vietnam War. He says he was only one of many recruited for the project, and he appeared to be of interest to the producers because he was one of the few who served in the early years of the conflict, and who was willing and able to talk about the situation we encountered. Many of us saw the results on Presidents Day in February and were impressed by it.
Andy is active in his local veterans' organizations, belonging to Disabled American Veterans, the Purple Heart Society, the Combat Infantryman's Association, the Vietnam Veterans of America, the Veterans of Foreign Wars, and the American Legion. He is also, I might add, one of our well-informed and eloquent patriots on the internet.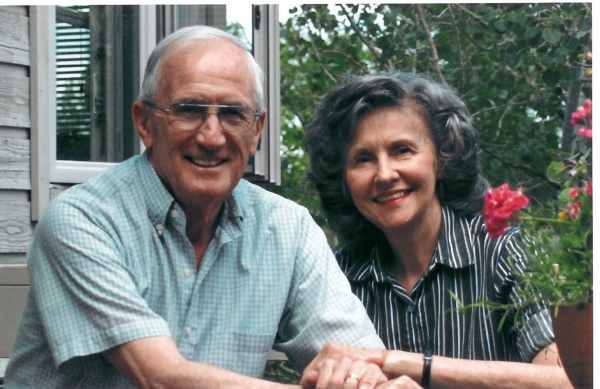 Marty & Chris Plassmeyer.
Marty & Chris Plassmeyer made the last issue, but your expert computer geek couldn't get their photo up. So here it is.