MARCH 2008
Roy Greene, our "Gropo," left us on December 14 when he suffered an apparent heart attack during his daily workout on his Nordic Trac at his home in San Antonio. A memorial service, held in San Antonio on December 20, was attended by classmates Craig Bertolette, Bill Buell, John Corby, Guy Heath, Jack Neal, Kevin O'Neill, Bob Ryan, Dick Sundt, Ron Templeton, and Jay Weisler. Corby delivered a eulogy on behalf of the Class, and Bertolette led our Class in a special ceremonial salute to Roy. Afterwards there was a reception hosted by the family at a nearby restaurant. The thoughts and prayers of the Class are with Roy's wife, Gail; with his children, Wendy, Stacey, Scott, and Jennifer; and with all his family and many friends. Burial will be at Arlington, possibly in March.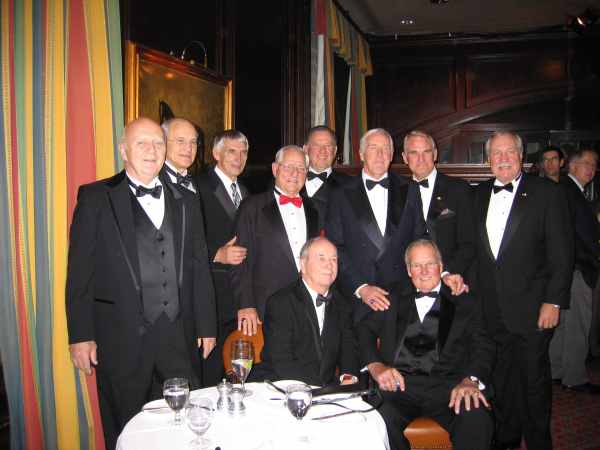 Class table at the Waldorf for Dawkins' Football Hall of Fame honors: Corby, Novogratz, Rowe, Bill Gunlock (line coach), Frank Gibson '61, Dawkins, Greene, and Morrison. Seated are Kennedy and Hilliard.
Roy had been in New York two weekends before along with classmates to see Pete Dawkins honored with a gold medal (along with Roger Staubach) by the Football Hall of Fame Foundation at the Waldorf Astoria. Pete gave a great speech according to classmates who attended, including, along with Roy, John Corby, Jim Kennedy, Monk Hilliard, Jack Morrison, Bob Novogratz, and Bill Rowe, all members of the great team of 1958, the last undefeated Army team.
Lydia Baraoidan, Pete's wife, died suddenly of cardiac arrest in the Philippines on December 22. Funeral mass was held at Loyola Memorial Chapel, Makiti City, on December 28, with interment following at Manila Memorial Park in Sucat, Paranaque. The heartfelt condolences of the class are with Pete, their close relatives, and all their family and friends.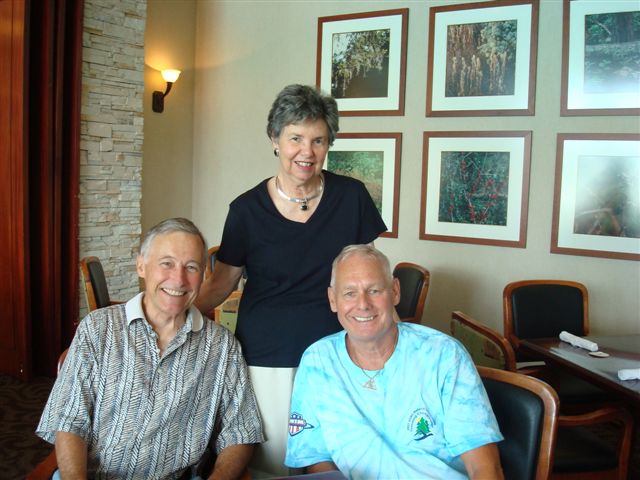 Sandy & Carol Beach with Johnny Cox after his competition in the 2007 US Championships on August 7.
Barky & Charlene Norman are in Lakewood, WA, where Barky says he is trying to grow old gracefully: a little handball, a beer a day, and lots of walking. They have a new granddaughter since August, and like Andy Rooney says, "the first time they grab Grandpa's finger, an unbreakable bond is formed." Barky enjoys the Class website and thanks Tom Leo and those who keep it running. He'd really miss it, as would we all, if it succumbed to some cyber disaster. Barky touched base with our old D-2 Tac, Fred Alderson, earlier in 2007. Fred is living in Spokane and keeping busy!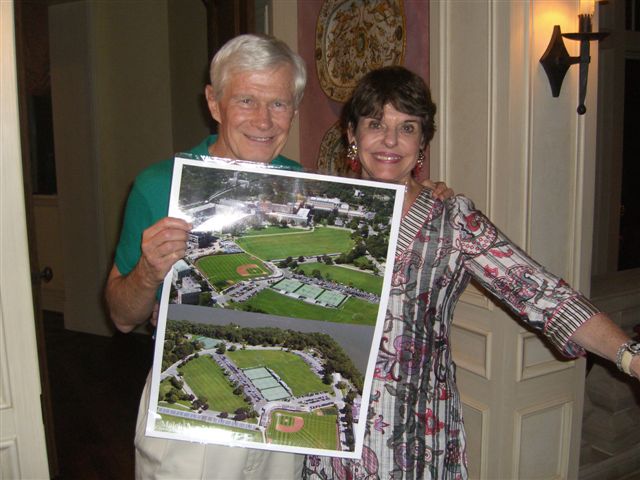 Fred & Marlene with photos of the Malek Tennis Complex at West Point.
Mike Duggan is retiring from The American Legion's National Headquarters where he served for nearly 22 years as Deputy Director for National Security in Washington. He's been a lobbyist for retirees for concurrent receipt of retirement pay and disability compensation, for Tricare for Life, for Survivors Benefits Plan issues, and for quality of life features for the armed forces and wounded warriors. Mike & Judy recently (as of the middle of November) returned from a two-week "retirement leave" cruise around Hawaii. They were accompanied by Judy's sister and her husband and were joined in Hawaii by Mike's brother, Don (USNA'57) and his wife. Mike saw Roger Gaines there, and he recently ran into Al Phillips enroute to the AUSA Convention in Washington.
Ron & Judy Recher are enjoying retirement in Hopewell, VA, where Ron pursues his interests in model making, especially dioramas, wood working, and ta-da, they travel. He says he has seen no classmates lately.
Andy & Lynn O'Meara are sucking up life on the beach on Pawley's Island, SC,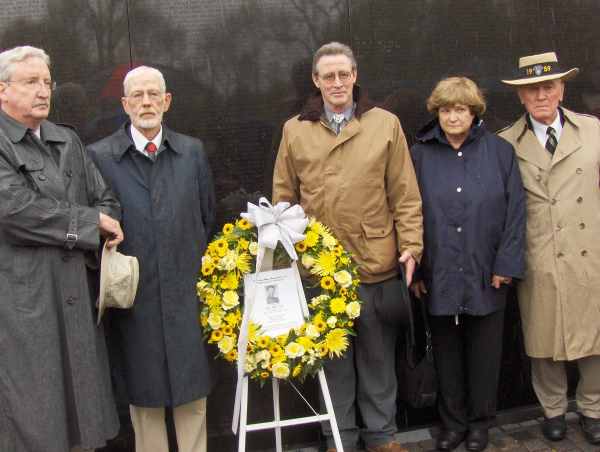 2007 Wall Ceremony honoring Mike Nash: Pat Nash, Andy Nash, Tim Nash, Mary Jane Nash Martin, and Paul Tomiczek.
Marty & Chris Plassmeyer are in Colorado Springs where Marty has been practicing law, mostly as a guardian ad litem, during the years since his Army retirement. Now he is winding up his casework and becoming fully retired. Their son, Paul, graduated ftom Colorado State in December with a degree in chemistry, and Marty wonders if he may be the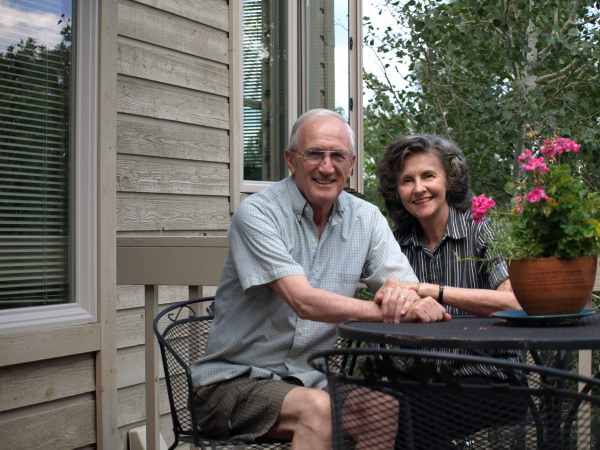 Marty & Chris Plassmeyer
oldest parent of a graduating senior, having hit the 71 years and 9 months mark at Paul's commencement. Trying to keep out from underfoot, Marty is now spending time as stewardship chairman at his parish and is a volunteer in support of Wyoming Catholic College, a small school just getting started in Lander, Wyoming. It reminds him of the old WP we knew, in that it is serious about fitness and academics, with a core curriculum that one must pass or get "turned back."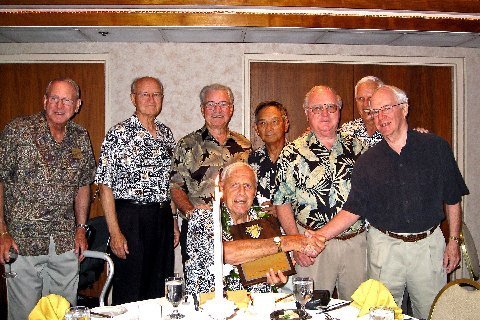 LTG Rienzi ceremony in Hawaii: Roger Gaines, Jack Bohman, Lenny Katsarsky, "Long Tom," Mel Santos, Bill Benagh, John Seely '60, and Jack Neal.
Our desire to honor LTG Tom Rienzi '42 by naming him our one and only Class of 1959 Honorary Tac Officer became a reality in Hawaii, where "Long Tom" lives in retirement, at a gala dinner on October 23 at the Hale Koa Hotel. Lenny Katsarsky was instrumental in putting it all together, and guests included Lenny's wife, Honey Jean, Bill & Carol Benagh, Jack Bohman, Roger & Sandy Gaines, Jack & Nancy Neal, Mel & Marilyn Santos, John Seely '60 (a '59 wannabe, and can you blame him?), and CSGM Don Devaney. Pete Dawkins sent a letter which was read at the gala, in which he said that Rienzi embodied "all the qualities we wanted to possess, but, at that point in our lives, could only wish for." The group presented a plaque to the honoree and a good time was had by all.
The Class subsequently was given the opportunity to endorse the nomination of Rienzi for the Distinguished Graduate Award. We did so with enthusiasm, and we nominated our own Jerry Hilmes for the same award with pride.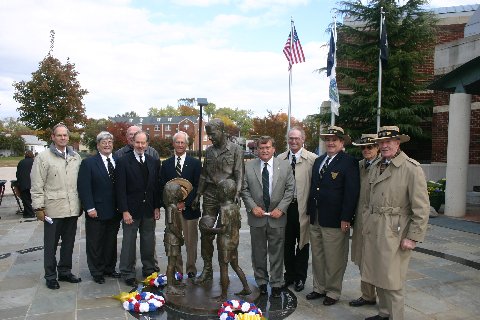 Ceremony at Rocky Versace Plaza: Hutton, Besson, Cotts (rear), Weekley, Gurr, Faber, Hynes, McNerney, Boyle, and Williams.
Bruce Williams reports that the City of Alexandria 3rd Annual Veterans Day Ceremony held on November 7 at the Rocky Versace Plaza and Alexandria Vietnam Veterans Memorial was again a stirring event. Elissa Webster, a military brat and teacher at the Minnie Howard School inaugurated the event in 2002. The Junior ROTC at her school presented the colors and then read each of the names inscribed on the memorial. The school band played, all present recited the pledge of allegiance, and then each of the class members, all immigrants, read a short speech about America, their new country. The keynote speaker was BG Jack Nicholson '56, our First Regimental Commander, and our attendees included Powell Hutton, Frank Besson, Dave Cotts, Bob Weekley, John Gurr, Mike Faber, Dick Hynes (ex '59), John McNerney, Tom Boyle, and Bruce Williams. You go, Rocky!