JANUARY 2008
Our friend and classmate Marv Thomas died of congestive heart failure at Beebe Hospital in Lewes, DE, on September 7 after having been in the hospital since August 13. A memorial mass of Christian burial was held on September 15 at St. Edmond's Catholic Church in Rehoboth, DE, and was followed by a reception at the Rehoboth Beach Country Club. Classmates attending included Randy Bell, George Day, Ron Ernharth, George Friedel, Tom Leo, Fred Manzo, Bob Novogratz, Tim Plummer, Tom Russell, Joe Shea, Jim Walsh, and Bruce Williams. Thoughts and prayers of the Class are with Marv's wife, Marion, son Marvin, son Michael, daughter Lisa, four grandchildren, and all of "Tom's" family and friends. Memorial contributions may be sent to the Multiple Sclerosis Society, DE Chapter, Two Mill Road, Wilmington, DE 19806-2175.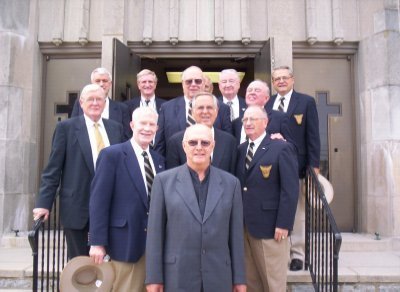 At Marv Thomas's funeral: front row: Shea; 2nd row: Williams, Manzo, and Russell: 3rd row: Day, Walsh, and Bell; back row: Ernharth, Plummer, Novogratz (behind Walsh), Leo, and Friedel.
And then Jack Smith died in Temple, TX, at a VA facility on October 15 after a long struggle with Parkinson's disease. Jack Neal, up from San Antonio, and Kevin O'Neill, over from Bryan, TX, had visited Jack shortly before his death. Cass Mullen and Craig Bertolette were also welcome visitors. Funeral services for Jack were held at the Temple Bible Church on October 21, and a second service and burial were scheduled for November 13 at West Point. Classmates at the Temple Service were Bertolette, Bob & Carol Cyr, Mullen, Kevin & Anne O'Neill, Bob & Sondra Ryan, Gerry Stadler, and Ron & Faye Templeton. The sympathy and prayers of the Class are extended to Jack's wife, Gail, to his four children, his grandchildren, and to all of his family and friends.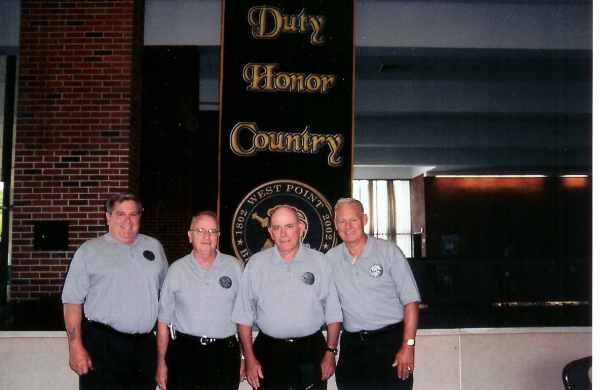 At the Alumni Glee Club Reunion and Concert: McNerney, Russell, Schow, and Cox.
Kevin & Anne O'Neill are indeed in Bryan, TX, which is near Texas A&M University, and both are retired, she from a nurse's position in a local school district, and he from the EdPsych Dept. at A&M. But, as usual, both are still working, she subbing occasionally for school nurses, and he supervising special and student teachers for his old department. Keeps them off the streets and out of the bars, says Kevin. They both work with the local Court-Appointed Special Advocates organization and serve as guardians ad litem for children who have been removed from their homes because of abuse or neglect. And they are heavily involved in the pro-life movement in their area.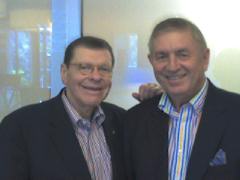 Fogel and Coreth at the Washington J.W Marriott in September.
The O'Neills have done some traveling, having volunteered for six weeks of work at World Youth Day in Cologne, Germany in 2005. They saw Pope Benedict and got to sit in the driver's seat of the Popemobile, surely a first for the Class of 1959, and probably the only. And they had a great time in 2006 at a reunion at the Heidelburg High School, where they met in 1952. For 2007, they organized a trip for ten people from their church to revisit old haunts in Portugal
Once again Frank Campbell made the IDA headquarters available for a meeting of our Class Committee and Reunion Committee on the afternoon of September 8, and these have been reported elsewhere. There followed that evening a very enjoyable evening at the gracious home of Fred & Marlene Malek in McLean, VA, attended by more than 70 classmates, wives, and friends. Dave & Magdalena Whitmore, from Las Vegas, NV, had traveled the farthest to be there. Pete Dawkins presented this year's Class Exemplary Service Award to Art Griffin for his years of faithful service as our Class Treasurer. A good time was had by all, even Whitmore, who accidentally stepped off into the swimming pool.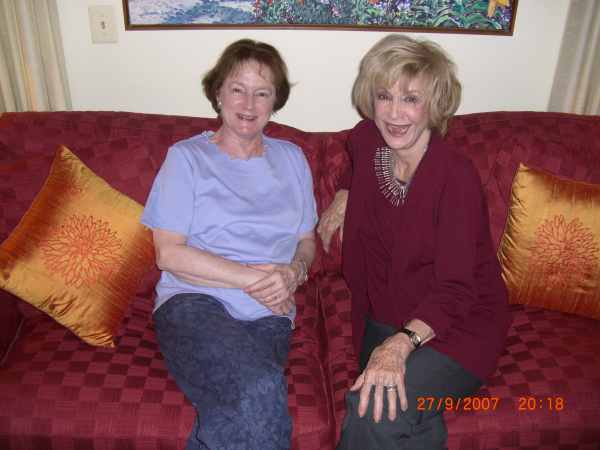 Polly Coreth and Ann Stromberg in Chevy Chase.
Recent (a loose use of the term) events at WP included our Class representation in the Affirmation Ceremony for the Class of 2009 on August 19, preceded by a few of us at an Alumni Glee Club Concert and the attendant rehearsals during July 19-22. Our representatives at the Affirmation Ceremony were Sandy & Carol Beach, Pete Dawkins, Tom & Ann Russell, Skip Schow, and Jim & Phyllis Walsh. At the Sunday evening ceremony in Thayer Hall, Pete presented our Affirmation coin, with crests of both classes, to the more than 1,000 members of the Class of 2009. At the Glee Club festivities, which culminated with a concert by 155 former glee clubbers and the WP Band at Trophy Point on Sunday night (DVD to follow), we were represented by Johnny Cox, John McNerney, Tom Russell, and Skip Schow.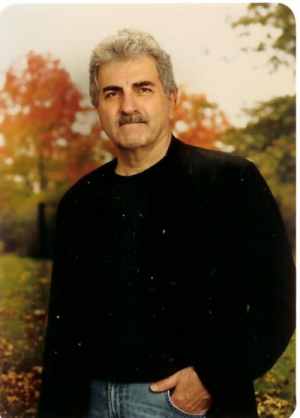 Greg Page
Greg & Susan Page are in Orlando for good now, having traveled to Burbank for two weeks of every month the past year while Susan was working on a special project for the Walt Disney Company. Greg brags that two of his grandchildren, who live in Jacksonville, are honor students at private schools, and that the Pages will take them for snow sports (their first introduction to snow) at Dixville Notch, NH, this Christmas. Greg has an office at home where he works on his writing at least five hours a day. His first book, Camel Red, was a novel about "WWII's most severely wounded man," a star athlete who lost his face and eyes while saving an infantry battalion. The foreword was written by Senator Bob Dole, and the book was at the top of the Borders Best Seller list for several weeks. Several classmates have communicated their enjoyment of the book, including Mike Gabel, shortly before his death.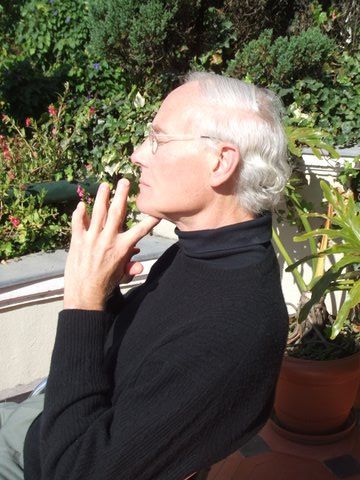 Peter Stomberg contemplating his plight in Florence and Dubai.
Roger Paquette reports from Petoskey, MI, that he and his wife, Barbara, are in "reasonable" health. Like us all, Rog. He retired in 1987, she in 1997, and they moved from Virginia to their present home in northwest Michigan on beautiful Walloon Lake. They also have a winter home in an adult community called Sweetwater near Haines in Central Florida. Barbara spends a lot of her time in both places with her church, and Roger keeps up the house and lawn, goes boating and fishing in Michigan, and spends a lot of time in Masonry and Shrinedom. In Florida its time on the golf course and a bit of happy hour with friends. Sounds perfect!
Jack & Barbara O'Brien remain active with their four adult children and twelve grandchildren who live near their home in Fairfax, VA, so there are many sports events and other activities that demand their appearance. They love to travel and made it to Northern Germany and the Czech Republic last summer, determining Prague to be their favorite place. They see lots of classmates in the area thanks to parties at the Maleks and the Munzes.
Pat Passarella reports that he and Paul Tomiczeck drove from Williamsburg down to the Army-Wake Forest game and enjoyed the pep rally and the hard fought game. They briefly ran into a group of classmates from North Carolina and had old home week. Together with their wives they, on occasion, have dinner and social events with classmates and wives in the Williamsburg area.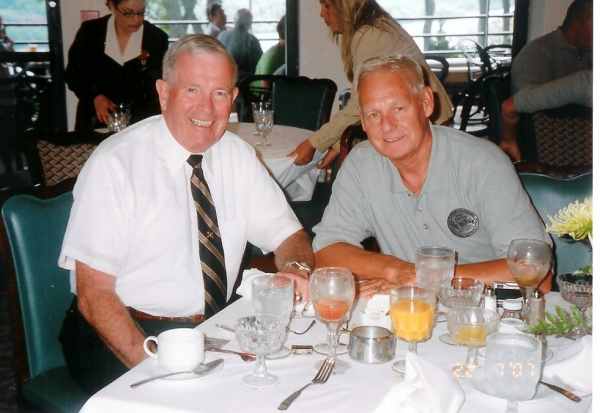 Bill Luther brunching with Johnny Cox at the Thayer during Johnny's Glee Club weekend.
Rod Paschall says that he and Pat are enjoying country club living in Naples, FL, where they join the classmates who have moved there previously. Maybe we should have our 50th there! Rod says he uses the web to work from home and has the luck to get paid for his avocation of military history. He is in his tenth year as editor of MHQ and his third year as a consultant and storyline writer for the new National Infantry Museum. He invites 59ers to visit him when they pass through.