NOVEMBER
Andy Kuschner died of colon cancer on July 7 in Kansas City, KS, and was inurned at the Ft. Leavenworth Cemetery, where funeral services were also held on July 23. There were full military honors. Jerry Fogel acted as Class POC and attended the event along with Fitz Chandler, Dwight Fuller, Al Goodpasture, Al Rushton, and Andy's roommate Plebe and Yearling years, Bill McCoy. Jerry reported that the service began in a heavy rain that began to let up after the last notes of Taps were sounded. The heartfelt sympathy of the Class is with Andy's wife, Jan, their children Carolynn and Scott, and with all of their family and friends. Andy's son, Scott, established a website where we can make donations to the Scott Armstrong Foundation in Andy's name. It's at www.livestrong.org/grassroots/scottmatthews.
As reported last time. Dick Rothblum's funeral on July 18 followed his death on May 13 by over two months because of scheduling backups at Arlington National Cemetery. As noted by Ed Robinson, the Class POC, Dick had laid plans for his funeral at the Alexandria Presbyterian Church by selecting the songs and readings which complemented a beautiful service. There followed a burial at Arlington with full military honors, and the following classmates were in attendance: Jerry & Geri Hilmes, Bob & Irene Roth, Marv Moss, Bill & Martha McDaniel, Ed & Pat Robinson, all from K-1; and Skip Schow, Bruce & Domenica Williams, Lou & Jane Beard, George & Beth Kleb, Bob Weekley, Fred McConnville, Art Griffin, Jim & Phyllis Walsh, John McNerney, Dick & Jeanne LeClere, Tom & Ann Russell, Tom Boyle, Art & Babs Bair, and close friends Dave & Linda Cotts.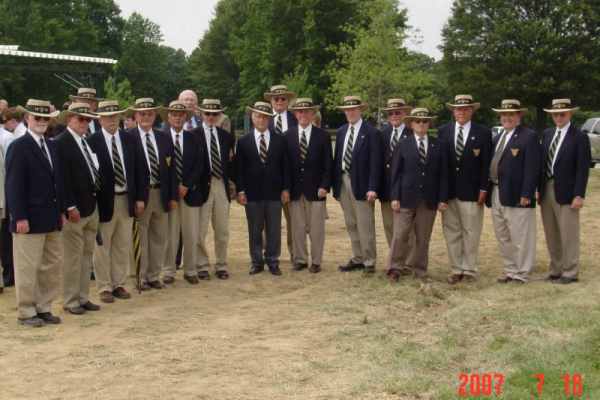 At Dick Rothblum's funeral: McConnville, Schow, Moss, Robinson, McDaniel, Weekley, Roth. Hilmes, Williams, Kleb, Russell, Bair, McNerney, Beard, with Griffin, Cotts, and Walsh in rear.
After the burial there was a reception at the Ft. Myer Officers' Club where Ed Robinson, the K-1 CCQ, presented the Class memorial flag case to Faye; Dave Cotts offered a eulogized version of Dick's career and lifetime accomplishments; and Jerry Hilmes regaled the gathering with his remembrances of cadet days as Dick's roommate. Dick's supervisor at the State Department, where Dick worked in post retirement on embassy construction and security projects around the world, spoke of Dick's extraordinary accomplishments; and, finally, Dick's brother spoke emotionally about his relationship with his extremely smart and talented brother and the wonderful life that Dick had with his wife and family. The solemn condolences of the Class are with Dick's wife, Faye, with their daughter, Cynthia, and with all of the Rothblums' family and friends.
Jim Walsh noted in an e-mail that Dick Rothblum and Andy Kuschner were the 99th and 100th to die of the 499 of us who graduated in 1959.
Sandy Beach reported that he and Carol, along with Pete Dawkins, Jim & Phyllis Walsh, Tom & Ann Russell, and Skip Schow were honored to represent the Class at the Affirmation Ceremony of the Class of 2009, our affiliation class, as each member of that class affirmed his or her commitment to our Army on August 19 in Thayer Hall. If any one of them had left the Academy before the ceremony, he was free to go back to civilian life. Once he or she affirmed, however, he or she would be committed to Army service for an extended period. Sandy noted that the ceremony is very meaningful, especially during wartime, and he was thankful that our country still produces young men and women of this caliber.
Bill & Norma Mullen are in Carmel, CA, enjoying the splendors of the Monterey Peninsula, a pleasure afforded by Bill's retirement from his second career with Northrop Grumman. Bill has done a bit of consulting, and he and Norma enjoy traveling both in and out of CA. They are enrolled in a weekly writing class at the Carmel Foundation and Bill has tried to keep on the course's biographical topic by following the teacher's urging to capture memories. The result is a series of vignettes he describes as Burma Shave signs along the highway of life.
The Mullens see Jim & Joan van Loben Sels frequently since the latter have returned to Carmel, and they see Bill & Sue Breen when they are in their vacation home at the former Fort Ord. They have enjoyed the company of Bill & Joyce Schwartz as well as Ray & Carol Baugh during their too infrequent visits to Mullen country; and they have spent some nice times with Jerry & Geri Hilmes during periodic visits to Sarasota, FL.
Denny & Helen Morrissey are still in Northbrook, IL, known to Denny as Chicagoland. Sons Ed and Denny live nearby, as does daughter, Kathy. Daughter Therese is in Corvallis, OR. Both Denny and Helen are from big Irish families, and they increased it by one great grandchild born in November 2006. The Morrisseys have gone to Anna Maria Island, FL, for the past few years and have seen Bill Wheeler and Joe Shea.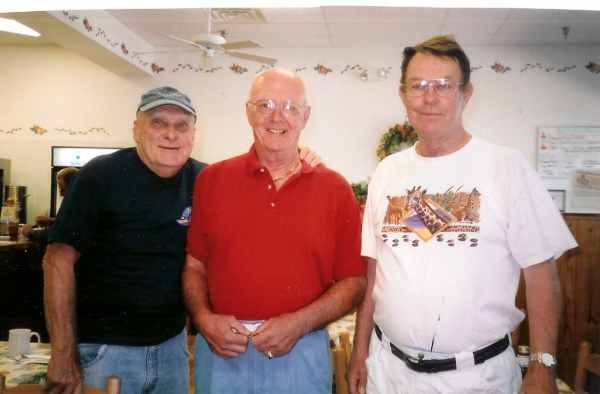 Bill Wheeler, Joe Shea, and Denny Morrissey at Santa Maria Island, Fl.
Howard Stiles reported on a Class Maine Summer Gathering hosted by Eileen and him at their home on Lake Sebago on August 11. Those enjoying water activities and feasting on hot dogs, cheeseburgers, and later, Maine lobster included the following, most with wives: Monk Hilliard, Bill Fitzgerald, Jim Walsh, Otie Tibbetts, Bill Schwartz, Fred Manzo, Bill O'Meara. Rody Conway, Bob DeMont, Bill Weber, Larry Ross, and special guest, x59er, Paul Knouse.
Johnny Cox and his wife, Kay Leonard, are laying on a gala mini reunion in Tampa for next May 4 through 7. John Guthrie, Jerry Hilmes and Joe Hurst are helping with registration and administration, and you can always try to register with them even though the drop dead date has passed. Accommodations will be at the Sirata Beach Resort (first class digs) situated right on the Gulf of Mexico, and a full schedule of beaches, water sports, shopping and museums will be available.
And Johnny Cox writes that he was one of four classmates who participated in the 1st Alumni Glee Club Reunion and Concert held at West Point on July 19 to 22. There were 155 grads who participated including '59ers John McNerney, Tom Russell, and Skip Schow. It was a terrific gathering, says Johnny, with lots of practices, extracurricular singing, and a concert at Trophy Point on Sunday night.
Larry & Ann Minnich are in Penn Valley, CA, where living well (hedonism, says Larry) is the order of the day. There is golf three days a week, and travel in the last year to Italy, Australia, Hawaii, and on a Caribbean cruise. Life is good but exhausting.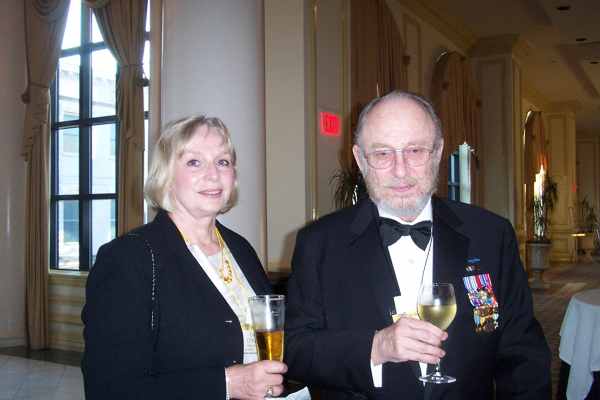 1959: Lynn & Andy O'Meara at Founders Day, Charleston.
Andy & Lynn O'Meara, who live on Pawleys Island, SC, attended the WP Society of Charleston's Founders Day Dinner on March 16 at the Charleston Place Hotel. They were the only members of our Class there, but they thoroughly enjoyed interacting with other members of the Long Gray Line. The guest speaker from WP was snowed in north of the Mason-Dixon Line but he was ably replaced by the District Engineer who gave a report on restoration of beaches damaged by recent storms as well as an account of efforts to preserve the local wetlands.
Many thanks to all for the e-mails, cards, prayers and good wishes for my heart surgery, which was performed at the Washington Hospital Center on June 12 with, thankfully, sufficient anesthesia.