MAY 2007
Jack Mayers lives in Beaufort, SC, and is retired, he says, for the third time. He moved there in 1988, took a couple of years off, did a lot of hunting and fishing, and indulged himself in a lifelong goal and got an art degree in studio art at the local U of SC. So he is now enjoying himself painting, making silver and enamel jewelry, and traveling. He was planning to make a March trip to Costa Rica. He sees Ollie & Diane Langford frequently in church.
Tim Matthes lives in Silver City, NM, (hiding out, he calls it), does some freelance writing, and hikes in the Gila Wilderness. He also trains for and does triathlons and, when one runs in their hometown of Show Low, AZ, is a guest of Benny & Paula Carr.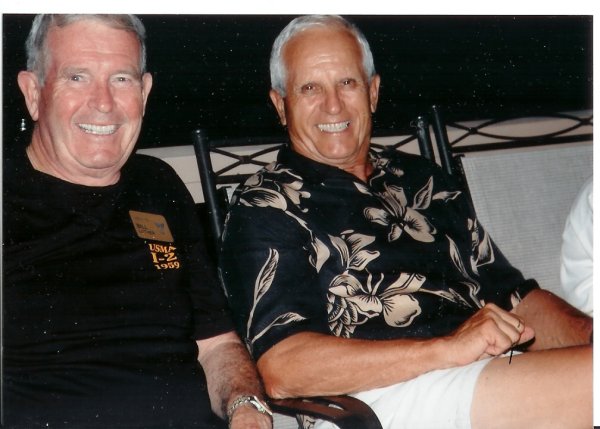 Bill Luther and John Seely '60 at Hawaii Mini.
Robert & Toni McDonald are in Stroudsburg, PA, where Robert is fully retired after 24 years of college teaching and 21 years in the Army. Right now he is into keeping up their three acre homestead and is enjoying long distance running. He jogs about 30 miles a week and ran the 2004 Boston Marathon and is qualified for the NYC Marathon in November, 2007, having successfully completed nine qualifying races in Central Park in 2006. He and Toni are both doing well, he says, and they look forward to many biking/hiking trips this summer along with entertaining their three grandchildren, all of whom live within 20 miles of them.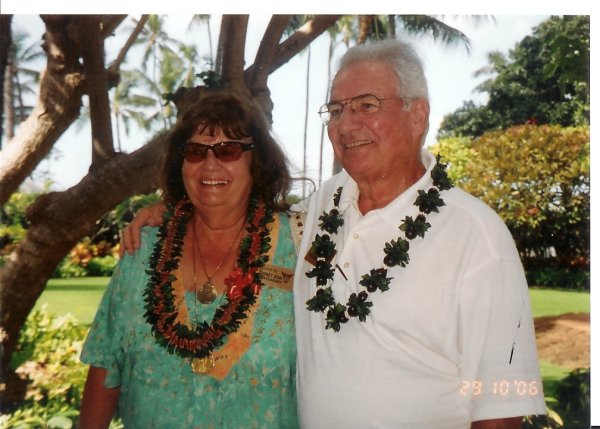 Honey Jean & Lenny Katsarsky at Hawaii Mini.
Johnny Cox, who lives with his wife, Kay Leonard, in St. Petersburg, FL, sends news of his retirement last November from the U.S. Special Operations Command at MacDill AFB in FL, where his last job was as Requirements Officer for Command and Control and the Joint Task Force Project Officer within the Center for Special Operations. He has been actively involved in preparing SOF warriors for future operations and in meeting SOF missions against the global war on terrorism.
Johnny has had an interesting and colorful career, starting with three years on the U.S. Olympic Modern Pentathlon Team at Ft. Sam Houston, TX. Since then he served tours in Korea and Ft. Gordon, GA, before being selected for Special Forces Training in 1965. He served as a Special Operations Forces commander in Vietnam and, upon his return to CONUS he was assigned to the Special Warfare School at Ft. Bragg. After completing his Masters Degree at NC State, he returned to Vietnam for two years, the first with the 1st Cavalry Division, and the second in PSYOPS. He returned to Ft. Bragg and served in various assignments both as an officer and as a DA civilian from 1971-91. He retired from the military in 1985 but remained in the area and was appointed by the Governor of North Carolina to serve as a Brigadier General in the North Carolina National Guard. In this capacity he established and maintained a family support system while the NCNG was deployed for Operations Desert Shield and Desert Storm. He held the position until 1991 when he took an assignment at USSOCOM. In all, Johnny has had 52 years of Federal Service with 41 years in Special Operations, 14 of them spent at the headquarters. Well done, Johnny!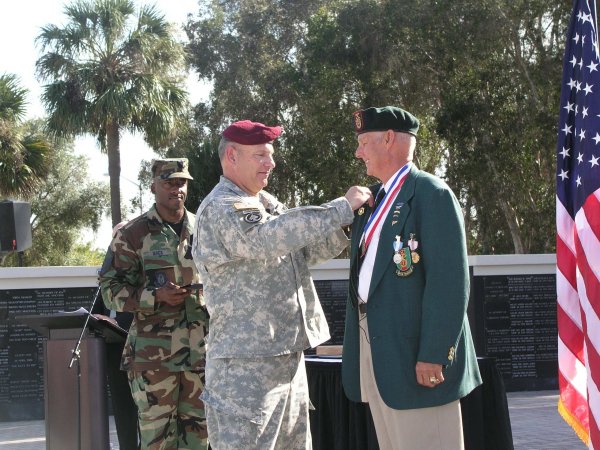 LTG Dell Dailey, USMA'67, presents an award to Johnny Cox at his retirement.
Johnny & Kay have three children and four grandchildren. Classmates able to attend the retirement ceremony included Stan Delikat, John & Elaine Guthrie, John & Pat Eberhard, Joe & Pat Hurst, Geri Hilmes, Jerry Jervell, Paul & Cindy Sper, Bill Stocker, and Bill & Carol Benagh.
Since his retirement, Johnny has been working out five days a week, riding their motorcycles, and serving his church as a Deacon and choir member. He continues his swimming, cycling, and running in hopes of participating in the World Triathlon Championships in Hawaii in 2010, when he has turned 75. That will be 25 years since his first one in 1985. Wow!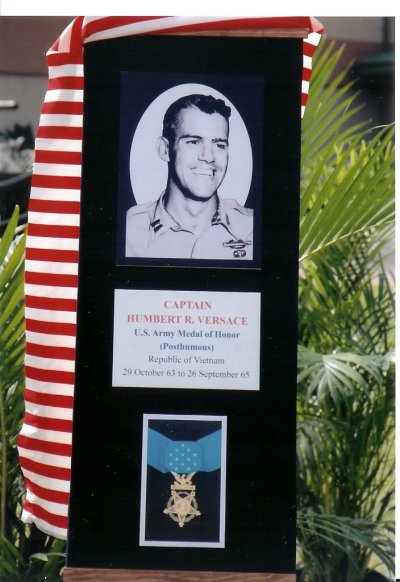 Rocky Versace plaque at Hawaii Army Museum.
John & Margie McNerney continue to thrive in McLean, VA, where John is a CPA and a Certified Financial Planner gearing up for tax season. The most fulfilling work he does though, he says, is preparing for the Vietnam Wall Ceremony, a job he has done faithfully and beautifully. He's also into chess and is a card-carrying member of the Professional Chess Association. Another of his passions is membership in the Hash House Harriers, which he calls "the drinking club with the running problem." He sees Mike Gillette at the weekly hash, and used to see John Gurr and Bob Weekley until they moved away, John to Charlottesville and Bob to the Northern Neck of Virginia.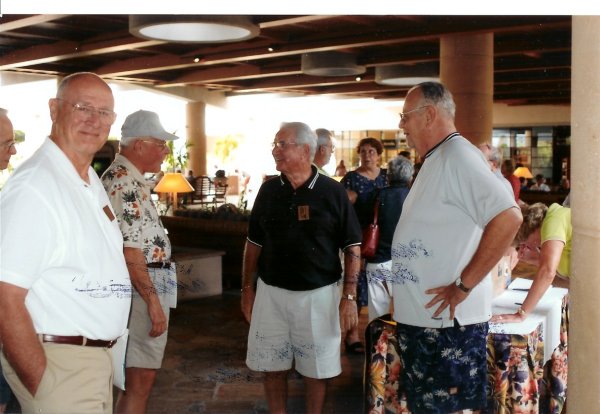 Griffin, Kleb, Katsarsky and Walsh at Hawaii Mini.
Emmett & Teddy McCracken are still in Bluffton, SC, running the antique business started by Emmett's mother in the early 50s. They meet a lot of nice and interesting folks seeking Bluffton's warm weather (and an occasional purchase). Emmett says he has been out of local politics since 2004, but he keeps his finger in the pie by membership in the Town Planning Commission. He has entered the land development arena with about 20 acres of family land being developed into residential/mixed use. He is currently supporting land planners, engineers, and lawyers. He hopes to see the flow of cash reverse in late 2007. He ha seen Jay & Camille Warren, who dropped by while visiting family in the area; Don & Hazel Tillar, who dropped by the shop; Bill & Bobbie Fitzgerald, who live in nearby Sun City; and Gil & Ina Roesler, who stay below the radar.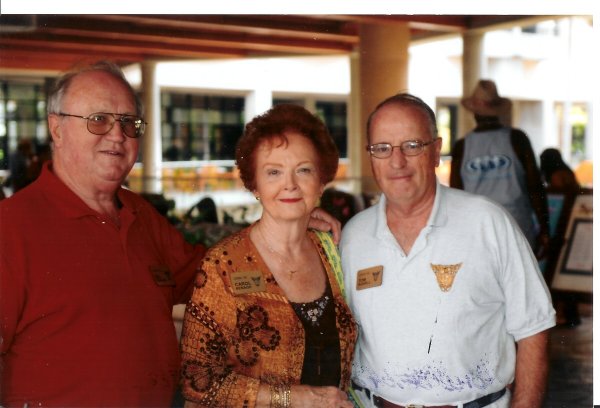 Bill & Carol Benagh with Tom Russell at Hawaii Mini.
The McCrackens have three sons. The oldest (Citadel '83) is J-2 in Afghanistan, one is there in Bluffton in the insurance business, and the third is in Hawaii in construction and painting contracting.
Douglas & Betsy Campbell sent their usual warm holiday wishes and continue to tear up Atlanta. Betsy still enjoys her walking and golfing. She continues to improve at golf, and they are still hopeful that one fine day they will both have career rounds on the same day at one of the "nine and dines," and bring home the crystal. Douglas is still practicing law, playing golf with various aches and pains, and doing a very little bit of music. At the request of a long time client he actually tried a case in December, which made the last quarter of 2006 hectic, to say the least. It was interesting, he says, that we still have a little something left at this age.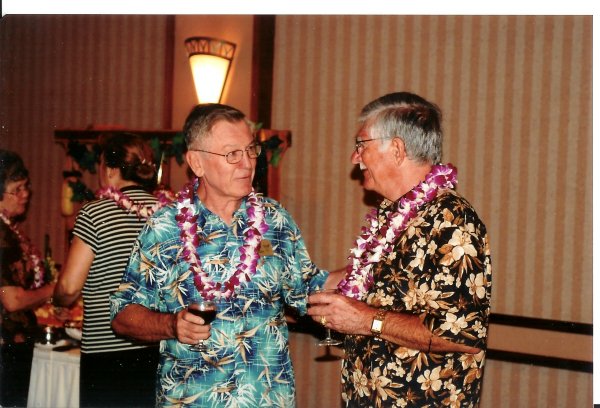 Flowered shirts at Hawaii Mini.
As always, our thoughts and prayers are with those we know who are in harm's way.