JULY 2007
Dan Schrader died of cancer on 21 Feb in Molalla, OR. The heartfelt condolences of the Class are extended to Dan's widow, Suzanne; to his daughter, Kathleen; to his sons, Steven and Sean; to his six grandchildren; and to all his family and friends. Dan was my roommate plebe and yearling years, and we last saw him at a reception at Polly's house in Washington in the early 1960s. He served 21 years in the Marine Corps but for some reason cut off all communications with West Point and his classmates, including me. My roommates are now a vanishing breed. Lost are Don Davis and Pete Schmidt from Beast Barracks, Dan from early life in the First Division, and Jean Engler from First Class year. Only Jerry Fogel and Charlie Hayes remain, so I'd better start cherishing.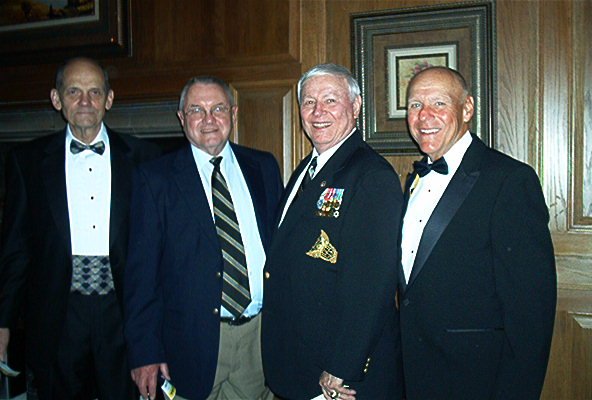 Founders Day, Hilton Head: McCracken, Miller, Langford, Fitzgerald.
Janet Bryer, John's wife, died unexpectedly on March 12 in N. Caldwell, NJ. Her funeral and burial were on March 15, as reported by Len Einbinder, who found out after the fact. The deepest sympathy of the Class is with John and with all of Janet's family and friends.
And the Class mourns the loss of Sean Dawkins, Pete & Judi's son, who died suddenly of a flaw in his heart valve in Louisville, KY, on March 23. The funeral and burial were on March 28 from the Holy Spirit Catholic Church, and classmates attending included Mike Gillette, Rush Yelverton, and Dave Gray. All of Pete's classmates offer their prayers for him and Judi; for Sean's wife Winkie; for his children Caroline, Miller, and Reilly; for Sean's sister, Noel Mihalow; and for all Sean's family and friends.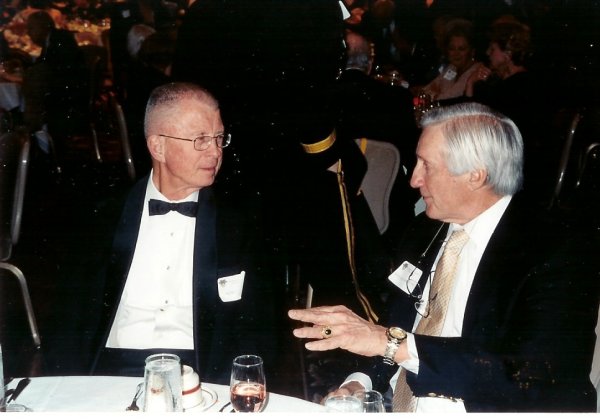 FD Atlanta: Burba and Campbell.
High winds and heavy rains moved our Vietnam Memorial Wall ceremony indoors this year. Frank Gercz (KIA 1/25/68) and Mike Nash (MIA 3/15/66 – DED 3/16/67) were the honorees at the Army Navy Country Club in Arlington attended by 70 classmates and wives along with family members. John McNerney presided, and Bruce Williams introduced Mary Jane Nash Martin, Mike's widow, and Mike's three brothers and their families. Eulogies were offered by Mike's brother, Pat, and by friends who had served with Mike and by his cadet company mates. Lee Bell introduced Frank's family which included his widow, Jean Gercz Erschnig, along with Frank's son and daughters and their families. Lee gave a moving eulogy and was joined by Don Simpson, who had been Frank's cadet roommate. Jean thanked the Class for the ceremony as well as for the Ranger memorial for Frank that she attended at Fort Benning, and for including her and her daughter in our 45th Reunion.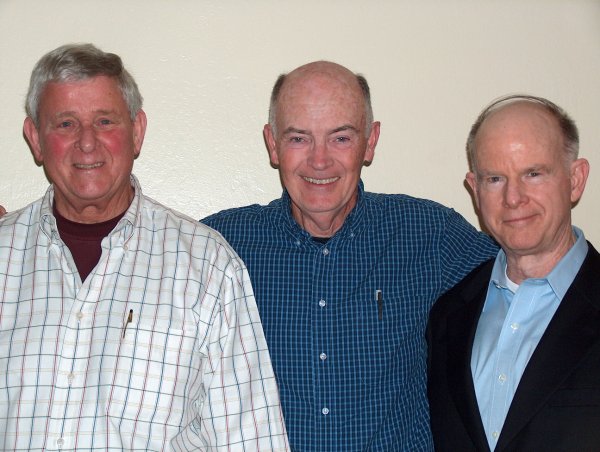 Three Bills: Schwartz, Mullen and Breen at the Breens' at Ft. Ord.
The ceremony was followed by brunch and a class meeting which will be reported elsewhere. Afterwards, buses were available to transport the families to the Wall for the placement of wreaths at the appropriate panels. Although it was still raining, a good contingent turned out. Jane Nash Martin was assisted by Paul Tomiczek in placing the wreath for Mike, and Lee Bell assisted Jean Gercz Erschnig in placing a wreath for Frank.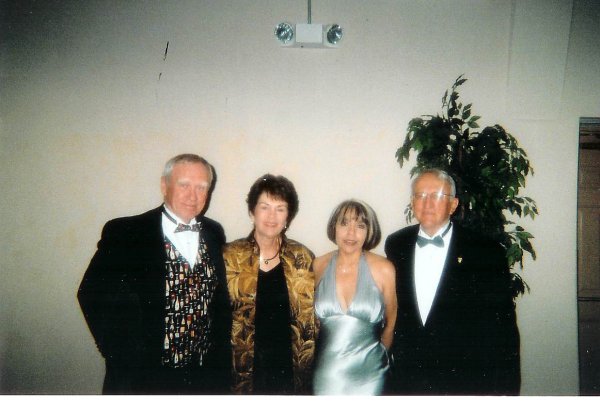 Fort Sill Founders Day: Gerry Stadler (incoming president) with Marsha, and Tony Pokorny (outgoing president) with Sandra.
On happier notes, John & Linda Meyer live in Merced, CA, where John says he is trying to stretch dollars. He has his eye set on a couple of dean of instruction positions coming open at the local community college, and he is also considering teaching English as a second language in East-Central Europe or perhaps Asia, something he did last century in Poland for Georgetown U., and something he says turned out to be a lot of fun. He says that Bob & Diane Beale, with whom he has had dinner in Denver a couple of times in the last several years, also have ESL as one of their interests.
John & Linda attended the Hawaii mini in October and had the same praise as everyone for the job done by the Katsarskys and the Bohmans. The K-2 ceremony for Rocky was exceptionally well done, John says, and they had lots of Honolulu press coverage. They played golf with Don Smart, Jim Taylor, Mel Santos, Stan Kanarowski, George Kleb, John Harkins, Harry Walters, Gerry Stadler and "a bunch of others from '59 – wives, too."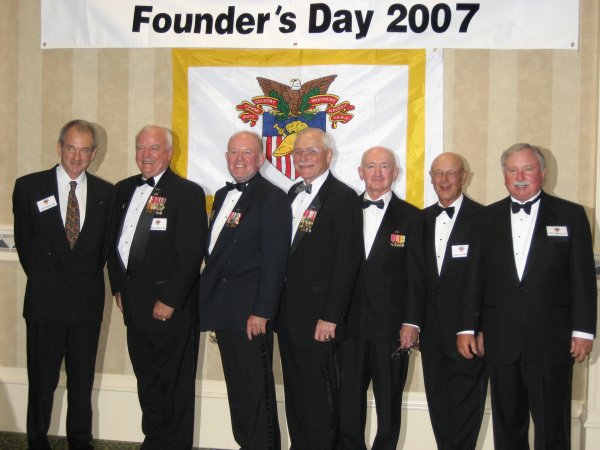 FD Naples, Fl: Gil Dorland, John Guthrie, Randy Bell, George Kleb, John Eberhard, Bob Ranalli, Bill O'Meara.
Thanks to John Eberhard for the photo of classmates who attended the 2007 Founders Day Dinner in Naples, FL, and to Tony Pokorny for that from the WP Society of Texoma at Fort Sill.
Bill Breen reported on the Monterey Peninsula (CA) Founders Day festivities that he and Sue attended along with Jim & Joan van Loben Sels, Bill & Norma Mullen and Diana Yateman (Sid's widow). They met John Guthrie's brother (USMA'61) who is married to Sandy Beach's sister. The fun of the evening was overshadowed by the news of Sean Dawkins' death, sad and a scare for the rest of us. Bill imagines that everyone is more concerned about their own adult children after this event.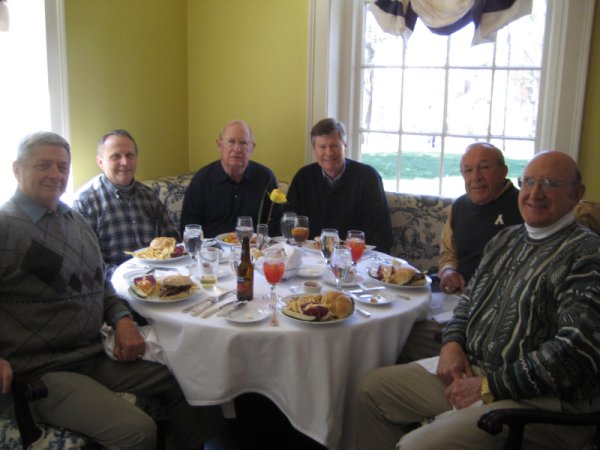 Knights of the White Tablecloth.
John Moellering sent word in March of a meeting of the Knights of the White Tablecloth, our gourmand group in the Triangle of NC. They had been invited by Jim Abrahamson to attend a presentation at UNC by an Army three star on terrorism. Abrahamson, Tex DeAtkine, Lou Hightower, Don Gruschow, Bob DeMont and Moellering were there and had a very good session of the Knights. Their next meeting was scheduled for May 8 and would include the extended group (add Charlie Johnson, Fred Manzo, Jim Corr, Hugh O'Connor and Greek Johnson).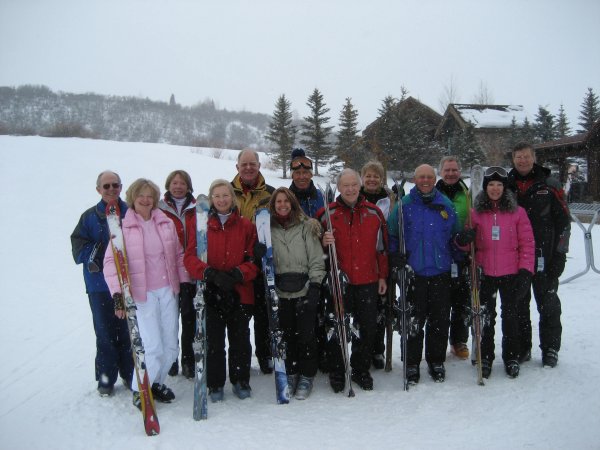 Snowmass mini.
John also commented on the Snowmass, CO, '59 ski mini where Gary Beech ran his first big event as the new ski czar with the able assistance of Karla Moellering, who organized all the catering. It was a great event, says John, with 35 inches of new snow in the seven days they were there. Attendees in addition to the Moellerings were Bob & Karen Croteau, John McNerney, Bill Fitzgerald and daughter Janie, Bob & Sondra Ryan, Paul & Cindy Sper, Gary & Nadine Beech, and Tom & Liz Munz. I almost wish I could ski.