JANUARY 2007
Fred & Marlene Malek, who most graciously host us in the fall at their home in McLean, VA, enjoy biking and hiking in Aspen. Fred is still involved as founder and chairman of two private equity firms: Thayer Capital Group, which has 28 employees, and leads management buyouts of mid-size companies; Thayer Lodging Group, with about 30 investment staff, and has owned over 2 billions dollars of hotels. Fred also sits on some boards, like Automatic Data Processing Corp. and Aspen Institute. He also enjoys following and being involved with politics. Family outings and activities with Marlene, their children and granddaughter are high points. Fred sees Harry Walters, Bill Rowe, Monk Hilliard and Pete Dawkins on a fairly regular basis. He was at Harry's surprise 70th birthday party. Bob Novogratz and Jack Morrison also attended. How old can we get?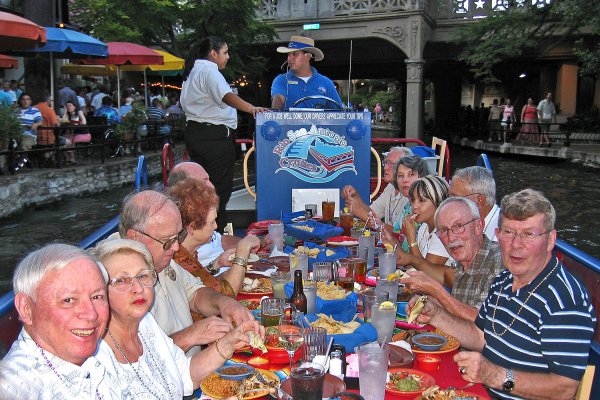 L-1 mini on the San Antonio River.
Ron & Faye Templeton hosted a wonderful mini-reunion at their lovely home in San Antonio for Company L-1 on the Thursday night before the Texas A& M game. Present from L-1, in addition to Ron and Faye, were Ollie and Diane Langford (Beaufort, SC), Bill & Carol Benagh (FL), Dan Webster (Arlington, TX), Lou Schroeder (Englewood, CO), Mike Barr (Jemenez Springs, NM), and Jack & Roselyn Stanley (Little Rock, AR). Others attending were from I-1, Sandy & Carol Beach (Houston), from M-1, Guy & Donna Heath (New Braunfels, TX), from A-2, Jack & Nancy Neal (San Antonio), from B-2, Dick & Nete Sundt (Houston)and from L-2, John & Bev Corby (San Antonio). And Tony & Sandra Pokorny. We were all impressed by Ron and Faye's beautiful home complete with Ron's electric train setup, his collection of hand painted soldiers from world history, and Ron's obvious woodworking and electrical skills. Wow!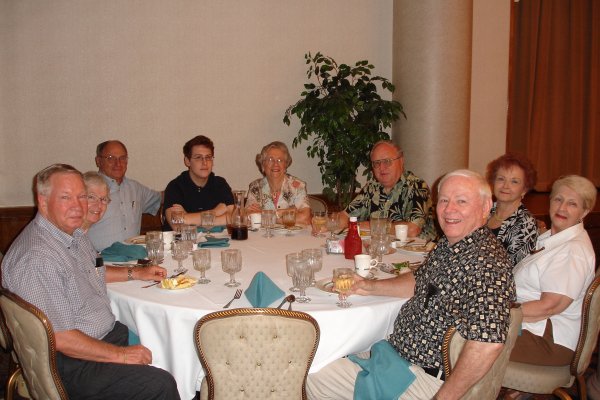 L-I mini at the Templetons.
We had a great meal courtesy of the Templetons and drinks courtesy of the Langfords, with spirited discussion of West Point, the Army team, the great class of '59, and beautiful San Antonio.
On Friday many attended a dinner on the San Antonio River, and on Saturday watched an inspired Army team almost defeat A&M after being a 28 point underdog before a record Alamo Dome crowd of 65,000. It was a shame we didn't win after coming so close. While at the game and after I had the pleasure of seeing Don & Ann Eckelbarger and Bob DeMont and his brother, Tom. Sunday most a attended a farewell brunch at the Randolph AF base officers' club. Thanks to Ron and Faye for organizing such a great time.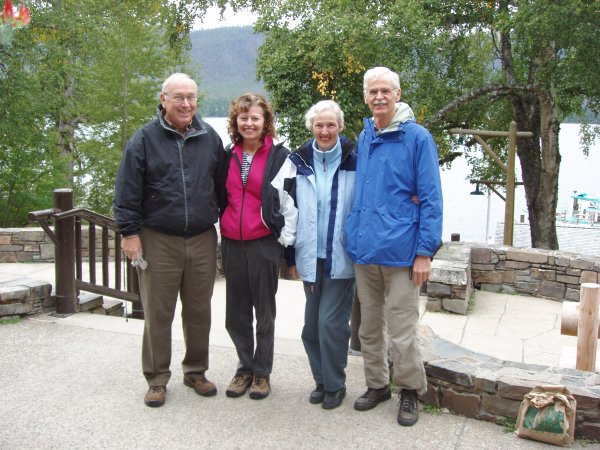 Old guys, pretending to be our classmates, with pretty girls.
Gerry Stadler sent a fun clipping about Hank & Brenda Larson, recently honored as "Oklahoma Sooner Loyalty Program All-Stars": eight fans who had season tickets for football, men's basketball and women's basketball and used every single one of them. "Some people want to know if we can get a life," Hank said. Their response? "We have one. It's great fun."