NOVEMBER 2006
Don Reinhard was POC for the Class at Mike Gabel's funeral in Decatur, GA, on 3 June. Five members of the Class participated: Ed Burba, Douglas Campbell, Jack Morrison, Norm & Elva Rosner, and, of course, Don & Mary Helen. MG Gordon Duquemin '47, the F2 tac our first class year, was there with his wife, Patt; as were members of the Classes of '58, '60, '65 (Mike's brother David), '71, '73, '85 (Mike's son-in-law, Luke Vazul), and '86 (Mike's daughter, Irene). At the end of the memorial mass, everyone gathered in front of the chapel and sang the Alma Mater. Don reports that Elizabeth, Mike's widow, was presented the first decorative memorial flag case from our Class.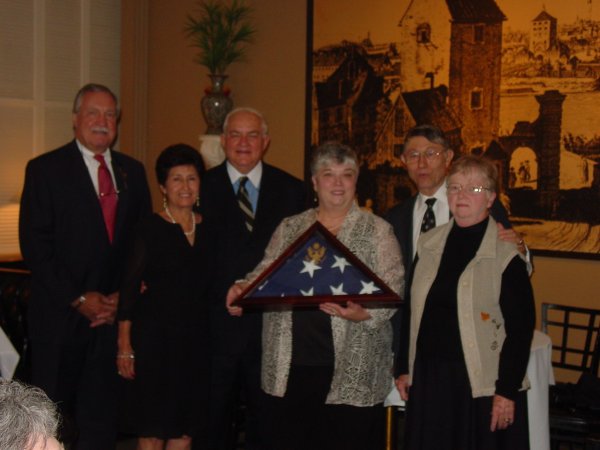 At Mike Gabel's funeral: Jack Morrison, Elva & Norm Rosner, Elizabeth Gabel, and Don & Mary Helen Reinhard.
And Jim Miller reported on the Lee Moraski memorial service held in the Old Cadet Chapel on 30 June. The Alma Mater was played as a prelude, and a sergeant in dress blues delivered the urn to the chapel railing. About 35 people attended, including classmates John Bryer, Len Einbinder, Jerry & Geri Hilmes, Jim & Nancy Satterwhite, and Jim & Jynelle Miller. After a moving ceremony and tribute, the urn was moved outside for full military honors and the presentation of the flag to Kathy. There followed a reception at the old Officers Club.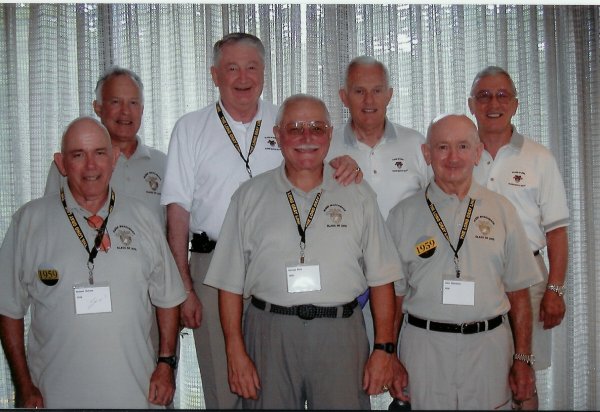 Class of 2009 Marchback: Schow, Roth, Leo, Kleb, Coen, Eberhard, and Satterwhite.
Planning for our 50th is in full swing, with draft agendas flying around the internet class forum between Jerry Fogel, the reunion czar, Jerry Jervell, the 50th history book producer, and Jim Walsh, our estimable secretary. And there have been suggestions from Pete Dawkins, Paul Sper and others. Where and when to have a Class meeting has been a lively topic, and how to tour the Academy grounds has been another.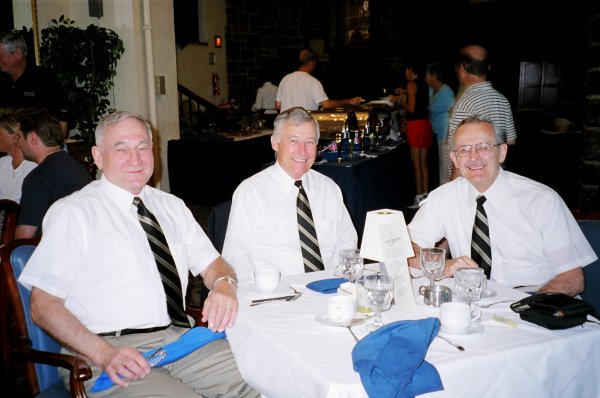 Flag presentation to '09: breakfast at the Thayer: Krawciw, Beach, and Madden.
Bill Schwartz sends the accompanying photo of him with the oldest living grad, COL Michael Buckley '23, who was 104 years old back in May when the photo was taken. Bill captioned it "How to look young." Bill said Buckley was an incredible man with wonderful stories, who attributed his longevity to cultivating roses and drinking Jack Daniels. He knocked off a beer before lunch. Bill was there at an assisted living facility in Oakland to help the colonel celebrate his birthday. COL Buckley died on 20 August and is survived by two of his six children.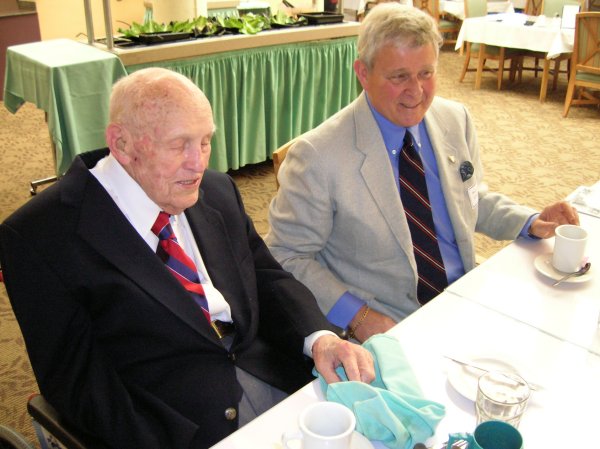 COL Buckley and Bill Schwartz."
Jay Madden sends the photos of our flag presentation to the Class of 2009 on 11 August at Camp Buckner. Representing our Class, besides Jay, were Will Weber, Nick Krawciw, and Sandy Beach. The Class is proud of them.
Flag presentation: Weber, Beach, Juan Arevalo '09, Madden, A.J. Pulaski '09, and Krawciw.
Photos from the 23 May Distinguished Graduate Award festivities are courtesy of Bill Turpin and Sandy Beach. Among the attendees not pictured were Steve Werbel (although he can be seen in miniature between Tennant and Dawkins on one photo), Bob Shapiro, and Len Einbinder.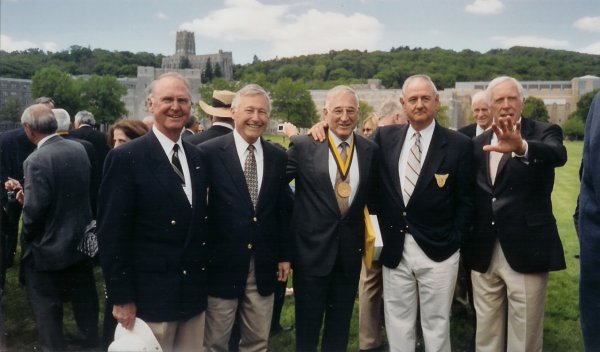 Distinguished Grad ceremony: Turpin, Beach, Krawciw, Tennant, Werbel, and Dawkins.
As of 1 August, Lenny Katsarsky and Jack Bohman were estimating an attendance of 140-150 classmates and others for the Hawaii mini to be held the week of 22-29 October. Charlie Tennant had arranged a trip to the Big Island and the Volcano National Park, including bus and air transportation for 28 October. A highlight was the planned induction of Rocky Versace in the Gallery of Heroes of the Hawaii Army Museum Society on 27 October. At this writing, there was scheduled a follow-on cruise from 30 October to 6 November. It will surely be a wing-ding!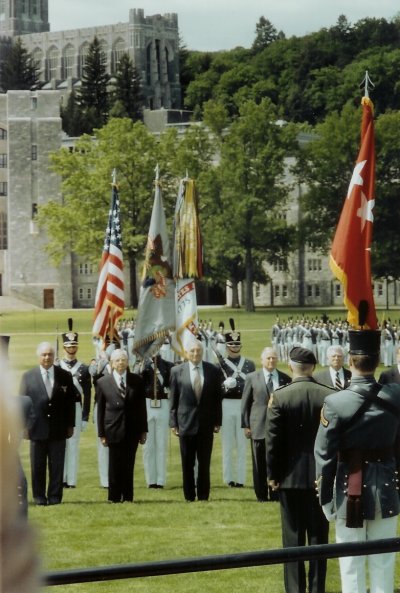 Krawciw (center) at Distinguished Grad Parade.
Johnny Cox and his wife Kay Leonard have volunteered to host a Florida mini in the Tampa/St. Pete area a year and a half hence from 4-7 May 2008. The classmates helping with the plans are John & Elaine Guthrie and Jerry & Geri Hilmes. They've selected a first class beach resort, the Sirata, which is on the water at St. Petersburg Beach. All the normal resort activities are available in addition to golf and several interesting museums. A key highlight of the mini will be a visit to USSOCOM at McDill AFB for an update on Special Operations activities and the terrorism threat. At this point the Sirata is offering very reasonable rates for that time period, so call them at 1-800 344-5999.
John Wilson, who is still here in Washington, informs me that he is leaving his job at Cushman & Wakefield to join a local real estate developer named JBG Properties. He will commission and manage the Southeast Federal Center that JBG is building and owns. Leased to the Department of Transportation, it is nearing completion and comprises 1.4 million square feet. It is down in the "Emerging Neighborhood" of Southeast Washington adjacent to the planned Washington Nationals baseball complex.
Jay Weisler married Bonnie Webb in the Cadet Chapel on 22 February, a day Tom Russell called a beautiful sunny day during gloom period. Jay's roommate, Steve Werbel was his best man; and in attendance were Tom & Ann Russell, Jim & Gudrun Burwell, and close friends from the Weisler hometown of Brenham, TX.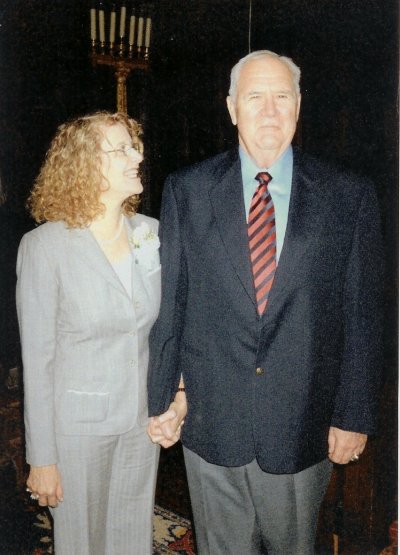 Jay Weisler and bride, Bonnie Webb.
Jerry Jervell volunteered to represent the Class at the Leaders Conference held at West Point on 10-12 August, and was honored to be in the reviewing party for the Acceptance Parade for the Class of 2010. He reports that it was a profitable and inspirational two days, with conversations with the Supe, the Com, and the Dean, good men all, he says. Our Class had five more representing different organizations across the country. Al & Nancy Dorris were there for the WP Society of Minnesota, John & Pat Eberhard for the WP Society of Naples, FL; Tom Leo for the WP Society of Philadelphia, Tony & Sandy Pokorny for the WP Society of Texoma, OK; and Tom & Ann Russell for the WP Society of Richmond, VA. The deliberations of the conference have been ably reported by Jerry on our Class Forum, and I presume they are covered elsewhere in this magazine.
As always, our thoughts and prayers are with those of our children and grandchildren who are in harms way.