MAY 2006
Lenny Katsarsky reminds us of the Class Hawaii mini-reunion to be held in Honolulu from 22-29 October. He and Jack Bohman have worked on the agenda, and as of last November, 145 classmates, wives and friends had committed, and more were expected. Contact them now and you'll get two in the Hale Koa hotel room for the price of one! Len's e-mail address is LenKatsarsky@aol.com, and Jack's is jbohman59@hawaii.rr.com.
Steve & Audrey Hurley are in Gainesville, VA, where Steve says he is trying to get things organized while concluding his active working career: four years in the Army, 31 plus years with IBM, and 12 years with SAIC. He and Audrey have been married for 46 years and have three children and eight grandchildren (four boys and four girls), ages five to 18. Steve says they enjoy the Gainesville area and see Art & Joyce Griffin often to go out to dinner and then play bridge. Steve takes daily walks and plays on the golf team for his community in the Northern Virginia Retired Men's Golf League. There are so many grads in the area, he says, that they had their own Founders Day dinner last year and expect that it might continue.
And speaking of Founders Day dinners, here are a few items to catch up belatedly. The Atlanta group met at Fort McPherson on 12 March last year, and Bill Luther reported that he and Carol were joined by Norm & Elva Rosner, Ron & Ruth Salter, Mike & Elizabeth Gabel, Douglas & Betsy Campbell, John & Jane Joh, and Don and Mary Helen Reinhard. The Rosners hosted a wonderful brunch for the group on Sunday, and Bill says Elva merits a gold star for the delicious meal.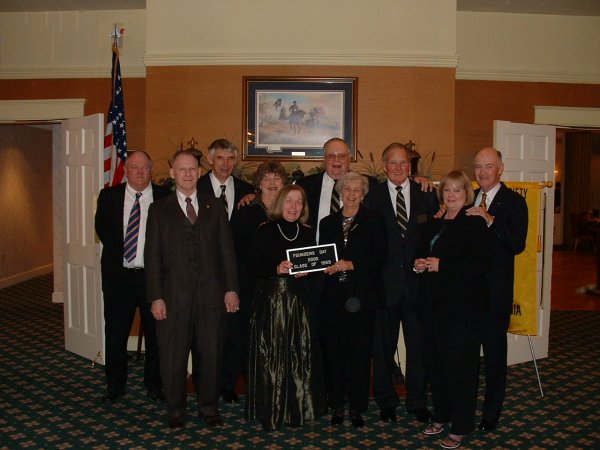 Last year's Founders Day at Carlisle
Anticipating the Atlanta blowout, and not to be outdone, the WPS of Williamsburg celebrated Founders Day on March 11, 2005. Classmates present were the Burlesons, the Letchworths, the Passarellas, the Robertses, and the Tillars. Tex Turner and Skip Tyler were there sans wives, and everyone had a good time. Everyone but the Tillars, says Don, because they had to sit at the head table and "entertain."
And anticipating both on March 10, 2005, was the Founders Day Dinner in Naples, Fl, where the speaker was Bobby Ross. Classmates attending were the Eberhards, the Frankses, the Guthries, the Hilmeses, the Klebs, the Bill O'Mearas, and the Ranallis. Kleb said they had a great evening.
Topping them all, in a manner of speaking, was the combined Founders Day dinner of the WP Societies of the San Francisco Bay Area and Silicone Valley. The Supe presented our Bill Schwartz with the first Distinguished Graduate Award of the San Francisco Bay Area. It was well-deserved recognition for the work Bill has done in the admissions field and with the Oakland Military Institute. The class commends Bill for his untiring efforts.
Bill Barry and Wayne Lambert flew Bill's airplane from their homes in Georgia to a pheasant hunt in South Dakota last October, and they bagged their limit each day for four days – another great hunt. Gerry Weisenseel was also up for the pre-hunt golf tournament, but he had to scurry back to South Florida to pull hurricane duty.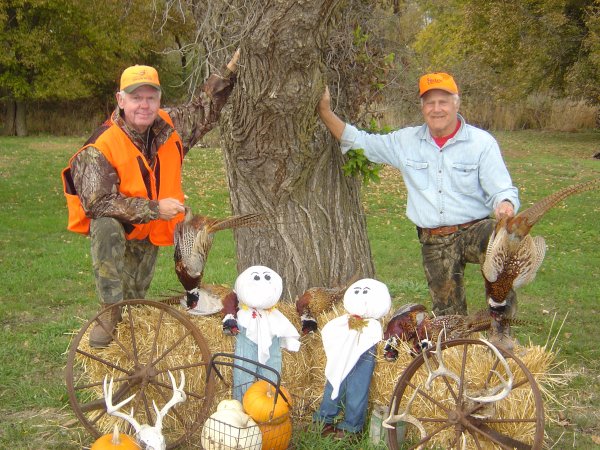 Barry and Lambert with pheasant hunt swag
Stan & Madelene Kanaroski live in Lakewood, WA, where Stan still practices law, specializing in discrimination and employment plaintiff work. They have greatly enjoyed our mini reunions, and they look forward to winter skiing and golf in Hawaii next fall.
Tom Clancy was the Class's nominee for the 2006 Thayer Award. There was discussion of the nomination at the Class meeting in October and quite a few subsequent e-mails on the subject. Clancy's name came up, and a ringing endorsement by Fred Franks, a long-standing friend of Tom's, clinched the nomination. The nomination was mooted by the announcement on February 10 that the award will go to Tom Brokaw.
Winnie Schepps, who is in Birmingham, AL, enclosed the accompanying photo of him and his full-dress hat with a unique tale. Seems a young man in Montgomery, AL, who had been 11 years old when we were cows and whose father had been an engineer at WP, called to tell Win that his "tarbucket" was on e-bay with Win's L-2 nametag in it. Win called the owner in Ohio, and it seems that an ex-girlfriend in Ohio had sold it to an antique store many years before. The offering owner was unable to call off the auction because it was already underway. So Winnie bid and got it for $160. Bet he wished he hadn't lost track of it so many years before. I have no idea what became of mine. Win says that he went to the 2005 Founders Day at Redstone and had a great evening with T.V. Borlund, and Jim Burwell; but he had left his camera in the car.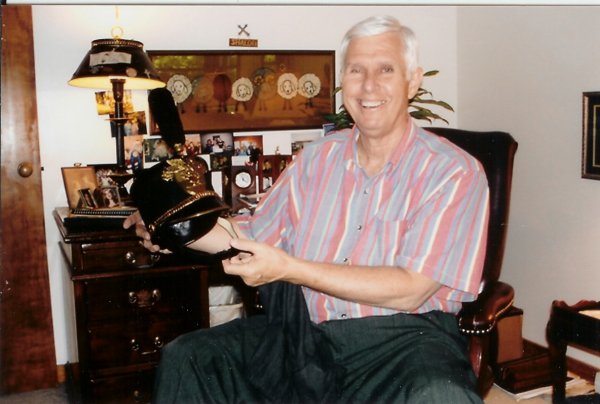 Shepps and his long lost and repurchased "tarbucket"
Don & Ingrid Ingram are in Lady Lake, FL, where they moved when Don retired in 1992. He walks a mile or two every day and enjoys reading French, German, Spanish, and Italian. He and Ingrid listen to a lot of opera and classical music, and play mah jongg regularly. Tom & Ann Russell stayed overnight with them about a year and a half ago, and Don speaks on the telephone, from time to time, with Bruce Schmacker.
Nick Krawciw was named one of seven 2006 Distinguished Grads on February 6. The Class sends its admiration and congratulations to Nick, and many of us hope to be at the awards parade, the date and time of which will be announced later.
Joe Shea writes that his son-in-law, COL Victor Petrenko, was the commander of the 82d Divarty at the time of its recent stand down, making him its last commander. Each arty bn is now assigned to a separate brigade. Joe hopes we don't get into it with Iran.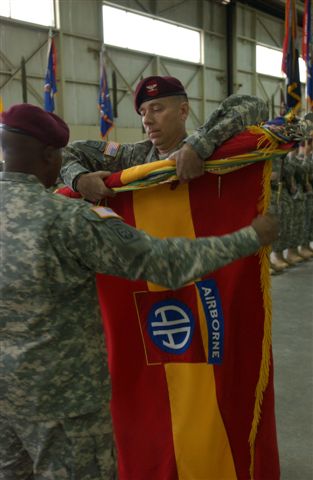 COL Victor Petrenko, Joe Shea's son-in-law, furls the 82nd Divarty colors as it stands down
Douglas & Betsy Campbell sent Christmas greetings from Atlanta and, as usual sent fun news. Daughter Lindsey graduated from Georgia Tech with a BS in business management and, since graduation has continued her part-time job bartending at a Buckhead night spot. And she came in second in the "Best Bartender in Atlanta" contest. To boot, she has recently gone to work for the bridal department of the local Bloomingdale's.
The Class Scholarship Committee announced that the 2005 award went to Powell & Joanne Hutton's daughter, Charlotte, who graduated from Sewanee in 2003 and is now enrolled in the George Washington University Museum Studies program. Her long term goal is to be a museum exhibition developer, planner, interpreter and teacher. Runner up for the award (and who is encouraged to apply again this year) was Larry Palmer's son, Jason, whose interests revolve around his family, his sports, and his teaching. He is enrolled in the University of Fribourg in Switzerland pursuing a BA in English, German, French and educational sciences. In the past years he has competed in hockey, soccer, squash and running; including runs in the Boston, Berlin, Swiss and Jungfrau marathons, finishing in the top ten percent in all of them. Powell Hutton recused himself early in the committee's deliberations, and the report was made by Frank Besson.
Bob & Julie DeMont had a wonderful Thanksgiving with most of their family at their home in Holly Springs, NC, a reminder of the celebrations they once had in Michigan. They were at their summer home in Paris, ME, longer that usual this year, arriving in June and staying into September. They recently had lunch with Jim & Marigold Abrahamson and noted that Don & Jenny Gruschow were on another cruise. And, reminiscent of how this column began, they are looking forward to the Hawaii mini.