MARCH 2006
Bruce Porter reports that his dear wife of 44 years, Dianne, died of acute leukemia on December 9 in Wilmington, NC. A memorial service was held on December 20 at the Calabash Presbyterian Church in Sunset Beach, NC. Classmates who attended were the Reinhards, the Greek Johnsons, O'Connor, DeMont, and Hightower. The sincere condolences of the Class are extended to Bruce and to their children, Scot, James, Anne, and Eric: and to all of Dianne's family and friends.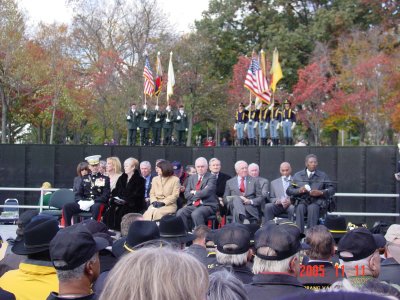 Veterans' Day at the Wall: Pete on the dais.
Bob Weekley reports that the ceremony on November 3 at the Rocky Versace memorial plaza in Alexandria was highly inspirational. The ninth grade teacher, Elissa Webster, who organized the ceremony brought together her school Junior ROTC, the band, and her own class of English as a Second Language students. She has taught the story of Rocky to her class to help them get an idea of what U.S. citizenship means. Her students are from many nations of Europe, Africa, Asia, and Central America; and each student, both the ESL students and the ROTC students, had a turn at the microphone. The ESL students each read something they had written themselves, in English, as a tribute to Rocky and to veterans. Each of the ROTC students read one of the names of the other Alexandrians who were killed in Vietnam and whose names are inscribed on the plaza. Each of the ESL students handed a hand-written scroll to each veteran present in which they expressed, in their own words, appreciation for their military service. Very touching, says John; truly the legacy of Rocky lives on to inspire future generations. All who helped bring about Rocky's Medal of Honor and the plaza recognition have done the nation a great service. Thanks, John.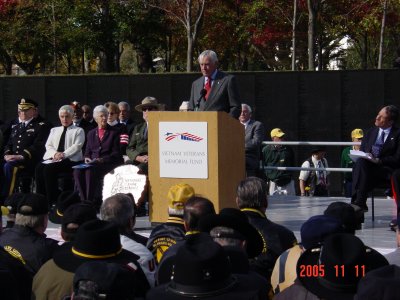 Veterans' Day at the Wall: Pete speaks.
Veterans' Day at the Vietnam Wall was highlighted by a procession led by LTG Hal Moore '45 in remembrance of the 40th anniversary of the Battle of Ia Drang Valley. The keynote remarks were by GEN Peter Pace, Chairman of the Joint Chiefs of Staff, and our Pete Dawkins, who gave an outstanding speech, and who noted that the event was witnessed by a crowd of 10,000. A reminder again, he said, of how much we owe not just to those whose names are on the wall, but to all who serve.
Greg & Judy Kadlec continue to thrive in Twin Falls, ID, where Greg runs Asthma & Allergy of Idaho. He remains in practice two or three days a week and has been elected to the Idaho Medical Association Board of Directors, so he figures on seeing patients for another five years. He speaks with Harry Walters and Alex Grant often, and with Denny Morrissey frequently. Denny had a defibrillation implant recently but continues to work full time. Greg does e-mail with Schlemmer, Barry and Corby; and he knows that Joe Shea and Bill Wheeler spend a lot of time together and are ok. He invites us out to Idaho for some golf.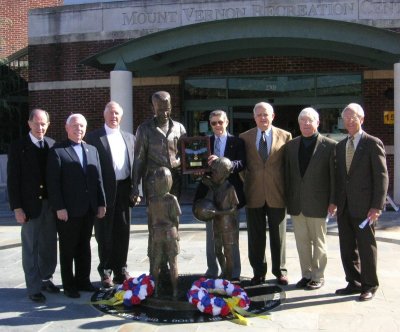 Rocky Versace Memorial Plaza: Weekley, Morgan, Gillette, Boyle, Lidy, Welch and Gurr. Cotts was there but missed the photo op.
Jerry Jervell, our esteemed historian, lives in Black Canyon City, AZ, where he claims to be in "working retirement." It gives him a reason to get up each morning and at bedtime he is usually able to say that he has accomplished at least something. He has been substitute teaching in his school district for the past four years, exposing himself to kids from elementary school age through high school. He is amazed at how attitudes and deportment have plummeted since our days and that of our children. His extracurricular activities usually involve some construction project around his house, which he says is neat, rustic, and has character and persona. He intersperses the foregoing with work on our 50YCB, a project that is always on his mind and will probably become a full time job by 2008. But he chooses not to give his part time students any ray of hope that there might be a withdrawal timetable.
Jerry is consumed by the grandkids who live closest and visit him weekly. Half the house has been tailored to their interests, and he has been busily engaged in constructing the "space shuttle," a 26-foot tall free-standing gazebo-cum-playhouse, with the ground floor for adults and the kids' play area upstairs with a drawbridge to enter from the "docking station," an emergency playground slide. He plans to install two car dashboards for the pilot and co-pilot, and says he is enjoying his second childhood even more than his first. Early in the New Year, he plans to resume his program of locating lost classmates, which, he says, should keep him at his computer and keep the streets of greater Phoenix safe from one more ancient driver.
Mike & Ann Isacco are in Greenville, PA, where Mike does not miss the business travel from which he retired as VP-Manufacturing of the Werner Company with plants in PA, AL, KY, GA, and IL. He and Ann have visited Spain and Italy and their five children and 11 grandchildren scattered throughout the U.S. They've visited Hawaii the last three winters also spending time on renovating and expanding their home church. Mike plays handball a few times a week and golf when the weather permits. He is a member of Sen. Arlen Spector's selection committee for applicants to the service academies. He coaches kids on interviewing and resume writing, and, when they are selected, on the various things they can expect at whatever "beast barracks" they may face. He had one man graduate from WP last year, and three of his men are currently cadets.
Bill Turpin reports that the 2005 Beat Navy Party of the Hash House Harriers and Friends, one of a long and treasured series, was held at the home of Bill & Bobbie Fitzgerald in Fairfax Station, VA, on December 2. The attendees appear in the accompanying photo and are, from bottom row to top: Ann Russell, John Gurr, Mary Gurr, Mike Gillette, Felicity Gillette, Tom Russell, Elaine Besson, Margaret Welch, Frank Besson, Dick Welch, Margie McNerney, Elaine Weekley, Bob Weekley, John McNerney, Ann Turpin, Bobby and Bill Fitzgerald, Joanne and Powell Hutton. Bill Turpin was the photographer.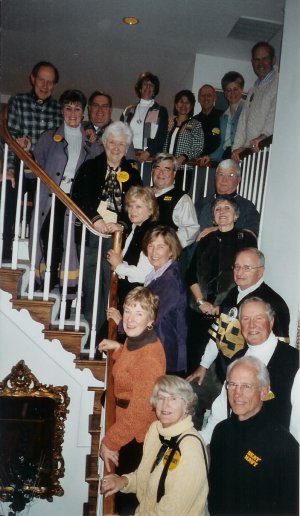 Army-Navy day with the Hash House Harriers and Friends at the Fit
As the group rolled up to the Fitzgeralds' house they were surprised not so much by the handsome Mr. Ducrot in black parka and grey cap out in front, but by the "under contract" real estate sign. Bill and Bobbie are moving to Hilton Head, thereby following in abandonment of the frozen north the Weekleys, the Gurrs, the Russells, the Bennets, the Bessons, the Moellerings and the Welches. They all welcomed the new aggressive spirit of the Army Team, and were of hopeful heart as they passed next year's host apron to Powell & Joanne Hutton.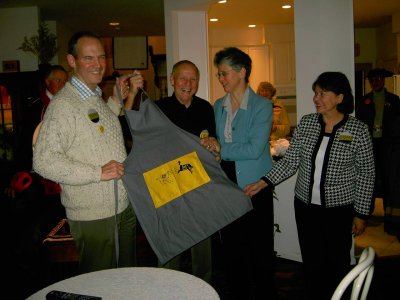 Powell & Joanne Hutton are awarded the host apron for next year by Bill & Bobbie Fitzgerald.
The Huttons, having not moved farther south, are still in Arlington, VA, where Powell is still a fully-engaged contractor with the Missile Defense Agency. It's exciting, he says, and also necessary to recover from major additions they've done to their home. Foreign affairs and national security are still interests, but increasingly he and Joanne have turned to environmental issues. Powell heads a small foundation supporting an environmentally-oriented nature camp for kids that both of theirs had gone to. Joanne is a horticultural technician for Arlington County, and they both "do" (Mike's notation) birding locally and had an extraordinary birding trip to Peru in 2004, spending one week in the Amazon and one week in the high Andes. They both remain deeply involved in their church, with Powell as a committee chair and on the Vestry, and Joanne as leader of a theology class.
Our thoughts and prayers are, as ever, with our children and grandchildren in harm's way.