SEPTEMBER 2005
Bob Weekley reports the sad news of the death of Claude Lynchís wife, Jerri, on Friday, April 22, at Connecticut Hospice, Branford, CT. She was a librarian in many public libraries in the New Haven and Fairfield County areas and a member of numerous professional societies for librarians. She had been debilitated with a disease related to Parkinsonís, and had been in a nursing home for the eleven months prior to her death. The heartfelt sympathy of the class is extended to Claude, and to all of Jerriís family and friends.
FD Atlanta: Salter, Luther and Rosner at Rosnerís home.
And then on June 18, Don Ludlam died in Marietta, GA. A funeral mass was said there, and a memorial service was held in the Old Cadet Chapel on June 28, before Donís interment in the West Point Cemetery. A reception in Herbert Hall was held afterwards. Our condolences are tendered to Ronnie, Donís wife, and to all of his family and friends.
Bill & Norma Mullen spent a week in Honolulu in May. They had a nice visit with Len & Honey Jean Katsarsky, who, says Bill, are both hitting the golf ball nicely. Lenny is getting close to announcing the details of his plans for the second Hawaii mini reunion in October 2006. Letís all go; it may be our last chance! The Mullens also spent a morning with Jack & Arlene Bohman, who, insists Bill, arranged to have the USS Nimitz enter Pearl Harbor while they had a good close range view from Hickam AFB. The Katsarskys and the Bohmans look great, Bill says, and Hawaii seems to agree with them.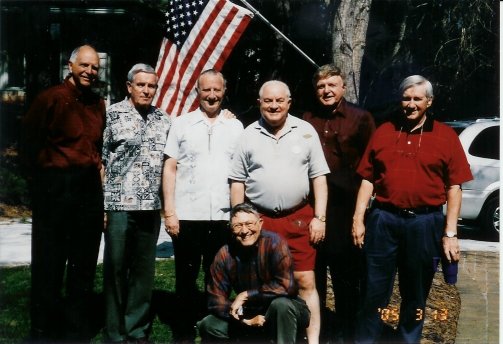 FD Atlanta: Salter, Luther, Gabel, Rosner, Joh, Campbell and Reinhard (kneeling).
Phil & Rosa Gibbs live with their son, Sebastian, in Annandale, VA, where Phil is very much involved with the activities of his son, whom he thinks might be the youngest child in the class (June 27, 1989). Any takers to speak of? Sebastian is a freshman at Bishop OíConnell HS in Arlington, and Al Breuel, who teaches senior physics there is friendly with him. Phil & Rosa see Jack & Barbara OíBrien at their church on Sundays, and Phil says that his personal quality of life has improved with the replacement of both his hips. He was planning to resume his dazzling golf game this past summer.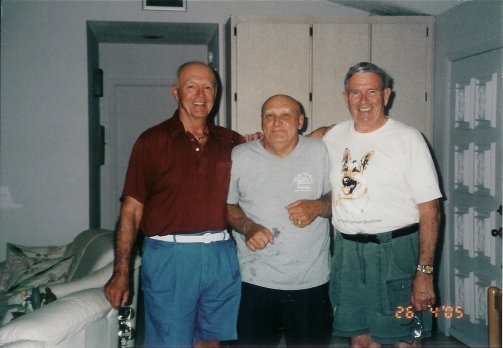 Shea, Wheeler and Luther at Wheelerís house on Santa Maria Island, FL.
Jim Walsh reports that he and Phyl were happy to host the annual A-1 and friends picnic at their house in Boonsboro, MD. It was a fantastic success, as usual. This year, as part of our attempt to locate all guys who were ever a member of our Class, Tom Borlund contacted all of us who started out in A-1 in 1955 (or, sadly, in some cases, their next of kin), and we were lucky to see once again Karl Southerland, who left us in 1957, and his wife, Joyce; and also Lucille Guild, widow of Bill, who was with us for the first year but moved to B-1 for the remainder of his confinement. Other A-1 folks were Ray & Jan Beurket; Tom & Frieda Borlund; Jim & Gudrun Burwell; Rody Conway and his son, Scott; Terry Enright; Charlie Hayes; Monk & Betsy Hilliard; Tom & Marty Roberts; Bill & Butch Rowe; and the Walshes. A-1 friends there were Art & Babs Blair, Bill & Sue Breen, Paul & Fran Elias, Mike Gillette, Jim Hanlon, Tom & Kathy Harkins, Jerry Jervell, Charlie & Marianne Lymn, Bob & Barbara Novogratz, Tom & Ann Russell, and Bill Turpin. Now how fine a group is that? Watch the Internet for particulars on next yearís picnic, which will be hosted by the Roberts and the Tillars in Williamsburg on the third Saturday in May (as always). Be there.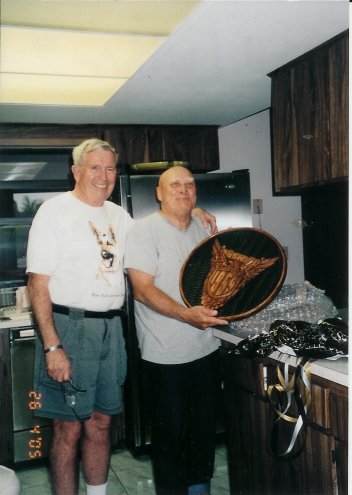 Wheeler gets his plaque in April.
Mike & Betty Anne Ferris are in Willis, TX (Lake Conroe), and Mike finds it difficult to fit all his interests into retirement. His passion is sailing his 36 foot Catalina, which he has moved from their lake to Galveston Bay. They sailed down to Florida on the Intercoastal Waterway in February and explored the west coast from Ft. Myers. They were hoping to spend the first part of the summer exploring the Texas east coast before going to WP to help Mikeís dad (í35) through his 70th reunion. Wow.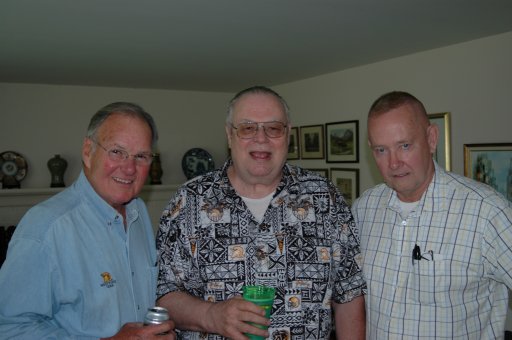 A-1 Picnic: Hilliard, Walsh and Borlund.
Carl & Cris Groth live in Bumpass, VA, on Lake Anna. They are each stepping back from a full load of volunteer work (Carlís kids say get a life; mine says Iím old and fruity); Carl is educating others on environmental issues, and Chris is gardening and quilting. They enjoy periodic ocean cruises and infrequent kayaking from their house on the lake. They see Bob & Jenny Howe at Gloucester Point, and keep up with Steve & Christa Kleinís peripatetic life in Europe. They are also taking a more active role, says Carl, in stemming the tide of legislation that reduces civil rights and continues to feed a neo-conservative appetite for empire. Carl may want to discuss this with some more moderate classmates, such as Andy OíMeara, Ted Colby, or Tom Leo. (No, donít; Iím just funning with my keyboard.)
Bill Luther sends photos from an April visit with Bill & Doreen Wheeler at their lovely home on Santa Maria Island, FL. Joe Shea joined them for dinner on one night, and he knew that Bill had a í59 wooden plaque made for Bill Wheeler, but it was a complete surprise for the recipient. Do the smiles show up in the photo reprints?
Bill Luther also takes pictures at other class events, here the 45th Reunion and the Founders Day festivities in Atlanta, and Ė ahem Ė actually sends them to me. Many thanks, Bill; I wish Assembly would print them all.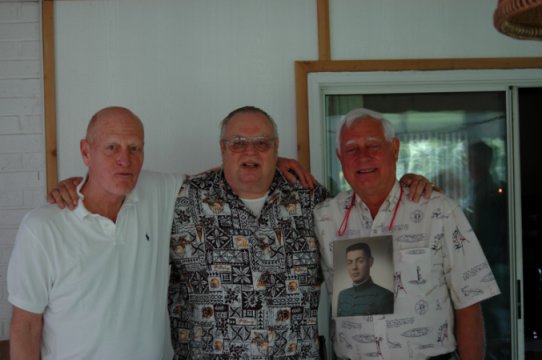 A-1 Picnic: Conway, Walsh and Southerland.
Guy & Donna Heath are on a ranch outside of New Braunfels, TX, and Guy has been elected president of a wholly family-owned partnership that operates the Heath-Ray Circle Bar Ranch. Until recently, Guy was Vice President for ranch operations, a job he is relieved to be relieved of. Guy and his horse, Chili, have retired from competitive team penning and sorting. Not because 24-year-old Chili is getting too old or too slow, but because Guyís response time is getting a bit slower, and he doesnít want to embarrass Chili. Donna has a pacemaker recently installed, and Guy says itís now hard to keep up with her.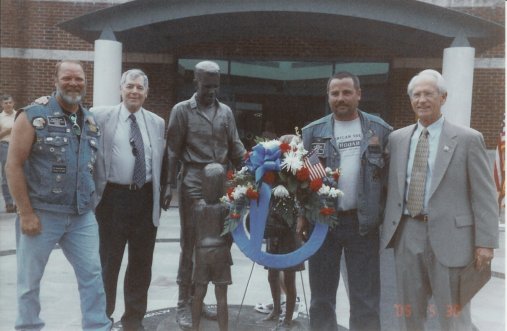 Steve Versace and John Gurr join motorcyclists Dave OíDell and Dan Brownell at Rockyís monument in Alexandria.
Tom Boyle sends the photo and John Gurr provides the information about the motorcylists who attended the service in May at the Captain Rocky Versace Plaza in Alexandria, VA. One was Dave OíDell, National President of Military Veterans Motorcycle Club; and the other is Dan Brownell, National Representative for the Central Time Zone area of the club. They heard of Rocky from a young college coed in Millington, TN, who had written an essay on Rockyís heroism; so the club decided to name the Central Zone the Captain Rocky Versace Zone. What a nice story.
Howard Stiles gives us early warning of the 2006 ski mini, which will be held in Vail, CO, from February 25 to March 4. Make your reservations with the Ski Czar at popsicle@maine.rr.com. And remember, says Howard, you donít have to know a ski from a martini to have a good time.