MARCH 2005
Joan Breuel, Alís dear wife, died on November 10 in a Virginia convalescent home, where she had been living since suffering a brain aneurism four years ago. She and Al lived in Springfield , VA , for many years, and she had operated an excellent antique business. A funeral mass was said on November 13 at the Church of the Nativity in Burke , VA. Classmates attending included Bob Weekley, Powell Hutton, Phil Gibbs, and Terry Enright. The heartfelt sympathy of the Class is extended to Al and to all of Joanís family and friends.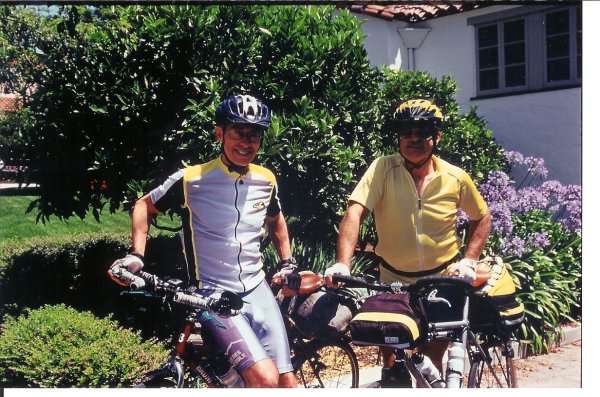 Larry Palmer and Will Weber preparing to depart Oakland .
Then on November 20, we lost Pete Foster to untreatable cancer in Albuquerque . Mike Barr and Ron Pistone represented the Class at the memorial service held at the Central United Methodist Church on November 29 and at the reception following. The sincere condolences of the Class are extended to Peteís wife Judi, to his daughters Juliet and Christel, and to all of his family and friends.
Hank & Brenda Larsen drove down from Norman , OK , to College Station , TX , in early November to see the Sooners play the Aggies. On the way they stopped in Temple , TX , to have lunch with Bob & Carol Cyr. Both are doing exceptionally well, says Hank; not only are they both staying very active in their work, but they also devote much of their time to bringing up their grandchildren.
Dave & Linda Cotts are in Alexandria , VA , where Dave has retired for the third time. He volunteers as a teacher of English as a second language to maintenance and construction workers, and he also does some limited pro bono speaking. His main interests are his family, especially his grandchildren, and Republican politics. He sees Dick LeClere and Ed & Pat Robinson frequently (they live in the same development), and he stays in touch with Mark Magnussen and Gil Roesler. He is currently finishing Rod Ferguson ís memorial article.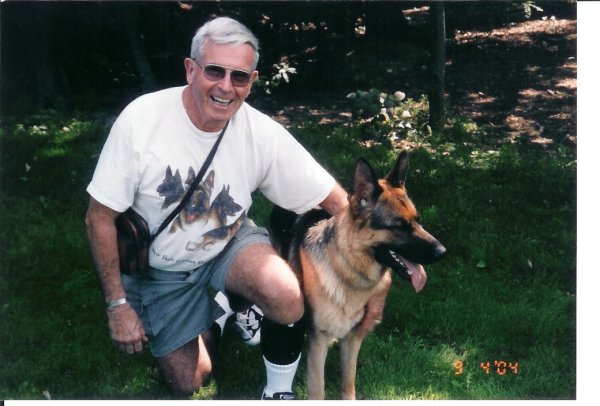 Bill Luther with his friend, Nama, at the monastery at New Skete, near Albany , NY .
Bill & Kathy Garcia had the pleasure of hosting Larry Palmer and Will Weber on July 9, their arrival night in Oakland , CA , before they took off on their cross country bike trip to our 45th. They were joined for dinner by Bill & Joyce Schwartz and had a wonderful night of reminiscing about cadet days. The next day, it was off on the bikes.
John & Pat Eberhard are building a new downsized house in Naples , FL , and are still involved in the continued success of the WP Society there. John is an orthopaedic surgery consultant at the Cleveland Clinic in Naples , and he serves on the major giving committee for the WP Fund. They have recently seen Roger & Rinny Ware, George & Beth Kleb, Bob & Mary Ann Ranalli, Randy & Mary Ann Bell, Bill & Joyce OíMeara, Tom & Liz Munz, Sandy & Carol Beach, Jerry & Gerri Hilmes, Jim & Nancy Satterwhite, and Don & Jeannie Coen.
And speaking of the Coens, Don is still working regularly managing real estate in Canton , OH , mostly former gas stations now used as convenience stores, drive-thrus, or used car lots. He likes to exercise, runs regularly, and windsurfs whenever possible. He takes part in the plebe hike marchback every year and encourages the rest of us to get involved. As those of us who have signed up already know, the date for the Class of 2009 (our 50-year buddies) is August 8 and 9, 2005.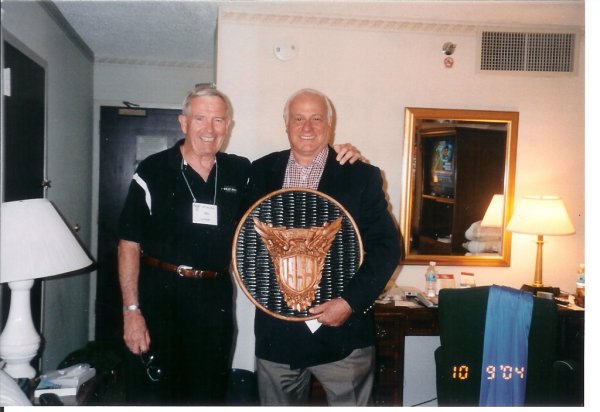 Bill Luther presents Bob Shapiro with a plaque.
Tex & Terry DeAtkine are in Fayetteville , NC , where Tex is still teaching at the Special Warfare School as the director of middle east studies. He teaches psyops and civil affairs officers and does a lot of TDY to the middle east and to various posts to brief units deploying to Iraq . He is interested in middle eastern culture and society, and is passionate about our role in Iraq . It is vital, he says, that we help set up some form of representative government as a model for the rest of the Arab world. He is also a military history buff, especially regarding the German army of WWII. His only hobby is reading, he says, and he hates golf. He meets once a quarter for lunch with Johnny Carroll, Jim Abrahamson, Don Gruschow, Lou Hightower, Hugh OíConner and several others in the central NC area. He also spends a lot of time with his four granddaughters.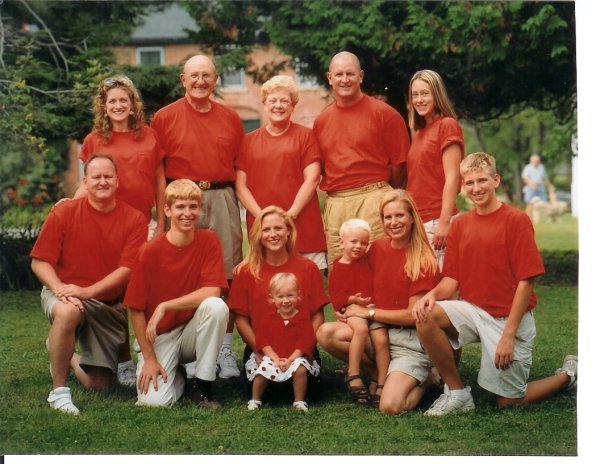 The DeMont family reunion: back row: Pam, Bob, Julie, Bobby, Sarah; front row: Andy, Christian, Lynn & Kamryn, Robby & Christine, and Nick.
Bob & Julie DeMont are in Holly Springs , NC, but spend their summers in Paris , ME. Bob has pretty much completely retired, plays some golf, has building projects around their homes, and spends time with classmates living in the area. He expanded their garden area in Maine this summer, and is having great fun trying to get rid of moles at both homes. Their big event was a family reunion in Maine at the end of July, their first since 1974. Three DeMont brothers and their assorted families, 38 in all, had fun hiking, water skiing, golfing, shopping, eating lobster, and generally having a wonderful time.
Julie keeps busy babysitting the local grandchildren, making quilts, and working in Andyís UPS Store when shesís needed. They were all planning to work there during the Christmas season. By now they have picked up their second Cavalier King Charles Spaniel, so we may see a canine DeMont dynasty to go along with the human one.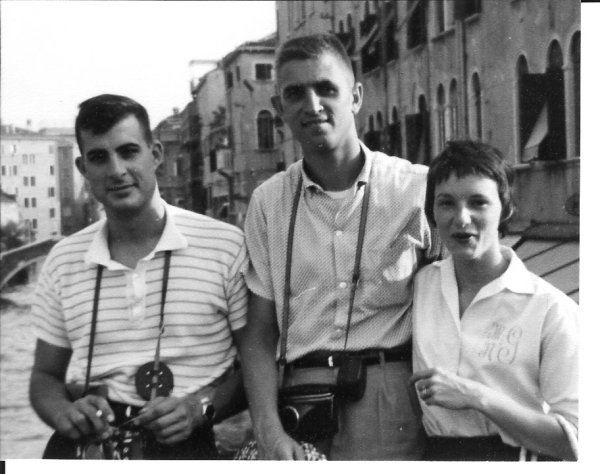 Charlie Hayes with Joe & Polly Coreth, Venice , 1962.
Bill & Susan Breen still have home base in York, PA, but this year spent time in Italy (two weeks in Florence, to see one of their never-visited cities), in San Diego for their annual family visit, and, of course, to the Army Navy game, where the number of class wives doubled (to two) with the addition of Bev Todaro.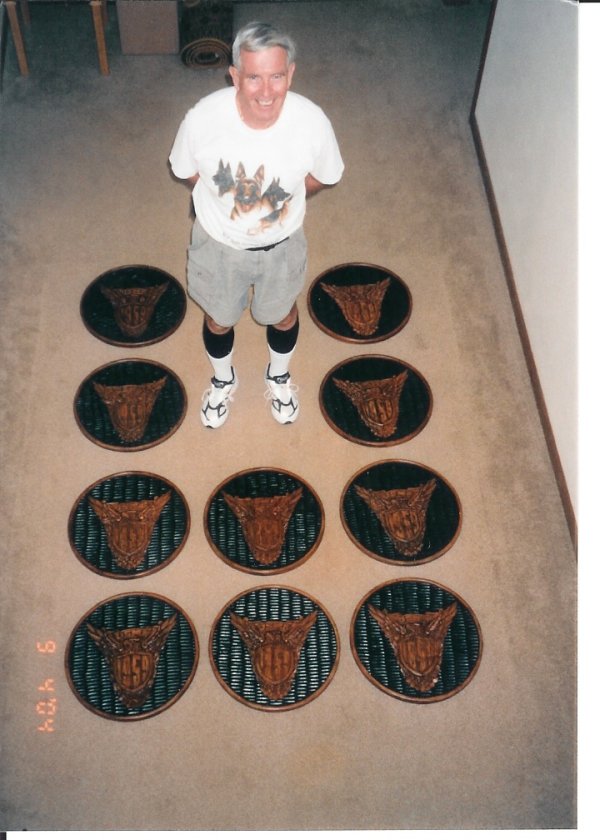 Bill Luther with Class crest plaques for the 45th Reunion .
Bill Luther, ever one of our most enthusiastic Class champions, commissioned ten wooden plaques of the Class crest to present to various classmates. They were beautiful (I saw one up close at Park Ridge ) and they were greatly appreciated by the recipients.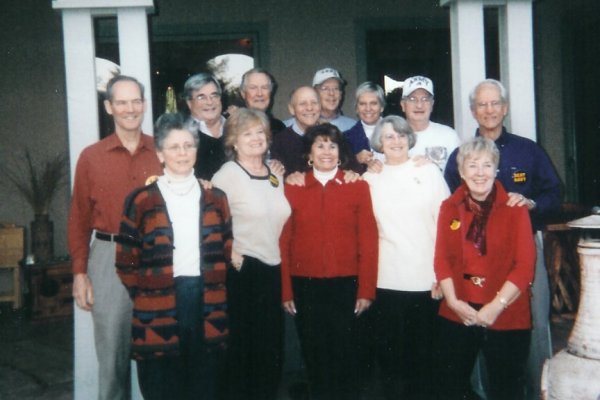 Army-Navy game crowd at the Gurrís: Powell & Joanne Hutton, Frank & Elaine Besson, Mike Gillette, Bill & Bobbie Fitzgerald, Irv & Phyllis Broocke, Ann & Tom Russell, and Mary & John Gurr.
The Gurrs and the Russells hosted this yearís Army-Navy game TV party that has been going on for about 25 years among classmates in Northern Virginia . It was at the Gurrs in Nellysford , VA (the Russells have a condo in nearby Wintergreen), and the attendees were as pictured in the accompanying photo. Usually staunch attendees who had to be present in long telephone calls only, were the Turpins, Weekleys, McNerneys, and Felicity Gillette. The Army Apron, augmented just this year by the Black-Gold-Gray decorative centerpiece, was passed this year to the Fitzgeralds, noting their selection as next yearís hosts.
As ever, our prayers are with our children and grandchildren in harmís way this season.