JULY 2005
Once again, we gathered in numbers at the Vietnam Wall on April 17 to remember our fallen classmates. Powell Hutton spoke of Jim Ray; Bill Mullen spoke of Clay Mansfield; Phil Huntingdon spoke of Rocky Versace; and Bob Holman remembered Dick Jordan. A number of classmates stepped forward with anecdotal remembrances of each. Several family members of the honorees were present, and they participated in the subsequent placing of wreaths at the Wall. Charlotte Rhodes, Jim's widow, was assisted by Powell Hutton; Claire Mansfield, Clay's sister, was assisted by Bill Mullen; Steve Versace, Rocky's brother, was assisted by Phil Huntingdon; and Jane Jordan Hamm, Dick's widow, was assisted by Bob Holman. Pete Dawkins speech was a moving conclusion. After that, it was off to Ft. Myer for the annual class meeting, which has been reported elsewhere.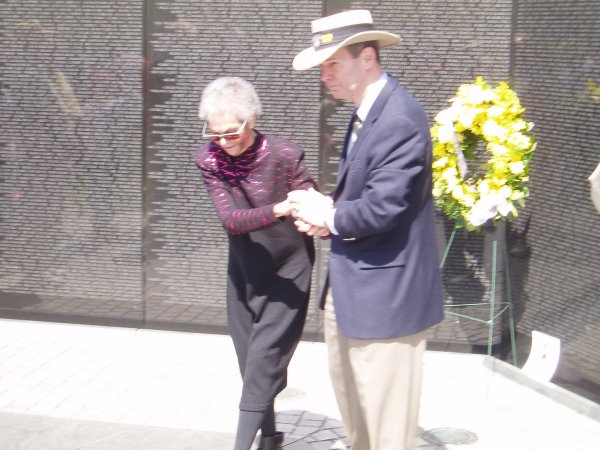 Charlotte Ray Rhodes and Powell Hutton at the Wall.
Howard Stiles reports that the fifth annual ski mini brought a nice group to Snowmass, CO, from February 26 to March 5, and that once again the event was a smashing success. Howard opines that the group will keep the annual mini going until they can't put the skis on anymore. This year's group included Bob & Karen Croteau, George & Pat Day, John & Elaine Guthrie, Barrett & Barbara Haight, Steve & Christa Klein, Bob & Sondra Ryan, Paul & Cindy Sper, Ron & Faye Templeton, Dick & Margaret Welch, John & Karla Moellering, Gary & Nadine Beech, Frank & Valentina Campbell and her son Robert, Al & Virginia Dorris, Bill & Bobbie Fitzgerald and daughter Jane, Marty & Chris Plassmeyer, and Dick & Sandy Toye.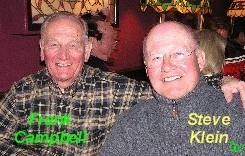 Campbell and Klein at the ski mini.
And the group doesn't just ski and sleep. They had a welcome party on Saturday night, went to a comedy club for dinner and laughs on Tuesday, and had another cocktail party on Thursday night at the condo of the Moellerings and Beeches. And anybody can come and have fun. George & Pat Day joined the group for the first time as non skiers, took several lessons, and are hooked. George's lessons came just days before his 70th birthday. What a gas.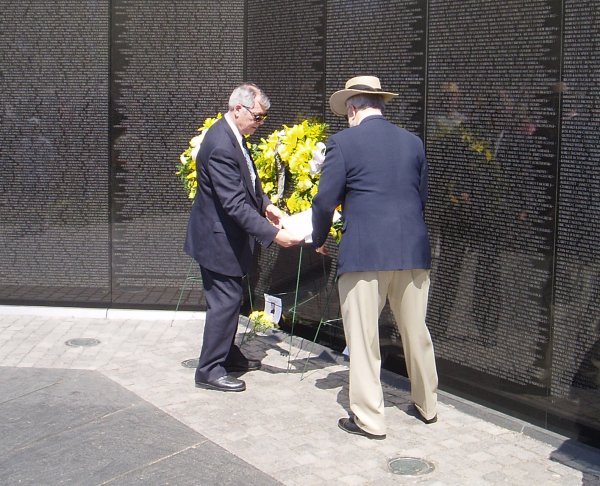 Steve Versace and Phil Huntington at the Wall.
Ann & Tom Russell, along with Jack & Nancy Neal, took a wonderful three-week trip to Australia and New Zealand in February, and report as good a time as two A-2ers can have. That part of the world is really different, they claim, as you can see from the accompanying photo.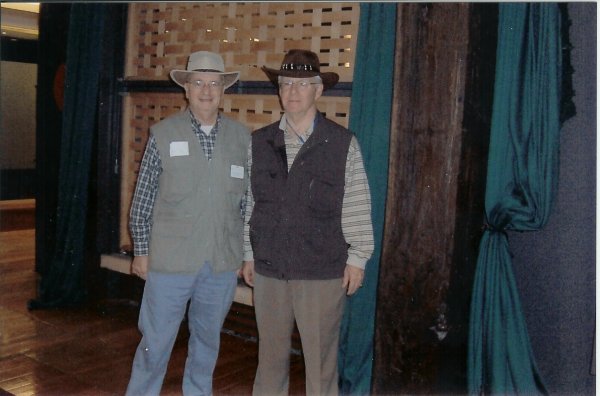 Russell and Neal in NZ.
Al & Gigi Goodpasture have put down roots in Topeka, KS, where they have lived since his retirement from the Army in 1981. He obtained a CPA license and was in business until the mid 90s. But he now wonders how he ever had time to work. He says he plays a little golf, hunts a few birds, does a little volunteer work in the community, and travels with Gigi at every opportunity. He has taken her to several of the ski minis, where they have enjoyed the company of classmates, including John Guthrie, his roommate for 2 ½ years. He tries to have lunch each month with Dwight Fuller, who lives in Leavenworth (they go back to Beast Barracks and G-1); and he enjoys bird outings with Al Rushton, who lives about an hour away in Kansas City. He says Rushton has some of the finest bird dogs in the Midwest, and he always enjoys getting together with him to hunt birds and work his dogs. Gigi has siblings living in Munich, so they get back there every year or so. And they make it a point to see Steve & Christa Klein while they are there. Most of the above were G-1 files, of course.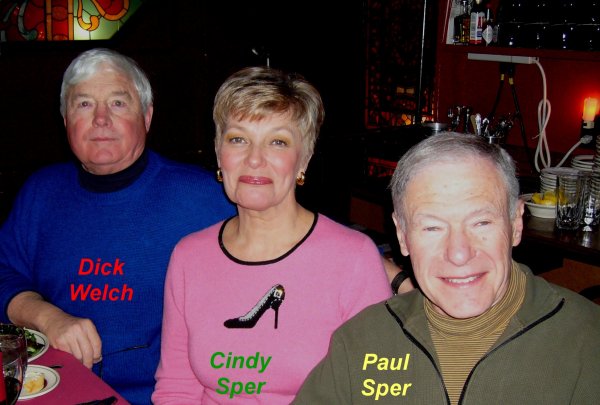 Welch, Cindy & Paul Sper.
Barrett & Barbara Haight, also ski mini enthusiasts, are retired in Charleston where Barrett (Chip) is working on his 50th high school reunion and a yearbook, playing golf, and trying to keep up with the never-ending maintenance on their house on the coast. He's also keeping up with their five children, home and away; and trying to stay ahead, he says, of a deteriorating body (two knees replaced, so far).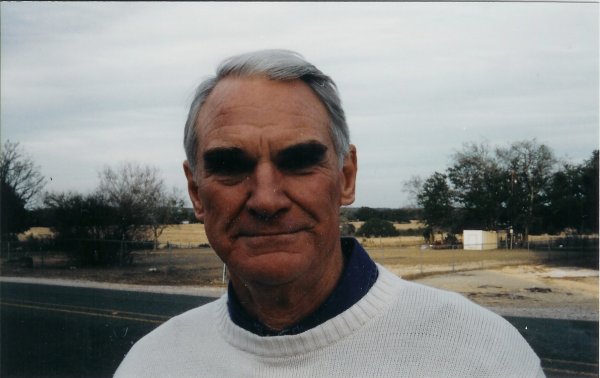 Roy Greene
Roy Greene, royseznukm on the internet and our only Playgirl model, and his poor tolerant wife, Gail, are lucky enough to live in San Antonio, where I was born and raised. Roy is a county civil service commissioner there, and a director of the county rail district. His big mistake, he says, is being on the board of his homeowners' association; something he should have learned better from his similar job as president of one in Virginia in the 1970s. His current passions are sex, martinis, and finding a way to disable the cell phones of blonde bombshells, who, driving and talking, he says, are trying to kill him. Roy has recently seen John Corby, Harry Walters, and spouses after the Army- Navy game, and I understand they drank more to overcome their despondency. He also occasionally sees Buell, Templeton, and Bertolett at West Point functions, and he enjoyed the company of Walters, Morrison, Hilliard, Rowe, Novogratz and Kennedy at the dedication of the Blaik memorial sculpture at the College Football Hall of Fame ceremony in South Bend.
Mike & Felicity Gillette have been in Great Falls, VA, for many years and Mike is way into collecting electric trains, a hobby, he says that puts him in the league of Carl Weaver and Dick Toye. (Ray Fisher may be willing to join). The original of his passion is the American Flyer 3/16 (now "S") gauge to which his dad introduced him in 1946. It was among a lot of pre-war German stuff his dad liberated when he was in Berlin right after VE Day. Mike has added much to this beginning over the years, and his now enormous collection is stored in boxes all over his house. When he has managed to expand the house sufficiently to include a train center, and he has sufficient leisure to apply to layouts and static displays, his involvement will become more than train layouts for many young visitors at Christmas time.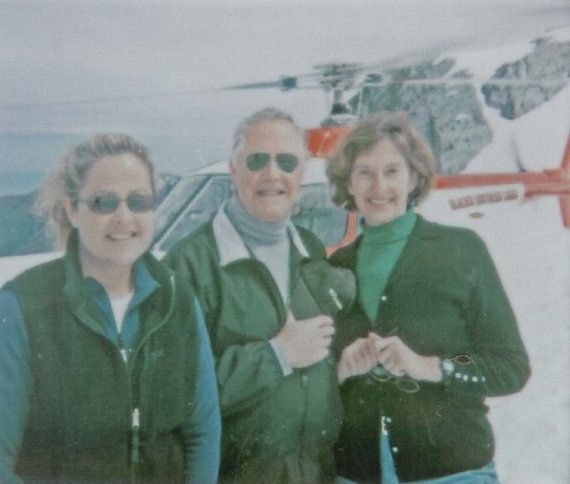 Mike & Felicity Gillette with daughter Laura on Fox Glacier in NZ.
Mike & Felicity spent three weeks in New Zealand and Australia around the beginning of March. Mike says that the Kiwis are extremely friendly and do not suffer the kind of angst one finds here, he says, with distressing regularity. Tongue in cheeks, he has considered emigrating. No, Mike, we need you!
There is more to put into this, but my allotted space is gone. Maybe next time.
As ever, our prayers and wishes are with our children and grandchildren who are in combat and in other of the dangers of this world.