SEPTEMBER 2004
The eleventh annual A-1 and friends picnic was the usual fine congenial bash on May 15. Monk & Betsy Hilliard hosted at their lovely Carlisle, PA, home; and Bill & Butch Rowe, who live not far away, co-hosted. Others from A-1 were Ray & Jan Beurket, Tom & Frieda Borlund, Joe Coreth, Terry Enright, John & Jane Joh, Tom & Marty Roberts, and Jim & Phyllis Walsh. Friends of A-1 were represented by Art & Babs Bair (I-2), Bill & Sue Breen (I-2), George & Pat Day (B-1), Mike & Judy Duggan (L-2), Paul & Fran Elias (F-2), Jim Hanlon (F-2), John & Kathy Harkins (I-2), Tory & Carol Harle (C-1), Bob & Barbara Novogratz (B-1), and Harry & Illa Walters (G-2). We had a great time.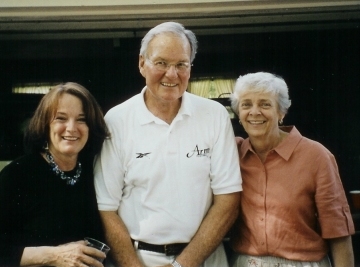 A-1 picnic: Barbara Novogratz with Monk & Betsy Hilliard.
The road warriors (augmented) will be at it again for our 45th reunion. Dick Rogers reports that he and wife Susan will ride a tandem bicycle as a fundraiser for a Redlands, CA center where they both are volunteer tutors. They'll spend the night before their departure with Bill & Linda Toskey just north of Seattle, and then begin their 3000 mile trip on July 12. Bill & Linda are responsible for Dick & Susan's meeting 45 years ago; and they'll spend the night before their WP arrival many days later with Bob & Shirley Burroughs in Rhinebeck, NY. To make it all the more significant, Dick and Shirley were '55 high school classmates in Tyler, TX, and other classmates were Ann Stromberg and Jim Hill. They hope to average 60 miles per day on this incredible journey, and will link up on September 9 with Larry Palmer and Will Weber and complete the ride from West Point to Park Ridge. Larry and Will are starting from Oakland, CA, and will be taking what Dick says is the more challenging route, across Nevada, into the heart of the Rockies, and through the Catskills. Dick & Susan are new at this madness and are taking the northern route, cooler and flatter they hope. Larry told Dick he may take that route when he is old. We salute you, our intrepids. Arrive safely.

New Road Warriors: Susan & Dick Rogers
Al Breuel is in his 12th year as a physics teacher at Bishop O'Connell HS in Arlington, VA. The end of last June was to be his sixth year of spending a week with 200 teens at the Diocesan Work Camp in Montross, VA. There he helps to show kids how to repair and improve homes for the elderly or disadvantaged. Al says his wife, Joan, is still in a nursing home.
Benny & Paula Carr are in Show Low, AZ, pop.9500, in the White Mountains of NE Arizona since 1999. They fully retired in 2000 and spent two years building a two-story 1380 sf shop. They do back country skiing and hiking in the higher elevations and have done some traveling, but plan to do more. Benny does some fishing at the White Mountain Apache reservation, and he plans to start hunting again this fall.
The Carrs have seen lots of classmates. When they were still in the Denver area , says Benny, several of them met every two or three months, including Bob Beale, Lou Schroeder, Don Smart, Jim Kennedy, Jerry Jervell, and Marty Plassmeyer. Benny and Tim Matthes met last February and did back country skiing in the mountains of eastern AZ. Tim was planning to visit them over the June 20 weekend and was to participate in a triathlon in Show Low. Benny attended the Howard Stiles ski-mini in Vail last February, saw lots of 59ers and some for the first time in 45 years, including Mike Gillette, Sandy Beach, Barrett Haight, Bob Croteau, and Tom Munz.
Norm Rosner reports that he and Elva enjoyed a magnificent mini reunion on the sun drenched weekend of April 17 in picturesque Charleston, SC. Barrett & Barbara Haight were the principal organizers, and attendees included Dick & Donna Bennett, Ron & Opel Brass, John & Norwood Grinalds, John & Jane Joh, Ollie & Diane Langford, Emmett & Teddy McCracken, Joannie Poole, Ellie Simpson, Russ & Connie Street, Howard & Eileen Siles, and Jim & Joan van Loben Sels.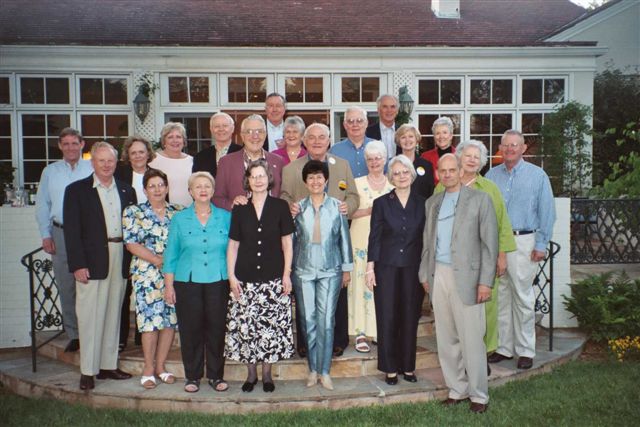 The Charleston mini.
On Friday afternoon they gathered on the parade ground at the Citadel, where president Johnny Grinalds presided over the annual awards ceremony and parade. It was very impressive, and our group was honored to be there. Off then for cocktails to the Haights' restored antebellum home, the original quarters of the adjutant of old Fort Moultrie on Sullivan's Island; and then on to a restaurant for the end of a great day.
Saturday was tourist day for venturing around the charming city of Charleston, and that night the Grinalds hosted a dinner party at their home at the Citadel. The accompanying photo was taken on their back veranda leading to their beautiful gardens.
Finally, on Sunday morning, Joannie Poole hosted a superb brunch at a beach house on the Isle of Palms. She claimed that she threw it together at the last minute, but, says Norm, she must be the best thrower in South Carolina. Of brunches, that is. Our invitations were lost in the mail.
Lee & Sandy Briggs are in Newport, RI, and have been since Lee retired from the Army at the Naval War College. He was offered a new Pentagon job as chief of a strategic planning shop, but the smell of the salt air overtook him; so he stayed on in Newport with a general support contract with NWC and he ran it for 13 years. He and Sandy went into full retirement in 1998; and they devote their time to grandkids, restoring a 1900 Victorian, travel, genealogy research, and working out at a local athletic club, in that order.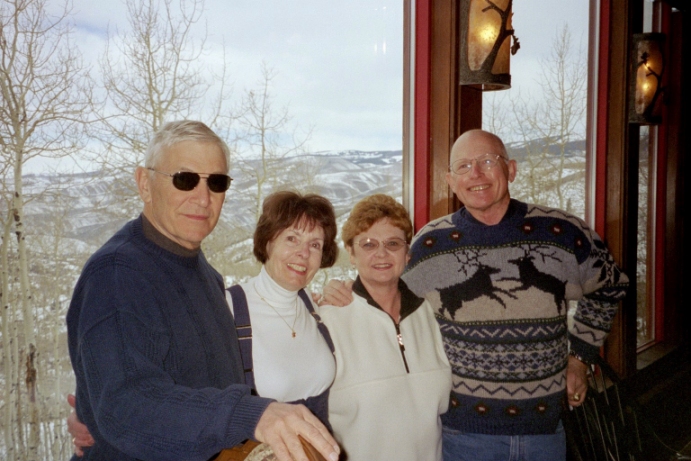 2004 SkiMini: Goodpastures and Carrs
Ollie & Diane Langford's son, Gary ('83), was promoted to COL (06) in Carlisle, PA, on May 7. Gary was in Fred Frank's division in Germany and went with Fred's VII Corps to Iraq in 1990.
Johnny Carroll reports from Winston Salem that he and Meyressa are still traveling as much as possible and, as of early June, were just back from a ten day trip to Venice. He recommends it, but also recommends that we take lots of dollars these days. Polly & I just returned from a six day trip to London, and we can second the recommendation.
Johnny says that the North Carolina contingent has nine members, all of whom are members of the Knights of the White Tablecloth that meets each quarter for lunch in Chapel Hill. In addition to Johnny, the group includes Jim Abrahamson, Tex DeAtkine, Bob DeMont, Charlie Johnson, John Moellering, Don Gruschow, Hugh O'Connor, and Lou Hightower. The meetings are great fun, says Johnny, with war stories we wouldn't believe. Sounds normal.
A couple of photos of the 2004 Ski-Mini remind us that Howard Stiles has announced the 2005 edition in Snowmass, CO, for February 26 to March 5. Contact the Ski Czar at (207) 655-4193 or e-mail him at (really) popsicle@maine.rr.com.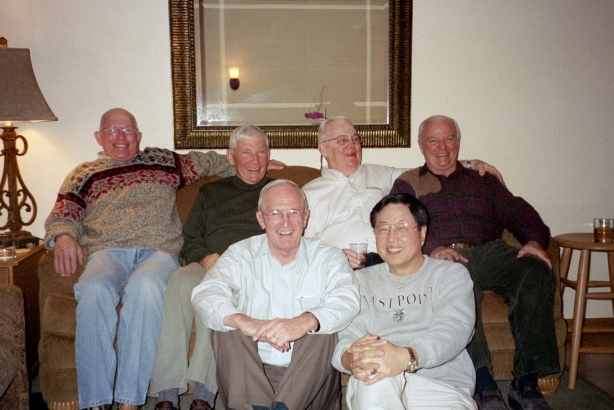 2004 Ski Mini: Carr, Goodpasture, Plassmeyer, Stiles, Hew, and Guthrie
As ever, our prayers are with those of us who are sick, and with our children and grandchildren in combat.
Come safely to our 45th.