NOVEMBER 2004
Our friend Chuck Lutz died of a massive heart attack in Logan, UT, on July 25. About 150 friends gathered for a memorial service in Logan on July 30, including Jim & Marian Taylor and Dave & Magdalena Whitmore. They were there to give Chuck a respectful and honorable sendoff, and to pay their respects to Chuck's wife, Barbara, and to their daughters, Michele and Christine and their families. The Taylors and Whitmores shared company F-1 with the Lutzes, and Marian Taylor and Barbara Lutz are sisters, who shared a double wedding ceremony back when. The memorial service was that of the Free and Accepted Masons of the State of Utah (Chuck was a Master Mason), and a military tribute was arranged by the American Legion. The sincere condolences of the Class are extended to Chuck's family and his many friends.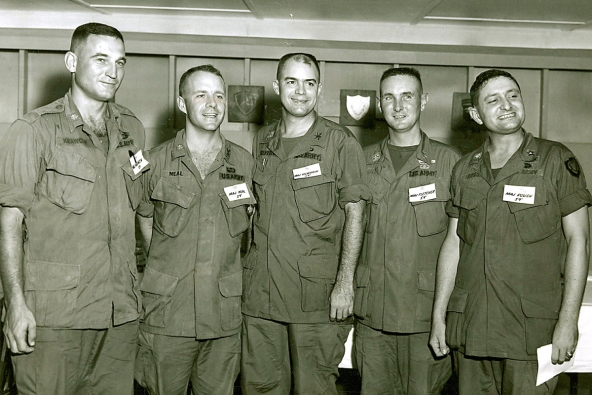 Krawciw, Neal, Yelverton, Mike Fletcher, and Dave Roush, 1968 Founders Day in Phu Bai. VC attacked the base at 2:00 AM.
Pete Dawkins, our First Captain and Class President, is among the initial group of honorees elected to the Army Sports Hall of Fame. Included in the inaugural class are Coach Blaik, Blanchard and Davis (our first two Heisman Trophy winners), Dawkins (our third) for both football and hockey, Joe Palone, Jack Riley, Morris Touchstone, and several others unknown to most of our Class.
Bill & Susan Breen continue to thrive in York, PA, where Bill volunteers for the YMCA, the Agency on Aging, and others. He does some substitute teaching in math, and he loves tennis, racquetball and golf. Susan publishes Showcase PA!, a monthly publication covering events in the arts and non-profits. The Breens are maintaining a tightly-knit family, and enjoying classmates in the area. They see the Hilliards, Rowes, Bairs and Fishers, and when in San Diego, they visit the Fitchetts and Dar and Anne Boyd.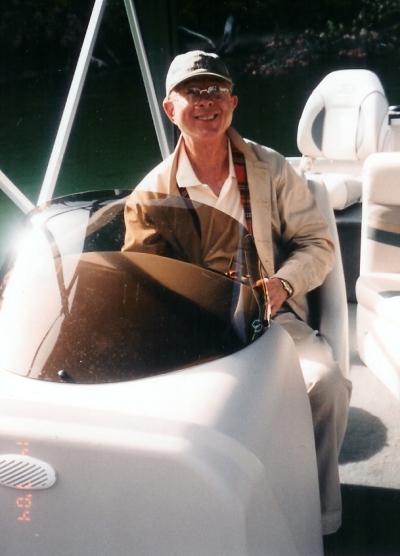 Ed Burba at the helm of his pontoon boat on Lake Glenville, NC.
David & Jacque Carroll are fairly classmate bereft in Phoenix but are looking forward to the 45th (history by the time you read this). They have ten (!) grandchildren, and the kiddies compete fairly well with Dave's interest in golf and travel. They currently spend most of the summer in Colorado.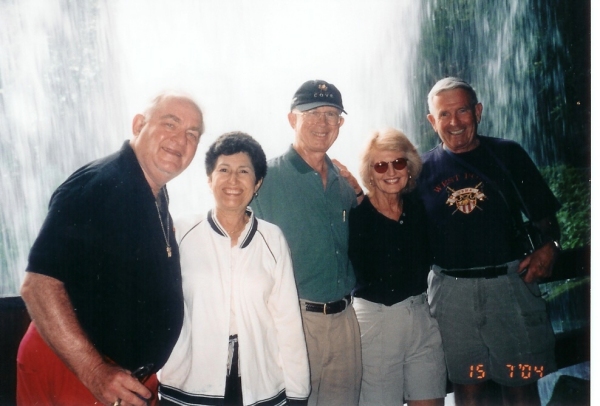 Ed Burba shows a waterfall to the Rosners and the Luthers.
Bill & Nurit Cohen Live in Pasadena, where Bill is a business writer and university professor. His latest book is The Art of the Strategist: 10 Essential Principles for Leading Your Company to Victory. Nurit is working on her second PhD.
Dave & Gladys Carrier are in Walden, NY, where their three children and five (so far) grandchildren all live within five minutes of their home, so there are dozens of family functions each year. Dave is POC for local Gideons' and USMA Chaplains' Orientation each year and gives New Testaments to plebes. Things have really changed since the summer of 1955, he says. He's talked by phone with former roommates Dave Gray and John Harrell.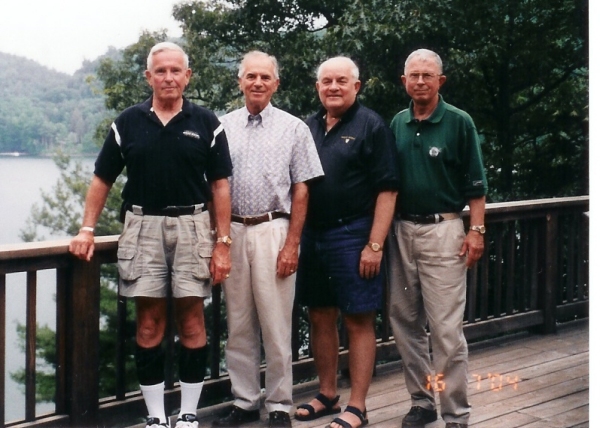 Luther, Bennett, Rosner and Burba at Lake Glenville, NC.
Bill & Marlene Burleson are in Williamsburg which has become a '59 retirement haven. Bill's passion is buying and selling antiques, which he did for a number of years at antique shows. Now that he says his "knees have gone out," he does it online or direct with auction houses. He also enjoys depleting the Chesapeake Bay fish population.
Bill & Mary Callaghan are in Dallas where they follow the Texas Rangers "through thick and thin." Bill makes a living writing wills and settling estates, and he and Mary have fun visiting U.S. presidential homes, libraries and museums. Bill is into stamp collecting, in particular any country's stamps that depict its military, naval or air academy or commemorate the anniversary of its founding. Bill sees Jack Neal at local WP gatherings, and they were honored last summer, along with Mattie Davis, by a dinner at the Neals'.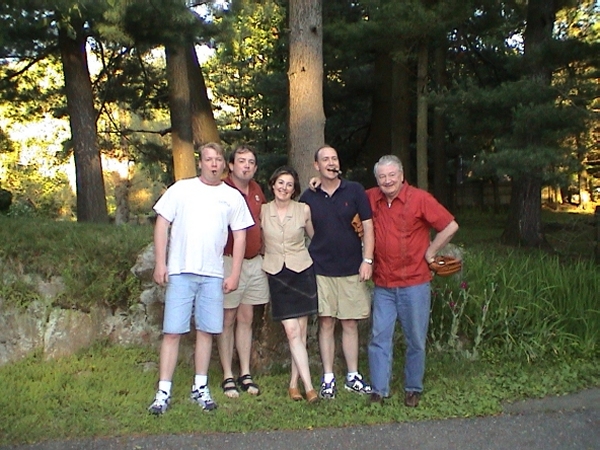 Tom Leo and progeny: Bob (36), Joe, (39), Marie (44) and John (40).
Jim Corr and his wife, Birdie Nuckols-Corr are in Glen Allen, VA, which is in the Richmond metro area. They built their dream home in what Jim calls a dream location – protected wetlands in the back and a golf course and lake in the front. Golf is their passion, and they play two to four times a week. They visit Myrtle Beach every year for a week and play about five courses there each trip. Cooking is another of Jim's interests, and he's been working on it for about 24 years.
Bill & Carol Luther and Norm & Elva Rosner were guests of Ed & Trish Burba at their vacation home on Lake Glenville, NC, in July; and Dick & Donna Bennett joined them for dinner one evening. They have a beautiful view of the lake, and Ed took them on a tour of the many waterfalls in the area.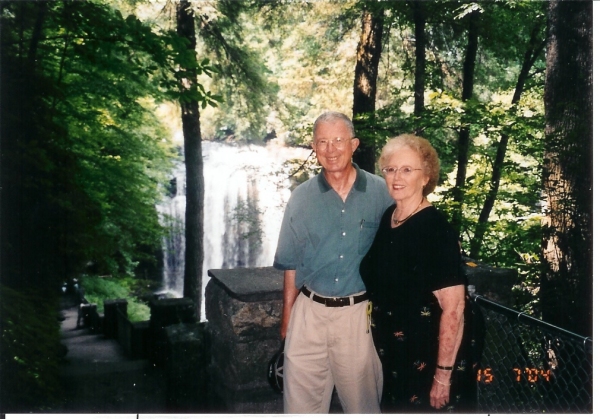 Ed & Trish Burba near their mountain home in NC.
Rody & Rhonda Conway are in Waldoboro, ME, far from Florida where Hurricane Andrew sent them packing a few years back. I tried to e-mail them during Hurricane Charley this year to offer congrats, but I don't think it got through. Rody works one day a week at Rhonda's Cottage Collectables business, mows the lawn, chops the wood (four cords for the wintah), and serves as a trustee for the local public library. His passion, teaching history, has him subbing at the local high school, and sometimes it turns into a long time gig. He says it takes an hour's round trip to get almost anything, so he is left to chopping wood, worrying about his dog's getting lyme disease, rising property taxes, and the Boston Red Sox.
Ted & Mary Colby live in Dover, NJ, from where Ted contributes regularly to our internet forum. They have been building a house in Old Town Portsmouth, VA, and were planning to move there in mid October of this year. No leaking windows, says Ted, but it does have air conditioning and an elevator. Ted's current interests are his next book, which he is finishing, and his new black lab, Penny. His oldest grandchild, Colleen, was to be married in early October. My, how old we become.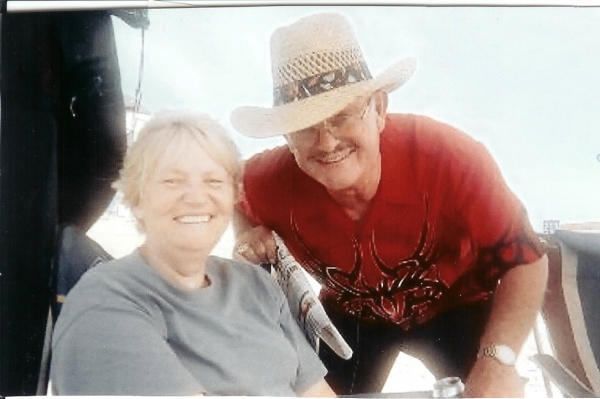 Carol & Bob Cyr
Bob & Carol Cyr are in Temple, TX, and say that they are busier than any time during their working years. He has a small business that sells and installs handicap mobility equipment, such as vehicle lifts for wheelchairs and scooters. Carol manages a donut shop owned by daughter Trish (USMA '85). They also parent two of their grandchildren and are saving for college educations, something they had not planned on for their dotage. Bob has a coffee cup that says "Screw the Golden Years."
As ever, our thoughts and prayers are for those of us who are sick, and for our children and grandchildren in combat.