MARCH 2004
Dave Tulp died from a sudden heart attack on November 7 in Glen Ellyn, IL. The Class sends sincere condolences to his wife, Pat, and to all his family and friends. Funeral services on November 12 were attended by Denny & Helen Morrissey, Dick Toye, Joanne Panko, Rush Yelverton, and Jim & Jynelle Miller.
Clay Abrams and Ardith Collins were married last July 22 in a small ceremony in Eureka Springs, AR, and they now reside in Wichita Falls, TX. They were with Bill & Carol Luther for the Auburn-Old Miss football game in November, and Bill was kind enough to send along the accompanying photo. The best wishes of the Class are extended to Clay & Ardith.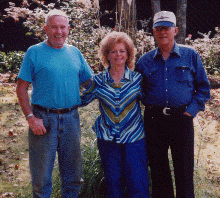 Bill Luther with Ardith & Clay Abrams

Art & Babs Bair are in Burke, VA, where they are recovering from 15 years of Blockbuster Video activity. Art sold his four stores last fall, and at the time he was a veteran of building two franchises (almost 200 stores) and turning around another franchise of six stores in the Midwest; and he says he misses it not a bit. You can see the Blockbuster champagne, to which they have become addicted, in the photo, taken after a celebratory hot air balloon ride over the Shenandoah Valley.

Art says his grandchildren take most of his interest these days, and they spend a lot of the good weather time with them at their NC beach place. Their youngest son, Dave '90, is in Iraq with the 82d Airborne Division, and they have spent some time in Fayetteville, NC, with Dave's family. Art & Babs were planning to treat them all, including older son Art's son (Art is a MAJ and division chief in the Army Test and Evaluation Command) to a Disney Line Cruise right before Christmas.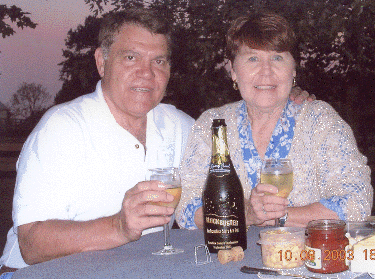 Art & Babs Bair
The Bairs see lots of classmates. They've had dinner with Jack & Barbara O'Brien and George & Beth Kleb. They attended the wedding of the Klebs' daughter at Ft. Belvoir on November 22 and saw Jerry & Gerry Hilmes, Tom & Marty Roberts, Jack & Barbara O'Brien, Art & Joyce Griffin, Rush & Annie Yelverton, and Ellen Zaldo. In October the Bairs spent a special weekend with Bill & Sue Breen in York, PA, the Bair's hometown, and attended the inaugural concert of the York Symphony Orchestra. They sat in the same balcony where they had their first kiss in 1952 watching Bert Lancaster in "The Greatest Show on Earth." Aw shucks.
Guy & Donna Heath are in New Braunfels, TX, and were good friends to my father, Rudolph, who died in his 101st year on August 8. The Heaths were in the Netherlands in November to see their daughter, Lawryn Heath Kasper, receive her Ph.D. in biomedical science from the University of Nijmegen. Lawryn's husband, Ed, is a computer systems engineer with FedEx. They have returned to Memphis, TN, where Lawryn returns to her cancer research lab at St. Jude Children's Research Hospital.
Polly & I were blessed to see Jerry & Sandy Fogel for dinner at the Four Seasons in NYC on December 13, and, as always, we had old home week. Jerry has recently taken a position as president and CEO of the Film Commission of Greater Kansas City. He raises money to encourage film features in their unique neck of the woods.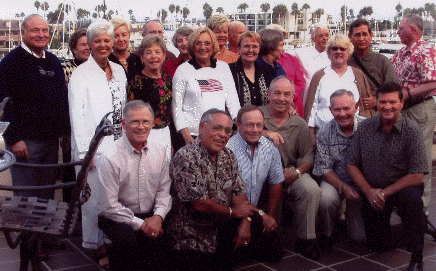 A-2 Mini Reunion

Bill Pollock, of Colorado Springs, one of our most loyal correspondents, writes of this year's A-2 mini reunion held in Oxnard CA, and hosted by Walt & Judy Wosicki. The highlights were a reception at Walt & Judy's harbor side home, a trip to three of California's best wineries, and a guided tour of the Ronald Reagan Library and Museum. The privileged classmates at the event, in addition to the Wosickis and Bill & Ann Pollock, were Jim & Janet Turner, Vic & Sherry Fernandez, Bill & Linda Toskey, Joe & Jane Phillips, Dick & Bucky Maglin, Gerry & Marilyn Weisenseel, Jack & Nancy Neal, Wiley & Carol Harris, Jim & Pat Kennedy, and Tom & Ann Russell.

Walt & Judy Wosicki wrote of the same event and sent some more photos and added that they are not at all worried about traffic, commuting, and the weather after spending 25 years in the DC area. Walt prefers the left coast for boating, watching a glorious sunset, and a glass of wine. Gee, us too!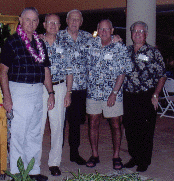 Army–Hawaii Game: Tennant, Bohman, LTG Rienzi, Gaines and Katsarsky
Roger & Sandy Gaines sent photos from the Army-Hawaii game in November. It was ugly, says Roger, 28-59, but there was sunshine in the hearts of the 59ers. They had a party the night before with classmates Charlie Tennant, Jack Bohman, Lenny Katsarsky, and one of our class favorites, LTG (Ret) Tom Rienzi '42, who is a great looking 84 year old.
Jim & Lucy Adams are in Bellevue, WA, where Jim puts in full time as a volunteer for the National Alliance of the Mentally Ill (NAMI), serving as president of NAMI South King County, and vice president and secretary for NAMI Washington. The organization provides care and support for those with brain disorders, educates the public on brain disorders and mental illness, intervenes in suicide cases and promotes recovery.
Larry & Lee Wiley are in Lewes, DE, enjoying life, and trying to make a difference in a variety of ways, including the Lewes Historical Society and the Lewes Parks and Recreation Commission. Lewes, says Larry, is "the first town in the first state." Their interests are golf, stained glass art, gourmet cooking, gardening, visiting children and grandchildren, and walking on the beach.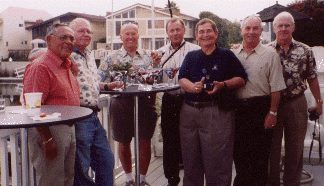 A-2 Mini Reunion

Bill Zaldo is in Toano, VA, living on a golf course in Williamsburg, VA, where he sees Pat & Regina Passarella every so often. Bill is working with the Joint Forces Command as a future concepts military analyst. He has seen John Cox and Mark Lidy several times on their visits to JFCOM.

Bill & Susan Breen braved the weather for the Army-Navy Game, and Bill notes that Sue was the only spouse on hand. Others were Bob Roth, Denny Morrisey (all the way from Chicago), Ron Baldwin, and Tim Plummer. Bill says that any unobserved classmates sipping hot toddies in various VIP suites cannot be counted in the same category with the brave few.

Our prayers this Holiday Season, when this goes to press, are with Nancy Hurst, Jim Dorsey, and Tony Pokorney, who are ill. May God be with them.