JULY 2004
The Class held its annual gathering at the Vietnam Veterans Memorial in Washington on Sunday, April 18. It was a bright spring morning and we had a good turnout of 60 or so classmates and wives to remember Dick Whitesides, who was KIA on March 27, 1964; and Gene McCahan, who died in an air accident on June 24 that same year. Dick's half-brother, John, was able to attend as were 36 members of Gene's family, including his widow, Patricia Buono, his father and stepmother, and his half-brother Keith McCahan, who gave a moving talk about Gene and the family's gratitude to us for the memorial honors. Remembrances by the class were offered by Pete Keogh for Dick, and by John Wilson for Gene, and both were eloquent. Pete Dawkins made some closing remarks before we all moved down to the wall to leave wreaths and other mementos. There was a subsequent class luncheon and business meeting at Ft. Myer, and it has been reported elsewhere.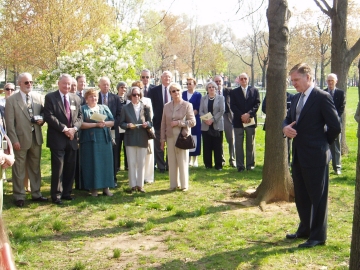 Pete Keogh eulogizes Dick Whitesides at the Vietnam Wall.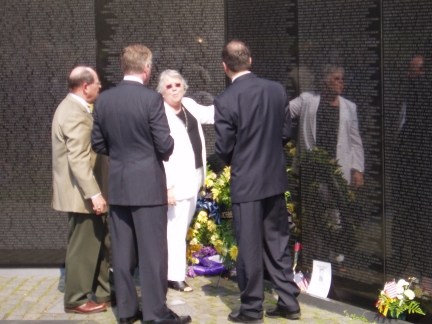 At the Vietnam Wall.
Bill Barry, our retired AF physician and fighter pilot who lives in Athens, GA, went on a six week safari last August and September in Namibia, South Africa, Botswana, Zimbabwe and Mozambique. He sent great photos of trophy reebuck, royal sable antelope (he says the steaks were delicious), nyala, waterbuck, kudu (good eating with a Serengeti cigar and some Courvoisier), Kalahari springbok, zebra, gemsbok, eland, wildebeest, and the rare red lechwe pictured here. He bagged the latter on his 66th birthday, a year and a half since his prostate operation. A damn satisfying hunt, says Bill.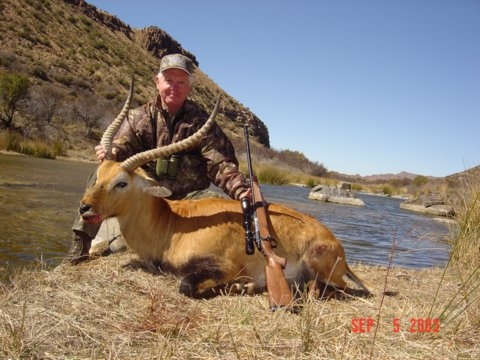 Bill Barry with his rare red lechwe.
Ray & Carol Baugh are in Irvine CA, where they indulge their lifelong interests in taking photos. Ray has been at it since Cow year and spends time in the darkroom developing years of negatives, most in black and white. Carol takes slides and spends quality time with the Philharmonic Society of Orange County. Through fund raising they are able to provide music education programs to 250,000 children in the county each year. And they travel, trying to go to Europe once a year to take pictures and enjoy old haunts. Last year they they returned to Italy after 41 years. Their first visit in 1961 was a driving tour to Verona, Venice, Florence, Pisa, Siena and Rome. The cost for hotel, meals, and tours for two for 12 days was $120 (that was over half my monthly pay at the time). The cost was considerably more in 2003. Last November they took their grandkids to see the Christmas markets: Neuschwanstein, Salzburg, Rothenburg, Nurnberg, and Munich. They kids had great fun eating wurst, ice skating, playing in the snow, etc. In 2002 the Baughs went to Spain, and this year they will visit the Netherlands, Belgium, and Germany.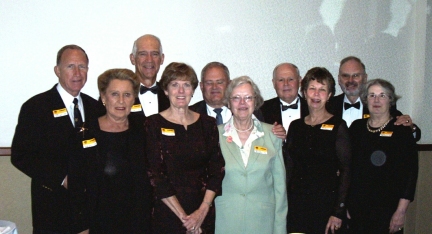 Founders' Day at Williamsburg: Walterses, Tillars, Burlesons, Letchworths and Passarellas.
Ray says that Larry & Ann Minnich stopped by for dinner in March while they were headed up north. They had been in Arizona for several weeks visiting family and friends, and they were on their way back to their new home north of Sacramento. They had a good visit and talked about old times.
Howard Stiles reports that the ski mini in Beaver Creek/Vail at the end of February was a smashing success. The week started off with a welcome party and included cocktail parties at the Dawkins and Croteau condos on later nights. They did "first tracks" at Beaver Creek, meaning that the USMA '59 Elite Ski Team was allowed on the mountain an hour before the GAP to enjoy the fresh groomed snow. That was followed by a brunch at a private Beaver Creek Club cabin high on the mountain, a highlight of the week that was arranged by Pete & Judi Dawkins. Once again G-1 had the most folks there. Attendees included (most with wives) Beach, Beech, Bell, Frank Campbell, Carr, Gillette, Goodpasture, Guthrie, Hew, Haight, Moellering, Munz, Plassmeyer, Sper, Toye and Welch. Howard says we all are invited next year, and that non-skiers would find plenty to do.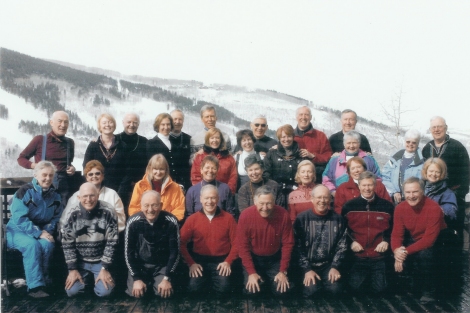 The Elite USMA 1959 Ski Team at Beaver Creek.
Lee Bell says he is doing nothing of redeeming social value, although he still finds economics interesting. He takes his boat out of Baltimore, and last summer he and his sister took it up to Maine, Nova Scotia and Prince Edward Island. A nice cruise, he says, and the people were great. When they were in St. Peters Bay on the north side of P.E.I. a fisherman walked down to the end of the wharf where they were tied and announced, "I'm going out; if you need anything the keys to my truck are behind the visor." Lee got in two weeks of skiing in Aspen in January. At the end of February he attended the Class ski-mini and went on for two weeks at Jackson Hole. While in Jackson Hole he joined their Steep and Deep Camp. Like the proverbial talking dog, says Lee, they were amazed; not by how well he did it, but that he did it at all.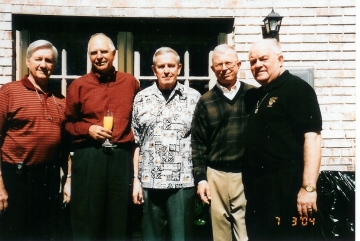 Douglas Campbell, Ron Salter, Bill Luther, Ed Burba and Norm Rosner at Norm's house on March 7.
Bob & Diane Beale are in Denver and stayed with Bob & Karen Croteau in February and attended a dinner with the ski mini group. The Beales stopped skiing because of injuries a few years ago. Bob still works full time at his management consulting firm and is on a number of boards, including those of several non profit organizations. Diane has a Spanish language business and takes groups to Spanish speaking countries for immersion classes. She is also quite involved in the health care industry and works with organizations such as the U. of NC Medical School. Bob's son, Brian, is developmentally disabled, so they are passionate about giving support to organizations aiding developmentally disabled people. They also travel extensively and have recently toured Peru and the sacred sites of Scotland.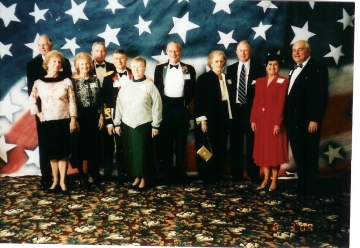 Founders' Day Atlanta: Salters, Luthers, Reinhards, Gabel, Burbas and Rosners.
Barrett (Chip) and Barb Haight report that a mini reunion in Charleston, SC, was a resounding success. It was on the same weekend that we in DC had our memorial at the Vietnam Wall, and John Grinalds led a prayer in memory of our fallen classmates.
In addition to the Haights and John & Norwood, attendees were Ollie & Diane Langford, Emmett & Teddy McCracken, Joannie Poole, Russ & Connie Street, Jim & Joan VanLobenSels, John & Jane Joh, Norm & Elva Rosner, Dick & Donna Bennett, Ron & Opal Brass, Ellie Simpson, and Howard & Eileen Stiles. Scheduled events included a parade at The Citadel at which the class had reserved seating and acknowledgement of attendance; a social at the Haight's home; dinner at a local restaurant; dinner at the Grinalds's on Saturday; and brunch on the beach at Joannie Poole's on Sunday. They're going to do it again in the future, and everyone is welcome.
Jerry & Geri Hilmes's son, Andy, was the tank company commander who led the raid into Baghdad on April 5, 2003, and he remained in Iraq until that August. A TV account of the lightning attack, featuring Andy, a bunch of other 3ID soldiers, and the Marines was entitled "The Fight for Baghdad" and aired on the Discovery Channel on April 25. A new book by David Zucchino describes the raid and is called Thunder Run. Buy it.
As ever, our prayers are with those of us who are sick, and with our children and grandchildren in combat..