NOVEMBER 2003
Lew Ranch died on June 29 at the VA Hospice in Palo Alto, CA, after a long and difficult battle with leukemia. The class mourns his loss and extends its heartfelt condolences to Margery; to his sons, Jeffrey, Christopher and David; and to all of Lew's family and many friends. Warren Smith, Lew's rifle teammate, gave what everyone says was a great eulogy at the memorial service on July 8. Other classmates attending were John & Elaine Guthrie, John Meyer, and Bill & Norma Mullen. Bill Schwartz, who did so much for the family and in keeping us informed, by one of life's quirks, was on the East Coast at the time and missed the service.
And Jim Hahn was taken from us by liver failure on July 8 in the hospice care unit at Saint Mary's Hospital in Evansville, which is just west of the Hahn home in Newburgh, IN. His condition had deteriorated rapidly during the several months before his death, and Sandy Beach and Lou Schroeder shared with us, with Jim's permission, an e-mail in which Jim expressed his pride in being associated with our class. We will indeed miss him, and our utmost condolences are extended to Donna; to his children, Jim Jr., David and Mary Katherine; and to all of his family and friends. Funeral services and burial were in Newburgh on July 12. Classmates in attendance were Jim & Jaynelle Miller, Ollie & Diane Langford, Ron Templeton, Lee and Kathy Moraski, Jack & Roselyn Stanley, Dave & Lois Gray, Tony Pokorny, Monk & Betsy Hilliard, and Rush & Annie Yelverton.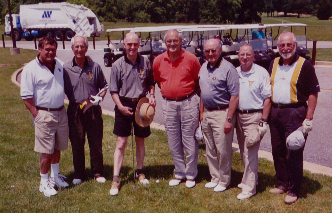 Faber, Gurr, Breen, Novogratz, Robinson, Russell and Kleb just before tee off at the 1st Annual Rocky Versace Memorial Golf Tournament at Andrews AFB on June 2.
I think it appropriate here to laud the efforts of our Band of Brothers, so ably led by Sandy Beach, that brings us together for our families in times of distress. Bill Schwartz, John Guthrie and Bill Mullen kept us informed and in sympathy with the Ranches, and Rush Yelverton was the man at hand for the Hahns. The way this is working truly conveys the greatness of our class and should be relayed to those who follow us.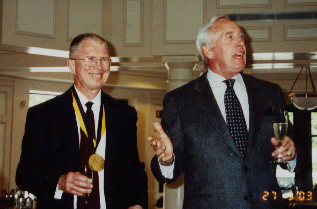 Ed Burba and Pete Dawkins at class reception at Herbert Hall following Ed's Distinguished Graduate Award ceremony on May 27.
John Gurr reports that May, June and July were big months for remembering Rocky Versace. There was the May 26 Memorial Day celebration at the Versace statue in Alexandria; the 1st Annual Rocky Versace Golf Tournament at Andrews AFB on June 2 (reported last issue) and the presentation of the $6,500 net proceeds of the tournament for the Mount Vernon Recreation Center, where the Rocky Versace and Vietnam Veterans Memorial is located; Bruce Williams's handing Versace MOH videos to a librarian in Alexandria; and word from Tom Leo and Joe Hurst that Rocky was honored among Military Intelligence professionals in ceremonies held at Ft. Huachuca, AZ. He was inducted into the Hall of Fame and also named recipient of the Knowlton Award. Classmates privileged to attend were Jay Franz, Joe Hurst, Ollie Langford, and Paul Tomiczek.
Russ & Connie Street are in Anderson, SC, where Russ continues in the practice (they never learn, he says) of orthodontics with his son, Keith. There are now six grandchildren, four boys and two girls. They haven't seen any classmates for awhile, so they look forward to the reunion in 2004.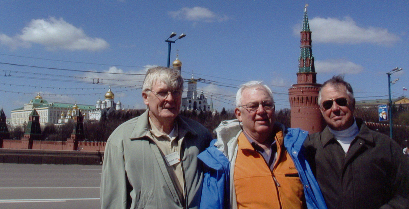 Day, Stiles and Gillette with Kremlin in background.
Ted & Eleanore Wells are in Grosse Point, MI, where Ted is an engineer/systems analyst at the U.S. Army Tank – Auto – Armaments Command, from which he hopes to retire in 2007. His interests, he says, are in eschatology, or biblical end-time events, the "Left Behind" book series, and conservative politics.
Powell Hutton reports that the Class Scholarship Committee, this year consisting of Frank Besson, Tom Boyle and Powell, met on June 17 to consider the two applications received this year. One was from Christopher Gurr, John's son, and the other from Karyn Sper, Paul's daughter. Chris is headed for Stanford for graduate work in civil and environmental engineering. Karen has completed the first of two years at Penn's Wharton School of Business. The committee reported that both were such stellar candidates that, on a one time basis, they recommended the $2,000 be awarded to each of them.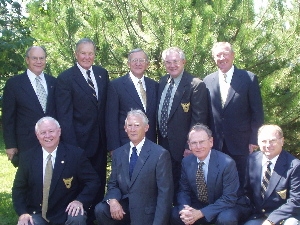 At Jim Hahn's funeral: Front row: Langford, Stanley,

Moraski, Templeton.

Back row: Yelverton, Hilliard, Pokorny, J. Miller, Gray.

Will Weber, of "Webstyles" and "Road Warrior" fame, keeps busy in Northampton, MA, running a real estate portfolio of nine rental properties. Like monopoly, only these are real, he says. He is a lay Eucharistic minister at the local Episcopal church, and he maintains his great interest in bicycling and physical fitness. He sees his cycling bud, Larry Palmer, once or twice a year; and they have biked most of the Northeast, Sardinia, and the Italian Alps, including Lakes Como and Garda. Last year they did Barcelona to Geneva and this year they were planning to bike the Pyrenees to Biarritz on the Atlantic and back. They are again planning to cross the USA for our 45th Reunion next year, probably from Oregon or Washington this time. Phew.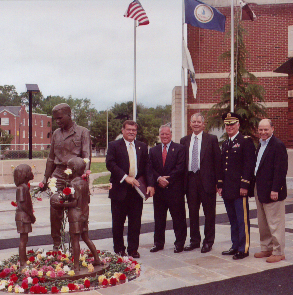 Faber, Bert David ('71), Steve Versace, LTC Bob Friend (chaplain), and Alexandria City Councilman David Speck at the Rocky Versace statue.
Carl Weaver & Liz Gordon are in Colorado Springs where Liz busies herself as a dog breeder. Carl says he still works, too, but not for long. He mainly helps show the dogs, paying the fees, driving the stuff to the show and setting it up, he says. His real interest is in live steam locomotives, of which he owns three with another on the way. He operates them at the Colorado Railroad Museum where there is a garden railway. He ran into Hugh Servis and his daughter on one of his fly fishing trips, and Bill Zierdt and his wife spent a week with them recently. Carl and Bill, whom you have seen as kids and then again as grownups in the last two issues, have known each other since they were eleven.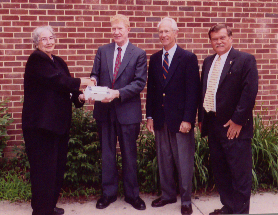 Bruce Williams, with Gurr and Faber, presenting Versace MOH videos to Alexandria librarian.
Bill Luther sends the picture of Burba and Dawkins from the Distinguished Graduate Award ceremony on May 27. He also sent a photo of Bill Wheeler and himself taken on April 27 at Wheeler's home at Holmes Beach, FL, but since we have had a similar one recently, I will show it on the web site. Bill & Carol Luther had been visiting their daughter in Sarasota and drove up to spend the afternoon. Joe Shea, says Bill, spent most of the winter there.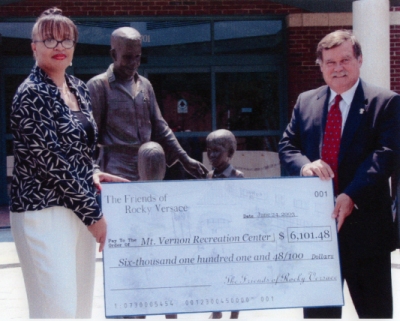 Mike Faber presenting the golf tournament check to the director of the Mount Vernon Recreation Center.
Howard & Eileen Stiles, along with George & Pat Day, recently took a two-week barge trip between Moscow and St. Petersburg. By chance they ran into Mike & Felicity Gillette in Moscow, and the six of them enjoyed the day with Mike, who was there on business, serving as tour guide and Moscow expert. Howard sends along the reminder that the 2004 ski mini will be at Beaver Creek, CO, the week of Feb 21-28. For details contact Howard at hstiles1@maine.rr.com or at (207) 655-4193.