September 2003
The annual memorial ceremony for fallen classmates was held at the Vietnam Memorial in Washington, DC, on Sunday, April 27. This year's specific honoree was Clay Fannin, KIA on January 10, 1963, and Clay's family was escorted by his roommates, Rich Clark and Stan Delikat, who each spoke movingly about Clay. Attendance was over 50 for this, our second annual meeting at the wall. After the ceremony the class moved to the Army-Navy Club on Farragut Square for our annual general membership meeting. The meal and the fellowship were outstanding.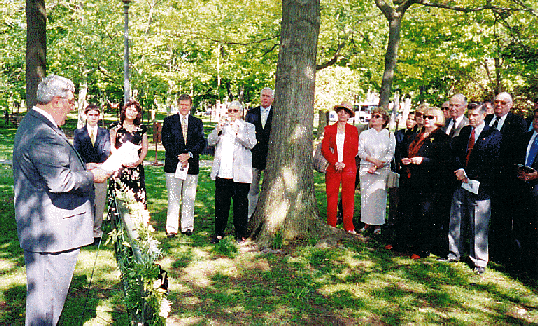 Stan Delikat addresses family and classmates of Clay Fannin

Next year's memorial will be on Sunday, April 18, and the honorees will be Gene McCahan and Dick Whitesides.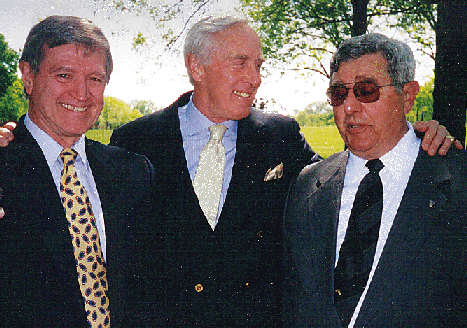 Pete Dawkins with Rich Clark and Stan Delikat at Clay Fannin's memorial
Bill & Butch Rowe hosted this year's A-1 picnic at their home in Carlisle, PA, on May 24. Ray & Jan Beurket; Tom "TV" Borlund; Rody Conway and his son, Scott; Joe & Polly Coreth; Terry "Big Red" Enright; Monk & Betsy Hilliard; Rick & Elsa Kocienda; Tom & Marty Roberts; and Jim & Phyllis Walsh; were joined by 18 "A-1 Friends" and wives for a wonderful afternoon. Plan on attending next year's picnic, the 11th annual, at the Hilliards', also in Carlisle, on Saturday, May 15. And we are planning a special for 2005, the 50th anniversary of our meeting for beast barracks. Remember that we consider all 59ers "A-1 Friends."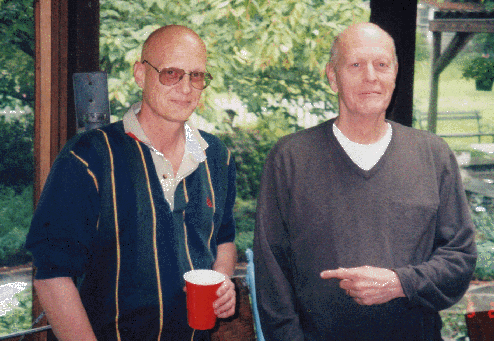 Scott and Rody Conway at A-1 picnic
Jim Walsh reports that 38 classmates, wives and friends attended the presentation of the Distinguished Graduate Award to Ed Burba at West Point on May 27. The parade and luncheon were most outstanding and impressive affairs, according to Jim, and the subsequent reception in Herbert Hall arranged by Tom Russell added a touch of elegance to what was a moving and memorable event for our class. Jim added kudos for Bill Luther, who made the effort to capture Burba's contribution for a most impressive nomination package.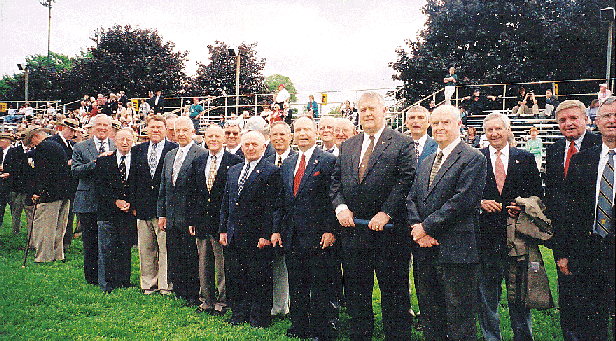 59ers at Ed Burba's Distinguished Grad review
Al & Charlene Rushton were among those at the Burba ceremony, and they had a daughter and two grandchildren in tow. Al asked an '82 grad to take the accompanying photos, and we certainly thank her for the good results. Al reminisced with Ed about Ed's exceptional service and our good old times at Sully's. Ed and I stayed a night with Al in Memphis when Sully's was over, and then Ed and I drove on to Texas. This was all in my 1948 Pontiac convertible. Al added that it was nice to meet Ed & Trish's daughter, Kathy, who will soon take command of a battalion.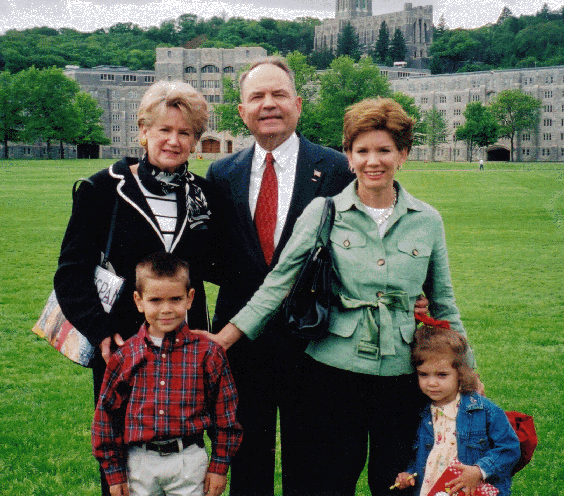 Charlene & Al Rushton with daughter Cheryl Neuburger and grandchildren Daniel and Leigh

The first annual Rocky Versace Memorial Golf Tournament was organized by honorary classmate Mike Faber and played at Andrews AFB on June 2. John Gurr reports that the '59 team had a particularly bad outing; but that there was some redemption in a 275 yard drive by Bob Novogratz , followed by a 210 yard three wood to the green by Ed Robinson, leaving a 27 foot putt for an eagle. In a "Captain's Choice" format, all four of them had a chance at the putt. They all missed, even Tom Russell.

Jim & Pat Walters are in the Fort Hunt area of Fairfax County, VA, from whence Jim commutes to his Booz Allen Hamilton office in Falls Church. He has been with Booz for the last 10 years and has a team that specializes in counterterrorism, physical security and force protection for government clients. He was thinking of retiring, but 9/11 changed all that. He has an expensive but interesting hobby of collecting miniature toy soldiers made of lead and has a colorful display of them in his basement. He saw George Kleb and John Cox at a funeral in Tampa last January. Jim and John were assigned to the 5th Special Forces Group in Vietnam and had not seen each other since.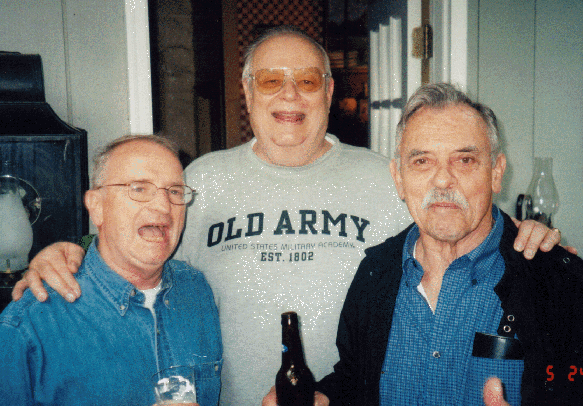 A-1 Picnic: Russell, Walsh and Elias

Jim & Marian Taylor are in Monument, CO, where they enjoy Jim's retirement from Computer Sciences Corp. after seven years. Jim started a Knights of Columbus council in Monument in 1995, and he is now the Color Corps Commander for the Fourth Degree. He enjoys various other volunteer activities, but he and Marian's pride and joy are their nine grandchildren. They have two in San Diego, where their Navy commander dad drives a boat; two in Carlisle, where their mom attends the Army War College; three in New Jersey, where their father still flies C-141s and is getting ready to retire; and two right there in Colorado that Jim & Marian do their best to spoil. Jim met up with Vic Fernandez in May, when Vic received his Fourth Degree in the Knights of Columbus. And the two of them team up with Don Smart every Thursday morning for golf at the USAFA course. Don and Jim also meet for breakfast every Saturday morning with the Monument Hill Sertoma Club.

Dan & Linda Webster are in Arlington, TX, where Dan is busy on home improvement projects since shutting down his company, Training Associates, at the end of 2001. Linda's list of projects seems to increase at an exponential rate, says Dan, and he can't understand those who say they become bored in retirement. Dan's hobby is flying model airplanes. He has one with an eight foot wingspan and a seaplane that are fun to fly. His club has a field about seven miles from his house, and early morning trips are about two donuts in length. He exchanges e-mails with Bill Benagh and Lou Schroeder, but he hasn't actually seen a classmate in years. He did enjoy seeing Tom McInerney on Fox News during the Iraq war.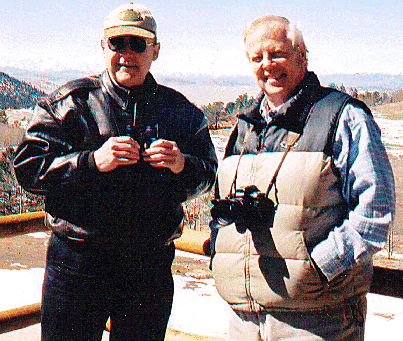 Bill Zierdt and Carl Weaver as grownups
Skip & Nancy Tyler are in Hampton, VA, where they are enjoying his retirement from teaching, but they are far from inactive. Skip volunteers at the Virginia War Museum, and this past March he visited Corregidor, where he lived from June 1940 to April 1941. He visited his father's battery and duty stations and stood in places he had last seen 62 years ago. His father was captured there and died a POW in February 1945. He is a Harley-Davidson type and he and Nancy have four of them: a Road King '99, a Fat Boy '95, a Dyna Wide Glide '96, and a Softail Custom '87. Between them, Skip & Nancy have logged 120,000 miles. That's true love.