MAY 2003
Our friend J.J. Koisch died on 6 Jan at a veterans' retirement home in Huntsville, AL. In the few months preceding, he had had more serious problems stemming from diabetes, including a leg amputation just before Christmas. Bill McCoy reports that a well-attended memorial service was held on 8 Jan at the Chapel of the Church of the Nativity (Episcopal) in Huntsville. Jimmy Hill and Duke Gerhardt were able to attend, along with many of J.J.'s family and friends. The burial was on 9 Jan at the Evergreen Cemetery in El Paso, TX, next to J.J.'s wife, Elaine, who died in 1991. The heartfelt condolences of the class are offered to J.J.'s son, John, and to all of those who loved him.
And we have late notification of the death of Frank Herrera, who had a heart attack on 21 August 2002. He left active duty as an infantry captain in 1964, and he had recently retired from Hearst Publishing. His wife, Ann, may be reached at the address in the Register. The sincere sympathy of the class is offered to Ann and to all of Frank's family and friends.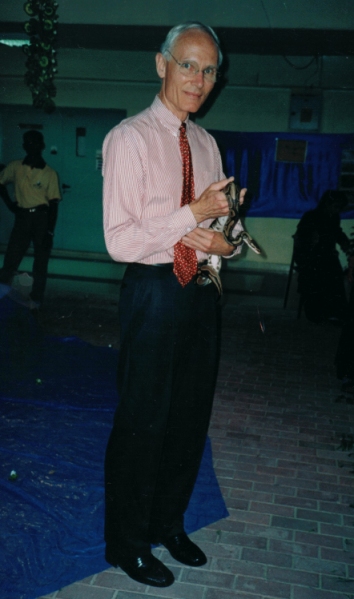 Peter Stromberg, our man in Dubai, with a Mid-East snake.

John & Karla Moellering had a nice reunion with John & Norwood Grinalds at the Citadel in Charleston last October. The Citadel is forming a new school of business administration, and John Moellering has been asked to serve on their advisory board. In addition to the board activities, he and Karla attended a superb Citadel parade, a reception for a host of dignitaries in the Grinalds' quarters, and a football game on Saturday as the Grinalds' guests. As the game progressed, the Citadel was scoring frequently. John, who was in full uniform, has established a tradition of doing pushups with the cadets for each point the Citadel scores. When the Citadel score reached 28 points, Grinalds invited Moellering to join him on the field for the pushups, and he found the Marine pushups to be a bit more robust than the Army ones. At any rate, they had a wonderful time, and discovered that John Grinalds is absolutely revered by faculty, students, alumni, and the city of Charleston alike. He is obviously doing a terrific job, and we should all be proud to count him in our number.

The Moellerings, still in Annapolis, are nearing the midpoint on their new home in Chapel Hill, NC, where Karla is in charge of concept, architectural design and construction. John says his only responsibility is to deliver wheelbarrows of money to the contractor. They will have lots of room, he says, so everyone is welcome once things are complete next summer.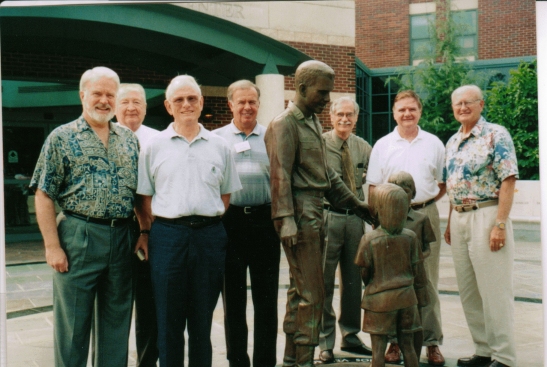 K-2 files at Rocky's statue: Huntingdon, Leo, Servis, Krulcik, Rhein, Keogh, and Bohman.
Otis & Maureen Tibbetts lead a quiet life in Auburn, ME, near both of their mothers; so giving lifts to various doctors' appointments is a regular activity. Otis retired as an anesthesiologist in 2001, and he says he doesn't miss his job in the OR one bit. They try to visit their daughter and three grandchildren in Brisbane, Australia, once a year; and Otis and their son, Andrew, visit gun shows near their home in pursuit of one of Otis's lifelong interests. He likes to read about guns and work on them, primarily those that predate the Korean War; and he enjoys reloading and casting bullets. They hope to do some local canoeing and sailing this summer.
Otis has put out a call for help in compiling, along with several other classmates, an obit for DeWitt Monroe, who died in 1981 in Springfield, VA. The AOG and other WP sources have proved to be skimpy, so they are looking for a source where they can get details on his military schools, his duty assignments, awards, etc. Otis's telephone number is (207) 783-2189.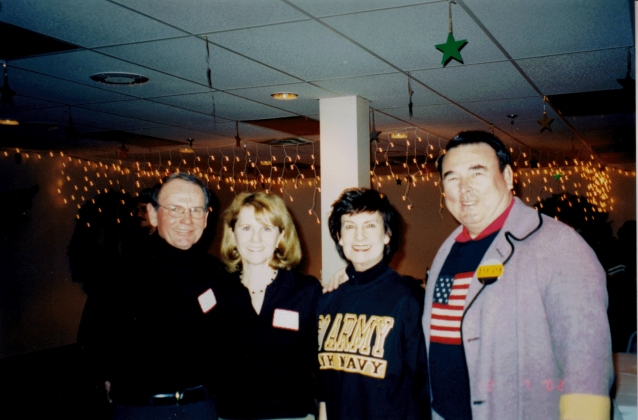 Lee & Kathy Moraski with Nancy & Al Dorris.
Al & Nancy Dorris were surprised to run into Lee & Kathy Moraski at the A-N game in December. The Moraskis have moved into the Minneapolis area and are planning to spend half their time there and half in Redmond, WA, where Lee retired from Raytheon in 2000. Al and Lee were both engineers, but they had not crossed paths since the basic course.
Word is in from WP that Ed Burba has been selected as one of this year's Distinguished Graduates. Bill Luther gathered the information required for the nomination, and, at the same time got Ed nominated for the WP Society of Atlanta Distinguished Graduate Award, which he was to receive at their Founder's Day Dinner on 8 March at Fort McPherson. Congratulations of the class to Ed, and the thanks of all of us to Bill.
Those of us on e-mail had rave reviews from several sources on the Hawaii mini-reunion hosted magnificently by Lenny & Honey Jean Katsarsky with assistance by Jack & Arlene Bohman during the last days of October. There were 37 classmates and wives enjoying the considerable charms of Oahu, from the first evening's reception and dinner at the Army's Hale Koa Hotel, through the picnic at Bellows AFB, the reception and dinner at the Royal Hawaiian Hotel (with views of Diamond Head in one direction and a spectacular sunset in the other), and a truly grand dinner dance on top of Battery Randolph at Fort DeRussey. I understand that a movement is underway to coax the Katsarskys and Bohmans into a repeat performance in the not too distant future.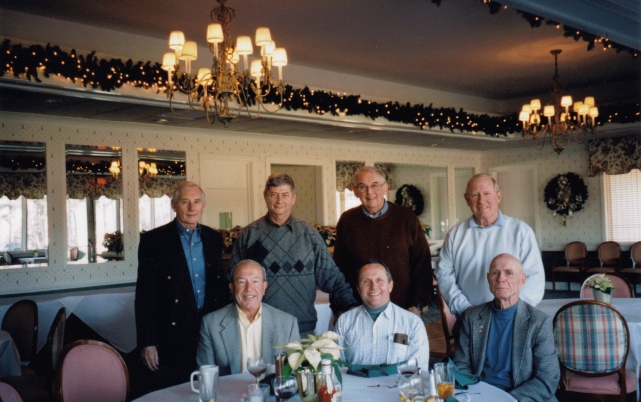 Gruschow, Abrahamson, O'Connor. Rear: Carroll, DeAtkine, Johnson, Hightower.
And Johnny Carroll reports a mini-mini reunion on 14 December of all classmates known to be resident in North Carolina. Present with Johnny were Jim Abrahamson, Tex DeAtkine, Don Gruschow, Charlie Johnson, Lou Hightower, and Hugh O'Connor; and the event was a three-hour lunch in the main dining room of the Chapel Hill Country Club. A great time was had by all, now self-dubbed the "Old Knights of the White Tablecloth." They are now planning more gatherings in the future for more war stories and laughter, and they send greetings to us all.
Company C-1, Class of '58, is hosting a mini reunion for C-1 files from all classes on South Padre Island, TX, on 26-28 Oct this year. Interested 59ers should contact John Tierney '58 at jft58c@aol.com or Mark Sigurski '58, at (505) 771-1255.
Bill Zierdt was cleaning out some family memorabilia and came across the accompanying photo of him and Carl Weaver at a German-American camp near Heidelberg in August 1949. Note the already apparent military bearing, even at this early age.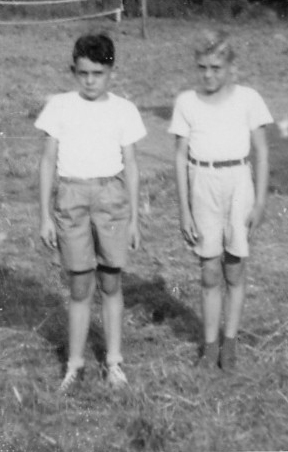 Zierdt and Weaver.