January 2003
Bill & Joyce Schwartz are still in Oakland, on what Bill calls the left coast. He is supposedly in restful retirement, but his list of activities looks far from it. He is the USMA Admissions Department area coordinator for four counties, five congressional districts, and a San Francisco high school area with 19 fellow grads whose efforts he guides. He serves as a director of the U.S. Army Rangers Association and is the director of the Internation Region. He is chairman of the Alameda County Hepatitis C Coalition, 20 organizations involved in prevention, detection and treatment (his job is sort of like herding cats, he says); and he is a member of the VA National Advisory Committee on Hepatitis C. In his spare time he mentors two students.
Bill allows how the West Point admissions effort requires a lot of devotion. He personally focuses on six public high schools that are 95 percent minority in Oakland. It is a real challenge trying to find minority candidates for the academy, but he has had remarkable success. In 17 years they have gone from having no cadets from his schools to having two last year, with three more entering last July and five to eight juniors in the competitive queue for 2003. He says that if someone had told him during his two Vietnam tours that he would one day be helping four Vietnamese refugee boys win appointment to West Point, he would have thought they were smoking the local weed. One of life's little ironies turns out to be extremely gratifying, though, he says. Bill sees Bill & Kathy Garcia quite frequently, and Lew & Marge Ranch and John & Elaine Guthrie occasionally.
Mike & Judy Duggan are in Bethesda, MD, from whence Mike commutes to The American Legion headquarters in downtown Washington, where he labors as a national security lobbyist. His big push recently has been for the concurrent receipt of military retirement pay and veterans disability compensation. Military retirees are the only Federal "employees" who pay their own disability compensation by having their retirement pay offset dollar for dollar. Bob Riordan, whom his friends now call "Doc," has done a great job of keeping the internet fold up on this one. Compare, urges Bob, what the survivors of the WTC murders on 9/11 get, with what the widow of a soldier killed in the war on terrorism will receive.
Mike says he has enjoyed being the D.C. Chapter commander of the Military Order of the World Wars for the past seven years. The chapter is one of the largest in the Order and meets regularly at the Army-Navy Club. He's also served as chief of staff for the Maryland Defense Force in Baltimore for several years. It's good to be wearing the uniform again, he says. He and Judy are proud of their son, Mike, who works at the Supreme Court, and who recently received a doctorate in American history from Georgetown U. Come spring he will be teaching the Civil War at Georgetown.
Hank & Brenda Larsen are in Norman, OK, and vacationed (if you can say that when you're retired, says Hank) in New England last August. They spent an enjoyable Sunday afternoon with Howard & Eileen Stiles at their lovely home on Lake Sebago. The previous month they had visited Fort Lewis, WA, where their son, Skip, turned over the reins of the 1/37th FA Battalion. Hank recalled that Fred Wilmoth was the garrison commander at Fort Lewis about two decades ago and is still a legend there. Hank also reports that a little over a month after Bud Steinberg died, his daughter, Barbara, produced Bud & Ida's second grandchild. This one is a boy and he's named for Bud: Sherwin Albert "Buddy" Askenazi.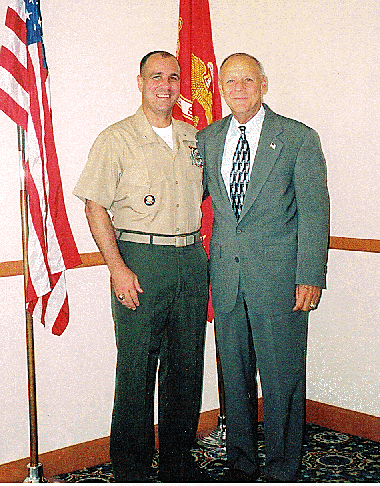 Tim and Bill Fitzgerald
Bill & Bobbie Fitzgerald are in Fairfax Station, VA, and send the accompanying photo of Bill and their son, Tim, at Tim's change of command ceremony where he took command of Headquarters and Headquarters Squadron for the 2nd Marine Air Wing at Jacksonville, NC. "We are not toooo proud," says Bill.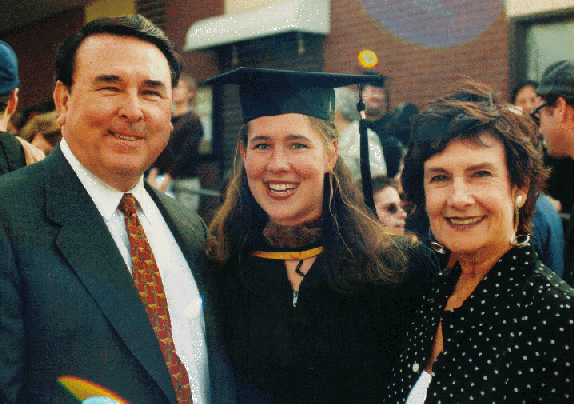 Al, Ali and Nancy Dorris
Al & Nancy Dorris continue to enjoy living in Edina, MN, and have no plans for any changes. Last May their youngest daughter, Ali, graduated from the Peter Stark Producing Program with an MFA from the U of Southern California. She hopes to make a career in the production side of films and TV.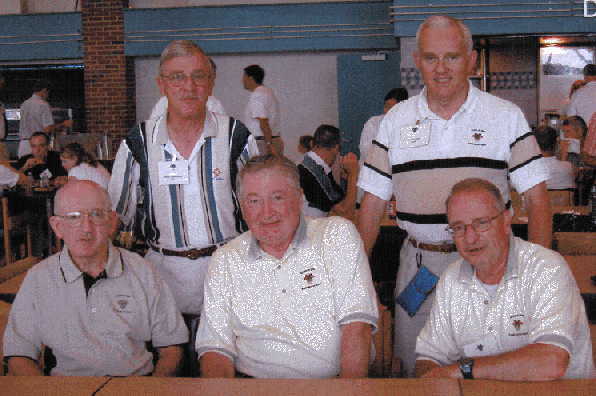 Eberhard, Satterwhite, Leo, Coen and Russell
Jim Satterwhite writes that five of our stalwarts participated in the 13 August "Marchback" from Plebe Hike with the Class of 2006. The others were Don Coen, John Eberhard, Tom Leo, and Tom Russell. The weather, says Jim, was at its August best (or worst), with temperatures in the 90s and high humidity; the hills haven't gotten any flatter nor the distance shorter since we first made this trek, but the "Old Grads" came through in fine style. Jim was impressed with the interaction between the Old Grads and the New Cadets and not sure which group got the most benefit and inspiration from the association, but he is certain that it was good for both. He is sure that all who have done this before would encourage the rest of us to give it a try, particularly in August of 2005, to participate in the Marchback of the Class of 2009, our 50 year class. The accompanying photo, he says, was taken after a hot shower and some lunch following the Marchback.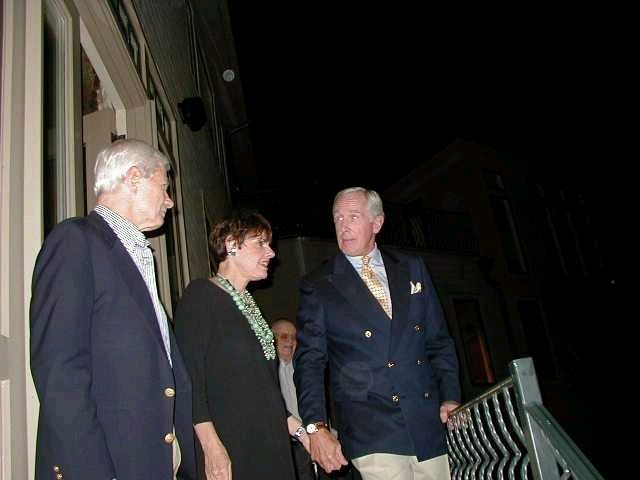 Fred & Marlene with Pete Dawkins
Jim Walsh reports that he and Phyllis had a lovely evening at the Class dinner at the home of Fred & Marlene Malek in McLean, VA, on 5 October. The lovely property looks over the Potomac River, and about 80 classmates enjoyed the splendid dinner and the warm hospitality. Tom Russell and John Gurr were each presented with citations for exemplary service to our class; Tom for his great help to all the class during his 15 years of service with the AOG, and John for his long and tenacious association with the Friends of Rocky Versace, which resulted in Rocky's long overdue award of the Medal of Honor. Pete Dawkins presented corsages to Marlene Malek, in recognition of the generous evening; to Ann Russell for her many years of room, board and good cheer that so many of us enjoyed during their tenure at West Point; and to Mary Gurr, for her unflagging support of John during the years of late night meetings he spent with the "friends."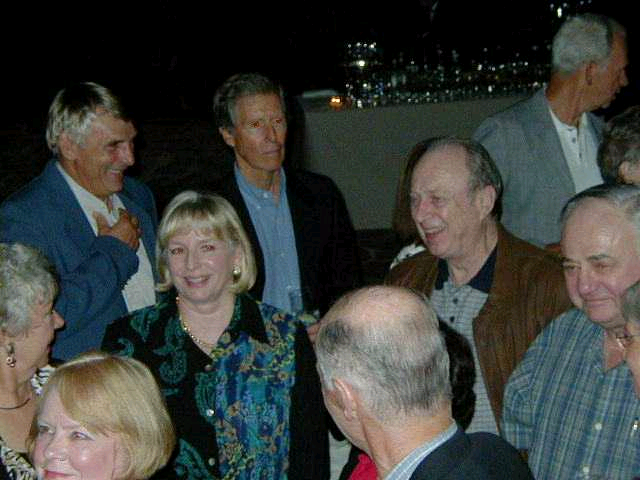 Lynn & Andy O'Meara
Geezer Finale: Bill Buell gives us the definitive answer to who are the oldest of us all with the following birthdays: Paul Elias, 21 Mar 34; John Koisch, 27 Feb 34; Bill Buell, 1 Jan 34; Geoff Davis, 4 Dec 33; Ray Baugh, 3 Dec 33; Don Eckelbarger, 30 Sep 33; Greg Page, 27 Sep 33; Bernie Battersby, 5 Aug 33; and (ta-da) Tom Fletcher, 9 Mar 32.