SEPTEMBER 2002
Phil Sheaffer died on 17 June after having suffered a massive stroke on 5 June while visiting his mother in Port Charlotte, FL. He was laid to rest with his wife, Janet, who died in 1998, at Jefferson Barracks in South Saint Louis, MO, on 21 June. Fitz & Barbara Chandler were there, as was Jerry Jervell, Phil's D-1 roommate, who made the trip from Phoenix. The class extends its heartfelt sympathy to Phil's mother, Peg; to his children Mark, Joshua, and Katherine; to his close friend, Karen Kelly; and to all his family and friends. I have a recent letter from Phil, my Sully's classmate, in which he remarked on his biking and hiking regimen. This he had undertaken with Karen, a pair who had given themselves the mission of finding the best cheesecake in Saint Louis. Had to stay in shape for that, he said. Phil had a great sense of humor. When I asked him what he was up to, he said "about 20 pounds over target."
Joe Shea retired and moved to Fenwick Island, DE, in 1997, where he reconnected with his former West Point OAO, Jane Kapshinsky, and now they are married! They spent this past February and March on Anna Maria Island in Florida, and they plan to return next year for five months. They spend their time playing golf, boating, swimming, and walking on the beach. Life, says Joe, is very stressful.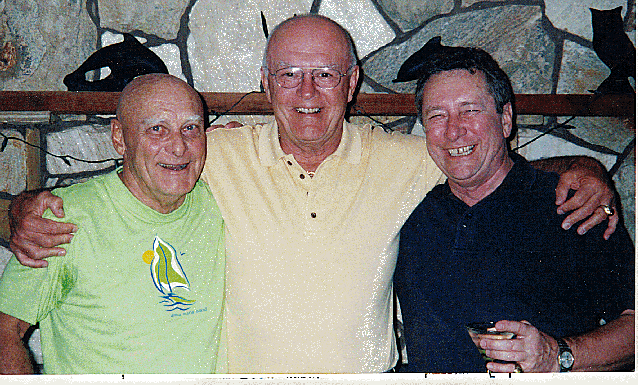 Bill Wheeler, Joe Shea, and Dick Schmidt.
Joe reports that Bill Wheeler has lived on Anna Maria Island since his retirement. Dick Schmidt came over from England in March for a ten day visit, and the three of them had a great time. Bill has a beautiful home and has become a gourmet chef, and he spent one evening making them a meal of tasty ravioli from scratch! Joe and Bill are planning a boating trip this winter for the entire length of the Suwannee River, and they intend to avoid alligators and snakes.
Joe's son, Tom, is a Navy Seal stationed in San Diego at the Seal School; and his daughter Amy's husband, Vic Petrenko, is an artillery LTC commanding the 3d of the 319th at Fort Bragg. He is blessed with four healthy grandchildren.
Last time we had Howard Stiles's after action report from this year's skiing at Snowmass. Next year's meeting will be in Park City, UT, during the week of 22 February to 1 March. Contact Howard at hstiles1@maine.rr.com.
Last winter at Snowmass: Eileen Stiles, Judi Dawkins, Bob & Shirley Wheeler.
Paul Sper seconds Howard's enthusiasm about the annual skiing event, and he and Cindy thoroughly enjoyed the first two of them. They have lived in Tampa now for about 25 years. Paul did various things in the corporate world, then shifted to real estate in about 1970, becoming involved in syndication and in property and asset management. From 1979 on, Cindy was on a parallel track, becoming one of the top residential realtors in Tampa. About six years ago her business had grown to the point where it made the most sense for Paul to join her, so it became their family business and is doing very well. They have two children. Jon (32) is married and lives in Falls Church, VA; Karyn (30) is single and lives in northwest Washington, DC. It's great, says Paul, to be able to visit them both at once.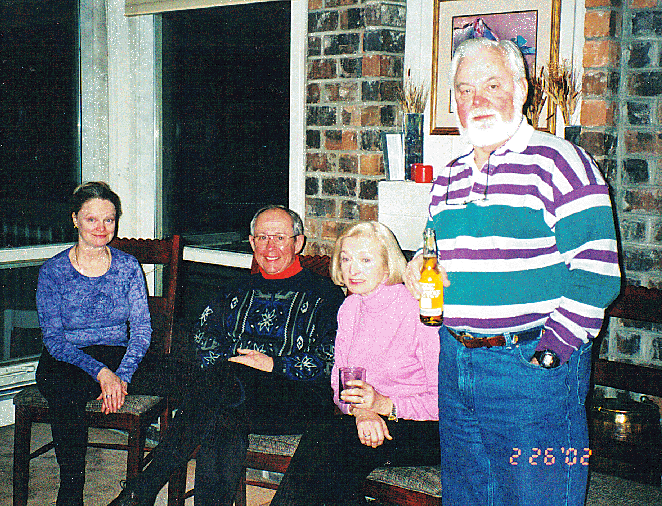 Last winter at Snowmass: Karen Croteau, Gary & Nadine Beech, Howard Stiles.
Don & Joyce Smart are living in happy retirement in Colorado, where they love the mountains and the dry air. They spent a couple of months in Destin, FL, last winter and missed most of the Colorado snow. Don is recovering nicely from thyroid surgery last August, and it looks as if he is cancer free. He gets checked about every month as the docs fine tune his thyroid replacement. Unlike the artillery, they continue "creeping in" on the correct amount, he says.
Golf is emerging as Don's favorite interest, especially since Joyce is playing quite a bit also. He plays squash twice a week in Colorado Springs and tries to ski once a week during ski season. He sees Jim & Marion Taylor, who live about half a mile away, at least once a week, either at Sertoma meetings or on the AF Academy golf course. He also sees Vic Fernandez and Bill Pollock frequently.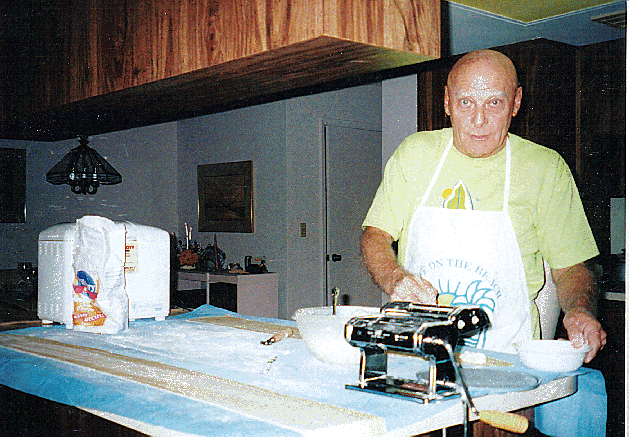 Bill Wheeler, gourmet chef with pasta machine.
Ed Robinson writes that he and Pat were invited by Joe Galloway to attend the 20 February Washington advanced screening of "We Were Soldiers," the movie made of Galloway's and Hal Moore's splendid book, We Were Soldiers Once, and Young, the gripping story of the 1965 battle at LZ X-Ray in the Ia Drang Valley. The book, a best seller, was the story of the first major battle of US Forces (elements of the 1st Air Cav Division) and the NVA in the Central Highlands. Ed was piloting a medevac helicopter in and out of the hot LZ ferrying dead and wounded back to Pleiku. He says that the movie was a very accurate depiction of the battle and the battlefield and was very well done. The LZ scene was a good likeness of the original, including Chu Pong mountain in the background. Our Don Davis, incidentally, commanded an artillery battery that fired protective fires around the LZ.
Bill Stocker says he's been married three or four times and has been retired since September of 2001. He enjoys golf, bowling, and taking care of his home in Clearwater, FL. He also spends time loving his two kids and four grandkids. He hasn't seen any classmates lately, but he remembers our time at Sully's.
Bob & Sherry Shain are in Warrington, PA, where Bob and son Mike operate The Shain Group, a business Bob started a dozen years ago. Bob says they run up and down I-95 selling electric aircraft tow vehicles. They cover the east coast of North America including the eastern half of Canada representing the leading company in the field. It keeps him busy, he says, and he enjoys his customers. Mike is probably ready for Bob to retire, he says, but he tells him he can't retire because he hasn't learned how to drive slow in the left lane or merge without looking. He hasn't had much contact with classmates; but there is always a possibility since his travels sometimes take him to D.C. and to Carlisle, where classmates abound.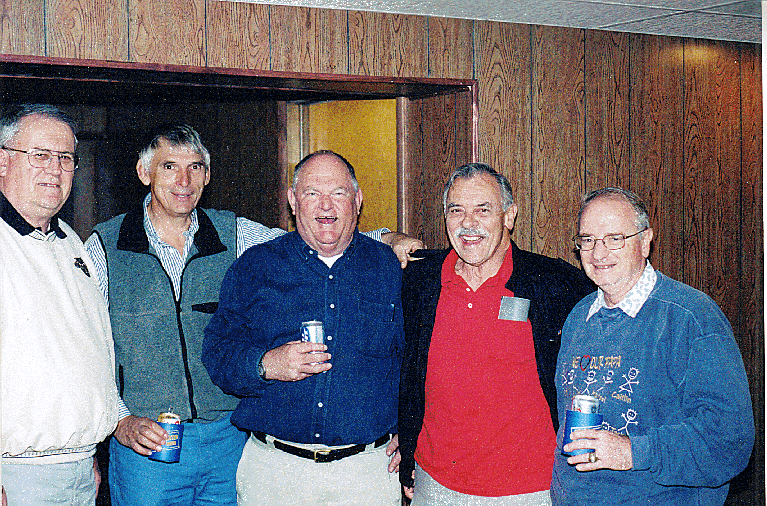 A-1 Picnic: Roberts, Bill Rowe, Hanlon, Elias, and Russell.
Gerry & Marsha Stadler are in Lawton, OK, where Gerry majors in golf and tennis, which routinely interfere with his work (he's still in financial services, helping baby boomers to retire rich). Marsha is also busy with tennis and with plans for their daughter Stephanie's wedding, which was scheduled for August at the time of Gerry's writing. They see Jack & Nancy Neal and Tony & Sandra Pokorny irregularly, and some others at the last TCU game in Fort Worth.
Bob DeMont plans to become fully retired in October, and he and Julie are moving from Michigan to the sunny south to play golf and be near their girls, including their new granddaughter. Their new address will be 4433 Lake Flower Drive, Holly Springs, NC 27540. Their phone number will be (919) 362-6337.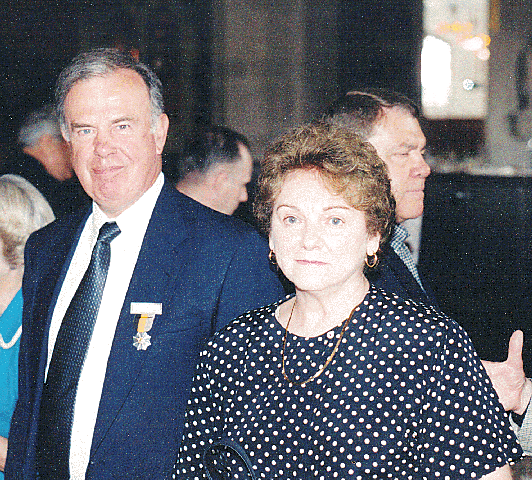 Dawkins Award: Jim & Mary Ann Krulcik.
Jim Walsh reports on both the A-1 Picnic at the Walsh house in Boonsboro, MD, on 18 May, and the 28 May celebration of Pete Dawkins receipt of the Distinguished Graduates Award at West Point. Both were fabulous events, with classmates and wives enjoying one another. A photo of each accompanies this, and if you would like to see how the photos really look, visit the class web site.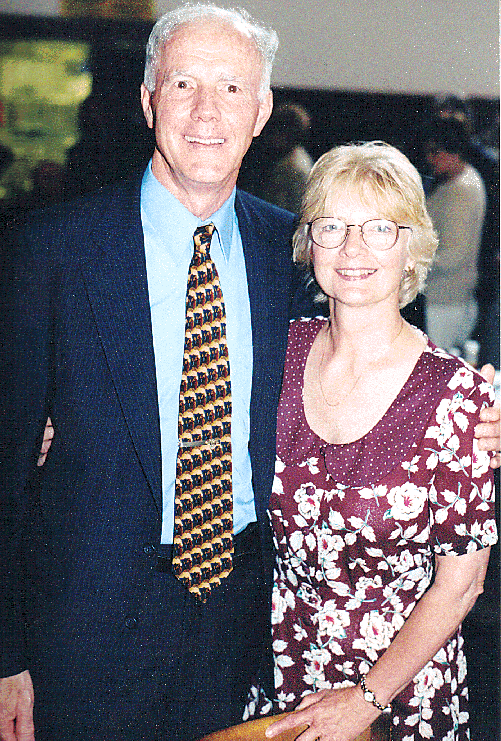 Dawkins Award: Bob & Tony McDonald.
As this goes to press on 1 July, we are looking forward to next weekend, when Rocky Versace receives his long delayed recognition and the Congressional Medal of Honor. There will be pictures and stories of the event in the November issue.