MARCH 2002
Bud Steinberg died in Saint Louis on 12 December after battling cancer for some time. Hank Larsen was a pallbearer at the burial on 14 December, which would have been Bud's 65th birthday. Hank & Brenda had come up for the birthday from Norman, OK, and did not find out that Bud had died until they called from their hotel. A memorial service was held on 17 December. The deep sympathy of the Class is extended to Ida; to their daughters Susie, Betsy, and Barbara; and to all of Bud's family and friends. Individual expressions of sympathy may be made in the form of contributions to the Jewish Chapel at West Point, and Ida is at home at the address in the Register.
Hank sent a nice letter in which he referred to the burial as a spectacular ceremony with tons of people. Bud was much respected in the community and had been president of the WP Society of Saint Louis, so there were a number of West Pointers there. Taps was played, and a flag was presented to Ida.
Bud sent me the accompanying photo of him with his granddaughter only a week before his death, saying that Samantha Rose just might be playing QB for the Class of 2021, the way things are going. Hank & Brenda had visited the Steinbergs last July, and they had put their heads together about an H-2 reunion, perhaps in April of 2002. Bud was going to be the host. I imagine that the planning will continue, if a little sadly.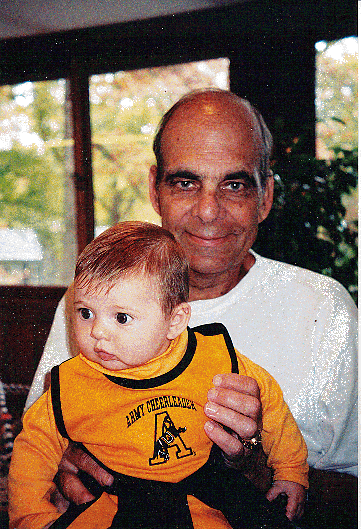 Bud Steinberg with granddaughter Samantha Rose.
And there was bad news that the cruise line taking us for the Hawaiian mini next October had shut down in bankruptcy. Rats.
The Class of 1958 has an annual memorial service to honor classmates who joined the Ghostly Assemblage during VN, and this year it will be held at the Army Navy Country Club in Arlington, VA, on 19 May. Each year a single classmate is highlighted with an exchange of cadet stories and service stories, and a special effort is made to include that individual's next of kin. This year's special honoree will be our own Ralph Wensinger, who entered with the Class of 1958. Both of Ralph's daughters are planning to attend and it will be all the more meaningful to them if we have a good turnout by both his classes. More details on this on the Internet as the event approaches.
Bob & Irene Roth made the trip from home in Langhorne, PA, to Bedford, VA, for the dedication of the D-Day Memorial and Library. On the way they stopped for a few hours in Palmyra, VA, to visit with Marvin Moss at his country estate, "Glen Burnie." The accompanying photo memorializes the visit.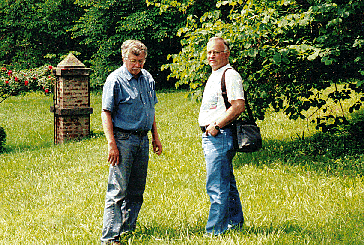 Marvin Moss and Bob Roth in the civilized boonies.
LTG Lennox, the Supe, has informed John Gurr that the 23-minute video developed as an introduction to the Rocky Versace MOH recommendation will be included in cadet instruction at WP. It will be shown to Third Class cadets to generate discussion of the Army values of selfless service and dedication to duty and what it means to be a commissioned officer and a leader of character. Rocky "embodied these qualities," said the Supe, "and we are confident that his story of unbending courage and sacrifice will inspire cadets. Rocky Versace and his story are an inspiration to us all."
Rocky's MOH is provided for in the Defense Reauthorization Bill that passed Congress in the middle of December. At this writing it is awaiting President Bush's signature. Roger Donlan has signed on to attend the ceremony, and, as Gurr points out, USMA 1959 will have bracketed the Vietnam War with the first and last MOH for that conflict.
Larry & Nancy Ross are in Peterborough, NH, where Larry is in his seventh year as Town Selectman. He says that they are making lots of progress in preparing the town for the future, with moderate growth but maintenance of the quality of life that makes the place so desirable. Larry Palmer and Bill Weber stopped by for lunch in August while they were on one of their cross-country bike rides, and the three had great fun.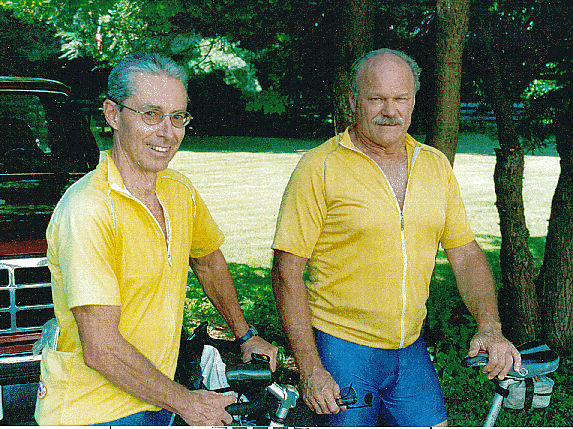 Larry Palmer and Bill Weber, our Road Warriors.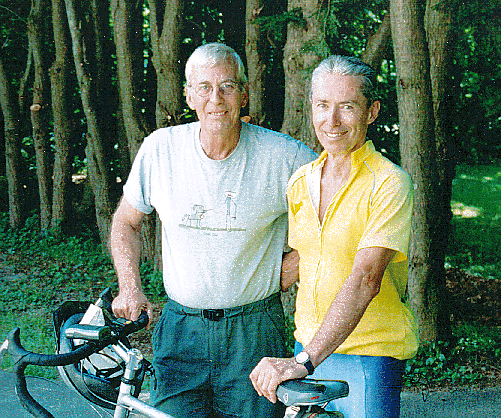 Larry Ross, Road Warrior trainee, with Larry Palmer.
Geezer Flash: Lee Bell says Paul Elias is not the oldest living 59er. He is. Lee joined the world on 1 Mar 34, and Paul arrived on 21 Mar 34. End of contest. Lee says he spent a pleasant three months on his boat last summer cruising to Nova Scotia and Prince Edward Island and was shocked (shocked!) to see Paul's name in the place where his should have been in the Sep/Oct issue. And he knew that Bernie Battersby, born on 5 Aug 33 was our oldest classmate living or dead. I suppose one's interest runs to all sorts of things during three months on a boat.
Winnie & Michael Kay Schepps are still in Birmingham, AL, where Winnie continues his psychotherapy practice, even though Social Security has kicked in. He teaches Sunday School, plays the banjo at nursing homes, builds birdhouses that he displays at arts and crafts shows, and enjoys travelling with his wife of 35 years. They visited Ground Zero in NYC last fall. His children are out of college, and he hopes to live long enough to spoil his grandchildren. One project is to lose some of his 215 pounds and get back to his L-2 weight of 175 (or at least 195 with the age factor).
Bill Breen reported that the Class was well represented at the Army Navy Game on 1 December by Joe Shea, Bill Rowe, Tim Plummer, Bill Benagh, Stan Delikat, Joe Todaro, Bob Roth, Don Coen, and Breen himself. Most were there with family members and there may have been others in elite seats, but they didn't visit. The Class seats were great, a far cry from the year before.
Bruce & Hannelore Schmacker are in Orlando where Bruce retired as a program director at Lockheed Martin last 30 September. Since then he has been doing some consulting from home to break up the monotony of golf, tennis and jogging. Whit George, who now lives in Albany, TX, visited last summer.
Clay Abrams visited Bill & Carol Luther in Opelika, AL, on the weekend of 20 October, and they took in the Auburn - Louisiana Tech football game. It was Auburn's homecoming and, as in the two previous times Clay had attended Auburn games, the game ended in a tie and overtime periods were required. So the curse continues. They had a great time, says Bill, and they took time to visit FDR's Little White House in Warm Springs.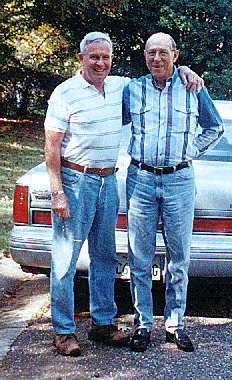 Luther and Abrams.
The 19 December issue of The Washington Post carried a story saying that Fred Malek and Jim Kimsey '62 are leading a group of investors who just may bring baseball back to our nation's capital after 30 years, when despicable forces took it away. Washington Mayor Anthony Williams said, "This team has the financial muscle to win!"
Roger & Sandy Gaines were in Hawaii last fall where Roger met with Jack Bowman and Len Katsarsky to work on plans for the 2002 mini reunion there. They went home to Olympia, WA, sooner than they had planned when their grandchildren, Alex (5) and Cassidy (6) McQuiston invited Roger to be the honored veteran at a 9 November school assembly to honor veterans. Roger wore his dress blues and was the proud grandfather in the accompanying photo. At a "Share and Tell" for Cassidy's first grade class, one young boy asked Roger, "Did you ever get killed in a war?"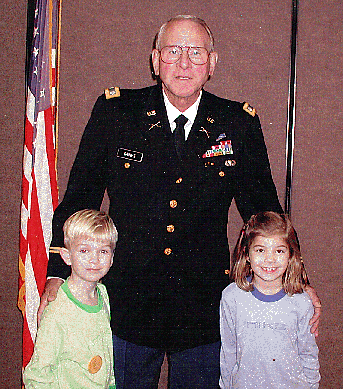 Roger Gaines with grandchildren Alex and Cassidy.