July 2002
Don Davis died in Lubbock, TX on 20 March, due to a number of factors, including renal failure and pancreatic infection. Maddy and their two daughters, Linda and Darlene, were with him when he died. Burial was on 29 March at Fort Leavenworth National Cemetery, where their third daughter, Kathy, is buried. The ceremony was well attended by family and friends; and the classmates able to attend were Bill Benagh, Fitz Chandler, Roger & Norma Donlon, Jerry & Sandy Fogel, Ollie & Diane Langford, Chris Lawrence, Dick Maglin, Jack & Nancy Neal, John Orndorff, Sam Russell (Tom & Ann's son), Al & Charlene Rushton with daughter Stephanie, Dick Sundt, Carol Thudium, Jim & Phyllis Walsh, Rush & Annie Yelverton, and Bill Zaldo. Don was my Beast Barracks roommate, along with Pete Schmidt, and now both have joined the Long Gray Line.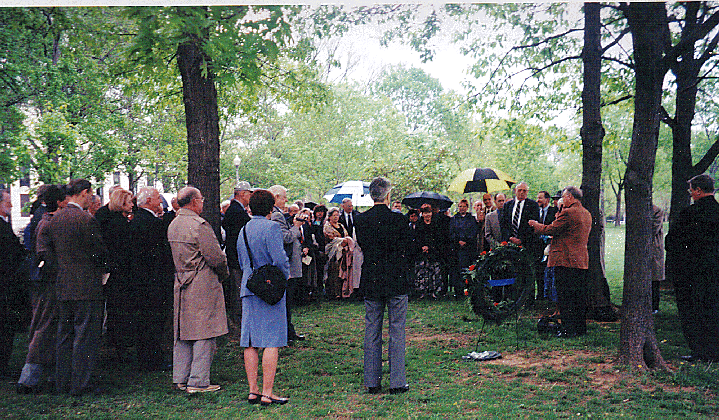 Memorial Service for Bill Train.
The class turned out in good numbers (there were about 70 of us, including wives and children) for our first meeting at the Vietnam Memorial on 21 April. The honoree was our first Vietnam casualty, Bill Train, who died in an ambush 40 years earlier, on 16 June 1962. His parents, LTG (USMA'31) and Mrs. Train, now 94 and 88 years old, were unable to attend for reasons of health; but Bill's sister and brother, Leslie and Bruce, were there with several other family members and friends. John McNerney opened the meeting in a grove of trees near the memorial, and he turned it over to Bill Turpin, who is a cousin of Bill's and a close friend of long standing. Bill asked for classmates to step forward and reminisce aloud about Bill, and several did so, including Norm Rosner and John Guthrie. Turpin then delivered an eloquent eulogy, quoting from several classmates close to Bill, including Court Prisk, Bob Cyr and John Meyer. Bruce Train, Bill's younger brother, concluded with a poignant remembrance of Bill and, especially, the details of the ambush that took his life.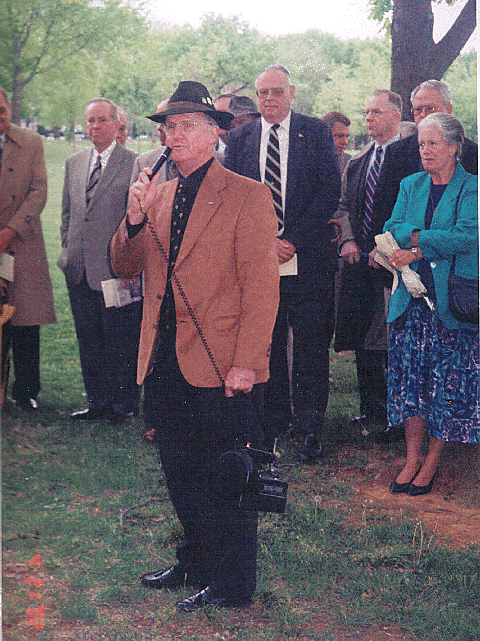 Bill Turpin gives eulogy for Bill Train.

We then went down the hill to the Vietnam Memorial for a brief moment of silence. Bruce and Leslie Train placed a wreath for the class at the foot of the panel that contains Bill's name. It is the first one, Panel 1E, Line 10. It was very moving. Pete Dawkins said a few words about Bill and our class. He made the point that the true measure of a soldier is doing what he has learned in any war, not just one that captures the popular imagination. Bill represented the very best our class had to offer, he said, and we all agreed.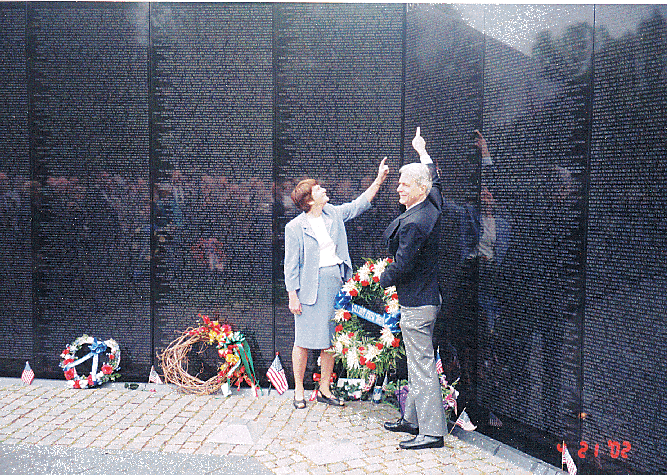 Leslie Train and her brother, Bruce, point to Bill Train's name on the Vietnam Memorial. The class wreath is between them.

The group reconvened at the Fort Myer Officers' Club for a fine brunch, laid on by Tom Boyle with his usual aplomb, and the annual class business meeting, mercifully short this time and filled with dates and plans you will hear of elsewhere. Reportable events included the unanimous election of Mike Faber and Duane Frederic as honorary members of the Class of 1959 for their tireless efforts in pursuit of getting Rocky Versace a place of recognition in the City of Alexandria, VA, and being awarded the Congressional Medal of Honor for his heroism in Vietnam. Notice that their names, like the rest of ours, now appear in this space in bold type.

Jim Walsh again remarked on his and Phyl's enjoyment of the Bicentennial Celebration in March in NYC and at West Point. To recap their connect with the class: their bus mates from WP to NYC were Charlie & Mary Jo Tennant. At the Carnegie Hall concert they saw Fred Malek and Pete Dawkins. They were seated next to Randy & Mary Ann Bell, and Al & Charlene Rushton and Cash & Betty Mullen were off to their right. On their way out they saw Mike Gillette and Gil & Isabel Dorland. Others there, Jim thinks, were Sandy & Carol Beach, John & Pat Eberhard, Bill & Joyce O'Meara, and Bob Shapiro. Back at WP on Saturday they saw, in addition to many of the foregoing, Art & Babs Bair, Bill & Sue Breen, and Tom Leo and his wife Sue Garrison. At the dinner in Washington Hall on Saturday night, he added John Breyer, Pete Keogh, and Steve Werbel. Jim regrets that the rest of us will have to wait another hundred years for the next so wonderful an event.

Howard Stiles reports that 17 members of the "elite USMA 1959 ski team" met at Snowmass near Aspen on 23 February for a wonderful week of skiing and camaraderie. The snow and light were fine for most of the week, although there was some strong wind at the top for a couple of days. They just had to ski fast to outrun it.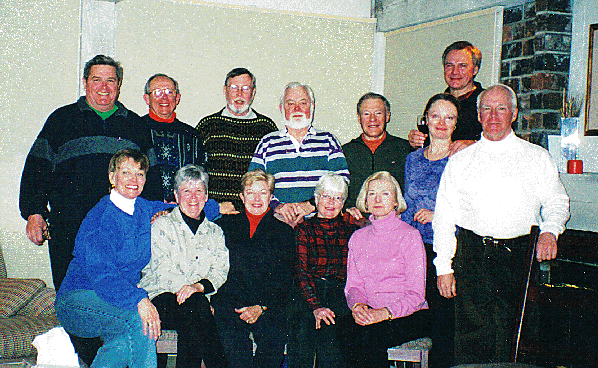 Snow Mass Ski Mini: Back row: McNerney, Beech, Bob Wheeler, Stiles, Sper, Karen & Bob Croteau, Neal; Front row: Cindy Sper, Shirley Wheeler, Nancy Neal, Eileen Stiles, Nadine Beech, Jack Neal.

Nancy Neal cooked up a great Texas chili feast one night, and another night they all went into Aspen for a crazy night at a dinner theatre called the Crystal Palace. The meal was wonderful, and the entertainment of political satire and bawdy songs had the group falling out of their chairs.

Attendees were Paul & Cindy Sper, Gary & Nadine Beech, Jack & Nancy Neal, Bob & Karen Croteau, Bob & Shirley Wheeler, Howard & Eileen Stiles, Frank Campbell and lady friend Valentina, and John McNerney. Pete & Judy Dawkins joined them for the first two days.

Then there was the St. Moritz ski micro for G-1 types from 16 through 21 March. This one was attended by three couples: John & Elaine Guthrie, Steve & Christa Klein, and (life is good) Howard & Eileen Stiles.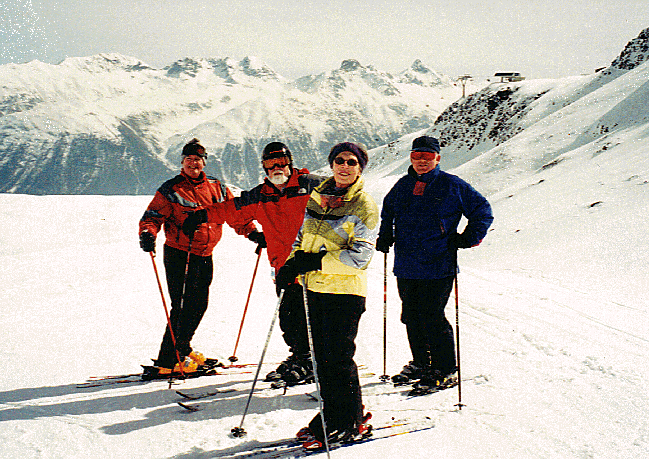 St. Moritz Ski Micro: Guthrie, Stiles, Crista & Steve Klein.
The genesis of the company ski reunion, says Steve, was in Breckenridge, CO, last year, over some good malt whiskey in front of a fireplace. Marty & Chris Plassmeyer and Al & Gigi Goodpasture were also there, and somebody said, "Why don't we do this again next year in Europe?" Steve & Christa had vacationed in St. Moritz before (14 times!) so it seemed the place to go. They had mostly sun and warm weather, and a grand time. They spent one night in an alpine hut eating cheese raclette, drinking red wine, and listening to some old guy playing an accordion and yodeling. Swissier than that it doesn't get.
Bill Luther writes that the Atlanta Founders Day Bicentennial Celebration at Fort McPherson on 16 March had the largest turnout ever with over 300. There were six classmates there, those in the accompanying photo, all but Gabel with wives, plus Don & Mary Helen Reinhard. Don did a great job etching a bicentennial wine glass for all attendees.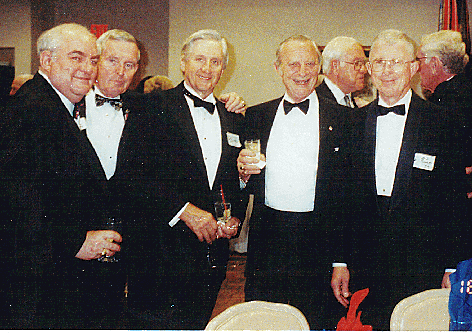 Founders Day Atlanta: Rosner, Luther, Doug Campbell, Gabel, Burba
Contrariwise, Jim Walsh reports that the turnout at the Carlisle Founders Day celebration was the smallest ever. Only the Walshes, the Rowes and the Fishers. Other regulars have turned into "snowbirds" and are still in the south at that time of year. Ah, we get old and fruity.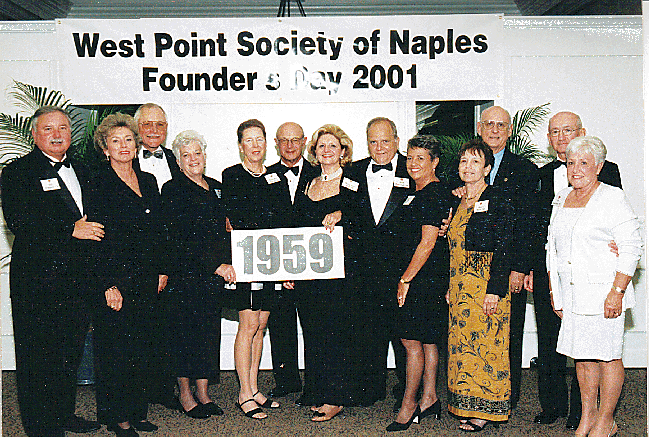 Founders Day Naples, FL: Bill & Joyce O'Meara, George & Beth Kleb, Bob & Mary Ann Ranalli, Mary Ann Bell, Rod & Pat Paschall, Roger & Rinny Ware, and John & Pat Eberhard.