Dave Carrier's daughter, Amy Ellen Thronsen, is the recipient of the scholarship award of $2,000 this year. She is currently enrolled at Mount Saint Mary's College in Newburgh, NY, in an accelerated program leading to a BS in nursing. She has a 1997 BS in biology from Houghton College, and she is married and has an infant daughter, The Class Scholarship Committee, consisting of Powell Hutton, chairman and Frank Besson and Joe Todaro, join us all in offering congratulations to Amy and best wishes for her future.
The Company A-1 Picnic was at Monk & Betsy Hilliard's house in Carlisle this year on 20 May, and the report is that the weather had cleared and the beautiful day was enjoyed by 27 of the class, all of whom were formally invited for the first time. It will be in Boonsboro, MD, next year at the Walsh's house on 18 May, so mark your calendars for what is always a fun time. The beer is cold and the food is potluck. Attendees this time were Art & Babs Bair, Ray & Jan Beurket, Bill & Sue Breen, John & Bev Corby, Paul & Fran Elias, Ray & Mandy Fisher, Art Griffin, Jim Hanlon, "Opa" Hauser, George & Beth Kleb, Rod & Pat Paschall, Bob & Irene Roth, Bill & Butch Rowe, and Jim & Phyllis Walsh. The A-1ers were obviously in the minority.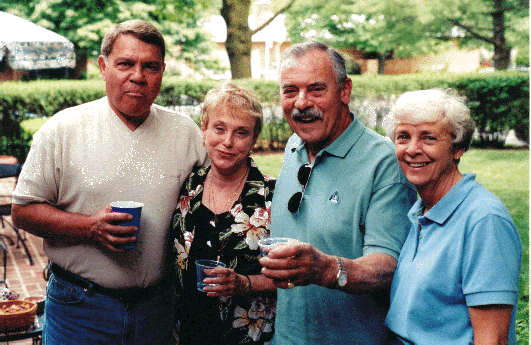 A-1 Picnic: Bair, Fran & Paul Elias, Betsy Hilliard.

Not so with A-2 at their mini in Colorado Springs on the weekend of 14-17 June, when a dozen of them turned out for a splendid time together hosted by Vic & Sherry Fernandez and Bill & Ann Pollock. There was an icebreaker at the Fernandez house on Thursday, visits to the Olympic Training Center and Cheyenne Mountain on Friday, and a tour of the AF Academy on Saturday capped by a memorial service in the Academy chapel. The group included Wiley Harris, Jim & Pat Kennedy, Dick & Bucky Maglin, Jack & Nancy Neal, Joe & Jane Phillips, Tom & Ann Russell, Bill & Linda Toskey, Jim & Janet Turner, Jerry & Marilyn Weisenseel, and Walt & Judy Wosicki. They were joined at the Saturday night dinner by Freeman & Gale Howard and Lou Schroeder, the only non companymates for the weekend, with the exception of John Slocum, who was the A-2 tac from 1956-1959. On Sunday most of the group took the cog railway to the top of Pike's Peak; but Kennedy, Neal, Russell and Weisenseel hit the links. Kennedy shot an 81 with seven three-putts, which impressed the rest of the foursome greatly.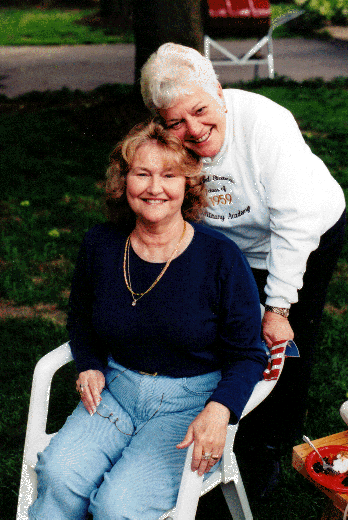 A-1 Picnic: Bev Corby's first picture in Assembly, here with Beth Kleb.

Ron & Judy Recher are happily retired in Hopewell, VA, he from the Army and the Civil Service, and she from being an RN. He does part time work designing log houses and cabinets (woodworking is one of his hobbies), and they both enjoy travel. He was planning a June trip to see their son and do some fishing in Alaska, and they both head for Italy for a couple of weeks this September. They enjoy spending time with their three children and eight grandchildren. Judy does volunteer work and is active in a couple of needle-working guilds. Ron is working on a model train set.

Tom Russell sends the picture of him and Mike Molitoris on an island in Lago Maggiore, Italy, in April. Tom was the leader of an AOG trip called "Great Trains of Europe" that started in London and ended in Italy. It was the first time, Tom says, that he has ever seen a classmate on one of those trips, so it was a treat. He still plans to retire at the end of the year and relocate in Virginia.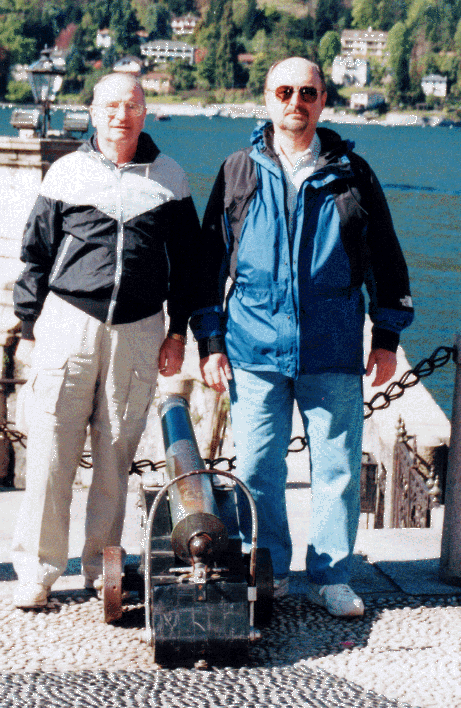 Russell and Molitoris on Isla Bella, Stresa, Italy.

Bob & Anne Rizzi live in Briarcliff Manor, NY, and Bob commutes to Manhattan, I think, to be executive director of a law firm, a trade Bob has mastered over the years. He loves his work, works hard at it, and has no plans to retire. He is up to his ears in grandchildren, he says, with seven on the ground and another on the way, all within a ten-minute walk from his home. He and Anne spend a lot of time playing golf at the Sleepy Hollow Country Club, where they have been members for 24 years. They see Jack & Zee Knebel in Washington frequently, and they play golf together. Bob also occasionally sees Bob Shapiro and Pete Dawkins. He and Anne love to travel and do so whenever they can.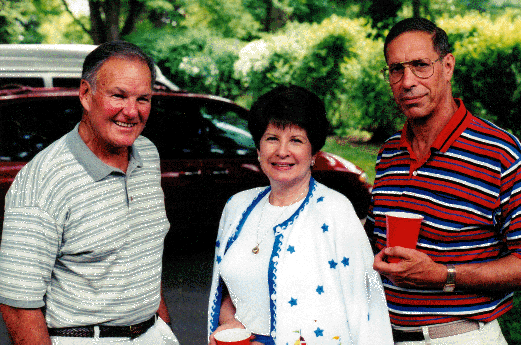 A-1 Picnic: Hilliard and the Beurkets.

Lew Ranch, still in San Carlos, CA, sold the bulk of his insurance business early last year and retired. Marge had retired two years earlier after running the San Carlos Chamber of Commerce for 14 years. They spend their time staying in touch with their three boys and making sly hints for more grandchildren (their third is due in February). They travel a good deal and were off to the British Isles at this writing in June. Marge is an opera buff, but Lew prefers contemplating the mysteries of golf. They both are passionate readers and have four floor-to-ceiling bookcases in the master bedroom. Lew sees Bill Schwartz from time to time at WP Society events, and Larry & Nancy Ross stopped by last spring while visiting a daughter in Burlingame.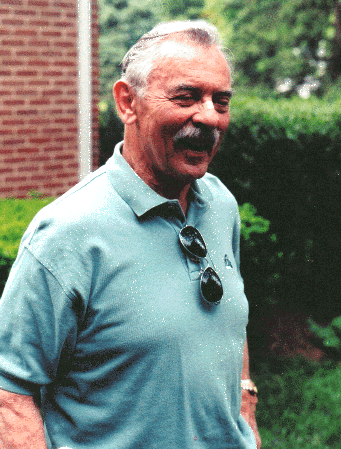 A-1 Picnic: Paul Elias, oldest man to enter with our class (3/21/34).
Fred & Marlene Malek were honored at WP on 25 May at the groundbreaking for the refurbishing and upgrade of the Clinton Field tennis courts. Fred contributed about $2.5 million for the job, and the complex will now be known as the Malek Tennis Center. Governor George Pataki and Congressman Ben Gilman were on hand for the dedication and the Supe and the Director of Athletics had nice things to say about Fred. He responded by giving great credit to WP for his successes. Classmates on hand included Pete & Judy Dawkins, Bill & Butch Rowe, Monk & Betsy Hilliard, Art & Babs Bair, Harry Walters, Peter Stromberg, and Tom Russell.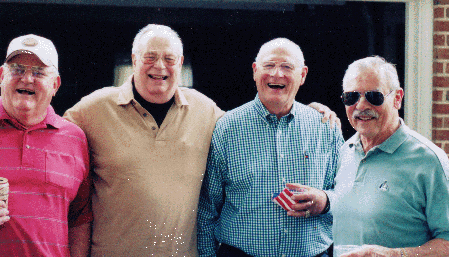 A-1 Picnic: Hanlon, Walsh, Griffin and Elias.

Bob & Mary Ann Ranalli divide their time between homes in Naples, FL, and Martha's Vineyard, MA. Bob retired from AT&T several years ago but is still active on a number of boards. They have been racing small sailboats at Martha's Vineyard for the past ten years and have a great deal of fun doing it. Bob sees John Eberhard, Bill O'Meara, Roger Ware and Randy Bell during his time in Naples.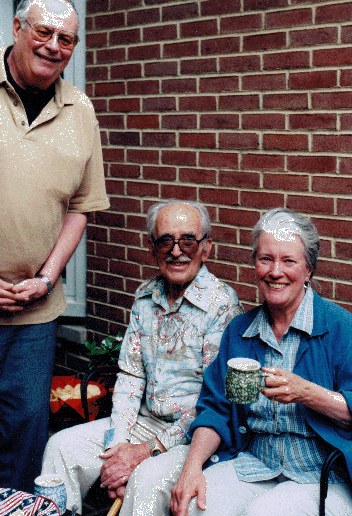 A-1 Picnic: The Walshes flank Opa Hauser.

Lifted from an e-mail from Tom Russell: Don Simpson's father, COL Walter A. Simpson '35 died on 8 May in Alexandria, VA. Out of 56 classmates with graduate fathers, COL Simpson's passing left us with six alive: those of Bill Train, Jim Burwell, Andy O'Meara, Spenser Maddux, Jim Walters, and Gil Dorland.