<![if !supportEmptyParas]> <![endif]>
MAY 2001
<![if !supportEmptyParas]> <![endif]>
<![if !supportEmptyParas]> <![endif]>
††††††††† The great good news for the class this time is that Army Secretary Louis Caldera (USMA í78) approved, before he left office, a posthumous Congressional Medal of Honor for Rocky Versace.† John Gurrís inspiring announcement of this event was e-mailed to the class on 17 Jan and published in the February newsletter of the WP Society of D.C.† Iím sure that a feature article in this magazine will include it.
††††††††† There were 24 of us at the Class Luncheon in Rosslyn on 13 Feb, and we were joined by Steve Versace, Rockyís brother and several members of the Friends of Rocky Versace, who have been so tirelessly instrumental in the honors finally being bestowed on a true hero of our class.† John Gurr, who has done so much to ensure this result and has been so diligent and eloquent in keeping us informed, was in South America for the event, but his ears must have been burning.† Pete Dawkins presided and lauded the grass roots effort of these dedicated few.† Our appreciation and admiration is unbounded.
<![if !vml]>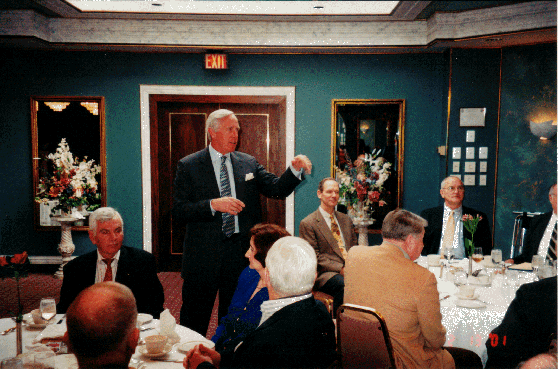 <![endif]>
1959:† Dawkins addressing the Class Luncheon
<![if !supportEmptyParas]> <![endif]>
Jim & Jynelle Miller retired last year and moved from their home in Holland, MI, to a cottage they purchased in 1995 on the Great Sauble River, just south of Manistee, MI (the postal address is Free Soil, MI, if that helps).† Jim is still a director and consultant of the privately-held international trading company heís been with since 1984, but those activities are giving way to his renewed interest in fishing (now fly fishing).† He is making his own spinners and has set up a lure business at www.spinnerman.com, to prove that old dogs can learn new tricks.
Jynelle has become proficient at bird call and visual identification, and both she and Jim are now avid wildlife watchers.† Their three boys live in reasonably neighboring communities, so their new location may be ideal.† If not, they like to spend the cold times in Gulf Shores, AL.
<![if !vml]>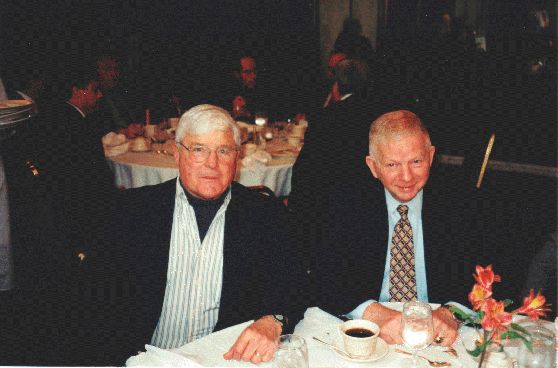 <![endif]>
Class Luncheon:† Welch and Beard
<![if !supportEmptyParas]> <![endif]>
Bill & Susan Breen have completed their yearís peripatations, which began with Billís retirement in fall of 1999.† They sold their home in Clarks Summit, PA, and spent the year as homeless wanderers, says Susan, with visits and sojourns with all of Billís I-2 classmates and a bunch of others to boot.† The trip took them all over the U.S., up into Canada and Alaska, and as far West as Hawaii.† Now theyíve bought a golf condo in York, PA, and were planning to take up residence in March, after a winter vacation in San Diego.† They hope to be able to repay much of the hospitality afforded them in their 15-month ramblings but, says Susan, if they get into a rut they just might hit the road again.† Their address book is full of possibilities.
<![if !vml]>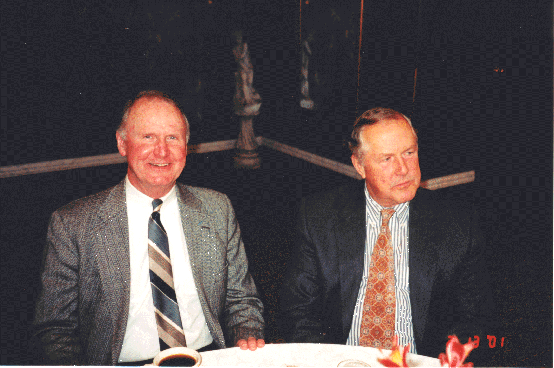 <![endif]>
Class Luncheon:† Turpin and Gillette
<![if !supportEmptyParas]> <![endif]>
Dennis & Helen Morrissey are in Northbrook, IL, where Dennis enjoys his job as service manager in a fork truck battery business.† It keeps him busy five days a week, and the rest of his time he spends being a dad, grandpa, husband, brother and uncle to a pretty extensive family in the Chicago area.† He sees Dave & Pat Tulp, who live in Glen Ellyn, and, once in a while, Joe Hurst, who lives near Milwaukee.† He talks with Bill Wheeler, a former Chicagoan, who is now in Holmes Beach, FL.†
<![if !vml]>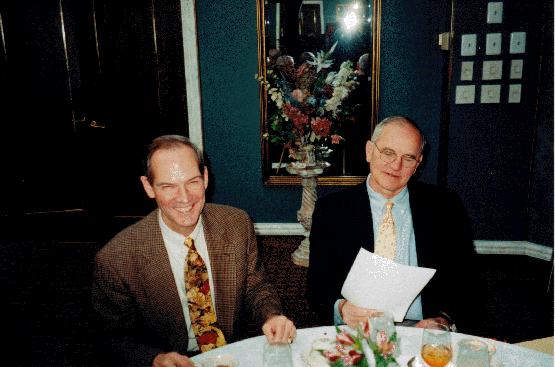 <![endif]>
Class Luncheon:† Hutton and Novogratz
<![if !supportEmptyParas]> <![endif]>
Jim Taylor writes that he and Marian left home in Monument, CO, last August for a western vacation in California and Nevada.† They spent four lovely days in San Francisco taking in many of the sights and enjoying wonderful food.† As they were about to board a plane for Reno, Jim had a small heart attack which extended their stay in San Francisco for another six days, but in the intensive and cardiac units at the hospital.† Back home in Colorado he underwent his second quadruple bypass surgery (the first was 16 years ago) and he is now officially a member of the Zipper Club.† His recovery has been good, and he was able to attend an Army-Navy Game party hosted by Don & Joyce Smart, whence the accompanying photo.† We all wish Jim a full and happy recovery!
<![if !vml]>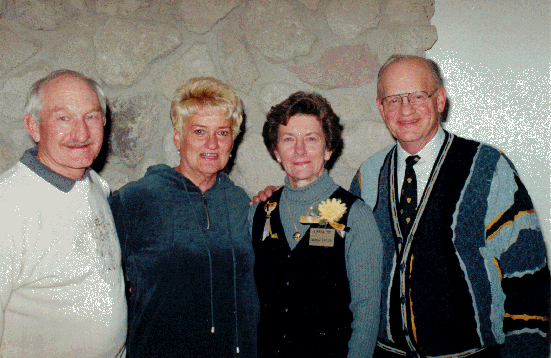 <![endif]>
Don & Joyce Smart, Marian & Jim Taylor
<![if !supportEmptyParas]> <![endif]>
Larry & Ann Minnich were married last March after seven and four years, respectively, of widowhood, and Larry says he has had a near-vertical learning curve in the way Ann has changed his life.† She owns the Inn at Nesika Beach in Gold Beach, OR, so Larry is now an innkeeper.† The Army, he says, made him an aviator, an artilleryman, and a nuclear physicist; he retired and became a farmer, a fireman and a schoolteacher; and now heís an innkeeper.† Life is dull only if you let it happen to you that way, he says.
Larry is I-1ís CQ and has kept in touch with his companymates, even though he has seen no classmates since the 40th.† Heís working on a company newsletter that will have one edition each ten years.
<![if !vml]>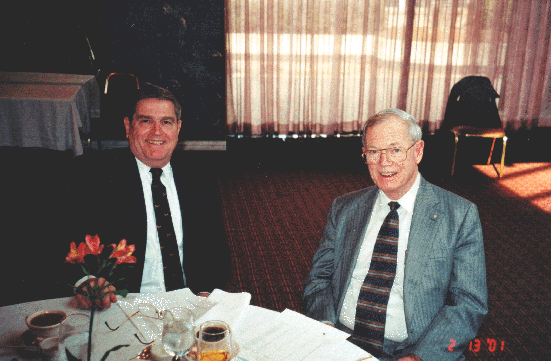 <![endif]>
Class Luncheon:† McNerney and Meloy
<![if !supportEmptyParas]> <![endif]>
††††††††††† Bill & Norman Mullen are enjoying their home in beautiful Carmel, CA.† Bill says he enjoys traveling, is trying to learn how to play golf, and is working for TRW, Inc., as he works on Army training.† ††† He has seen Bill & Joyce Schwartz on their occasional visits to Carmel; Bill Benagh at various exhibitions and symposia; Marv Moss, Ed & Pat Robinson, Warren & Kaye Smith, and Bill & Bobbie Fitzgerald at Jerry & Geri Hilmesís home last May; Jack & Nancy Neal and many other classmates at the Houston mini-reunion; and Roger & Norma Donlon in San Francisco last December.† Roger Donlon had been to a Special Forces Reunion.† His book was published recently.
<![if !supportEmptyParas]> <![endif]>
††††††††††† Two former Middies, Roger Staubach and Ross Perot in Dallas gave our Pete Dawkins another honor since last issue, this time the Doak Walker Legends Award presented on 30 Jan.† This annual award is presented to outstanding running backs from times past, and the proceeds from the banquet go to the SMU Scholarship Fund.† The congratulations of the class go to Pete, its president.
<![if !supportEmptyParas]> <![endif]>