March 2001
<![if !supportEmptyParas]> <![endif]>
Jim Walsh reports that there was a fine turnout on 11 Nov for the dedication of the Rocky Versace Plaza and Vietnam Veterans Memorial at the Mt. Vernon Recreation Center in Alexandria, VA.  There were citizens of Alexandria, veterans, West Pointers from many classes, and lots of classmates.  Jim and Tom Boyle remember seeing Art & Babs Bair, Frank & Elaine Besson, Pete & Judi Dawkins, Terry Enright, Bill & Bobbie Fitzgerald, Art Griffin, John & Mary Gurr, Powell & JoAnne Hutton, John Meloy, Bob & Barbara Novogratz, Jack & Barbara O'Brien, Rex Rhein, Tom & Marty Roberts, Ed Robinson, Skip Schow, Warren Smith, Connie Tully, and Dick Welsh.  Keith Phillips, Al's youngest son, a Georgetown grad and Army CPT, was also there and a pleasure for his dad's classmates to talk with.  The 3rd U.S. Infantry, "The Old Guard," presented the colors; the Mayor of Alexandria was the MC; Pete Dawkins gave an excellent keynote address; and John Gurr dedicated the CPT Rocky Versace Display Case.  Thanks are due to all of them and the Friends of Rocky Versace for making the dream a reality.  Meanwhile, the effort to have Rocky awarded a posthumous Congressional Medal of Honor continues to make its way through the labyrinthine bureaucracy.
<![if !vml]>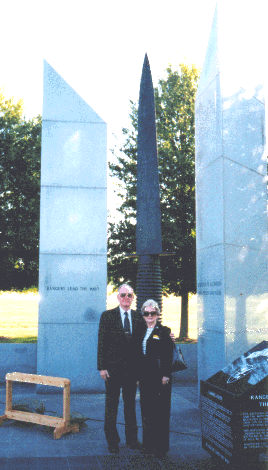 <![endif]>
1959:  Cash & Betty Mullen at the Ranger memorial.
Pete Dawkins was this year's recipient of the Business Executives for National Security Eisenhower Award at an affair on 16 Nov.  The presentation was at a black tie dinner at Cipriani in NYC, with Dan Rather as Master of Ceremonies and LeRoy Neiman among the speakers.  Other winners of the award, now in its 15th year, have included President Carter, John Whitehead, Vice President Gore, Josh Weston and Senator McCain. 
<![if !vml]>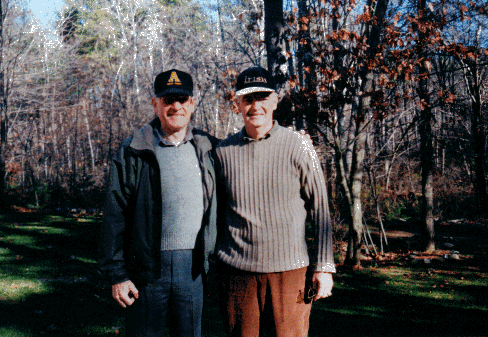 <![endif]>
1959:  Cash Mullen and Bill Breen.
And speaking of restaurants in the Big Apple, Tom Leo tells me that Bob Shapiro is now the owner of Thalia, an upscale restaurant at the corner of 8th Avenue and 50th Street. There was a lunch for 59ers on 28 Jun that included Leo, Shapiro,  Pete Dawkins, Peter Keogh, Bruce Medaris, Bob Rizzi, Tom Russell, Peter Stromberg, and Steve Werbel.  The food, the service, and the company were excellent!
<![if !vml]>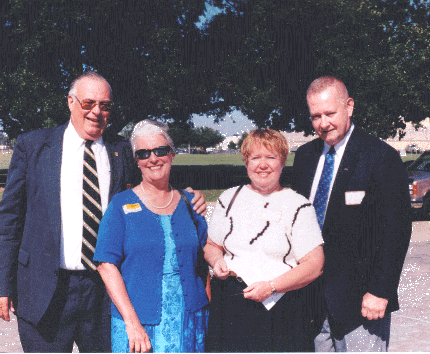 <![endif]>
1959:  Jim & Phyllis Walsh with Frieda & Tom Borlund at Benning Ranger Memorial.
A report from Rog Ware in October was of his attendance at the Marco Island (FL) Film Festival where he was invited to see a special presentation of the film "Jericho," produced and directed by Gil Dorland and Merlin Miller '74, who are principals in Black Knight Productions.  Rog liked the film a lot and noted that audience appreciation was high.  It's a Western filmed in Texas, New Mexico, and Colorado; and, according to Rog is excellent in story, scenery and acting.
Emmett & Teddy McCracken still dominate in Bluffton, SC, where Emmett was recently elected to a four-year term on the Town Council.  He notes that he has gone from County Council Chairman to Mayor to Town Council, which a friend opined was an effort to find his level of competence.  His prostate surgery in November, says Emmett, ranks up there with a Ranger School stream crossings in November in terms of fun.  He & Teddy were planning a February trip to Korea to housesit and keep up with five grandchildren as oldest son Jack and wife Carol return to the U.S. for a pre-command session.  Jack is Dep Cmdr of 501st MI Brigade in Seoul and will assume bn cmd this coming summer.
<![if !vml]>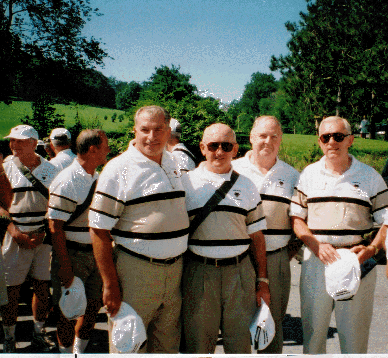 <![endif]>
1959:  Plebe Marchback 16 Aug:  Medaris, Eberhard, Carrier, Coen.
John McNerney belongs to the Professional Chess Association (as does Kasparov, he points out) and has entered several tournaments, recently.  More importantly, and to get right down to it, he's winning money.  He and Margie are still in McLean, VA, have seven grandkids and, says John, still have two daughters to marry off.  He retired last fall from Lockheed Martin, bought and renovated a beach house in Delaware, moved in last July, bought a boat for the dock alongside the house, and has learned to fish and catch crabs.  Not bad for a chess whiz!
<![if !vml]>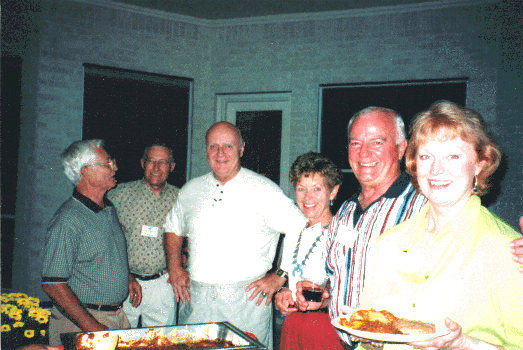 <![endif]>
1959:  Houston Mini:  Dick Sundt, Sandy Beach, John Corby, Nete Sundt, John & Elaine Guthrie.
Cash & Betty Mullen are in Salem, NH where Cash has been with Raytheon for just over ten years.  They are avid moviegoers and have a standing date on Saturday nights to go out for dinner and a movie.  As a hobby they dabble in writing action/adventure novels, where Betty does most of the writing, says Cash, and he helps with the editing.  And he still has a strong interest in automobiles.  He retains and babies his rebuilt '84 Buick Grand National, but hasn't had it on the drag strip yet.  He goes to auto shows when the weather is nice.
<![if !vml]>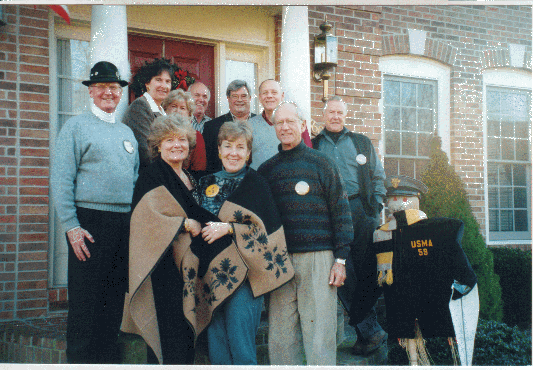 <![endif]>
1959:  A-N Game Group:  top row:  Bill Turpin, Felicity Gillette, Barbara & Jack O'Brien, Frank Besson, Bill Fitzgerald, Mike Gillette; bottom row:  Elaine Besson, Mary & John Gurr, Cadet Ducrot.
The Mullens saw Bill & Susan Breen when they visited the weekend before Thanksgiving on the last stop of their yearlong trek after Bill retired in fall of 1999.  And they saw a host of classmates at the Ranger memorial service for our classmates at Ft. Benning in October, an event reported here last time.  Now they are beginning to look for a place to retire, probably in the South or Southwest, Cash thinks.
As we see in the accompanying photo, John Cox was still in good form to compete in the 65 to 69 year age group in the 800-meter freestyle at the World Masters Swimming Championships in Munich this past August.  John swam three individual and two relay events.  His St. Petersburg (FL) team placed first among all U.S. teams and placed second all over in the world.  John & Kay are already planning for the World Championships in New Zealand in 2002. 
John says the New Zealand outing will probably be part of his retirement trip after spending 37 years with Special Operations both military and civilian.  They will try to combine the trip with visits to Australia and Vietnam if everything works out.  And they welcome classmates to their home in St. Pete anytime we wish to get out of the cold weather and into the sun.
<![if !vml]>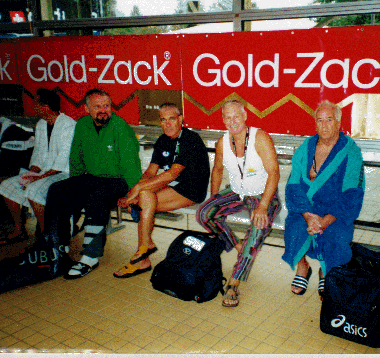 <![endif]>
1959:  John Cox with other nationals at Munich Swimming Championships.
There have been mixed reports about the Navy game, some saying it was exciting and some saying we were robbed on the call at the last-ditch onside kick.  There has been uniform dissatisfaction with seating for the game, not only from our class but from classes senior to ours; and at this writing most are still awaiting a good explanation.  But Bill & Bobbie Fitzgerald are onto the solution, as they have been for some time.  They meet every year with a group that rotates hosting the game, and this year it was their turn.  Bill allows as how they undoubtedly were more comfortable and saw a lot more of the game, such as it was (there's another opinion of the game), and I think they feel that way every year.  Anyway, the group consists of those in the accompanying photo along with those missing this year: the Huttons, McNerneys, Moellerings and Weekleys.  Bill hopes for the group, as well as for the game, wait 'til next year!