Larry Struble died on 20 March in Warren, OH.  We had admired him much since his debilitating accident in 1963, most recently for the beautiful job he did keeping us informed of the progress of our "Road Warrior" cyclists who crossed the country for our 40th Reunion.   Pete Dawkins addressed a moving letter to Pauline, Larry's wife, which said in part:  "Larry's absolute determination to live each day to its fullest, despite his limitations, and your unflinching love and support through it all gave every one of us a tremendous standard to strive for.  We thank you for the way that your example has made our lives richer."  Those who attended the funeral included Tom & Ann Russell, Mike & Ann Isacco, and Rush Yelverton.
Roger & Barbara Paquette are in Petosky, MI, during the summer and in Haines City, FL, during the winter.  Roger hasn't had a nickel of earned income since his retirement in 1987, and he served with distinction as a domestic engineer until Barbara retired in 1997.  Now they share the duties between their cruises and golf games.  In Florida it's golf five days a week for Roger, and he and his chums all own their own golf carts.  In Michigan it's fishing that keeps him busy.  When I asked him what he was up to, he said about six feet, one inch.
          Roger is active in Shrinedom and has a "chair" in his Blue Lodge in Boyne City, MI.  Barbara spends a lot of time keeping track of their medical billing, drawing upon her 34 years as a comptroller for the Navy.  She is active in church and her biblical library is unreal, says Roger.  John & Cathy Harkins, who are in Vero Beach, visited them at their time-share in Ft. Lauderdale last February, and they hope to exchange golf weekends next spring.  The Paquettes were planning to visit the Harkinses and Bill & Sue Breen in July.
          Barky & Charlene Norman are in Lakewood, WA, where Barky is completely retired.  He manages some properties in the Columbia Gorge, but other than that he spends his time not doing enough traveling and doing too much tinkering around the house.  He saw Bert Bertils in the PX in March, and Bert is still living on his boat down in Olympia.  Whatever Bert's doing it must be good, says Barky, because looks almost as young as when he was a cadet.
          The Founders' Day dinner at the Army War College was a fine event this year according to Jim Walsh, and Jim & Phyllis, Monk & Betsy Hilliard, Bill & Butch Rowe, and Ray & Mandy Fisher represented us.
<![if !vml]>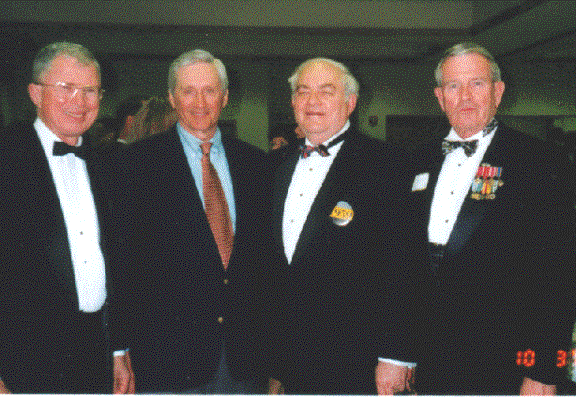 <![endif]>
1959:  Ft. MacPherson Founders' Day:  Burba, Douglas Campbell, Rosner and Luther.
<![if !supportEmptyParas]> <![endif]>
The Dean's talk was full of optimism about our future against Air Force and Navy, and Walsh made a few remarks about the Rocky Versace Vietnam Veterans' Memorial in Alexandria.
<![if !vml]>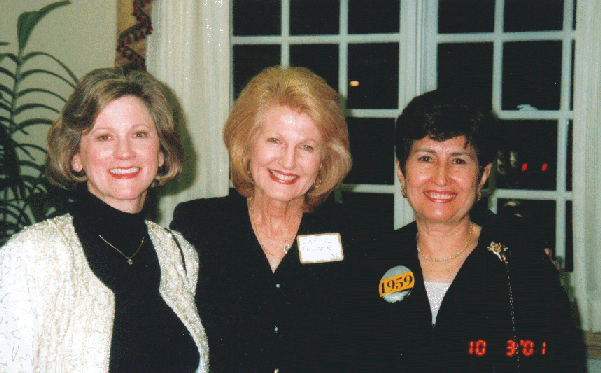 <![endif]>
1959:  Ft. MacPherson Founders' Day:  Betsy Campbell, Carol Luther, Elva Rosner.
<![if !supportEmptyParas]> <![endif]>
          Jack Neal reports from Flower Mound, TX, on a mini-mini-reunion that he and Nancy took with Russ & Connie Street and Gerry & Marilyn Weisenseel, cruising for 21 days in the Far East from Singapore to Beijing, with stops in six countries. 
<![if !vml]>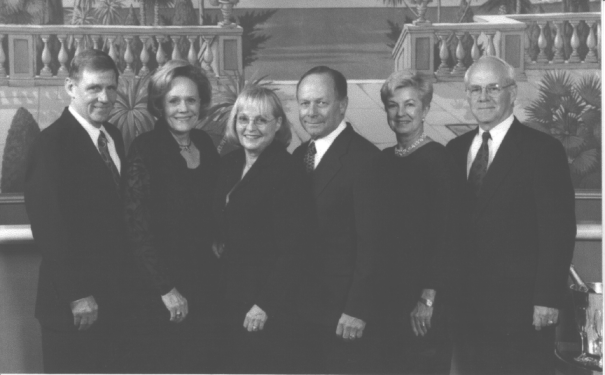 <![endif]>
1959:  Streets, Weisenseels, and Neals
<![if !supportEmptyParas]> <![endif]>
They had two stops in Vietnam (Ho Chi Minh City and Na Trang) says Jack, where he buried a few ghosts he didn't even know he had.  They spent three nights in Singapore and Beijing on each end of the trip, and, after a little rest and dieting they will be ready to go again, somewhere.
          Bill & Joyce O'Meara spend their winters in Naples, FL, and their summers at Lake Tahoe; but they spend about 13 weeks a year on their boat, which Bill says helps satisfy his most passionate interest.  The current boat is a 108-foot Westship yacht, but they are building a 130-foot Westport yacht on which to continue their cruising of the Caribbean, the Bahamas and the Florida coast.  They've cruised up the East Coast, to WP via the Hudson River and even to Alaska.  They plan to take the new boat to Europe for a year and a half. 
          Bill is retired but keeps his hand in business by serving on several boards, including those of two companies he has started up in Florida since his "retirement."  And he has helped found a West Point Society in Naples.  Classmates he sees include the locals: Bob Ranalli (his roommate for four years), John Eberhard, Randy Bell, Fred Franks, Roger Ware, and Jim Paschall.  All within an hour's drive, at least for some of the year, are Don Gruschow, Bill Benagh, George Kleb, and Tom Munz.  And he sees John & Elaine Guthrie at Tahoe in the summers.
            Polly & I had a lovely time at Jerry & Sandy Fogel's wedding in Kansas City on 24 Mar.  It was a treat to see Jerry's two sons, David (a radio personality in Chicago), and Mark (a Kansas City policeman, and, as you can tell from the photo, a dashing reservist), looking fit and happy.
<![if !vml]>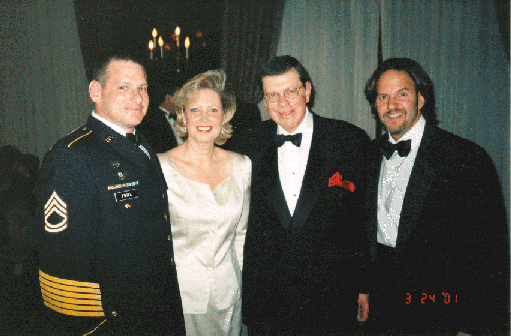 <![endif]>
1959:  Newlyweds Sandy & Jerry Fogel, flanked by Jerry's sons, Mark and David.
<![if !supportEmptyParas]> <![endif]>
 There was good food, a congenial assemblage, and a happy rendition of "Sandy" from the musical, "Grease," by none other than the Fogel himself, who wound up on one knee at her feet.
          Fred Malek was honored as the Boy Scouts' Citizen of the Year at a dinner on April 11 at the Ritz-Carlton in Washington.  It was a roast, and Fred was described as trustworthy, loyal, helpful, friendly, courteous, kind, obedient, thrifty, brave, clean and reverent.  Especially thrifty.  Okay, cheap.  "You'd think they'd be on good behavior for the Boy Scouts," laughed Fred.  His roasters included IRS Commissioner Charles Rossotti, Mayor Tony Williams, Sam Donaldson, Rep. John Dingle, Frank Carlucci, and Jim Kimsey '62.  Former President George Bush, Secretary of State Colin Powell, Vernon Jordan, Jack Kemp, and Bill Marriott sent video greetings.
<![if !vml]>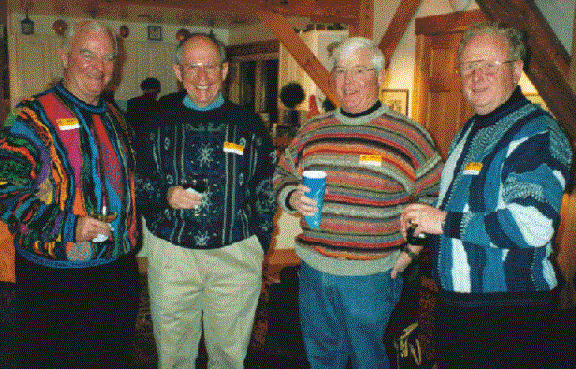 <![endif]>
1959:  Ski Mini:  Guthrie, Beech, Welch and Van Loben Sels.
<![if !supportEmptyParas]> <![endif]>
          Howard Stiles writes that the first USMA 1959 Ski Mini was a smashing success.  They gathered on 24 Feb at Breckenridge, CO, and skied there, plus Keystone, Vail and Beaver Creek until 3 Mar.  There were two parties at the magnificent new home of Dick & Sandy Toye, who have retired in Breckenridge; and the day in Vail was hosted by Judi Dawkins (Pete was away solving the world's banking problems in Hong Kong) with a mountain tour, apres ski in the Dawkins's lovely slope-side condo, and a dinner in Vail Village.
<![if !vml]>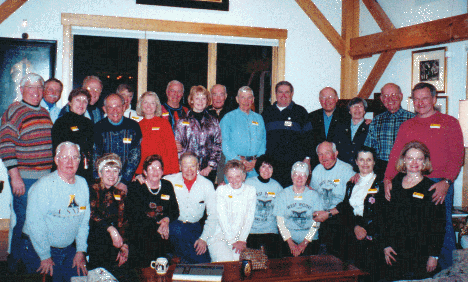 <![endif]>
            The ski mini group included Paul & Cindy Sper, Gary & Nadine Beech, Dick & Margaret Welch, John & Elaine Guthrie, Steve & Christa Klein, Howard & Eileen Stiles, Al & Gigi Goodpasture, Bob Croteau & Karen Nold, Lee Bell and sister Flo, Dick & Sandy Toye, Judi Dawkins, Don Smart, John McNerney, Stan & Madeleine Kanarowski, Marty & Chris Plassmeyer, Jim & Joan Van Loben Sels with son Jeff and wife Betsy.
<![if !vml]>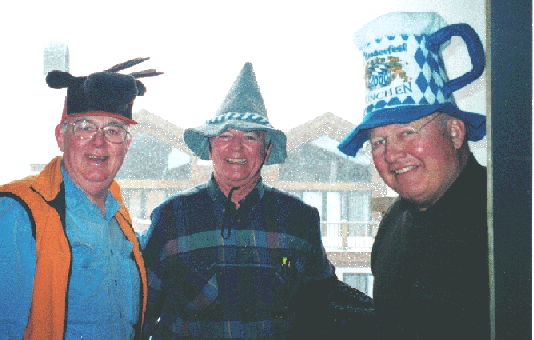 <![endif]>
1959:  Ski Mini:  Stiles, Guthrie and Klein.
<![if !supportEmptyParas]> <![endif]>
            Jerry & Donna Noga are in St. Clairsville, OH, where Jerry still practices medicine part time, mainly to keep busy and to pay for some overseas trips.  He missed most of the Americas and Europe, when seeing the world with the military amounted mostly to views of Asia.  They don't see any classmates, he says, because he's on IH 70, with IH 77 and 79 within 30 minutes on either side, perhaps fairly untraveled roads for 1959ers.
            And Winnie Schepps writes from Birmingham that the Army-UAB game is scheduled for 22 Sep.  He wants all classmates for an after game party at his home, families and friends included.  Write to him at the Register address or call him at (205) 871-0929.