<![if !supportEmptyParas]> <![endif]>
November 2000
<![if !supportEmptyParas]> <![endif]>
            Tim Matthes says he's holed up in a really pretty little town, Silver City, NM, in the foothills of the Pinos Altos Mountains, right next to the Gila National Forest.  He dabbles in real estate and is completing a reading list of the major philosophers, but he mainly trains for and completes in triathlons.  He says it is a rare occasion that he ventures out into the real world for a triathlon, and the only classmate he remembers seeing is Larry Palmer, who passed through Silver City on his bicycle several years ago.
            Don & Kay Markham are in Tucson, where Don has been enjoying full time retirement since last May.  They enjoy visiting the interesting places of the Southwest and partake of the hiking opportunities.  Don is currently transcribing a journal and other personal notes to see if anything worthwhile might come out for their progeny.  He is enrolled in a U of Arizona writing class and tries to maintain a certain level of French through tapes and a subscription to Paris Match.  Kay stays busy with community organizations and U of A classes.  Their older son, Andrew, was married in May; and their younger son, David, and his wife Holly are in the Middle East with the State Department.
            Bill & Jeannine Marshall are ranching in Washington, TX, where Bill, who retired from Texaco in 1998, tries to sell young stock before Jeannine can give it a name.  Once named, says Bill, the heifers seem to become fixtures with the land and never make it to the auction ring.  He anticipates running an old horses and donkeys home.  Bill sees Jay Weisler for coffee occasionally when he goes into Brenham, TX; and when he manages to attend WP Society luncheons in Houston, he sees Sandy Beach, Dick Sundt, and Don Eckelbarger.
            Bob & Karen Croteau have recently relocated from Darien, CT to Loveland, CO, where they bought a home on Boyd Lake.  Loveland, says Bob, is about 50 miles north of Denver, has numerous lakes for recreation and is close to Rocky Mountain National Park.  It is also an art center, with a fine arts academy, galleries, sculpture gardens and several bronze-casting foundries.  Bob has been studying sculpture for the past five years and, as the photo shows, has been an apt pupil.  Figurative sculpture, he says, is his preferred mode, and it provides a lot of satisfaction.  Karen is still a consulting partner at PricewaterhouseCoopers and will join Bob in retirement in a few years.  Bob is in touch with local denizens Bob Beale and Rog Ware, who live in the Denver area.  It was great, he says, to reestablish long ago connections.
<![if !supportEmptyParas]> <![endif]>
<![if !vml]>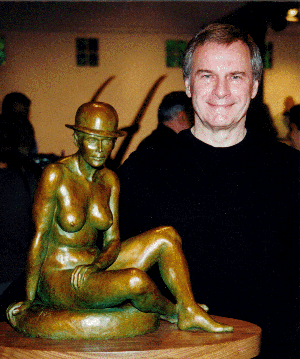 <![endif]>
1959:   Bob Croteau with his "Sabrina"
<![if !supportEmptyParas]> <![endif]>
            Chuck & Barbara Lutz are in North Logan, UT, staying in shape after their 41 years of marriage, and enjoying travel and their family.  They have two daughters and two grandchildren:  Courtney, 7, and Zachary, 4.  Chuck is a retired professor emeritus of information systems management from Utah State.  He volunteers as a docent at the USU Art Museum, and he is active in the Masonic fraternity at the local and state levels.  They see Jim Taylor, Chuck's WP roommate and brother-in-law, and his wife Marian, who live in Monument, CO.
            Jack & Evelyn Mayers are in Beaufort, SC, where Jack is retired as an instructor at the Technical College of the Low Country.  It's his third retirement: the first being from the Army and the second from Analytic Services, Inc. in Crystal City, VA.  He sees Ollie Langford on occasion; and he spends time traveling (Turkey and Peru among recent destinations), jewelry making and enameling, colored pencil drawing, deer hunting, shrimping, crabbing, and fishing.  Sounds great!
            Dick & Bucky Maglin are in La Grange, GA, having moved from Holden Beach, NC after six hurricanes in three years cooled their enthusiasm for beach living.  Dick works part-time with LOGICON in both the Battle Command Training Program (BCTP), where he has fun in Corps and Division CPXs; and the African Crisis Response Initiative (ACRI), where he finds it interesting, to say the least, to be working with eight to ten African countries.  At the time of his writing he had just returned from three weeks in Senegal.  He works with Hugh O'Connor, Andy Kuschner, and Dwight Fuller on the BCTP program, and he occasionally sees Fred Franks and Ed Burba on CPXs.
            Dick has taken up horseback riding in his old age, which, like his learning to ski after 55, he says, is not smart but fun.  He has firmly decided not to own a horse (too much work) but cheerfully rides those of neighbors who are happy to have their mounts kept fit during the week.  The new Maglin house is at 123 Red Oak Trail in La Grange (30240).  It's a big house, says Dick, and classmates are welcome.
            Rody & Rhonda Conway are other refugees from the paths of annual hurricanes and have moved from Florida to Waldoboro, ME.  Howard Stiles, who sends the photo of the welcoming committee (the Hilliards were visiting the Stileses) assures me that he is not making the name of the town up.  He says a great day was had by all.
<![if !supportEmptyParas]> <![endif]>
<![if !vml]>
<![endif]>
Howard & Eileen Stiles, Rhonda & Rody Conway, and Betsy & Monk Hilliard
<![if !supportEmptyParas]> <![endif]>
            Sandy Gaines sends the photo of Roger and their grandson, Alex Mcquiston, age four, in their matching fatigues.  Alex thought they could play Rangers together, since they had matching suits.  Roger & Sandy live in Olympia, WA.
<![if !supportEmptyParas]> <![endif]>
<![if !vml]>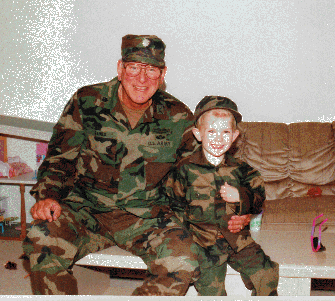 <![endif]>
Roger Gaines with grandson Alex
<![if !supportEmptyParas]> <![endif]>
            Bill & Susan Breen reported on their post-retirement odyssey in July, when they thought (but weren't completely sure) that they were about half way through the adventure.  They had completed their climb up the West Coast from San Diego to Seattle and were heading for British Columbia.  They planned first a tour of Western Canada, then up the Inside Passage to Alaska, and then back to San Diego by mid-August by a route yet undetermined.  For September, the month that would mark their first anniversary of homelessness, they planned to go to Hawaii by space available with no predetermined return date.  At the time of their writing the peregrinations had produced visits in the homes of Don Fitchett, Dar Boyd, John Guthrie, Bob Tardif, Bill Schwartz, and Rog Gaines (where they also saw Stan Kanarowski and Bert Bertils).  What a trip!
<![if !supportEmptyParas]> <![endif]>
<![if !vml]>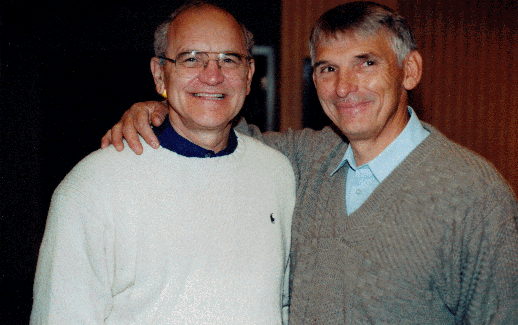 <![endif]>
Carlisle Mini-Reunion:  Novogratz and Rowe
<![if !supportEmptyParas]> <![endif]>
            Pete Dawkins was honored as the guest of USMC LTG Gary S. McKissock, at an Evening Parade at the Marine Barracks in Washington on 21 July.  The two have served together on the Secretary of Defense's committee to examine the future of the armed services' relationship to industry.  There were many classmates there, but I didn't take names.  We were treated royally, and it was a grand affair.  Congratulations, Pete!