July 2000
Our classmate Hank Covington died at the M.D. Anderson Cancer Center in Houston on 9 March. He had a rare form of lung cancer believed attributable to Agent Orange and other herbicides used in Vietnam. The sincere condolences of the class are extended to his wife, Lynda (with whom Hank resided in Montgomery, AL), his daughter Bea, his son, Buddy, and to all his family and friends. And Bernie Watlington died in Albuquerque on 30 Mar. At the time of his death, Bernie worked for Northrup Grumman. A memorial service and the burial was held in South Boston, VA, where he had grown up. Our heartfelt sympathy is extended to Bobbie, his wife of 25 years; to his children Sherry, Kimberly, Trish, Jay, and Neal; to his eight grandchildren; and to all his family and friends.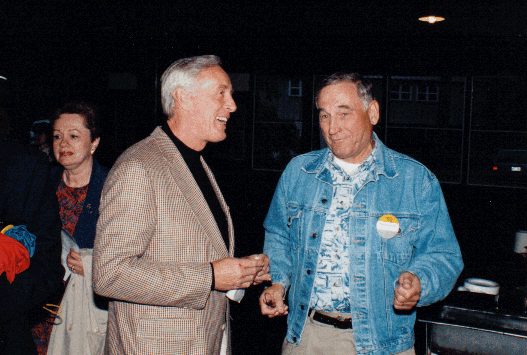 40th Reunion: Dawkins & Krawciw
Bob McDonald is a computer science professor at East Stroudsburg University in the eponymous town of Pennsylvania. It is in the Poconos, about 2 hours from West Point, and has a student body of about 5500. He enjoys it immensely and has plenty of free time to devote to his passionate interests, which are computers (he tries to keep up with the latest technology) and running (he runs about six or seven races a year - 5K to half marathon, which is 13.2 miles). He is trying to break the 8-minute mile for the half marathon, and his best so far is 8 minutes, 14 seconds. Somewhat better than mine. He belongs to the New York City Road Runners. Bob has four children, two out working and two in college. He got married late, at 33, like Powell Hutton, he says. His wife is now deceased. He has seen no classmates since the 40th, but he was looking forward to the May mini-reunion in Carlisle.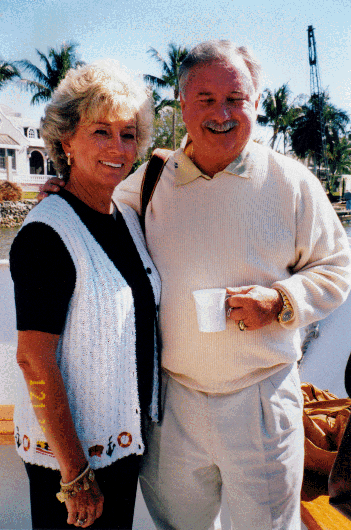 Joyce and Bill O'meara in Naples Florida
Jim Abrahamson has authored his third book, this one entitled Men of Secession and Civil War, 1859-1861. The book's emphasis on men and their ideas puts into context the meaning of the Union and the role of state's rights, slavery, and potential emancipation in contributing to both secession and Northern resistance. Jim & Marigold live in Fearington Village, NC, where they tend their garden and work for Habitat for Humanity in a rather demanding retirement. And they travel. A two-week vacation in Costa Rica in March included white water rafting, horseback riding, river cruises for observing flora and fauna, and what Jim describes as a 60 foot high "sort of" slide for life for folks mostly our age. Their next scheduled adventure will be a farmhouse apartment in Tuscany for the month of September. It looks as if the Abrahamsons missed the L-1 mini-reunion.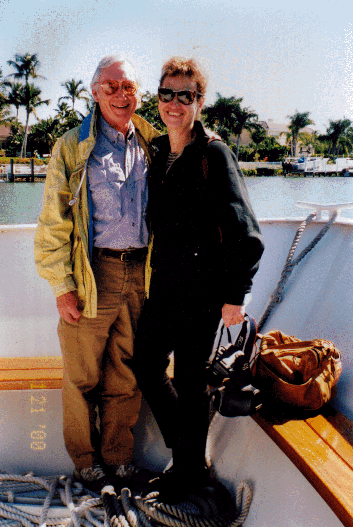 Johnny and Meyressa Carroll in Naples, Florida
Johnny Carroll reports that a most festive occasion was held in Naples, FL, on 21-22 Jan, and 19 classmates and wives attended, as seen in the accompanying photo: bottom row, Tony & Sandra Pokorny, Mary Ann & Bob Ranalli; second row: Diane Langford, Carol Benagh, Beth Kleb, Joyce O'Meara, Pat Eberhard, Mary Ann & Randy Bell, Meyressa & Johnny Carroll; top row: Ollie Langford, Bill Benagh, George Kleb, Bill O'Meara and Johnny Eberhard. Jay Barr was also there but missed the photo op. Highlights of Friday were a cruise of Naples Harbor, the onboard celebration of Joyce O'Meara's father's birthday, and a cocktail party hosted by the Ranallis. Saturday was a daylong indoor-outdoor picnic at the O'Mearas with great food, boatrides, lawn games and dips in the pool. Bob Ranalli's old Academy competitiveness surged during the bocce games, and Mary Ann did pretty well also, having won a local golf championship several days earlier. The Benaghs were given much credit as the event coordinators.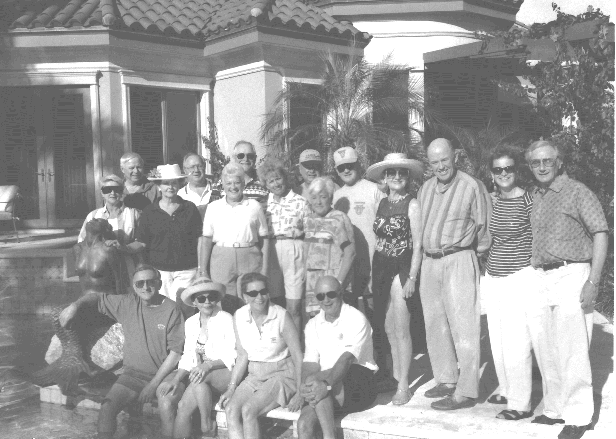 L-1 Mini-Reunion in Naples, Florida
Howard Stiles sends this Ski Trip Mini-Reunion Warning Order. Planning has begun on a proposed ski trip to Breckenridge, CO, from 24 Feb to 3 Mar 2001. More details in next issue. Coordinator Stiles is at 207-655-4193 or by e-mail at hstiles1@maine.rr.com. He hopes that this will inaugurate an annual event and, in fact, John Guthrie has already volunteered to host Ski Trip #2 at Heavenly Valley in 2002. We rejoiced with John Corby in late Feb when his wife of 40 plus years, Beverly, who had been on kidney dialysis for over three years, finally found a life saving donor. The Corbys live in San Antonio, and John says that this stroke of good fortune has the doctors predicting a full return to their normal lives. With the good news, John included the plea that more of us sign up as volunteers for the WP donor program. Only 15 of our class are currently on the list. John believes that other measures, such as an annotation on one's driver's license, are not always reliable. Contact John by e-mail at for particulars on how to do this.
Dave Fried writes that he and his friend Charlie Demers were planning to bicycle on a tandem bike from Oceanside, CA, to Virginia Beach, VA, from 1 May to about 10 June. They were doing it to sponsor two local Virginia charities and would keep a daily journal with pictures. The two of them had cycled a combined 6,000 miles in 1999. This bicycling stuff must be catching. Dusty Samouce, who helped start this thing with Larry Palmer and Bill Weber at our 40th last year, will bicycle from his home in Montana to Alaska starting on 7 June. Once in Alaska he will boat the Inside Passage back to Billingham, WA, and then remount the bike for a six-day ride back home by early September. He figures about 4,000 miles pedaling and a total of 91 days. Good grief.
Tom Leo and his wife, Sara Garrison, are in Wilmington, DE, where Tom does some consulting work for the security profession in which he practiced for over 30 years. He enjoys working around the house and traveling. They spent two weeks in Australia last year, and highly recommend it. This year they hope to visit Montana and the two Dakotas, the only states Tom hasn't set foot in. He saw Bill Benagh at the WP Society of Philadelphia lunch, and has spoken with Joe Shea and Marv Thomas recently. He and Bill Schwartz stay fairly closely in touch. They were roommates, with Rog Quinn, and share the same birthday.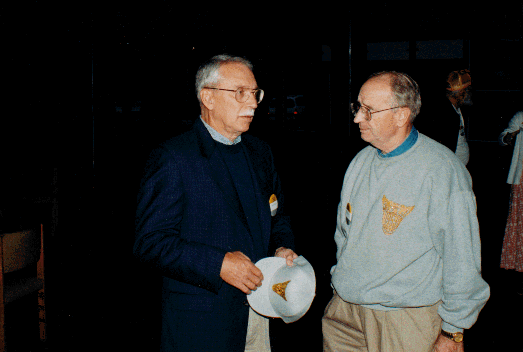 40th Reunion: Franks and Russell
Dave Roush is another with travel plans. If the luck of the Irish hold out on me mother's side, he says, he will visit his seventh and last continent in late fall of this year with a trip to Australia, New Zealand, and Fiji. If the luck of the Germans holds out on his father's side, he will start a doctorate program next January at U of FL or FL State. In between he hopes to cruise the Caribbean and make military hops to Europe out of Dover AFB. He is planning to return to the marketplace in desktop publishing and teaching. His son, David Allan Roush, married a schoolteacher last November. Might help.
Don & Hazel Tillar are returning to Busch Gardens near Williamsburg this year, Don at his old job behind the wheel of the people mover, transporting guests from the parking lots to the park. He is known for his enroute running commentary over the tram's speaker system. Hazel has transferred this year from the box office to the tollbooth, where she will be happy to take your money for parking.