January 2000
<![if !supportEmptyParas]> <![endif]>
Submitted 11/1/99
<![if !supportEmptyParas]> <![endif]>
          The Ft. Myer chapel was full on 28 October for John Forrester's funeral. Classmates attending included Tom & Ann Russell, down from WP; Don Tillar, up from Williamsburg; and Coreth, Elias, Hutton, Schow, Warren Smith and Zagalak. John had died of cancer on 18 October. The heartfelt condolences of the class are extended to John's wife, Mirna, to his two sons and four daughters, to his seven grandchildren, and to all his family and friends.
<![if !vml]>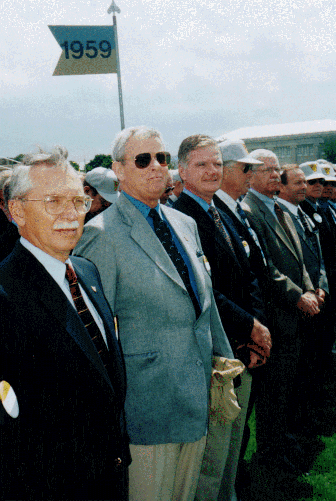 <![endif]>
1959: 40TH Reunion: Franks, Schwartz, Kehoe, et al.
<![if !supportEmptyParas]> <![endif]>
Powell Hutton reports that the fall social hosted by Jack & Zee Knebel for the DC contingent on 11 September was a great success. The Omelette King cooked to order, Jack uncorked the libations, and Zee was everywhere making everyone feel at home. Almost 50 classmates and consorts were there with a few from outside the immediate area, including Tom & Liz Munz from Annapolis; Jim & Phyllis Walsh from Boonsboro, MD; Pete & Judi Dawkins from Rumson, NJ; and Bob & Anne Rizzi (who were in residence as the Knebels' houseguests) from Briarcliff Manor, NY. A source of satisfaction was that three widowed distaff members came: Terry Enright, Connie Tully, and Mary Clare Haskin, thanks to whose efforts the reach of our class has been extended. Of further satisfaction was that there was no speechifying or toasting at the party.
          Because the party would concentrate a portion of the class that evening, Pete Dawkins scheduled a morning meeting of the reconstituted class committee, which includes Nick Krawciw as vice president because of Chuck Darby's self-inflicted emeritus status, and Jim Walsh's agreement to move into Nick's position as secretary. The focus of the class this fall will be on the fund drive, whose co-chairs are Roger Ware, Jerry Hilmes, and Fred Malek. You should have received a communication from them sent last September.
<![if !supportEmptyParas]> <![endif]>
<![if !vml]>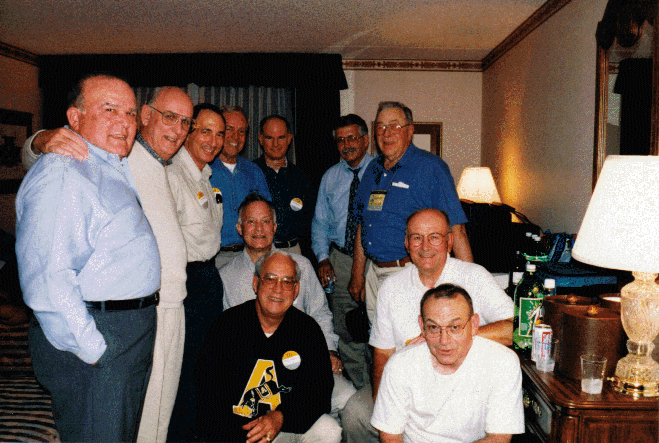 <![endif]>
1959: 40th Reunion: K-1 Party.
<![if !supportEmptyParas]> <![endif]>
More from the 40th. Ed Robinson reported a fine K-1 party and sent the accompanying photo of 11 classmates and one tac. Look at them. They are Smith, Ware, Cohen, Hilmes, Mullen, Moss, Hayes Metzger '49 (the tac), and, kneeling, Roth, Hughes, Robinson and Rothblum. John Cohan made the reunion but not the picture. Bill Luther sent the photo of Roger Gaines and Joe Shea with a lot of old guys in the background pretending to be their classmates.
<![if !vml]>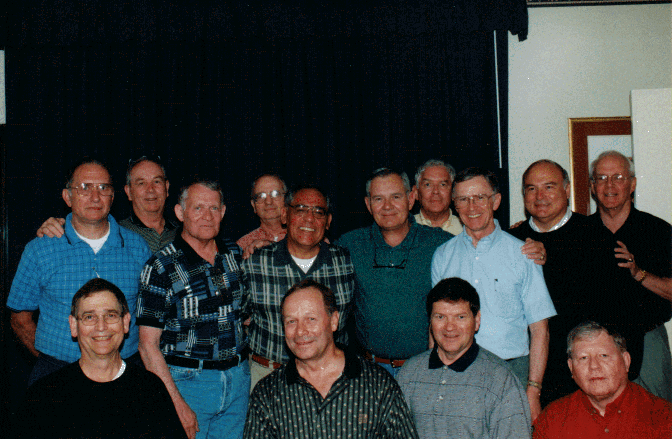 <![endif]>
1959: 40th Reunion: the men of A-2.
<![if !supportEmptyParas]> <![endif]>
Bill Pollock sent the October All Right, Sir!, the fourth irregular issue of the A-2 newsletter, and, as always, it was excellent. It was full of reunion news, of course, and it crowed with pride that 14 of them had attended, as the accompanying photo shows. If you need help identifying them, they are (always from left to right in this rag): Skowronek, Harris, Kennedy, Colby, Russell, Weisenseel, Fernandez, Maglin, Cummings, Toskey, Turner, Phillips, Pollock, and Neal.
Pollock credits Jack & Nancy Neal with promoting the idea of the company reunion and providing the suite for it the night before the class reunion. Early in the evening they raised their glasses to the memory of Jack Warren and Brooks Sisson, both of whom, I am sure, were there in spirit. And they even remembered their tac, John Slocum, by sending him a letter expressing their sincere appreciation for his hard work and dedication in preparing them to serve as junior officers. They included a copy of their First Class photo taken for the '59 Howitzer, signed by them all. He responded with a note that he signed as "A2's Proudest Tac."
<![if !supportEmptyParas]> <![endif]>
<![if !vml]>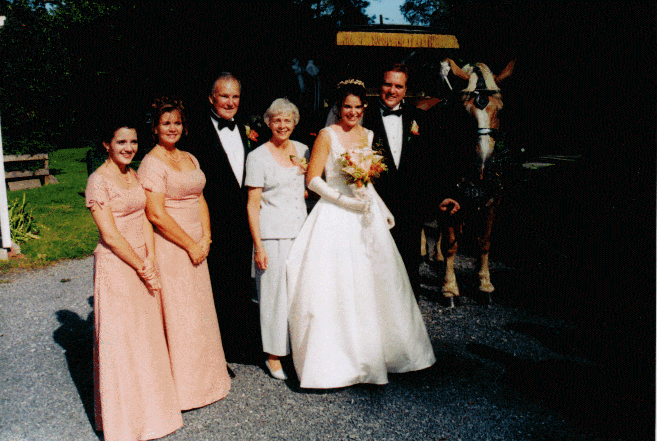 <![endif]>
1959: Carol Hilliard, Julie Hilliard Barrick, Monk & Betsy, Catherine and Brian.
<![if !supportEmptyParas]> <![endif]>
Howard Stiles sends the photo of Monk & Betsy Hilliard at their daughter Catherine's wedding on 18 September in Carlisle. Besides Howard & Eileen, other 59ers present were Bill & Butch Rowe and Harry & Illa Walters. Oh, the groom was Brian Hughes.
Tom Russell attended the Army-Southern Miss. game in Hattiesburg on 16 October and saw Winnie Schepps who was there with his son, both from Birmingham. Winnie is still with his psychology clinic. Bill Bush, a salesman of boat parts from Hazelwood, MS, was there with his brother; and Bill Clarke had come over from Mobile. Tom & Ann had attended the earlier Tulane game in New Orleans and had run into Al Hew, who was sponsoring a G-1 mini reunion.
<![if !supportEmptyParas]> <![endif]>
<![if !vml]>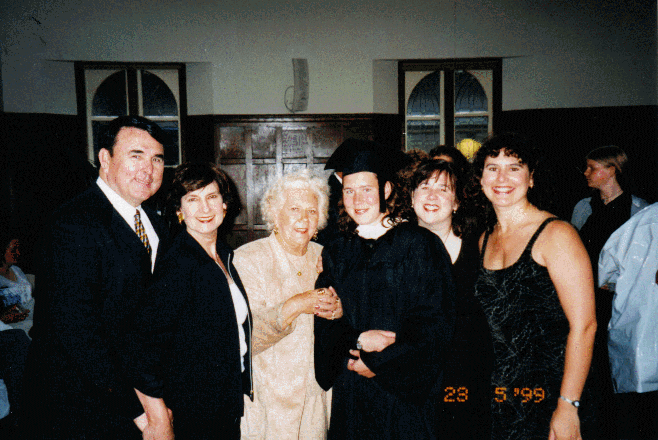 <![endif]>
1959: Al & Nancy Dorris, grandmother Helen Dunston, Ali Dorris, Kelly Dorris,
and Jacqui Dorris Koenig.
<![if !supportEmptyParas]> <![endif]>
Al & Nancy Dorris report a major milestone in their family. Their third and youngest daughter, Ali, graduated from Vassar last 23 May. So Nancy, a '62 Vassar grad herself, was successful in recruiting two of three daughters to her alma mater (Jacqui graduated in '91). Kelly graduated from Luther in '94. Ali was a good student and also an estimable soccer player. She was captain of the team and was honored at graduation as the outstanding female athlete in the graduating class. And congrats from this class!
<![if !supportEmptyParas]> <![endif]>
<![if !vml]>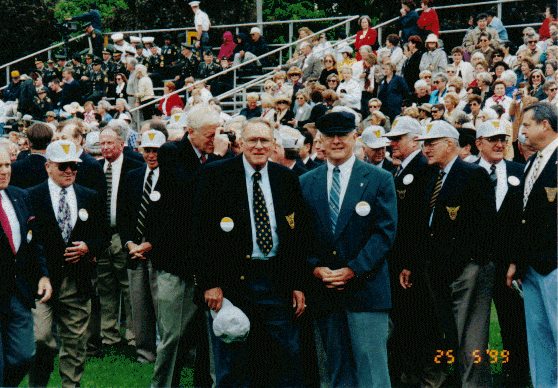 <![endif]>
1959: 40th Reunion: Gaines and Shea.
<![if !supportEmptyParas]> <![endif]>
I'm sorry to report that Mrs. Versace, Rocky's mother, lost her battle with cancer and died on October 17 at the hospice facility at her retirement home in Sarasota. Her son, Steve, reported that her passing was peaceful and her sense of humor still intact. As reported last time, the class had sent her flowers earlier in the year, and John Cox and Bill Luther's daughter attended a Special Forces presentation to her on 12 July. She knew that the class had special feelings for her and her hero son, the efforts for whose posthumous Congressional Medal of Honor continue. At this writing, her funeral and interment at Arlington National Cemetery will be on November 12.
<![if !supportEmptyParas]> <![endif]>
<![if !vml]>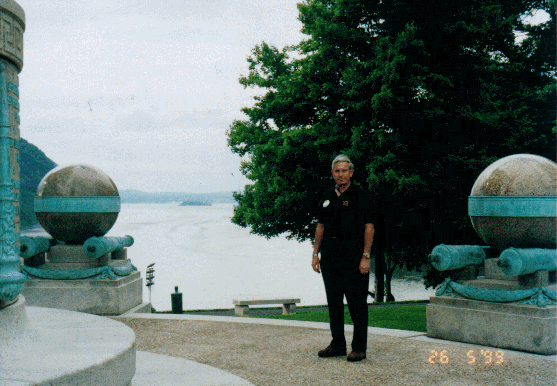 <![endif]>
Bill Luther and Trophy Point, 40 years out.
<![if !supportEmptyParas]> <![endif]>
Regrettably, the hopes the Friends of Rocky Versace had to have the school in Arlington, VA, named in his honor were disappointed. At the end of October, John Gurr, who had been our point of contact with the Friends, was obliged to report that the school board's name selection committee had dropped Rocky's name from consideration in favor of the names of an activist lawyer and a local politician. The committee did allow as how it would be appropriate to name some other facility in Rocky's honor. John expressed special thanks to the many classmates and others who sent e-mails and letters to the board in support of their efforts; especially to Church Hutton '58, who made an eloquent plea; and to Pete Dawkins, Fred Franks (who enlisted Colin Powell's help), Rush Yelverton, Powell Hutton, and John Grinalds, all of whom made special efforts. All of the Friends will be at Mrs. Versace's funeral and, in lieu of flowers as her family requested, the class is sending a contribution to the hospice in Sarasota that cared for her.
<![if !supportEmptyParas]> <![endif]>